In New York, known for its vibrant energy and bustling streets, there exists an array of quietude and exclusiveness nestled behind gates. These seven prestigious communities redefine urban living, offering privacy and tranquility amidst fully occupied city life. From iconic addresses to outer borough estates, these are the top communities in New York beckoning an unparalleled lifestyle stature.
Household Experience In Gated Communities. Source: mdpi.com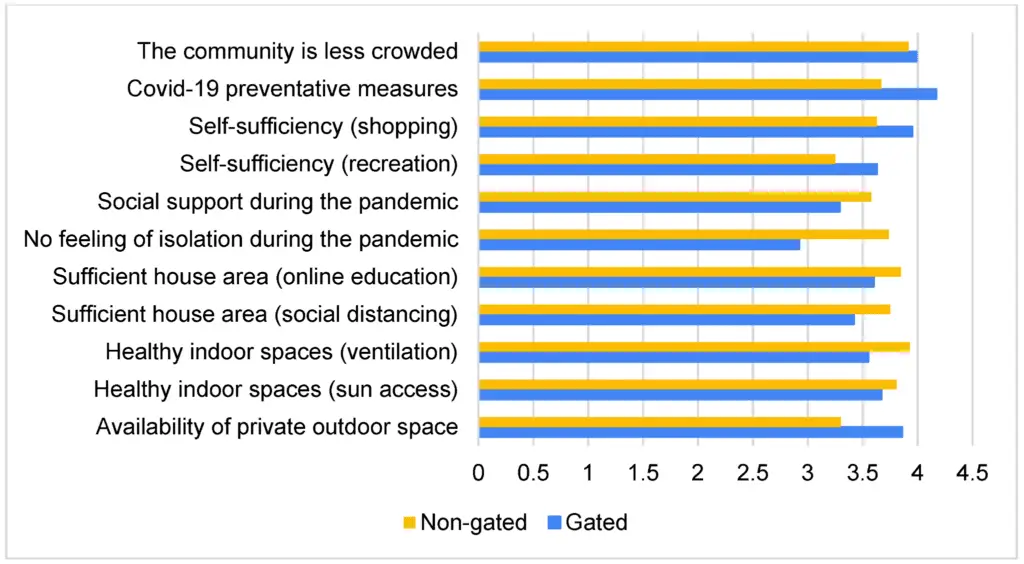 New York's Top 7 Premier Gated Communities Offering Esteemed Lifestyle
Bayside Gables
The exclusive gated Bayside Gables is a planful design proximate to the Little Neck Bay and the Bay Terrace shopping center for offering convenient living. Along with the city's amenities and suburban comforts, what Bayside Gables offers is splendid waterfront accommodation, including multi-million triplexes. Bayside has its own residential atmosphere that anyone would appreciate, from scenic views to secure lifestyles, and home styles to recreational facilities. The community is the wealthiest in the city of Bayside that genuinely owns everything for an up-scale lifestyle in New York.
Cobblefield
Cobblefield is a desirable community for its free standing developments featuring beautiful built-ins and appealing architecture. It is conveniently located in White Plains and has a 13-acre spectacular preserve. Citywide, this area offers the best private community life. The enclave of Cobblefield grants you access to exceptional amenities, such as har-tru tennis, pickleball courts, heated and Gunite pool, and a prestigious clubhouse. There are well-maintained tree lines, lawns, driveways, and walkways contributing to its picturesque topography.
The Greens At Cherry Lawn
The Greens at Cherry Lawn offers an enriching experience of gated living in Westchester County. It is a single-family home community designed for luxurious dwellings with high livability. Around a town-like green space, the community sits on farmland. Greens at Cherry Lawn is in high demand for housing because of its harmonious offerings and serene surroundings. There are homes for buyers who truly seek opulence with renovation options with spa rooms, patios, a variety of styles and an abundance of space. Despite having the best features, the community lists extraordinary houses at their best prices.
Tuxedo Park
One of America's early and most distinguished planned communities, Tuxedo Park is an escape from the hustle and bustle of metros, converging sleek colonial architectural lines and mountain views. Life in this community means a relaxation retreat that meets recreation, sophistication and adventure. Tuxedo Park is surrounded by massive state forests and three accessible lakes where families enjoy boating, fishing and swimming. The country club offers racket sports, a boat house, pool, golf course designed by Robert Trent Jones and additional amenities being an incorporated village.
The Seasons At East Meadow
The Seasons at East Meadow offers an upscale 55+ community setting where most homes immerse residents in its open concept. Shoppers are also fascinated by rental opportunities within it. The entrance has a 24-hour security box. There is a wide range of amenities offered by Seasons at East Meadow to the active adult residents; an outdoor swimming area with a sundeck, an indoor pool, cinema, fitness center, a 17,000 sq ft. clubhouse, billiard room, aerobic studio and more. The full-time lifestyle director assists in athletic activities and organizes events for the community members.
Brookridge
An exquisite blend of stunning sun-filled homes and comfort awaits in the homeowner's community, Brookridge. The area is coveted for newly renovated townhouses and a carefree lifestyle. Brookridge properties provide a welcoming ambiance filled with peerless beauty, incredible design, top-of-the-line appliances, and multi-generational suites. Brookridge offers all the benefits of Westchester's premier locations; near to major highways, shopping, schools and local restaurants. The resort-like life is elevated by unique attributes, for instance, an organic garden, private tennis and an in-ground pool.
Bay Street Landing
In Bay Street Landing, you will find a family-friendly neighborhood that offers you day-and-night security and the best pet-friendly environment. Community opportunities include outdoor barbeque space and access to the promenade connecting to the Staten Island Ferry terminal. It is not difficult to reach equipped theaters and grocery stores from the private setting. There is a wide variety of restaurants, by dint of Staten's ethnic diversity, at walking distance for Bay Street's people. The luxurious waterfront enclave is home to extraordinary condominiums of Manhattan-style grandeur with a host of amenities for people of every age.
The meticulous planning and design of these gated communities in New York reflect a commitment to providing residents with a comprehensive experience. They are attentive toward top-tier lifestyle needs that cater to individuals seeking first-rate amenities. Those in the pursuit of upscale living can transcend the boundaries of traditional real estate in these highly sought-after locations.