Most businesses tend to operate during daylight hours, but you can't forego the need for interior lighting. You require proper office lighting to illuminate your interior and create a more pleasant workplace, which can impact employee well-being and productivity.
LED lighting is one of the cutting-edge innovations of the past few years and offers a lot of benefits for residential homes and commercial buildings. LED lights have proven affordable and worth investment for businesses that use them since they use significantly less energy than HID alternatives. Here are several reasons to switch to LED lighting for your business.   
1. Improved lighting control
LED technology improves every year and simply gets better and smarter. This means your business can easily create highly customized lighting solutions based on its needs.
For instance, you can leverage occupancy sensors. This is an indoor device used to detect the presence of a person so that lights can be automatically turned on or off. You can merge these sensors with your computer, Smartphone, or timer. Generally, your business can easily tailor what it's using to perfectly meet the company's needs.
2. Increased energy efficiency
LEDs are the most energy-efficient commercial lighting on the market. They may cost more upfront than incandescent bulbs, but they require less energy to run and emit the same amount of light. The initial cost will compensate for the first few utility bills, and you will continue to save your money over the years. Being savvy with power usage and reducing it as much as possible should be a top priority for business owners and managers.
3. LED lights are fully recyclable
LED lights don't include toxic elements but are made of electronic components (semiconductors and transistors) that can be recycled. LEDs are also made of glass, metals, and other materials. Certain metals, such as indium, gallium, or some rare-earth element contained in LEDs, are useful for recycling.
Reusing these finite, non-renewable elements can help conserve the environment and reduce the amount of waste sent to landfills. If you need to know where to recycle your old LED lighting, inquire with your local commission to learn about the requirements.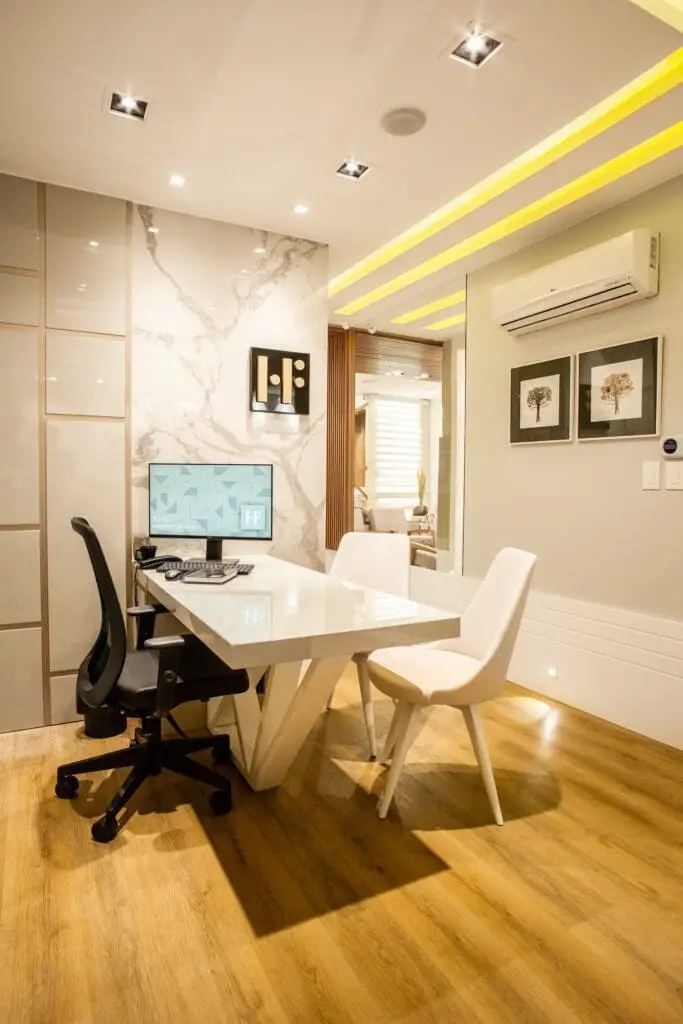 4. Improved office appearance
Making a good first impression can convince customers to do business with your company. However, older lamps change as they age, casting unbecoming shadows or unwanted colors. The quality of light emitted by LED signage for businesses can precisely boost the ambient illumination of your office space. LEDs cast light wider than fluorescent bulbs, which can give a more distribution of light and make a space look more natural and aesthetically lit.
5. LEDs are eco-friendly
Environmental responsibility is a high priority for most modern businesses. By switching to LED lights, you will provide an eco-friendly alternative to other forms of lighting.
LED lights are pollutant-free, with no lead, mercury, glass, or other toxic materials. Since LEDs consume less per unit, greenhouse gas emissions are reduced, and carbon dioxide production is kept low. Installing LED lighting in your office will help reduce utility costs and give something back to the surrounding.
6. Longer lifespan
LED lights last much longer than conventional incandescent bulbs. LEDs can last up to 50,000 hours of illumination compared to a maximum of 2,000 hours for a regular bulb. For a business, this could mean spending much less money on completing regular maintenance.
These lights don't burn out, and instead, they fade away. That means LED lights will continue to emit an estimated 70% of their maximum illuminating potential even at the end of their 50,000th hour of operation. This can save a business fortune on having to replace their light fixtures every 2,000 hours.
7. Enhanced working condition
Employee productivity is usually a crucial aspect to consider when deciding how to design a workplace environment. It's often hard for employees to maintain the positivity and motivation required to work efficiently when sitting in a dark and dingy room. A well-lit office space is far more conducive to great results.
LED lighting can help boost employee productivity by helping regulate the circadian rhythm, enhance mental acuity, and improve focus. They are also virtually silent if properly installed. Most companies today run at times that often go beyond the typical nine to five office routine. LED lights can help keep your employees alert no matter the time they clock in.  
Endnote
With innovations happening every day, LED technology has rapidly developed in recent years. LEDs' light quality and efficiency will continue to improve beyond current products and possibilities. Take pride and full advantage of these new innovations by switching to LED lighting for your business.