In the world of celebrities, few homes capture the imagination quite like Roman Atwood's house. This stunning abode stands as a testament to his success, creativity, and boundless energy. The new home, though shrouded in mystery, has been revealed in glimpses that exude an air of grandeur and sophistication. Now, let's open the doors to the grandeur that is Roman Atwood's house.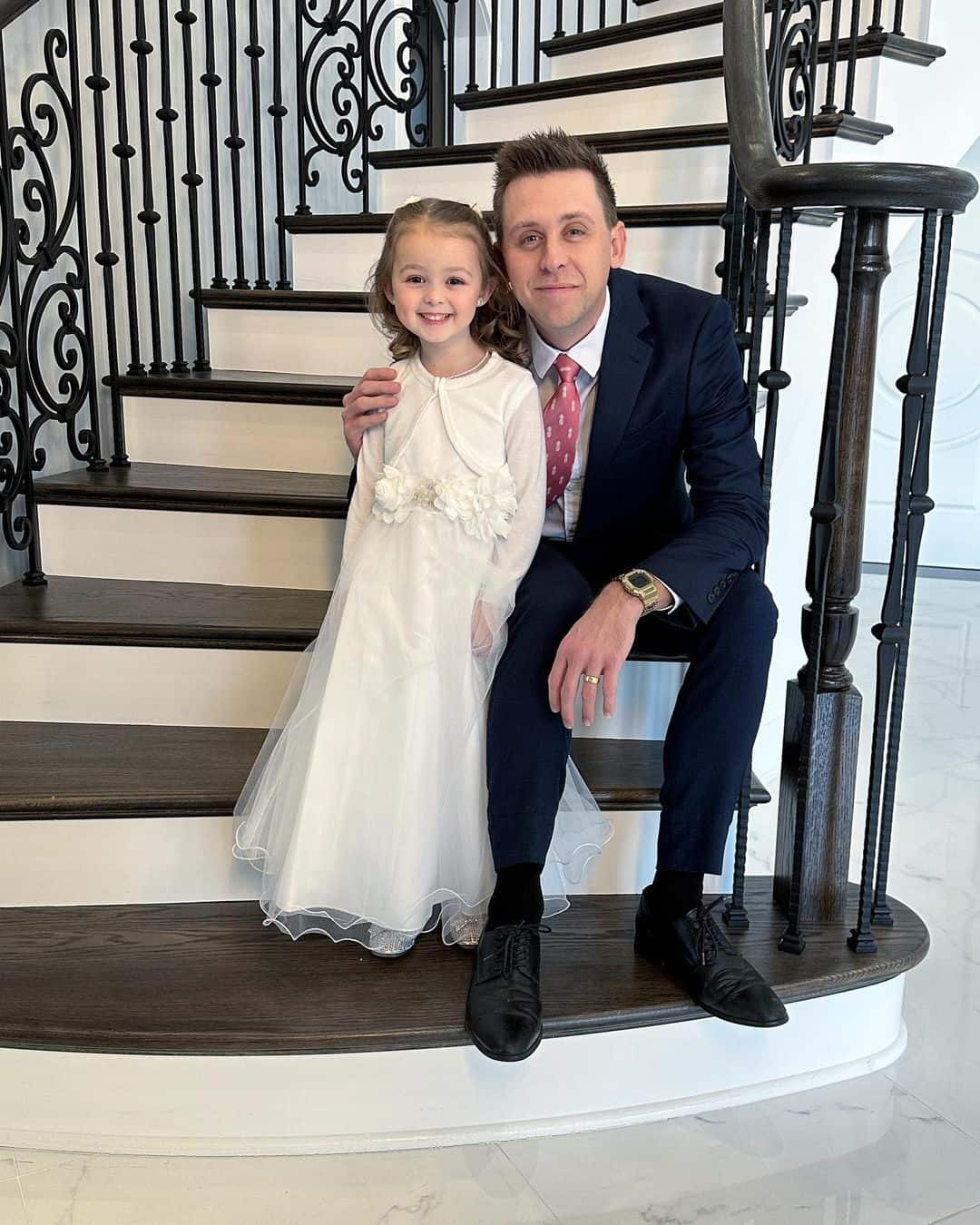 Roman Atwood's house
Where Does Roman Atwood Live Now?
Nestled in a picturesque neighborhood, Roman Atwood's house stands as an epitome of contemporary elegance. Though the exact address is a well-guarded secret, the house proudly claims its spot. The address, a haven for creativity and family togetherness, remains a well-kept secret—a haven that's brought laughter and love into their lives.
Inside Roman Atwood's House
The front façade, a sight to behold, was finally given its deserved spotlight, thanks to a captivating video shared on the influencer's YouTube channel. The entrance, adorned with a double staircase reminiscent of bygone colonial times, evokes a sense of timeless charm. The monochromatic palette of white and black, coupled with a regal chandelier, contributes to an ambience of refined opulence.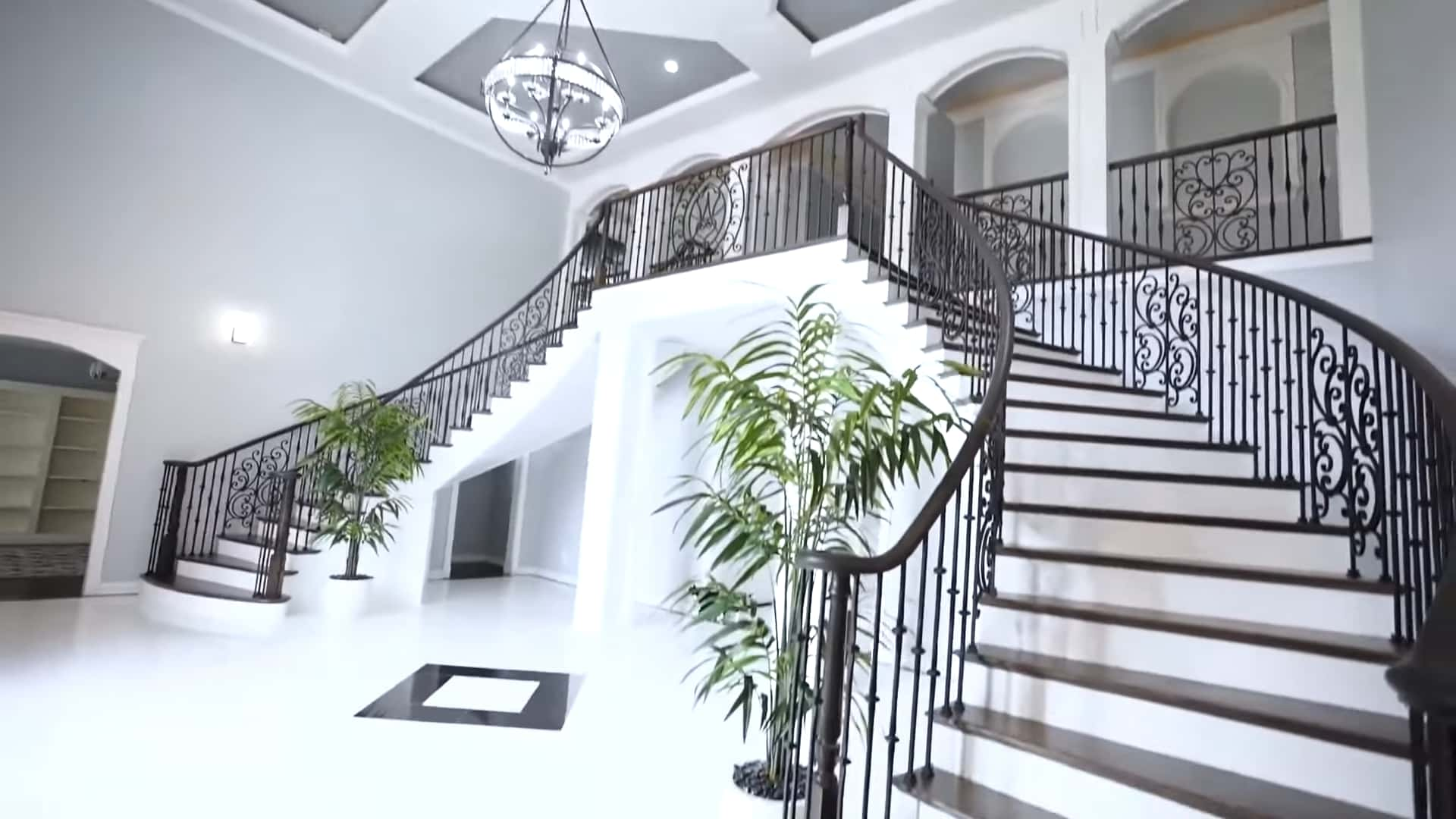 Roman Atwood's entrance
Among these treasures is a kitchen that epitomizes luxury – a culinary haven equipped with top-of-the-line stainless steel appliances, a sprawling dining table that defies proportions, and a marble island that could pass for a miniature culinary kingdom. The artful blend of classic and contemporary design elements, coupled with bespoke finishing touches, elevates this kitchen to a realm of culinary aspiration. Notably, even a dedicated drinking fountain finds its place in this culinary utopia.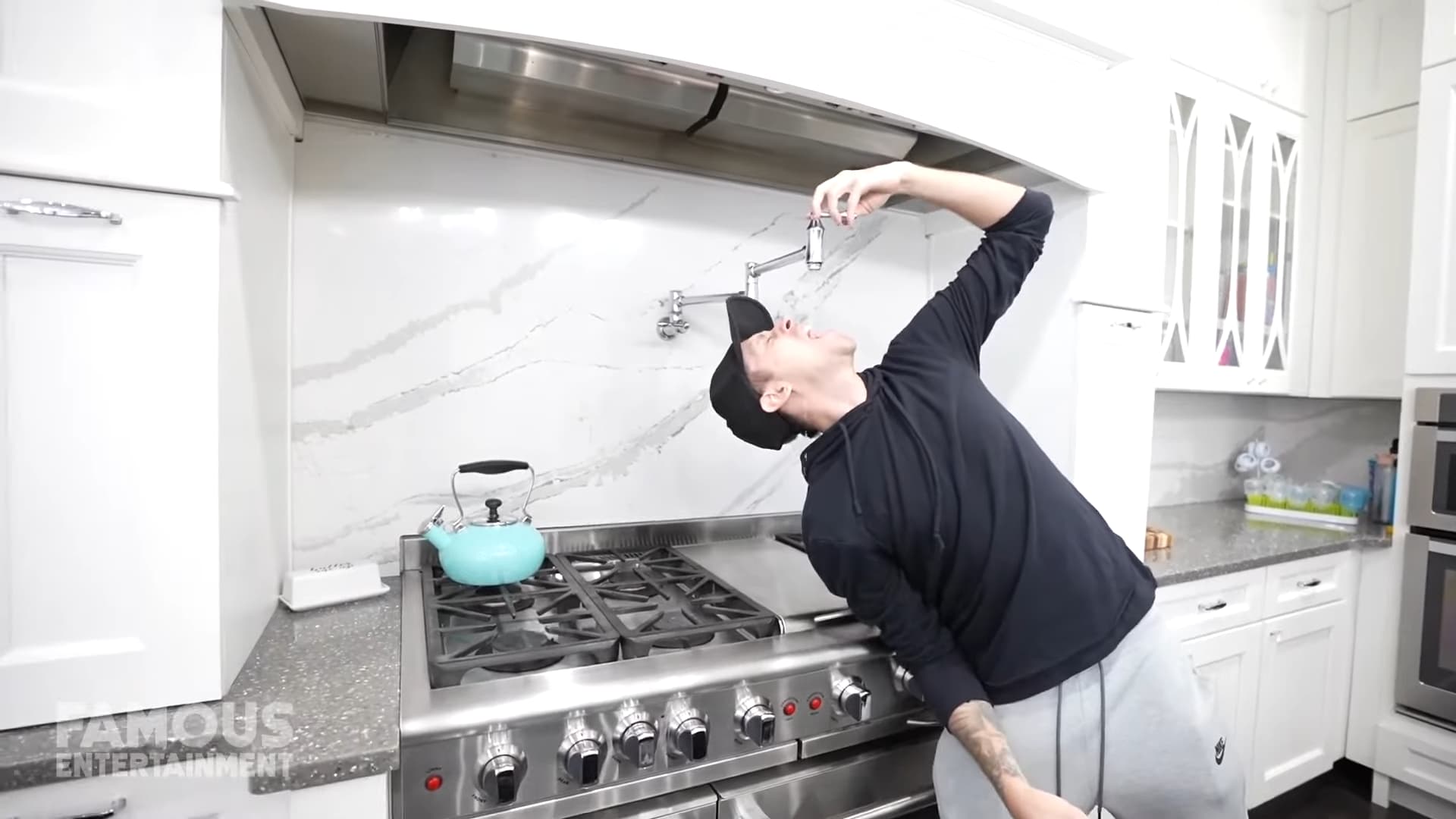 Roman Atwood's kitchen
Adjacent to this gastronomic marvel, a meticulously organized walk-in pantry stands resolute, catering to the demands of a family that boasts impressive numbers. The sprawling dimensions of the household are amply accommodated through this essential storage space, ensuring an organized and functional environment.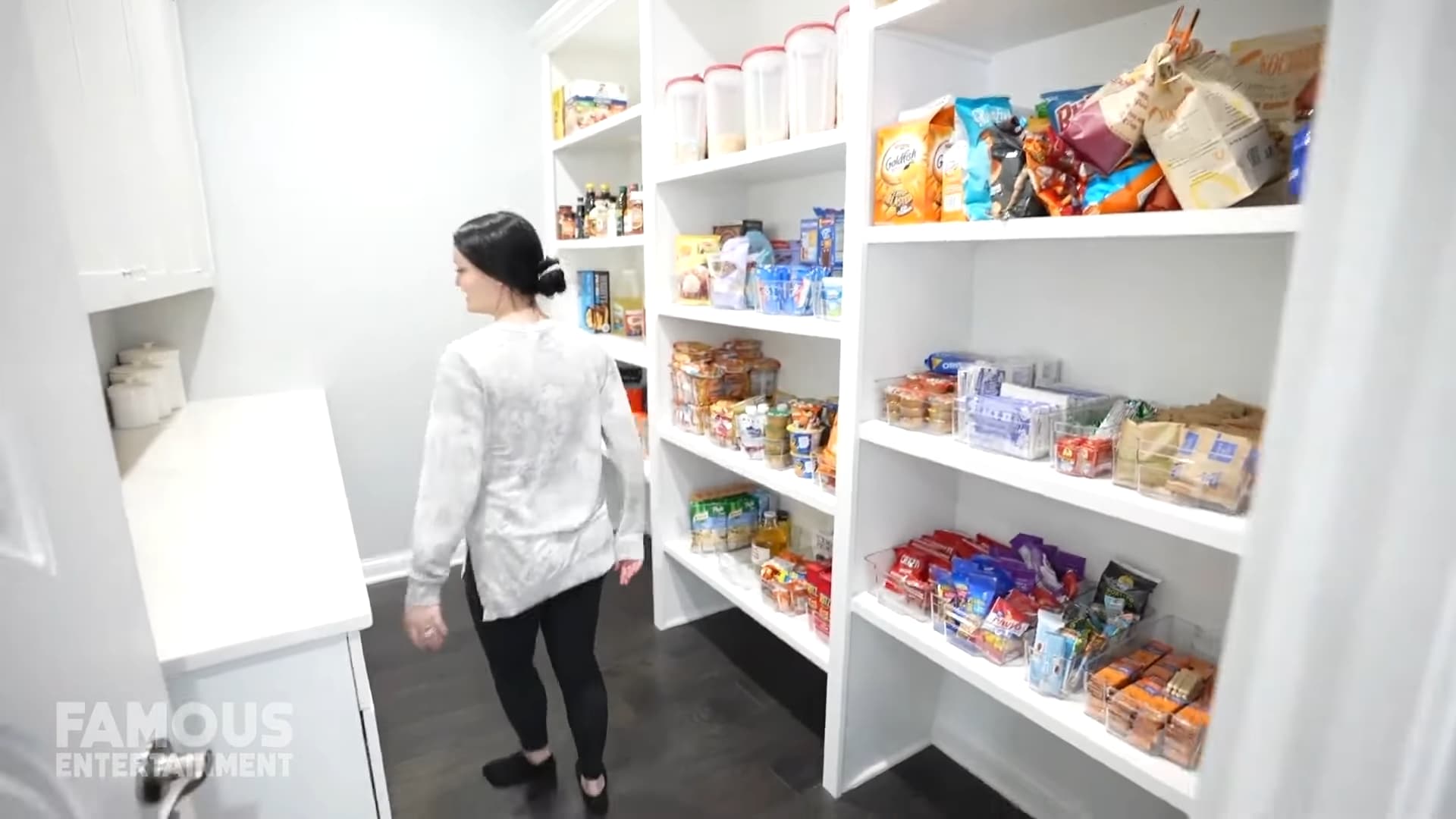 Roman Atwood's walk-in pantry
Stepping into the world of Roman Atwood's partner, a colossal and meticulously stocked walk-in closet greets the observer. A vanity mirror and a dedicated makeup station occupy the far end, guaranteeing a realm of glamour and elegance for her. The grandeur of this personal space leaves a lasting impression, attesting to an uncompromising devotion to detail.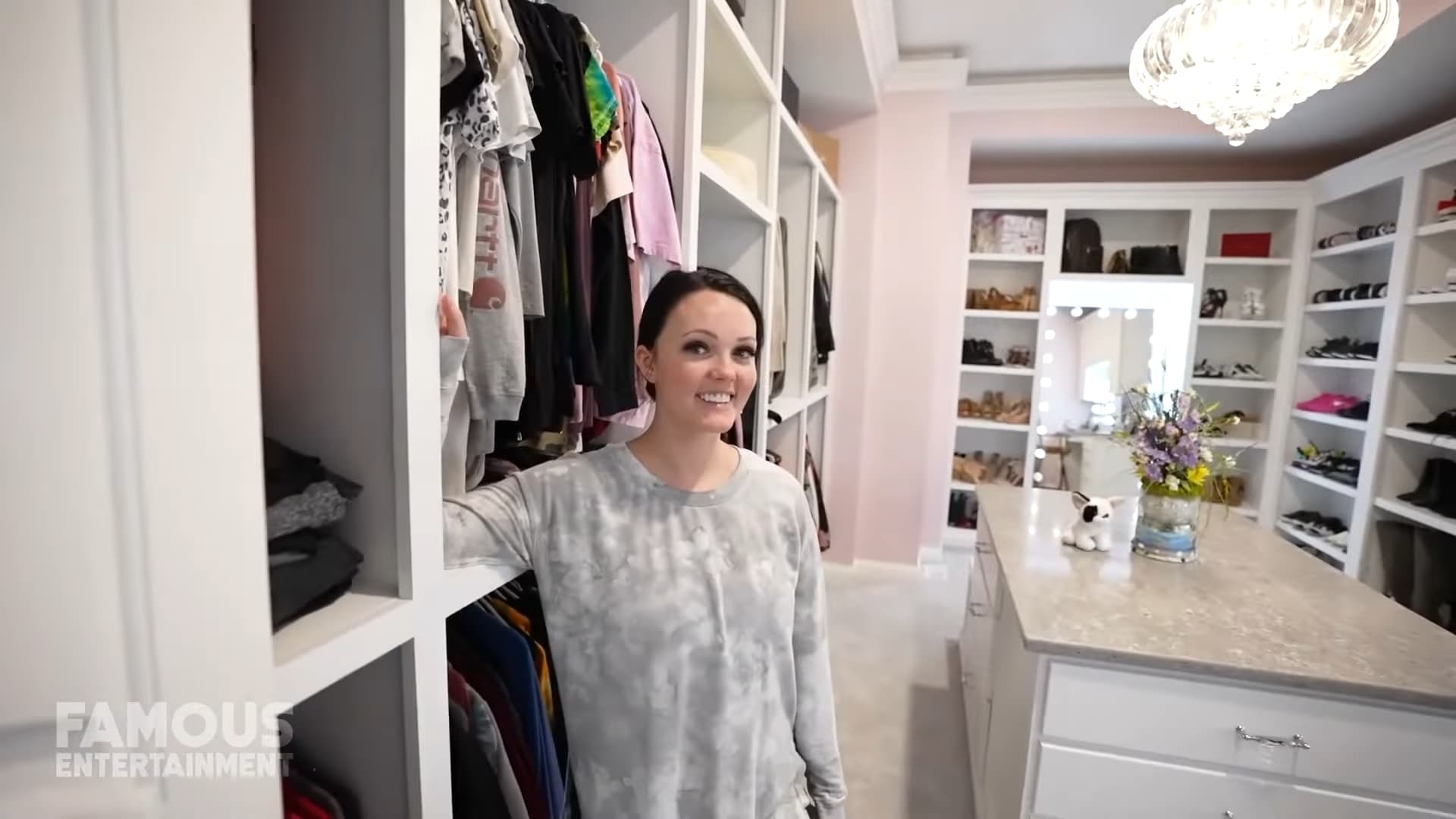 Roman Atwood's wife's walk-in closet
The connoisseur of this resplendent estate reserves a coveted corner for his creative pursuits. A state-of-the-art music studio unfolds, with dimensions that rival a complete concert stage. The assemblage includes a full-fledged drum set and an array of high-end speakers, a haven for artistic expression and auditory indulgence.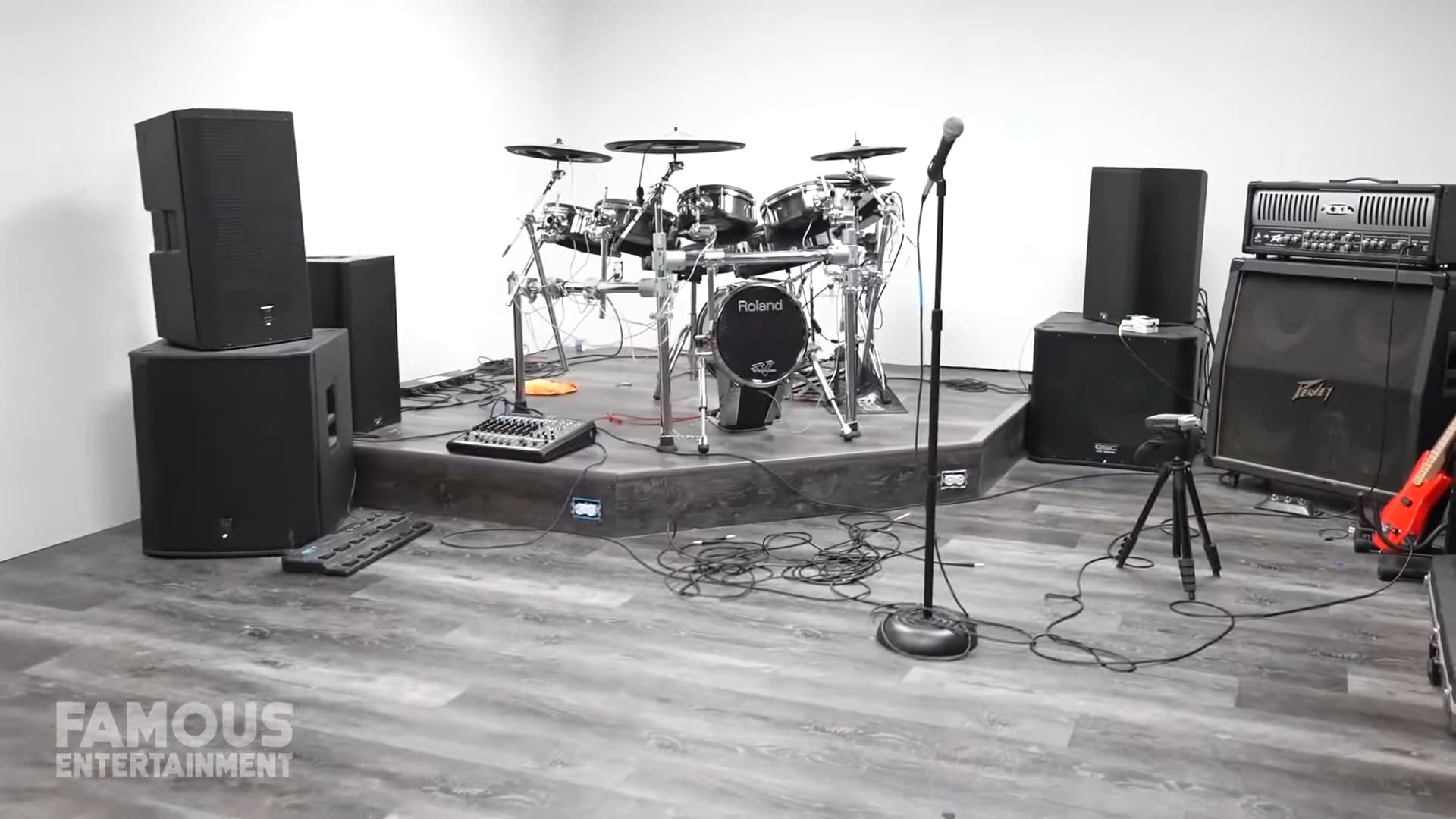 Roman Atwood's studio
Roman Atwood's Privacy: A Hidden Haven Amidst Rising Concerns
While the allure of the influencer's domicile remains captivating, the exact whereabouts have been purposefully kept a secret. The rise of privacy concerns and the looming specter of overzealous admirers have prompted him and his family to guard their abode's coordinates with vigilance. The saga of this family's migration to a new dwelling can be likened to a fateful twist of destiny. While unforeseen circumstances necessitated the move, the transition has ushered in a cascade of blessings that transcend mere architecture. This chapter, unfolding with a sense of anticipation, promises not only to enrich their lives but also to inspire countless others along the way.
Other Houses Owned by Roman Atwood
In 2014, Roman Atwood made a smart move by purchasing an expansive estate for $349,000, which soon proved its worth. The property boasts a spacious backyard that could easily rival its initial price, complete with a kid-friendly play area, all enclosed by a charming white picket fence. The real showstopper, however, is the lakefront at the back, enhanced with an epic water slide. Inside, the original home featured three bedrooms, two bathrooms, and a clever layout.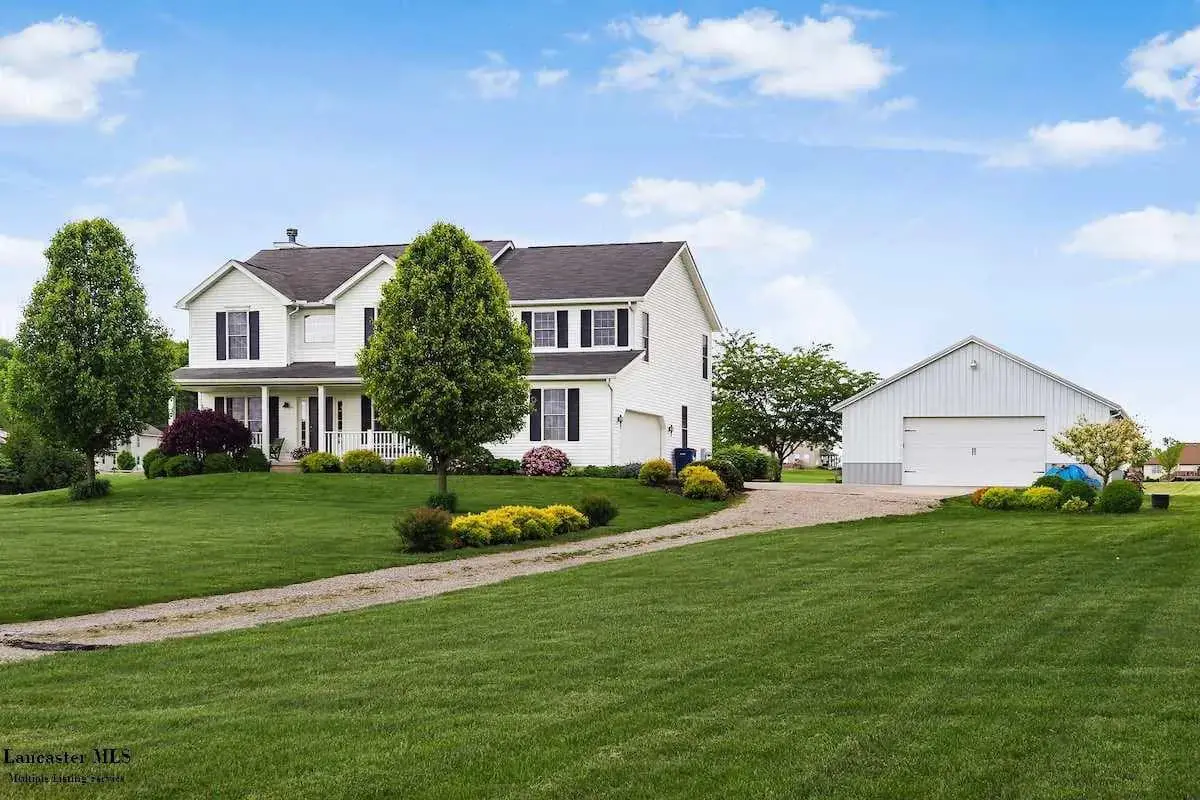 Roman Atwood's former Ohio house
Ascending the stairway reveals a versatile family room on the upper floor, perfect for bonding. The open-concept kitchen and living room downstairs embody Roman's knack for blending style and comfort. And if you look up from the living room, you'll spot the balcony encircling the upper family room—an architectural touch that brings unity. This property is just one star in Roman's constellation of remarkable real estate ventures.
Roman Atwood's former Ohio house