Maine, renowned for its picturesque landscapes, rugged coastlines, and storied maritime history, has always been an attraction for those seeking respite and inspiration. But beyond the famed lighthouses and succulent lobster dishes, the Pine Tree State conceals another treasure — a collection of opulent residences that redefine luxury. As 2023 unfolds, the allure of Maine's luxurious properties has grown exponentially, mirroring the state's blend of traditional elegance and modern sophistication. From sprawling coastal mansions with breathtaking sea views to grand historical estates nestled amidst verdant woods, Maine's housing landscape offers a unique blend of luxury and serenity. Dive into our curated list of the "Top 10 Most Expensive Houses in Maine 2023" and embark on a journey through architectural marvels, state-of-the-art amenities, and some of the most sought-after addresses in the state. Luxury living, as they say, is truly at its finest in Maine.
10. 212 Ocean Avenue, Kennebunkport – $6,950,000
Dive into a tapestry of history, luxury, and artistry at Point O View, nestled in the prestigious Cape Arundel. With its majestic presence since 1895, this classic Maine cottage rests regally on a knoll, showcasing breathtaking panoramic ocean vistas. A revitalization in 2011 breathed fresh life into it, marrying old-world allure with contemporary elegance.
As you step inside, the expansive 8,876 sq ft space welcomes you with warmth and sophistication. The heart of the home? A modern eat-in chef's kitchen, boasting a grand center island and effortlessly flowing into a vibrant family room equipped with a wet bar. Imagine evenings in the formal living room, the glow of the gas fireplace dancing across the room, or mornings in the sun-kissed three-season porch. Not to forget, the first floor houses an awe-inspiring temperature-controlled wine room, capable of holding 1,000 precious bottles.
A grand staircase spirals upwards, unveiling a luxurious primary suite; a haven adorned with a spa-like bath and those limitless ocean views. With nine enchanting bedrooms and seven pristine bathrooms, comfort is but a step away.
On the exteriors, every inch of the 0.64-acre lot exudes charm—from manicured lawns to a mesmerizing stone terrace with a firepit. The presence of a quaint two-bedroom guest cottage and a carriage house, featuring a heated garage/workshop and recreational room, adds depth to its character.
Fashioned in the timeless Shingle Style, this tri-storied masterpiece at 212 Ocean Avenue stands as a testament to impeccable craftsmanship and a love for finer things. Truly, Point O View is not just a home—it's an experience, waiting to be cherished by generations.
9. 377 S Shore Road, North Haven – $8,500,000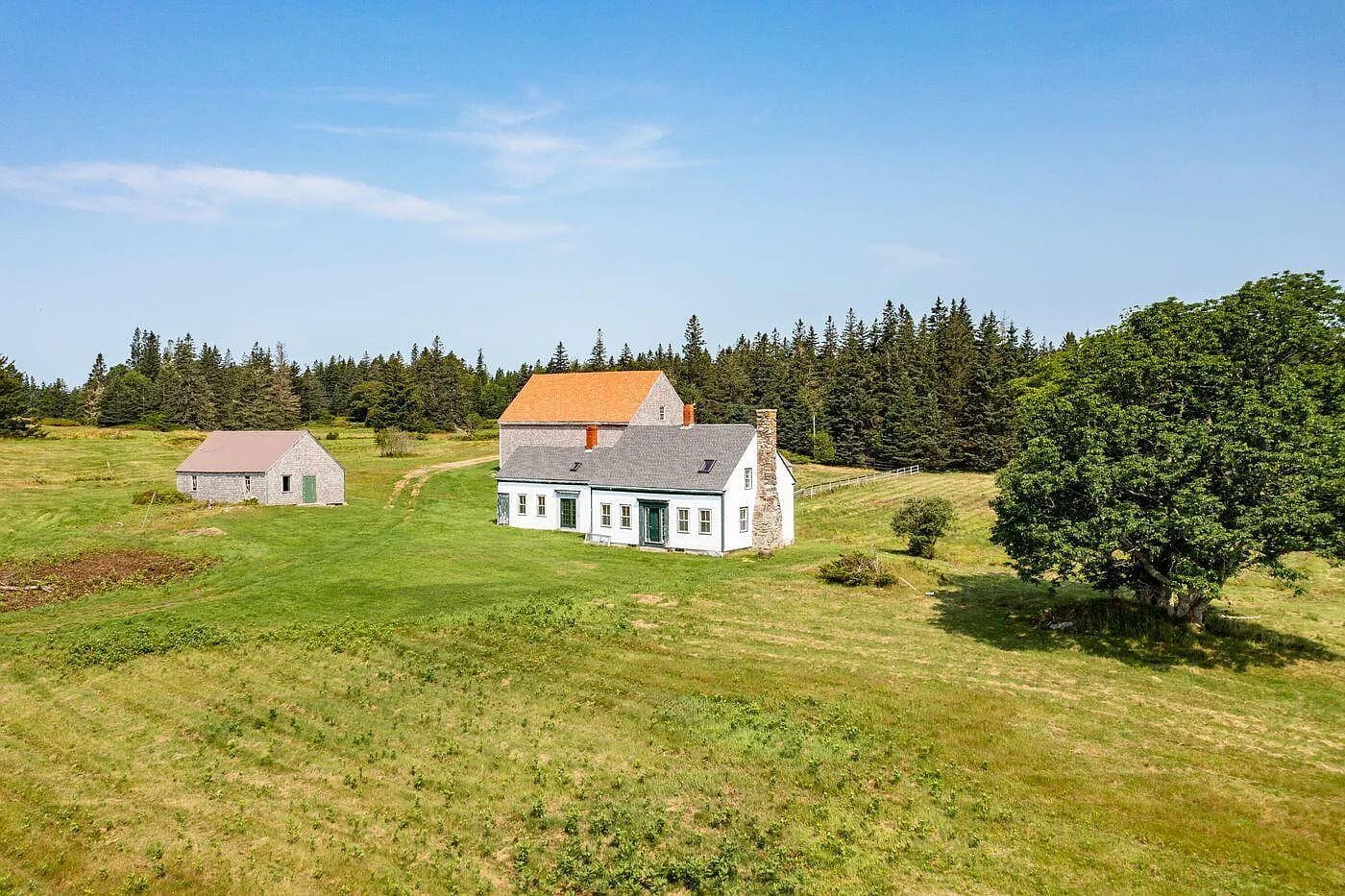 Nestled amidst the historic charm of Kennebunkport is the Stone Cove Farm, a sprawling 267-acre estate echoing tales of yesteryears. Built in 1850, this mid-nineteenth century extended Cape Cod styled residence whispers the elegance of its time, with exquisite details seeping through its architecture.
Envision a classic saltwater farm: 861 sq. ft. of livable space that houses three snug bedrooms, a vibrant bunk room, and a single bathroom that reflects the simplicity of its era. A singular garage space lies adjacent, embracing the essence of that period's functionality.
Perched atop a knoll, the view is absolutely heart-stealing. The mesmerizing Fox Islands Thorofare, the iconic "Sparkplug" lighthouse, the enigmatic Stimpson Island, and the vast expanse of the East Penobscot Bay unfolding all the way to Isle au Haut—every gaze outside is a painting brought to life. And let's not forget the quaint island nearby, a wonderland for children's adventures and perfect family picnics.
Complementing the main residence are two historical barns, standing tall and proud, echoing the stories of the past. The property stretches over 3,400 feet along the ocean, offering a harmonious blend of a grassy point, rugged shore, and a serene pebble beach.
Nestled at 377 S Shore Road, Stone Cove Farm, with its singular story, is not just an address; it's a testament to timeless beauty and architectural grandeur, all for $8,500,000. An ode to history and nature's magnificence!
8. 188 Aldrich Road, Islesboro – $8,500,000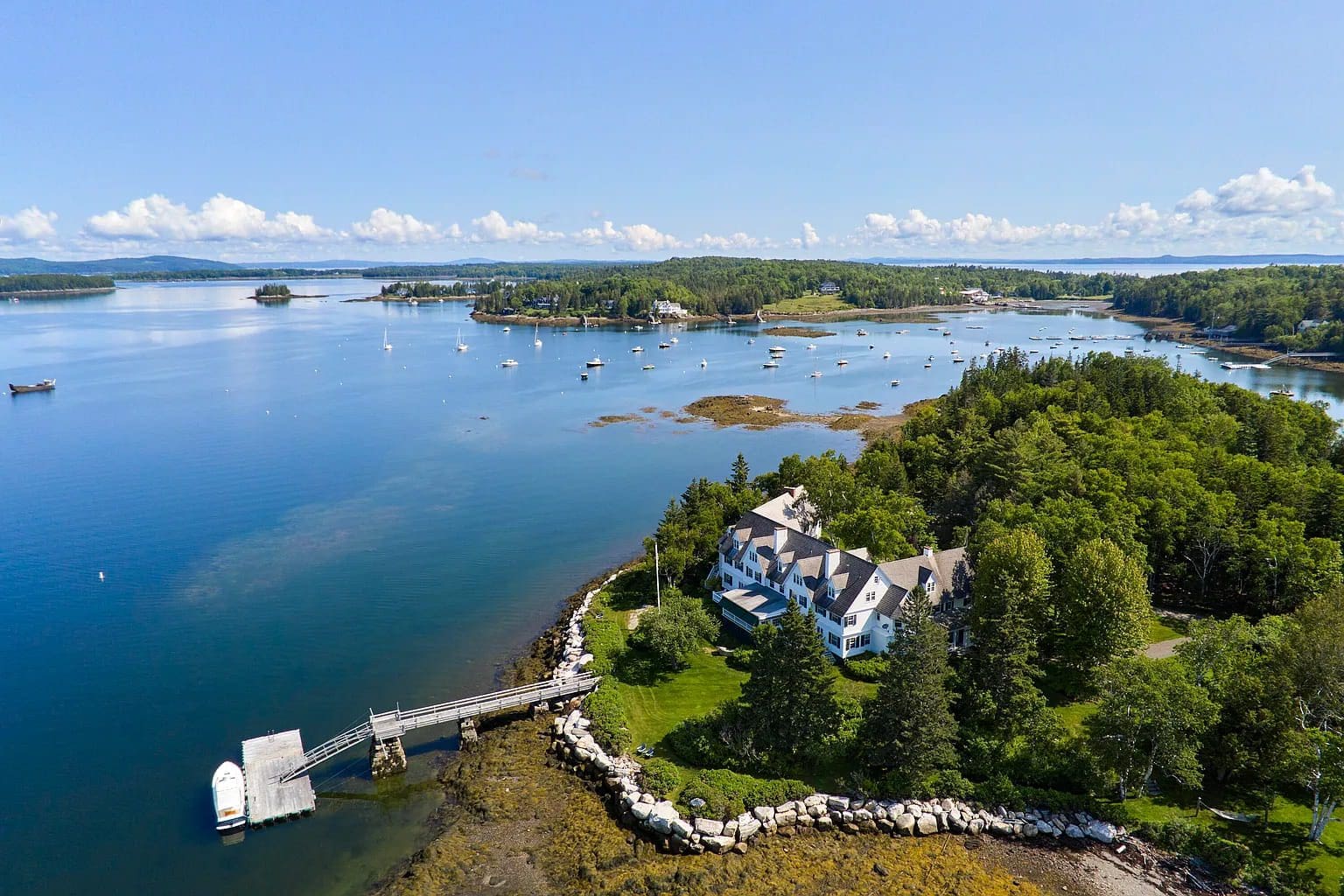 Nestled in the heart of Kennebunkport is a breathtaking estate, reminiscent of times past, yet imbued with the conveniences of the modern era. At 188 Aldrich Road, stands a masterpiece built in 1908, spanning a massive 14,200 sq ft of exquisite living space. Housed within are an astounding 21 bedrooms and 17 bathrooms, a testament to its grandeur and incomparable elegance.
Every corner of this historic jewel speaks of meticulous care and unparalleled craftsmanship. Picture vast rooms, each framing an uninterrupted view of the mesmerizing Penobscot Bay. But perhaps the most captivating allure lies in its grand west-facing porch, an irresistible invitation to bask in the golden hues of the setting sun.
Sprawling across 4.3 acres, this estate showcases more than just the main house. The grounds feature an expansive 800+ feet of shore frontage, a serene beach, a toasty in-ground pool, and a charming carriage house complete with a cozy year-round apartment. Add to this a greenhouse, curated gardens, a three-car garage, and ultra-fast internet.
Three stories of architectural wonder await, a design that defies the ordinary, blending seamlessly with the majestic backdrop of nature. This is a testament to an era where sophistication met timeless beauty. The price tag? A well-deserved $8,500,000 for a piece of history and luxury. Dive deep into the pages of time, and relish in the beauty that 188 Aldrich Road offers. It's not just a house; it's a legacy.
7. 6 East Road, Greenville – $8,850,000
Nestled just off Moosehead Lake's southern shore lies Brambletye, a captivating estate that offers more than just a place to call home. With a staggering 13,331 sq ft of livable space, this English Tudor residence proudly stands on 88 acres of pristine land, making it a true haven for those with a penchant for grandeur.
Built in 1938, Brambletye is a seamless blend of historical craftsmanship and modern luxury. Its award-winning kitchen design remains the talk of Maine, with every nook and corner oozing elegance. Offering six en-suite bedrooms, the master suite alone boasts a cozy sitting room, a fireplace, and dual dressing areas and bathrooms.
But the opulence doesn't end indoors. Imagine practicing your swing on your very own 9-hole golf course, or exploring the equestrian facilities, complete with a 14-stall stable house and an indoor riding arena. A carriage house, tack room, and three-car garage further underline the estate's comprehensive nature. And if that wasn't enough, the property houses an indoor glass-enclosed heated pool, tennis court, gazebo bar, and multiple stocked ponds.
With three stories of magnificence set against the backdrop of unbroken forests and mountain vistas, the architecture is breathtaking. And it's all conveniently located at 6 East Road, Greenville, ensuring that while you're surrounded by nature, modern amenities remain within arm's reach.
Valued at $8,850,000, Brambletye isn't just a house; it's a testament to timeless style, luxury, and the art of fine living.
6. 103 Dodges Wharf Road, Brooklin – $9,000,000
Envision a world where serenity finds you, right in the heart of Brooklin, at 103 Dodges Wharf Road. BOLDWATER is more than just an address; it's an experience! Nestled amidst 38.6 acres of lush beauty, this oceanfront estate is the epitome of luxury and nature blending seamlessly. Overlooking the breathtaking Blue Hill Bay, with an impressive 1,400 feet of shoreline, this property is your private paradise.
The house itself, built in 1980, stands proud and strong with its 14,375 sq ft of livable space. Its architectural fusion of Colonial and Contemporary styles narrates a tale of timelessness. As you step inside, the six splendid bedrooms and eight bathrooms echo opulence. The essence of sophistication emanates from its hardwood floors, hand-painted murals, and extensive millwork. Every corner is a testament to thoughtful craftsmanship, from its nine fireplaces to the grand entryway with a turned staircase.
Beyond its beautiful interiors, the house boasts of a 2-car garage, ensuring that your rides are always protected. It stretches across two stories of elegance, providing views that are sure to leave anyone mesmerized.
Priced at $9,000,000, this property isn't just about figures; it's about feelings. The whisper of the trees, the chirp of the birds, and the gentle waves from the ocean – it's nature's symphony at BOLDWATER. A retreat in its own right, offering an escape from the mundane and into the magical! Dive into life at its finest here in Brooklin, where dreams aren't just seen, they are lived!
5. 29 Mains Farm Road, Raymond – $9,500,000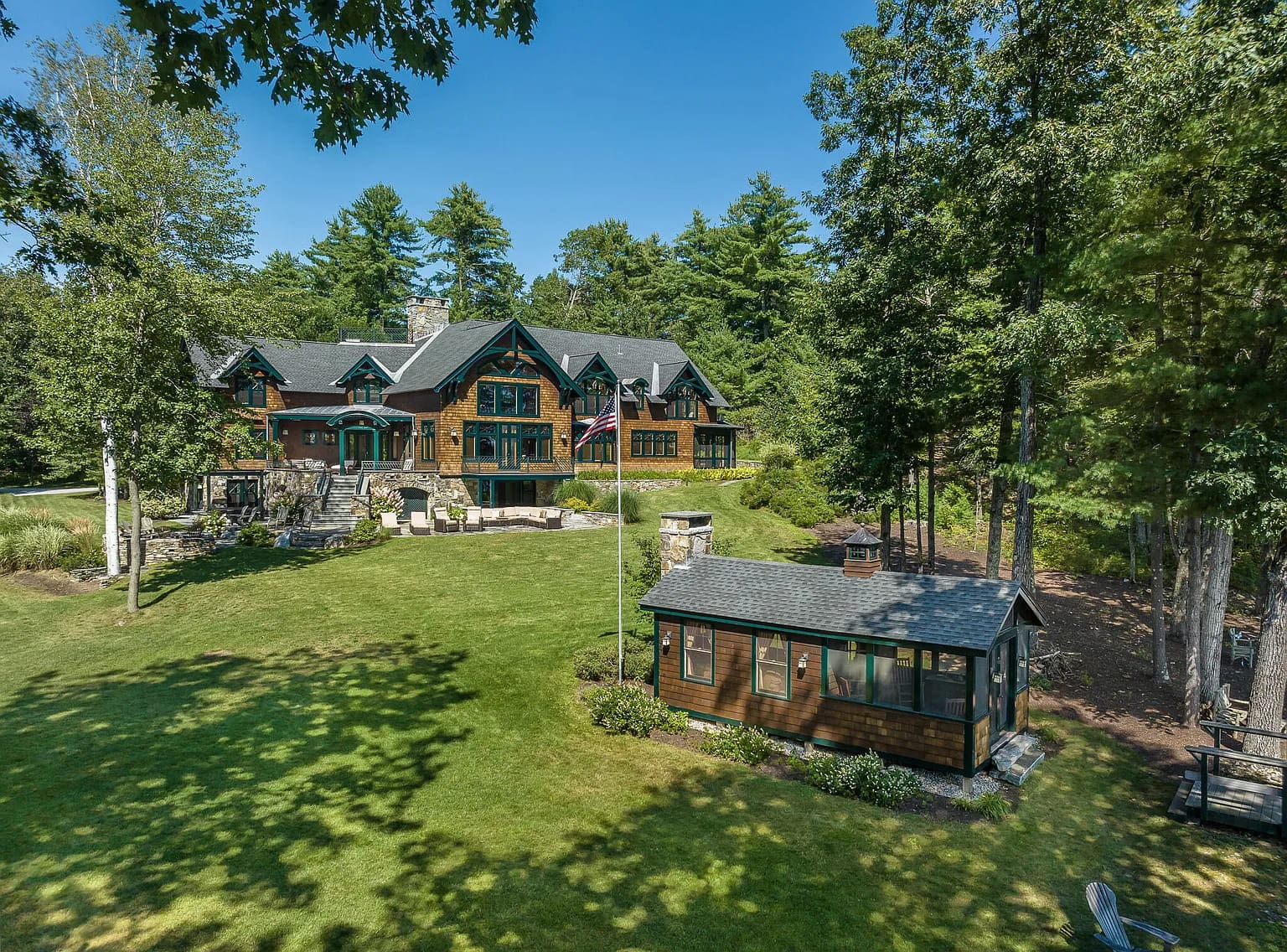 Located along the tranquil shores of Jordan Bay in Raymond is a marvel of architectural grandeur – a shingle-styled masterpiece at 29 Mains Farm Road. A symbol of timeless luxury, this 2006-built sanctuary sprawls across a staggering 12,471 sq ft of impeccable living space, priced at an astute $9,500,000.
The tale of this home begins generations ago with a humble one-room cabin that once stood sentinel on this very shore. Flash forward to 2006, and a tapestry of local and global artistry came together, birthing a home that's both sophisticated and intimate. At its heart is a majestic great room crowned by lofty cathedral post & beam ceilings. One can almost hear the echoes of laughter and the warm embrace of memories, the flickering fireplace playing witness.
A chef's kitchen equipped with the finest modern amenities beckons the culinary artist in you. The adjoining screened porch presents a serene vantage of the lake, teasing you with nature's ever-changing canvas. With 7 splendid bedrooms and 10 bathrooms spread across three tales of luxury, every corner narrates a unique tale of opulence and charm.
Additionally, a tasteful barn, added more recently, offers an expansive space for recreation and more. The lot? A magnificent 29 acres of pristine beauty! This includes an envy-inducing 800′ shorefront and a grand dock that effortlessly skims over Sebago Lake.
With only a stone's throw from Portland and its global offerings, this estate is a harmonious blend of seclusion and connectivity. Dive into the heart of Southern Maine and revel in a lifestyle that epitomizes luxury without any compromise. Welcome to 29 Mains Farm Road!
4. 4 Bayberry Lane, York – $9,595,000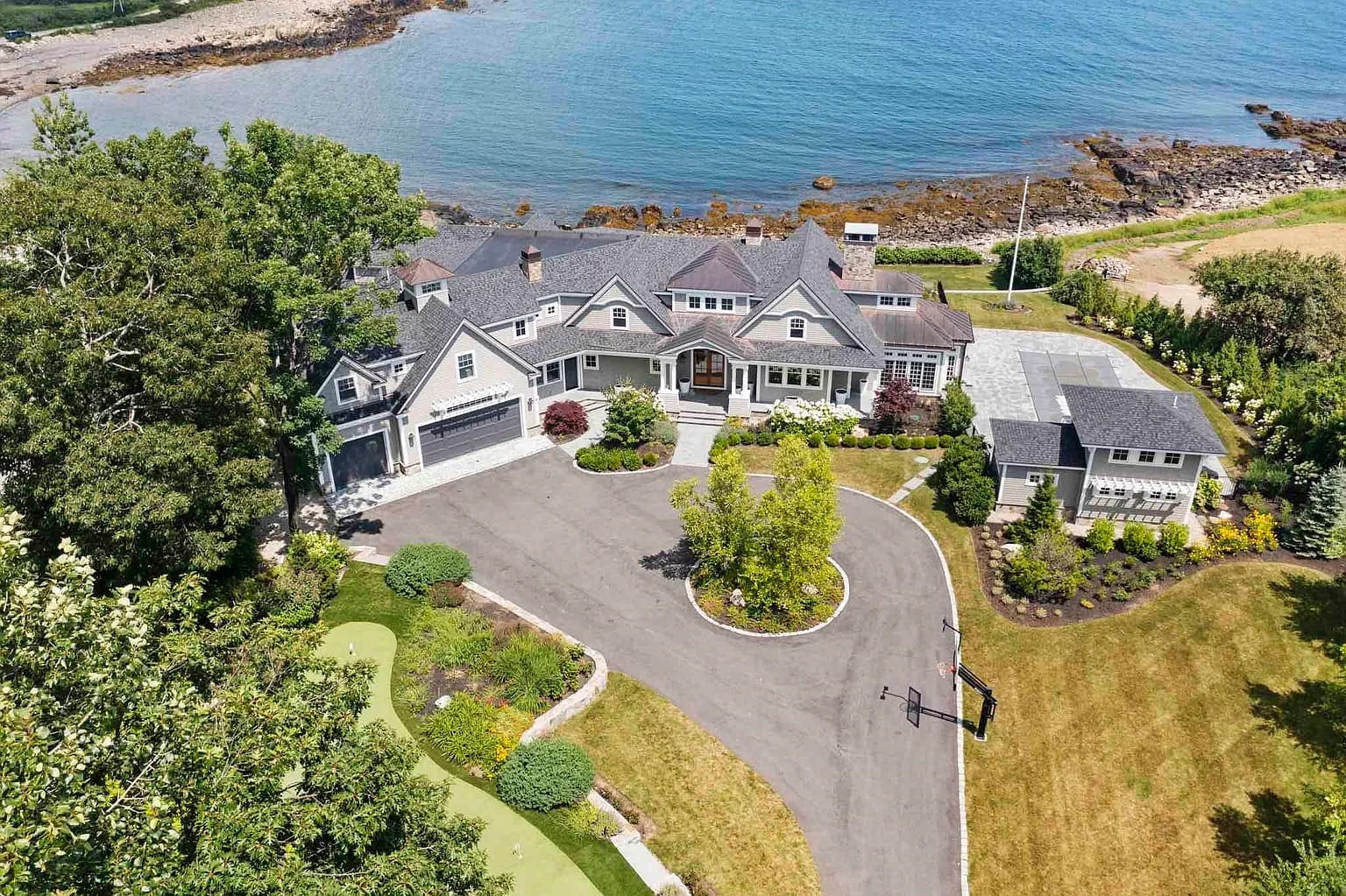 Nestled in the embrace of Cape Neddick's majestic shores, the luxurious 4 Bayberry Lane epitomizes the harmonious fusion of modern design and nature's splendor. Situated in the quaint city of York, this architectural gem was erected in 2018, boasting a vast 7,022 sq ft of livable space that carries the signature aura of shingle style architecture.
As you step inside, you're immediately drawn to the panoramic water views of Phillips Cove, with sunlight streaming through every nook and cranny. Such a spacious sanctuary, with 6 serene bedrooms and 8 modern bathrooms, resonates with the tranquil sounds of the sea's lullaby. At its heart lies a stylish kitchen, a testament to contemporary aesthetics with its top-notch appliances, bespoke cabinetry, and twin islands—a haven for any culinary aficionado.
The home's charm doesn't end there. The sprawling two-story layout offers a myriad of spots to find solace, from the grandeur of the great room, accentuated by timber trusses and a versatile media center, to the intimate warmth of the sunroom graced with a granite fireplace. Outdoors, a saltwater pool invites relaxation, accompanied by a pool house replete with amenities.
Covering 1.81 acres of land, this $9,595,000 estate also offers three commodious garage spaces, drawing inspiration from the multi-level architectural style. And for golf lovers, a surprise awaits: a delightful 6-hole putting green. At 4 Bayberry Lane, you don't just find a house; you discover a holistic experience, where luxury intertwines seamlessly with the tapestry of coastal Maine's allure.
3. 399 Hermit's Point Road, Islesboro – $9,775,000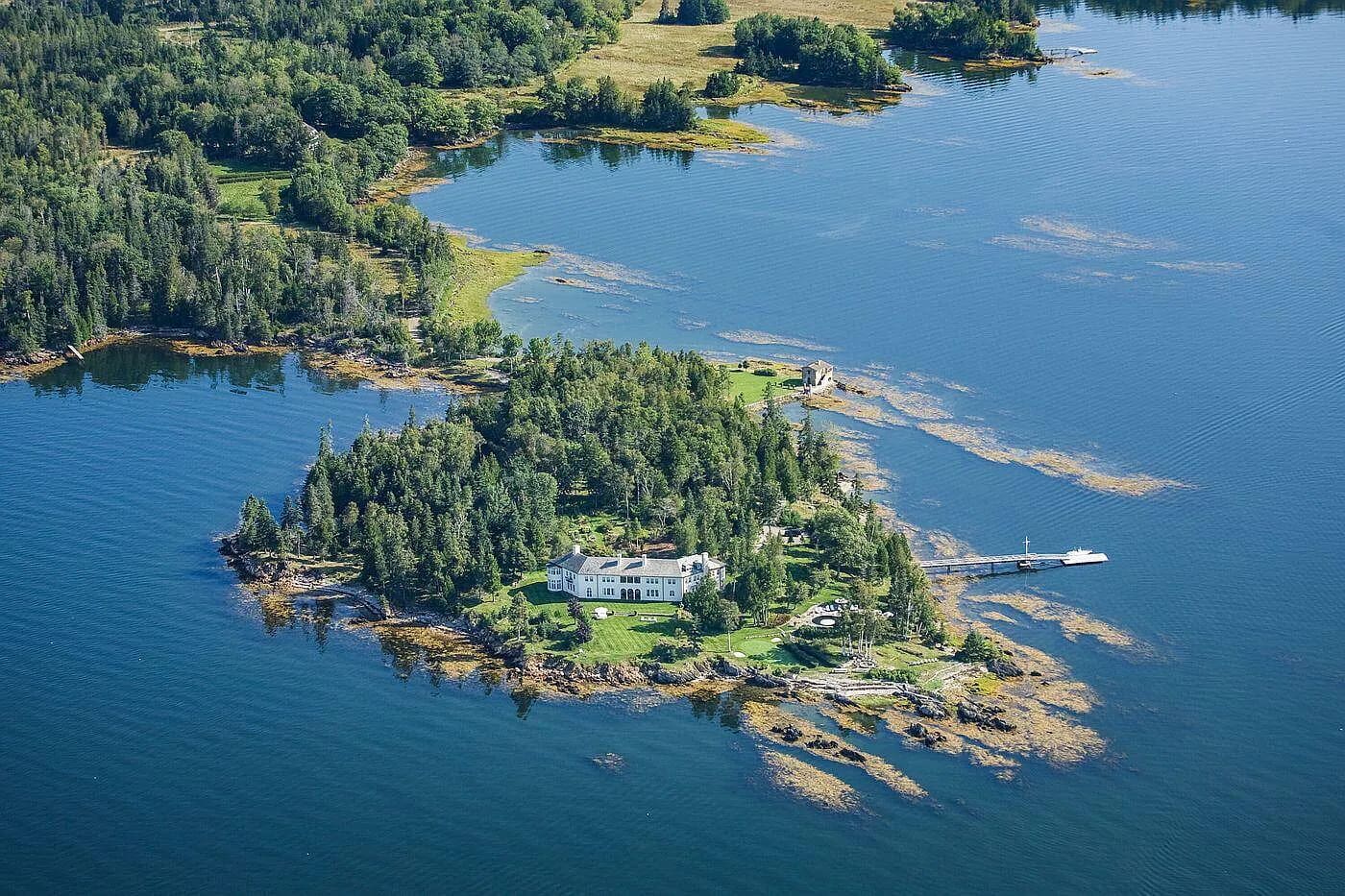 Nestled in the scenic splendor of Keller Point, the historic estate at 399 Hermit's Point Road in Islesboro is truly a gem from another era. Dating back to 1918, this Renaissance Revival stucco "cottage" unfurls across 9,025 sq ft of livable space, all while serenely watching over 8.8 acres of Maine's coastal beauty.
But don't let the term 'cottage' deceive you. This two-story abode is the epitome of grandeur with its charismatic arched doorways, windows, and the promise of a sun-drenched loggia. Beyond its doors, it houses eight en-suite bedrooms and a total of 11 bathrooms, making it a haven for both intimate family gatherings and sizable soirées.
The outside is as enchanting as the inside. The carefully cultivated grounds are reminiscent of classic Maine summer estates, adorned with lush lawns and radiant flowering shrubs. And if you're wondering about the saltwater touch, there's a pristine swimming pool waiting for those lazy afternoons. A stone guest house, albeit in need of some love, paddle tennis court, and other estate-style outbuildings dot the landscape.
What truly sets this property apart is its embrace of the coastline, spanning a generous 3,570+/- feet. With granite ledges, sandy beaches, and a deep-water dock, the views — whether looking out to the Camden Hills or over Seal Harbor — are bound to leave one awestruck. With a price tag of $9,775,000, this estate, wrapped in history and luxury, stands as a testament to timeless Maine architecture.
2. 755 Shore Road, York – $9,850,000
Picture this: A sprawling estate in York, named Easterly, gracing 1.4 lush acres with an undeniable touch of Maine's coastal charm. This is not just any ordinary abode. Built in 2021, its contemporary yet classic New Englander architectural style distinguishes it in a league of its own.
The sheer magnitude of Easterly's main house is breathtaking. With a whopping 6,624 sq ft of livable space, each of its 5 bedrooms and 7 bathrooms narrate a tale of luxury and sophistication. But the magic doesn't just end within the walls. With its unique features like 3 garage spaces and the fact that it stretches across two stories, this house is so much more than the sum of its parts.
Nestled among the best estates in Cape Neddick Maine, the vistas from Easterly offer a mesmerizing view east across the Gulf of Maine. The breathtaking panorama extends to the Kennebunkport Beaches and Biddeford Pool, truly encapsulating the essence of maritime heritage that York so proudly showcases.
But wait! It doesn't just end with the stunning views. The estate echoes tales of bygone days, highlighting the maritime heritage, nature's untouched beauty, and the resilience of the community that has endured and thrived for centuries.
Indeed, Easterly is a remarkable testament to the confluence of history, luxury, and nature – priced at $9,850,000, it stands as an epitome of luxury meeting tradition in the heart of Maine. Dive deep into its story and let your imagination roam free.
1. 45 Milliken Road, Bar Harbor – $11,200,000
The most expensive house in Maine is located at 45 Milliken Road, Bar Harbor and costs $11,200,000.
Right in the heart of Bar Harbor, the gem of 45 Milliken Road—Tranquility—speaks volumes of a paradisiacal union between modern elegance and nature's embrace. Unfolded over a sprawling 9.25 acres, Tranquility's expansive 7,016 sq ft living space is a testament to both architectural brilliance and a deep reverence for nature. Built in 1993, its design is a tasteful blend of Contemporary, Cottage, and Shingle Style that whispers sophistication.
The estate proudly boasts three year-round residences, with nature casting its serene spell through the canopy of the registered wildlife preserve. One is met with sights of deer, foxes, and bunnies as eagles proudly cruise the skies above. The reflection ponds, gentle streams, arched bridges, and the heirloom orchard add an enchanting touch to the surroundings. And when evening descends, a granite fire pit becomes a tranquil rendezvous for stargazers.
Within Tranquility's main residence, a majestic Great Room and a sweeping curved stairway capture the imagination. Offering 4 bedrooms and 5 bathrooms, it's an epitome of luxury, further accentuated with a double-garage space. The sheer brilliance of design continues with the Tranquility Gatehouse and the Tranquility Carriage House, each harmoniously blending with nature.
Such magnificence rarely finds a voice, yet Tranquility, priced at a poised $11,200,000, does so effortlessly. It's more than a residence—it's an experience; a timeless testament to beauty, nature, and architectural prowess.