Jim Carrey, the legendary actor known for his uproarious comedic talent and versatility, has made quite a mark in Hollywood. Beyond his astounding career, Carrey has also made headlines for his lavish lifestyle, including his stunning house in Los Angeles. In this article, we'll take you on a virtual tour of Jim Carrey's house, revealing intriguing details about the property, its interiors, the picturesque outdoor spaces, and the affluent neighborhood it's nestled in.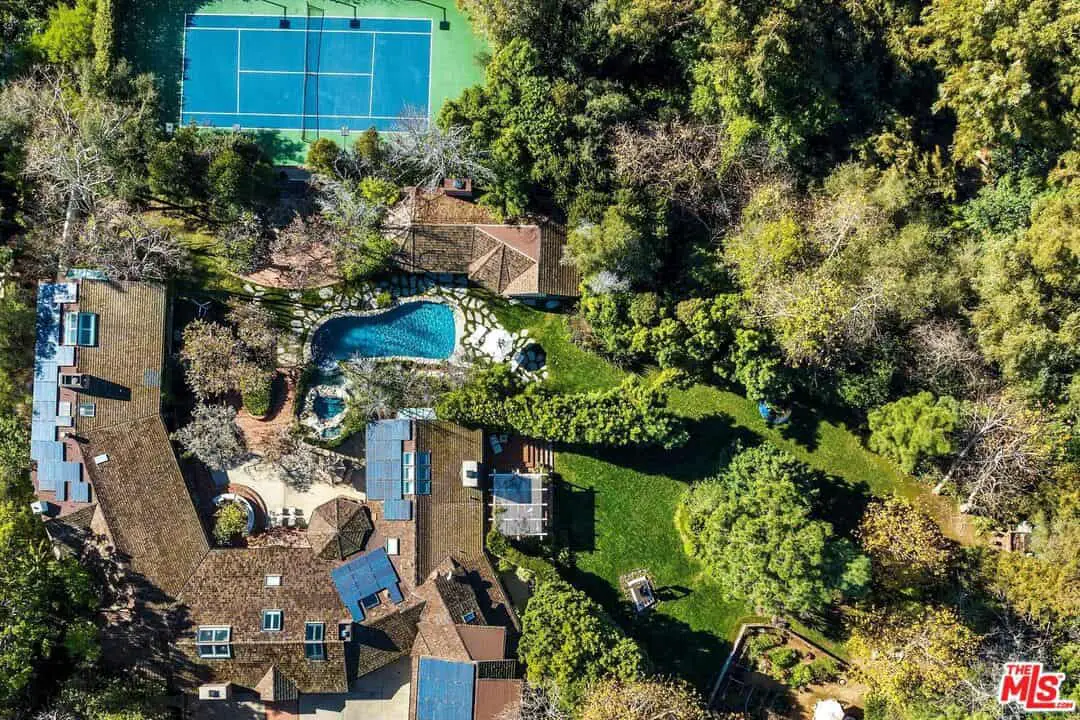 Jim Carrey's house
Where Does Jim Carrey Live Now?
Jim Carrey lives at 615 N Tigertail Rd, Los Angeles, California. For nearly three decades, comedic legend Jim Carrey has called this place home. Spanning over 12,704 square feet, this sprawling estate boasts five bedrooms and seven-and-a-half bathrooms, a testament to its grandeur.
Jim Carrey, with a net worth befitting his Hollywood stature, has built a career that spans decades. He's a man of many talents, from his uproarious comedy in films like "Ace Ventura" to his profound performances in "Eternal Sunshine of the Spotless Mind" and "The Truman Show." Beyond his career, Carrey's personal life, including his family, hobbies, and recent events, keeps fans intrigued.
The entryway to Jim Carrey's house
However, amidst all the glamour, Carrey has recently made headlines for another reason: he's decided to sell his Los Angeles residence. The unassuming brick facade of this magnificent mansion conceals a world of luxury and enchantment that has recently hit the market at just over $26.5 million, following a price reduction from its initial listing. As he parts ways with this opulent abode, it becomes the talk of the town. The question on everyone's mind now is: where will the comedic genius relocate to next?
Exploring Jim Carrey's Luxurious Indoor Amenities
Upon entering, you're greeted by a modern living space adorned with quirky artworks, reflecting Carrey's unique personality. The room has a large chandelier hanging from the ceiling, providing bright light to the space. In the center of the room is a black piano and a wooden table, surrounded by two white couches with grey pillows. On one side of the couch there is an ornate brown vase with a stem sticking out from it, adding some color to the otherwise neutral palette. There are also several houseplants scattered around in various pots and planters, bringing life into this indoor area. Lastly, near one corner there is an armchair for additional seating options when needed. This living room provides plenty of comfort and style for anyone who visits it!
Jim Carrey's living room
The kitchen, the heart of any home, is a masterpiece in itself. It features top-of-the-line appliances, sleek countertops, and an impeccable layout. It's the perfect space for Carrey, who is known for his culinary skills and love for hosting friends and family. The walls are painted in a light shade of grey, while the floor is made of wood. In the center of the room there is an island with a sink and faucet, as well as a plant on top. On one side of the room there is an oven with silver knobs, and on another side there is a cupboard filled with dishes. Above this area hangs a light fixture from the ceiling. There are also several windows that let natural light into the space, along with some drawers for storage underneath them. A vase filled with flowers sits atop one of these drawers to add some color to the scene. Finally, near one corner we can see part of what looks like an exhaust hood above what appears to be either a gas stove or microwave oven below it. All together this kitchen has all necessary appliances for cooking meals at home in style!
Jim Carrey's kitchen
The dining room is a vivid display of colors, with a vast rainbow rug, electric blue fireplace surround, and an array of captivating artworks on the walls. The furniture in the room consists of white chairs surrounding a glass table, which has a small green plant on top. On one side of the room is a large window that lets in natural light, while on the other side there is an open doorway leading to another area. Above the chairs hangs an array of lights that provide additional illumination for the space. In addition, there are several decorative items such as vases and planters scattered throughout the room, adding to its overall aesthetic appeal.
Jim Carrey's dining room
The bedrooms resemble luxurious five-star hotel suites, featuring plush headboards, high-end lighting, and a blend of exquisite textiles. The walls are painted white, and the floor is covered in light wood laminate. On the left side of the room there is a studio couch with several pillows on it in shades of brown and cream. To the right of that is an armchair upholstered in dark brown fabric. In front of them both is a large bed with white linens and two throw pillows at its headboard. A small table sits next to it, topped by a black vase filled with flowers. On either side of the bed are lamps on nightstands for extra lighting when needed. Across from this seating area is an ornate fireplace surrounded by built-in shelves filled with books and other items for decoration or storage purposes. Above it hangs an oil painting depicting a woman sitting in an armchair. There's also a window near the ceiling which lets natural light into this inviting space as well as providing views outside to nature beyond these four walls.
Jim Carrey's bedroom
However, the most remarkable space in the house is undoubtedly Carrey's bathroom. The walls are painted in a warm brown color and the floors are made of hardwood with a diamond pattern. There is plenty of cabinetry along the walls, topped with white countertops and featuring drawers for storage. In one corner there is a fireplace with glass doors and a metal hood above it on the wall. On either side of the fireplace there are windows that have glass panels to let in natural light. A sink sits beneath one window, while cupboards line another wall near it. Above them hangs some molding around the ceiling which has recessed lighting fixtures throughout it. Nearby stands an ornate chest of drawers decorated with varnish and brass handles, as well as several vases filled with flowers placed atop it for decoration. Finally, at the far end of this room is a tub surrounded by tiling on both sides and adorned by a white towel hung up on its rack nearby – completing this beautiful interior design scene!
Jim Carrey's bathroom
The house is truly one-of-a-kind, much like Carrey's diverse roles in Hollywood, and offers an array of amenities. An art-deco style movie theater with mohair-covered sofas awaits cinephiles. The main focus of the photo is a large, comfortable couch in the center of the room. It has several pillows on it, including one that is close up in the corner of the frame. On either side of this sofa are two armchairs with red blankets draped over them for added warmth and comfort. There is also a loveseat near the window which looks out onto an outdoor area. The focal point however remains to be a large television screen mounted on one wall which features an animal graphic across its surface. All together this creates an inviting atmosphere perfect for relaxing or entertaining guests!
Jim Carrey's theater
Jim Carrey's House Outdoor Area
Jim Carrey's Brentwood estate doesn't just offer opulence indoors; it extends its enchantment to the great outdoors. Situated on approximately two acres of meticulously landscaped land, this property is a true outdoor paradise, designed to provide tranquility, recreation, and natural beauty.
The centerpiece of the outdoor space is a stunning pool area that transcends typical luxury. Framed by lush greenery and lined with rocks, the pool exudes a natural and serene vibe. Its pièce de résistance is a graceful waterfall, which not only adds an auditory symphony of flowing water but also serves as a visual spectacle. Imagine yourself floating in the pool, the soothing sound of waterfalls in the background—pure bliss.
Jim Carrey's pool
Tennis Court Extravaganza:
For those with a competitive spirit or a passion for tennis, Carrey's estate offers a full-sized tennis court. Whether you're a seasoned player looking to hone your skills or a novice hoping to pick up a new hobby, this court is a splendid addition to the property. Engage in friendly matches or enjoy some solitary practice in a serene, lush green setting.
Jim Carrey's tennis court
The estate's outdoor space is interwoven with meandering paths that beckon you to explore its hidden corners. As you walk along these paths, you'll discover the property's secrets, including secluded nooks for quiet reflection and spots where you can simply appreciate the natural beauty that surrounds you.
Jim Carrey's outdoor area
Yoga and Meditation Bliss:
In alignment with Carrey's love for mindfulness and spirituality, the estate features a dedicated yoga and meditation platform. Surrounded by the property's natural beauty, this tranquil space invites you to find inner peace, meditate, or practice your yoga poses. It's a serene sanctuary where you can connect with nature and yourself.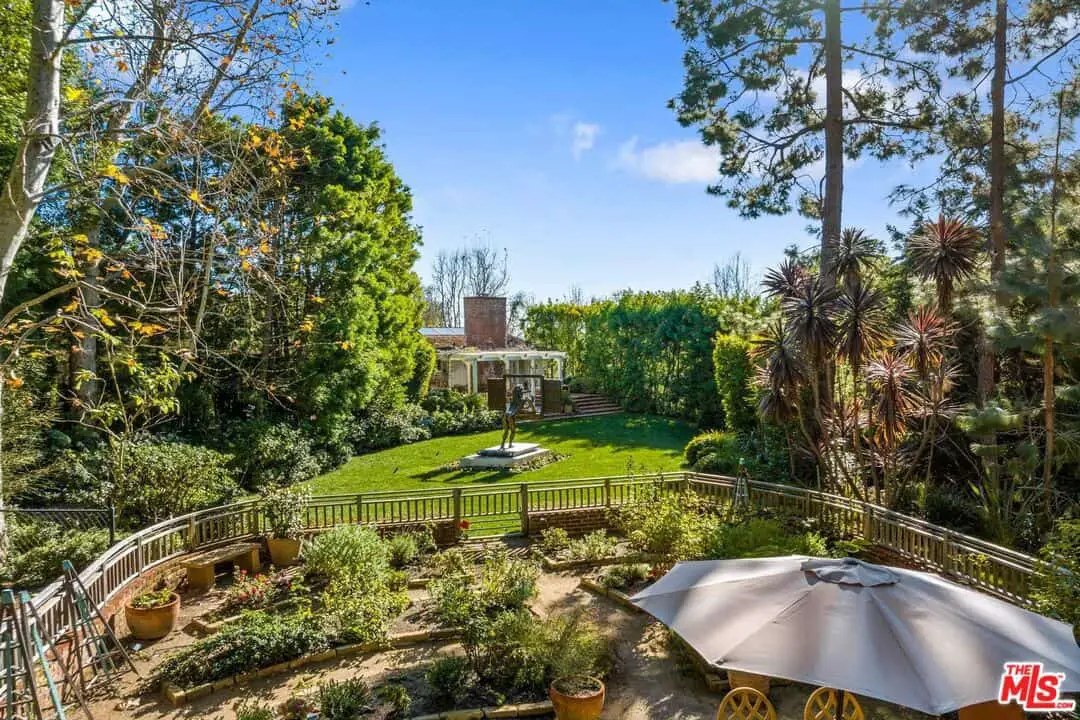 Jim Carrey's outdoor beauty
Jim Carrey's Neighborhood
Brentwood, the sought-after neighborhood that has been Carrey's home for 30 years, is no stranger to celebrity residents. Icons like Arnold Schwarzenegger and LeBron James also call this exclusive enclave their home. Whether it's the proximity to renowned restaurants, high-end shopping districts, or the allure of Hollywood's entertainment scene, this neighborhood has it all.
Jim Carrey's neighborhood
Additionally, if you happen to be a fan of architecture and design, taking a stroll through the nearby streets can be a visual treat, as many homes in the area boast exquisite designs and meticulous landscaping. If you're curious about the building itself, Jim Carrey's residence is a private and well-maintained property, offering amenities that cater to his celebrity lifestyle. The estate reflects Carrey's desire for both comfort and luxury, providing an idyllic retreat from the bustling city life just beyond its gates.
Other Houses Owned by Jim Carrey
While Jim Carrey's primary residence in Los Angeles has been a subject of fascination, information about his other properties remains shrouded in mystery. The enigmatic comedian and actor has successfully kept details about his secondary residences away from the public eye. Whether he owns additional homes in different cities or retreats to secluded getaways, the specifics remain undisclosed. Carrey's ability to maintain privacy in an era of constant scrutiny is a testament to his determination to separate his personal life from the spotlight. As we explore his lavish Los Angeles home, it's a reminder that some aspects of celebrity life are meant to remain hidden, allowing stars like Jim Carrey to maintain an air of intrigue.