Barbra Streisand's house in Malibu is a dreamy coastal escape, epitomizing luxury living at its finest. The legendary singer, actress, and director has made quite an impression on the entertainment world. With a net worth that reflects her immense talent and contributions to the industry, she decided to invest a significant portion of her wealth in a stunning residence that reflects her lavish lifestyle and exquisite taste. Let's take a look at Barbra Streisand's Malibu house.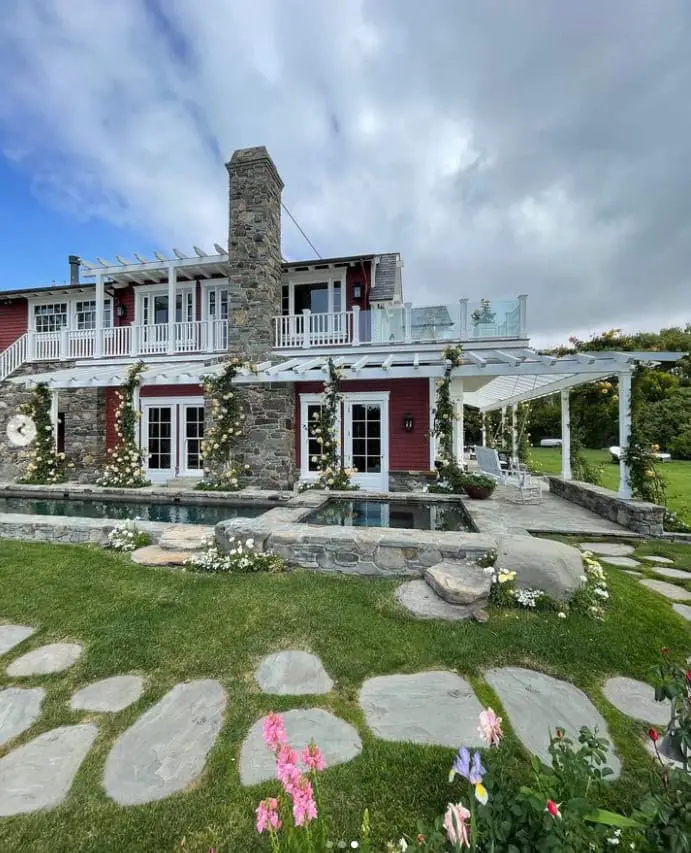 Barbra Streisand's house
Where Does Barbra Streisand Live Now?
Barbra Streisand lives at 6830 Zumirez Dr, Malibu, California. Located not too far from her previous residence, in 1984 Barbra Streisand laid eyes on the main house of this vast property, igniting a spark that would turn into a remarkable story. Little did she know that her initial attempt to purchase the house was met with a flat-out rejection. Undeterred, Streisand acquired the adjacent properties and patiently bided her time until the property she yearned for finally became hers, a decade later.
In total, this compound spans an astonishing 47,000 square feet, including several distinct buildings. There's a rustic millhouse, complete with a 14-foot-high, 4,000-pound water wheel. Then there's "Grandma's House," a cozy guest cottage, overflowing with quilts. The centerpiece, of course, is the 10,500-square-foot main mansion, an elegant white residence offering eight bedrooms and around eleven bathrooms.
Barbra Streisand's House Interior
The heart of the estate, without a doubt, is the colossal U-shaped barn, accompanied by a stone silo. Inside this vast space, a two-tiered central room leads to various intriguing sections – a lounge, a library, an opulent office, a bedroom dedicated to napping, and yes, the much-talked-about shopping mall. We'll come back to that in a moment. Though Streisand spent years perfecting every detail, from antique hunting to sourcing authentic materials, she and her husband, James Brolin, only spend their nights in the main house. They treat the barn like a luxurious bed and breakfast, offering an escape without having to leave their own property.
The high ceiling, adorned with wooden beams, adds a rustic touch and creates a sense of spaciousness. A large fireplace serves as the focal point of the room, with a painting hung above it adding an artistic flair. The room is furnished in a cozy manner, blending antique and modern pieces to create a harmonious balance. The walls, decorated with various paintings, contribute to the room's aesthetic appeal. Wooden shutters on the windows enhance the traditional vibe of the space.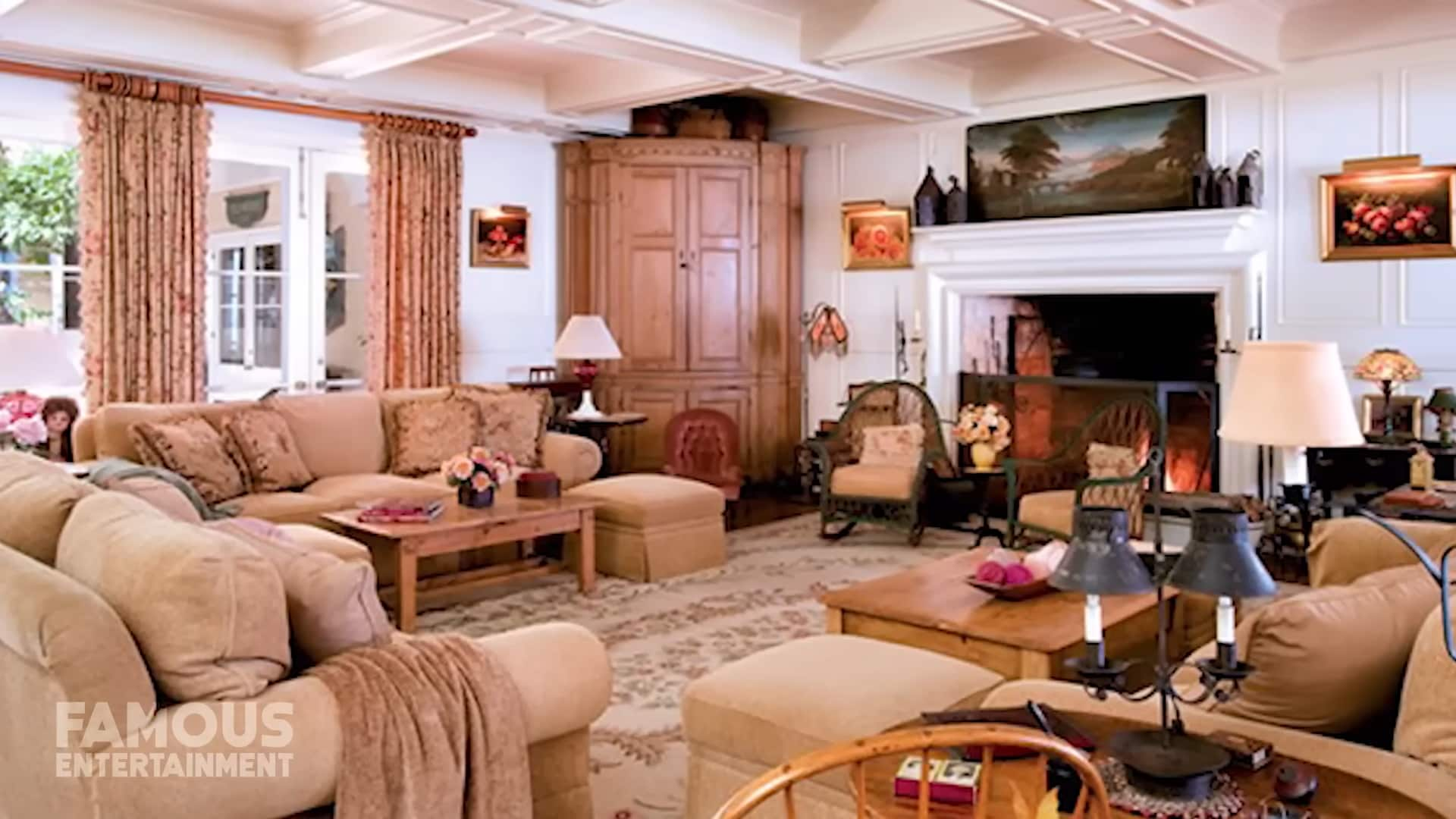 Barbra Streisand's living room
When it came to decorating her home, Barbra not only found space for her numerous awards, including eight Grammys, two Oscars, eight Golden Globes, and three Emmys, but also adorned it with prestigious and costly decorative items.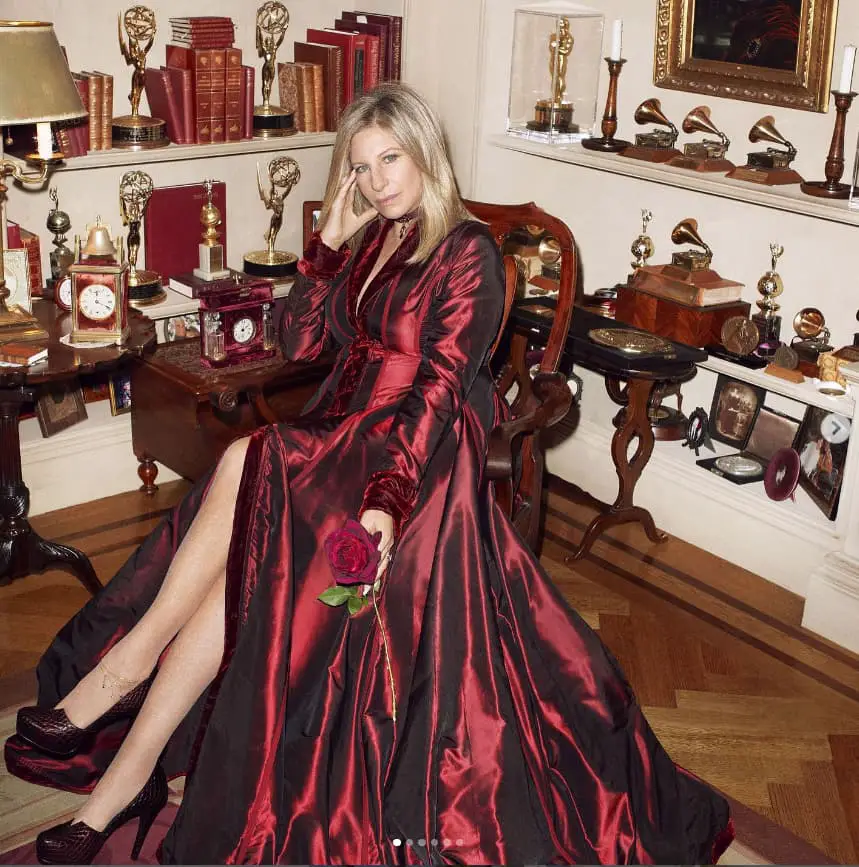 Barbra Streisand's space for the awards
Barbra Streisand's dining area beautifully encapsulates a traditional architectural style. The room is adorned with plants and knick-knacks, adding a personal touch to the space. A large window offers a view of a garden, inviting nature into the room and enhancing the overall ambiance. The room's traditional style is accentuated by a chandelier and curtains, lending an air of elegance and sophistication.
Barbra Streisand's dining area
During the pandemic, Barbra Streisand and her husband, James Brolin, expanded the property, transforming a small concrete block house into a screening room, ensuring that every member of the family has their own haven.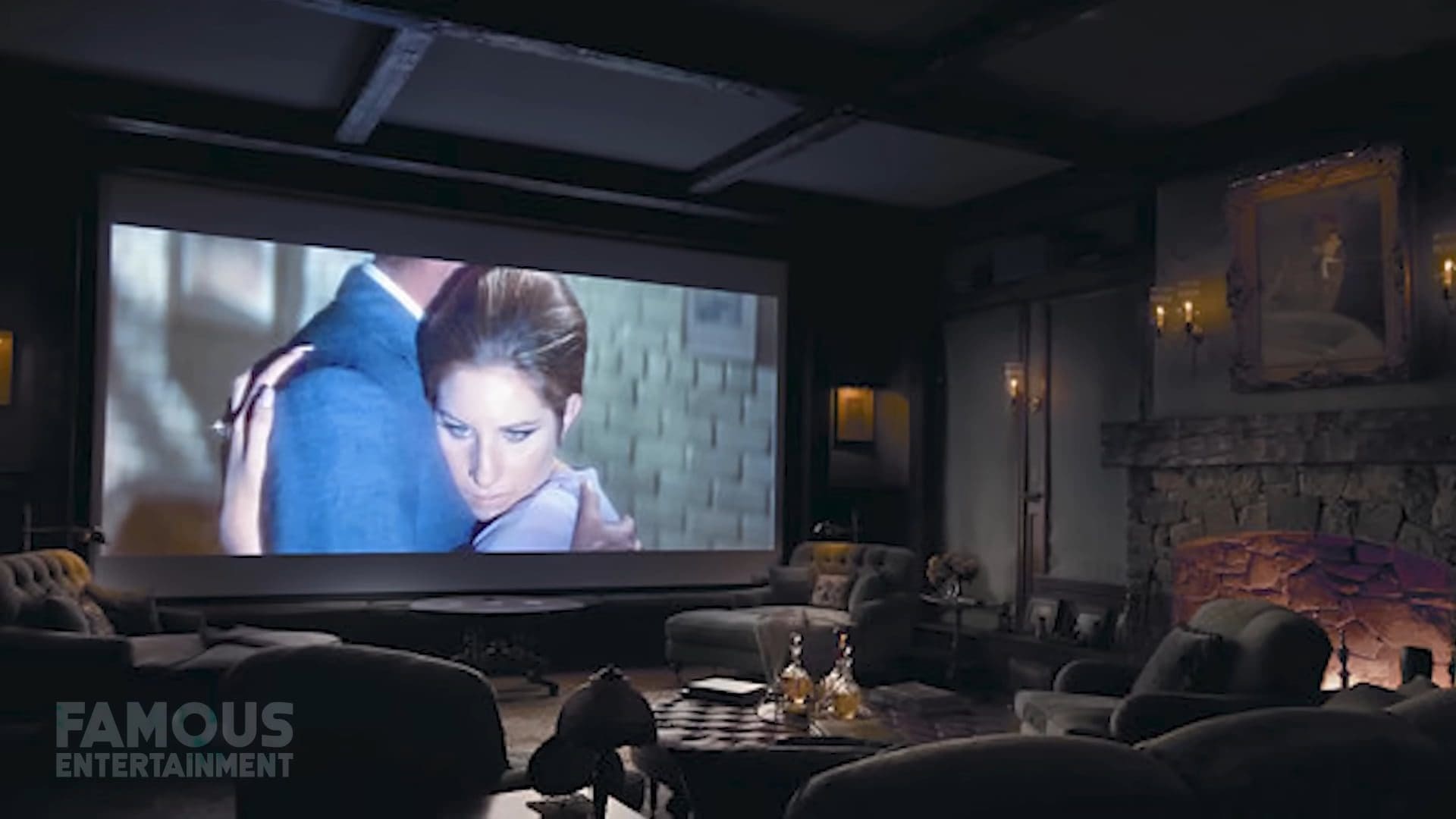 Barbra Streisand's screening room
On Barbra's Instagram, we have a glimpse of a captivating room she's transformed into a studio. This room boasts a stunning wooden floor and clean white walls, providing a versatile backdrop for the array of items and furniture it houses. With a window and a charming French door featuring glass panels, natural light pours in, illuminating the warmth of the wooden flooring.
Inside, you'll find a well-furnished space, complete with a table, chairs, a desk, and a bookshelf, each serving a unique purpose. The floral patterns on the window curtains introduce a soft, colorful touch to the room. Remarkably, despite the items in the space, it emanates an inviting sense of comfort and familiarity, offering a glimpse into Barbra's personal experiences and creative process.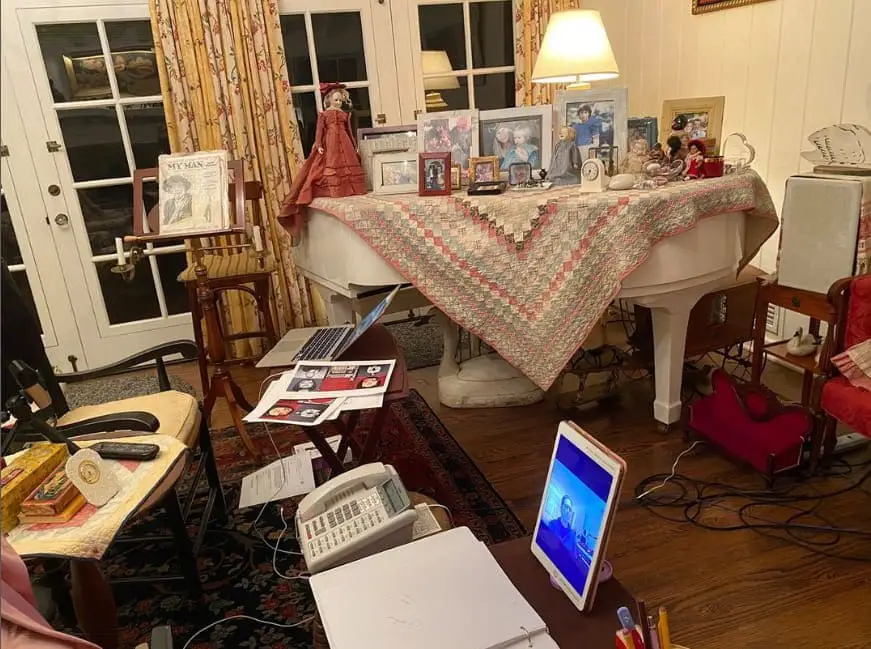 Barbra Streisand's studio
Now, let's talk about the pièce de résistance, the unique feature that sets Streisand's mansion apart – her basement shopping mall. Nestled in the basement of the family barn, it boasts a cobblestone-paved, antique lantern-lit facade, reminiscent of a 19th-century shopping district. But it's not just a shop or two; it's a whole collection of them. From licorice to frozen yogurt and popcorn, there's a sweet shop, an antique shop, a clothes shop, and even a doll shop.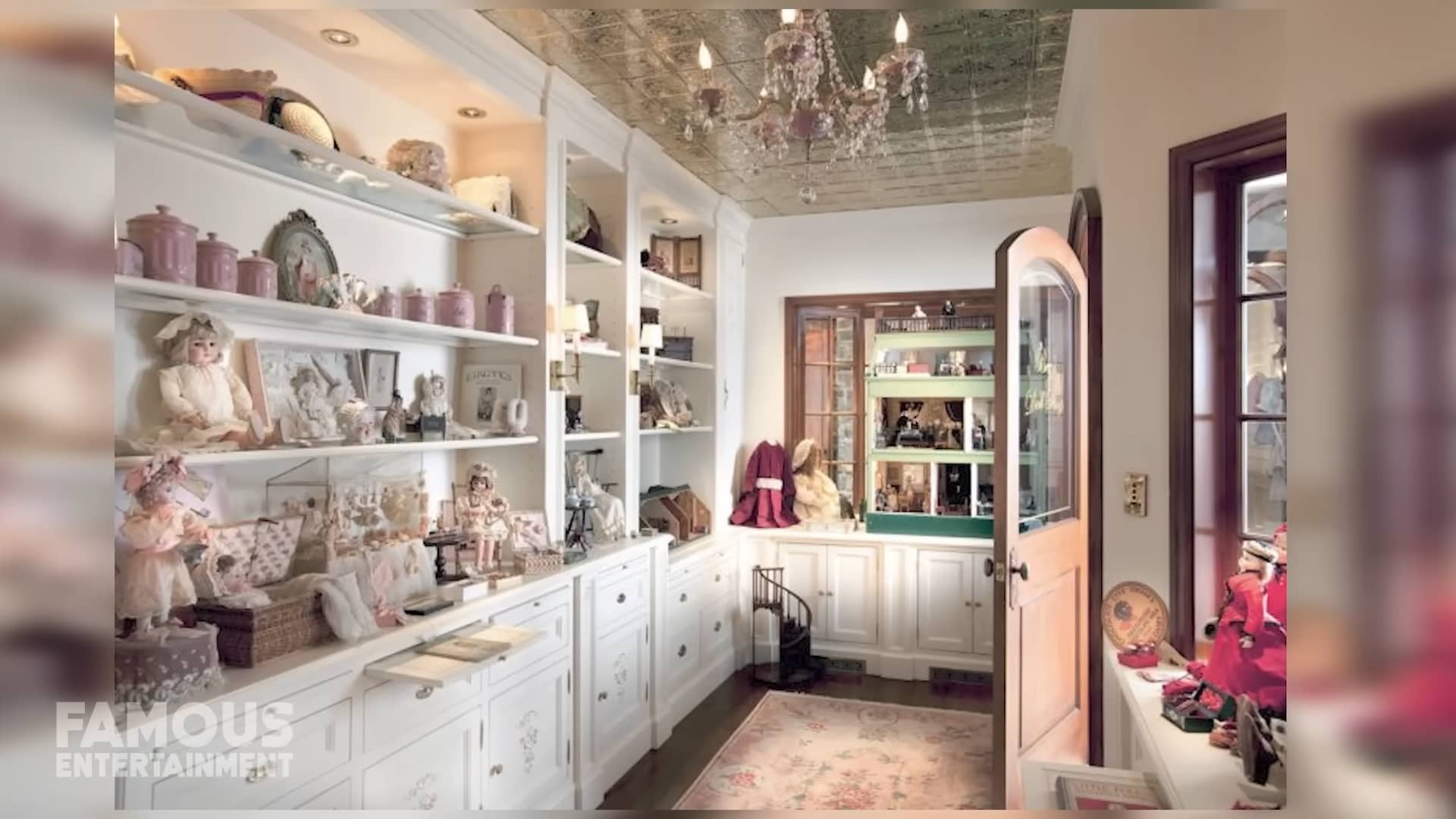 Barbra Streisand's shopping mall
Barbra Streisand's Exterior and Outdoor Area
Barbra Streisand's house beautifully embodies the American Craftsman architectural style. The house is painted red with white trim, a color scheme that enhances its charm and stands out against the surrounding landscape. A stone chimney adds a rustic touch, reflecting the Craftsman style's emphasis on the use of natural materials.
The house is surrounded by a well-manicured garden, with a pond in the foreground adding a serene element to the setting. The garden, with its lush greenery, complements the house's exterior and creates a harmonious balance between the built and natural environment.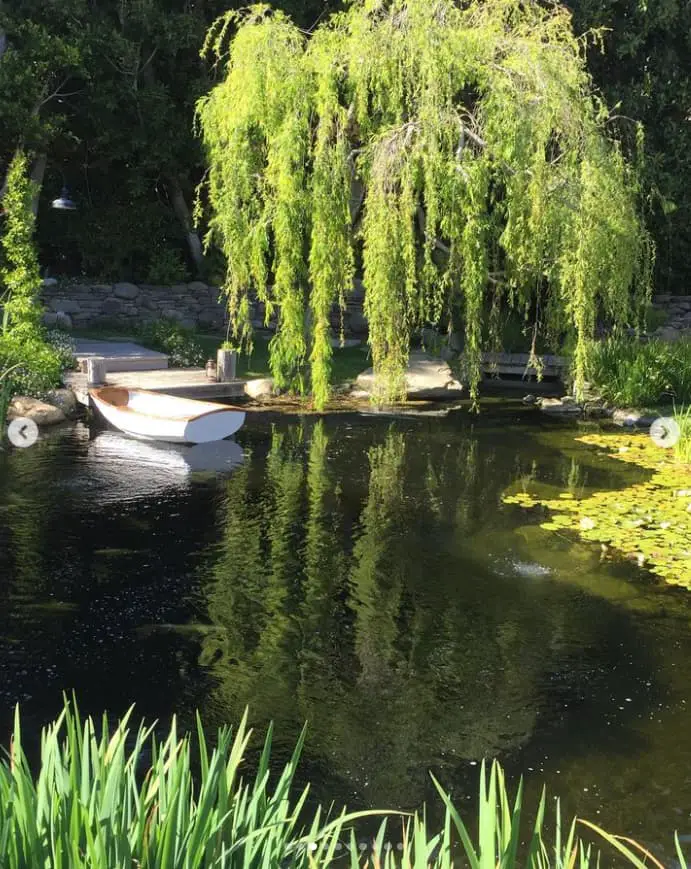 Barbra Streisand's pond
A white wooden bridge, adorned with yellow roses and lush greenery, arches gracefully over a tranquil pool. The bridge, with its classic design, adds a charming focal point to the garden. The pool is encircled by stone pavers, adding a touch of rustic elegance. White flowers bloom in abundance around the pond, their delicate beauty enhancing the garden's peaceful ambiance.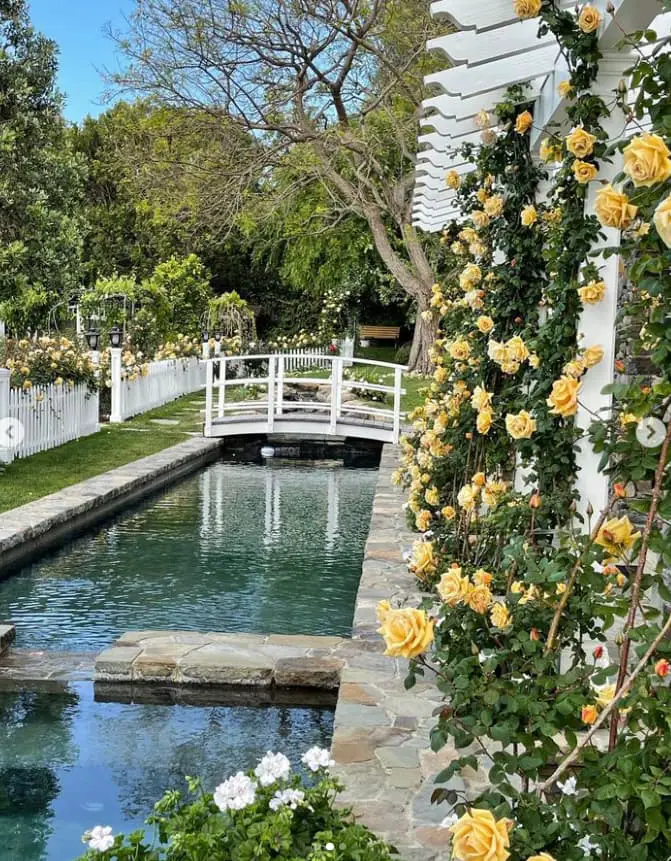 Barbra Streisand's pool
This remarkable compound is rumored to be worth $100 million, overlooking the stunning Pacific Ocean in Malibu, California. An extra guest house stands ready for relatives or friends who wish to stay, surrounded by eight bedrooms and eleven bathrooms within this expansive 10,000-square-foot space.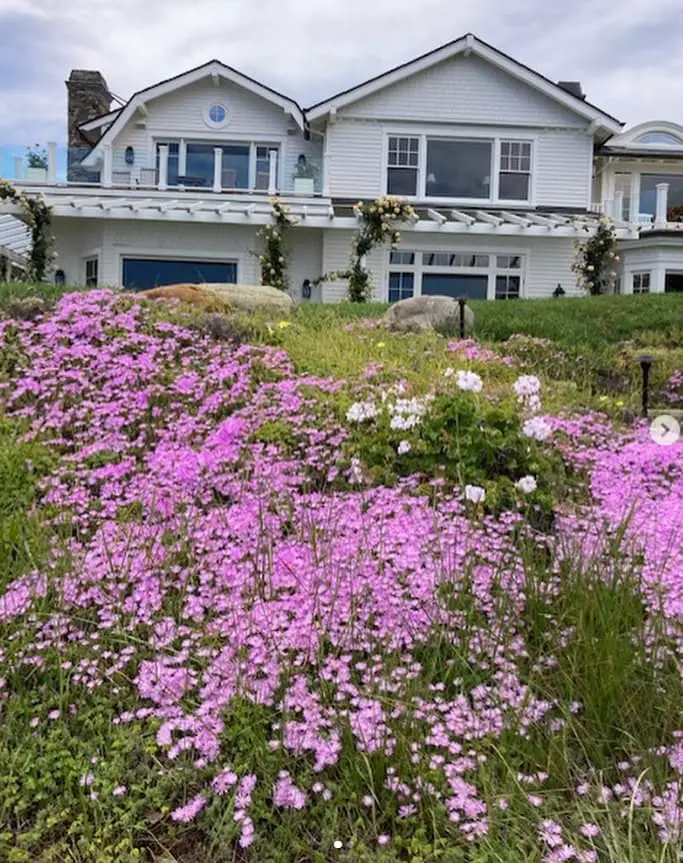 Barbra Streisand's guest house
Barbra Streisand's Neighborhood
In the neighborhood that Barbra Streisand has lovingly curated, her main house takes center stage, but the adjacent properties hold their own unique charm in her grand tale. The Hollywood legend's enduring affection for her coastal sanctuary led her to acquire not just one, but two neighboring estates, each playing a vital role in the narrative of her dream family home.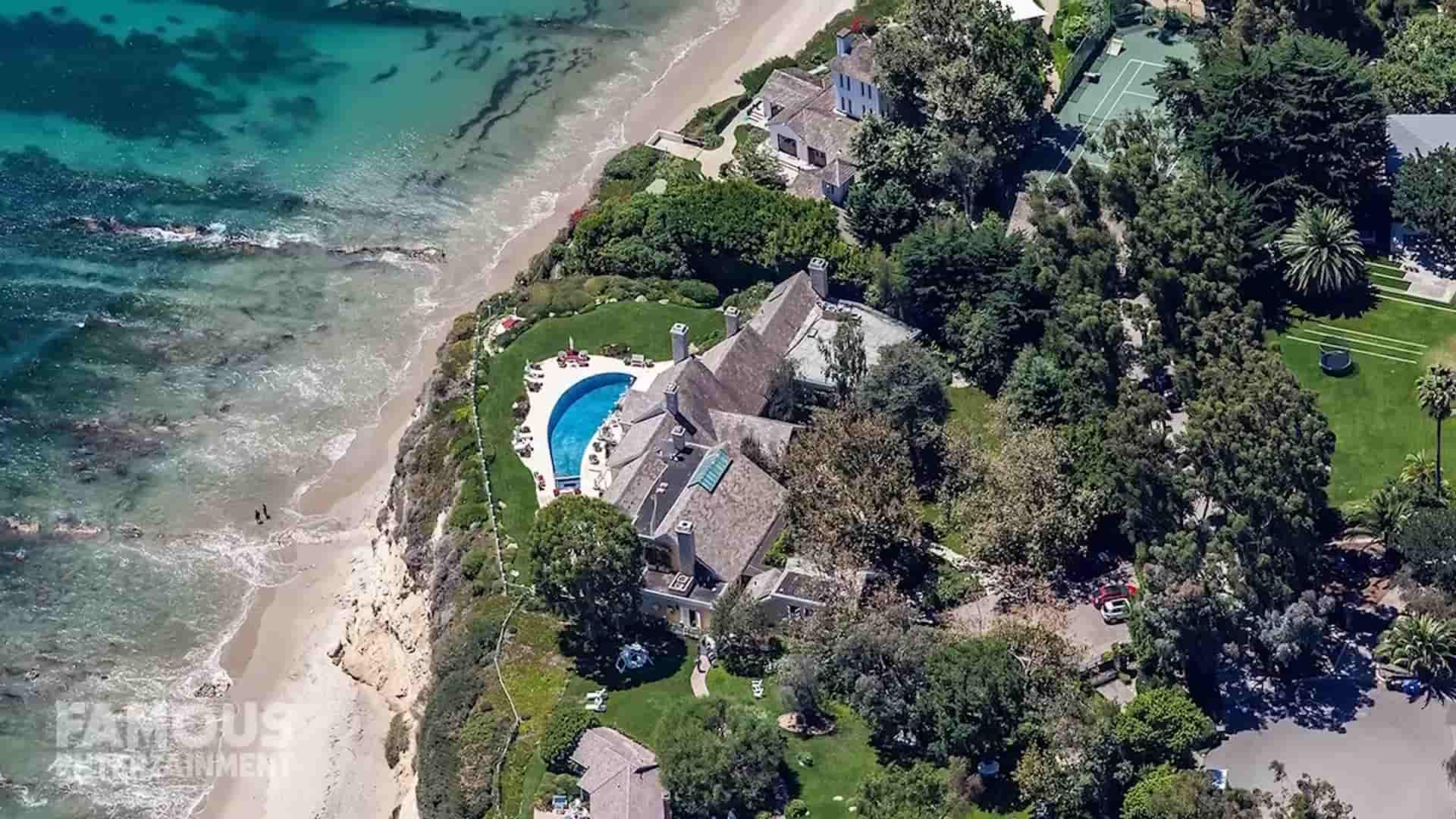 One of Barbra's acquired properties
These additional houses expand the scope of her compound, bearing the same aura of grace, sophistication, and historical significance that define her primary residence. Collectively, they shape a captivating neighborhood that vividly reflects her distinctive vision and artistic flair.
Other Houses Owned by Barbra Streisand
While this article primarily focuses on Barbra Streisand's exquisite Malibu retreat, her real estate journey features a captivating array of properties that deserve recognition.
In 1963, Streisand and her then-husband, Elliott Gould, established their first real home at 320 Central Park West. However, it took 14 years to sell the apartment, initially offered to Mariah Carey for a reported $8 million in cash. Ultimately, Streisand parted with it for $4 million.
March 31, 1970, marked the acquisition of a five-story brownstone in New York City for $420,000, adding another dimension to her property portfolio. During her time in Hollywood for "Funny Girl" and "Hello, Dolly!" Streisand resided in Greta Garbo's iconic North Bedford Drive house.
In 1969, she rented a house on Carolwood Drive while filming "On A Clear Day You Can See Forever" and later decided to purchase it. The Mediterranean-style home featured five bedrooms, seven baths, and a vast 9,500 square feet of living space. In 1997, she put it up for sale as she prepared to move to her new house on Malibu's Point Dume, as previously explored in this article.