Josh Allen's house in Dana Point, California, is more than just a luxurious abode; it's a testament to his remarkable success in the world of professional football and his impeccable taste in real estate. When it comes to the lavish homes of the rich and famous, few can compare to the breathtaking abode of Buffalo Bills quarterback Josh Allen.
Josh Allen's entryway
Nestled in the picturesque city of Dana Point, California, this spectacular residence is a testament to both his success on the field and his impeccable taste in real estate. In this article, we'll take an in-depth tour of Josh Allen's house, from its purchase story to its stunning interior and outdoor features.
Where Does Josh Allen Live Now?
Josh Allen lives at 144 Monarch Bay Dr, Dana Point, California. At a price tag of $7.2 million, Josh Allen discreetly acquired this piece of heaven in July 2023. Concealed within the confines of the gated Monarch Bay Private Beach Club, this single-level abode exemplifies the essence of mid-century California architecture. The residence exudes an aura of tranquility, boasting a total living space of 2,808 square feet with four bedrooms and three bathrooms, effortlessly blending with its coastal surroundings.
Josh Allen's Contemporary House Interior
Upon stepping inside Josh Allen's house, you'll be greeted by a spacious and light-filled living area. The exposed beams on the ceiling add a rustic touch to the otherwise contemporary space. The room's centerpiece is a fireplace with a black brick surround, above which a large TV is mounted. This arrangement creates a cozy and comfortable entertainment area. The room also houses a grand piano, indicating a taste for music and sophistication. The large area rug anchors the space, providing a sense of cohesion among the various elements in the room.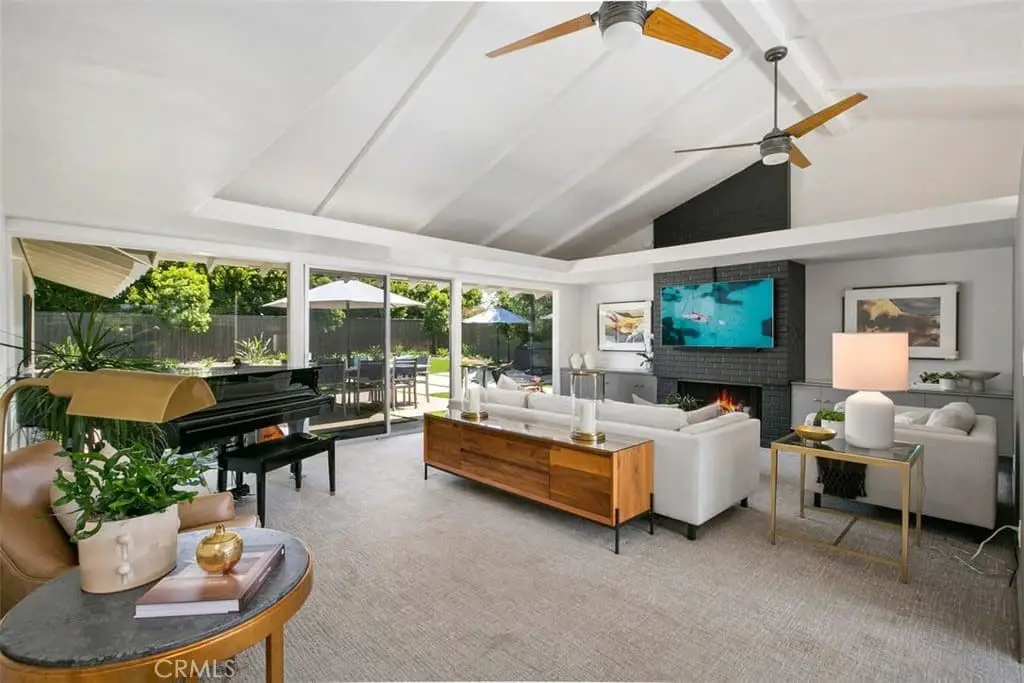 Josh Allen's living room
The kitchen is a true highlight of the house, dominated by a white color scheme, which is complemented by the wooden island at its center. This island, with its wooden countertop and black bar stools, serves as both a functional workspace and a casual dining area. One of the most striking features of this kitchen is the abundant greenery. The plants add a vibrant pop of color, creating a refreshing contrast against the white backdrop. They also introduce an element of nature into the space, softening the clean lines and smooth surfaces typical of modern design.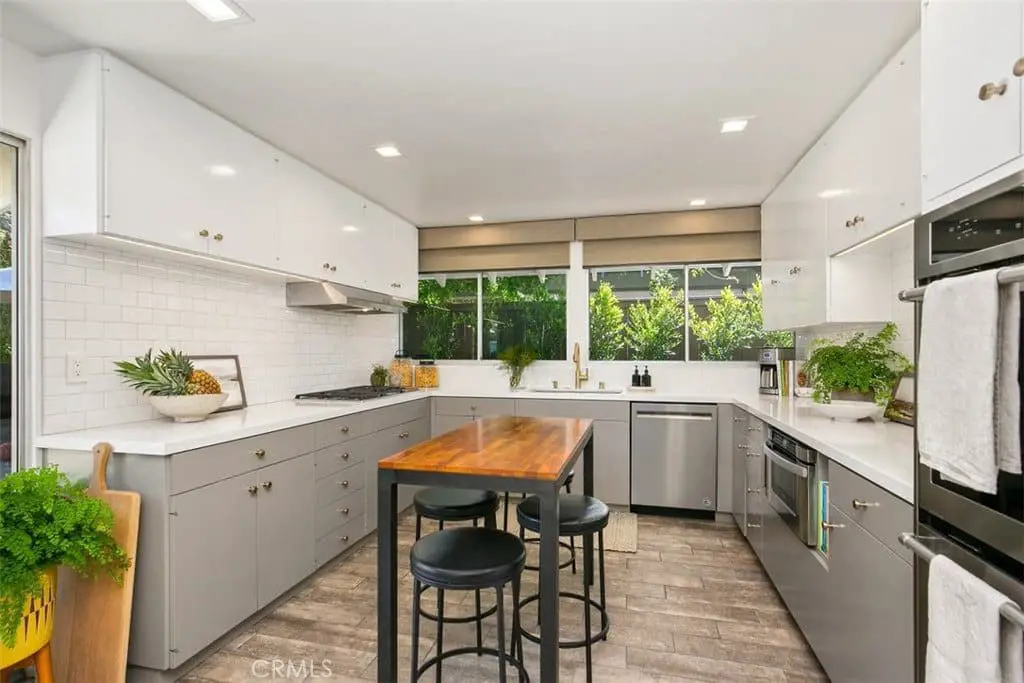 Josh Allen's kitchen
The home's interior unfolds with a formal dining room that is characterized by a large sliding glass door that leads to a patio, seamlessly integrating indoor and outdoor spaces. The room is framed by white walls and a white ceiling, providing a clean and neutral backdrop that accentuates the room's furnishings. The floor, made of wood-look tile, adds warmth and texture to the space, complementing the overall design.
The dining table, crafted from wood, is surrounded by six chairs upholstered in a soft beige fabric. The room's decor is thoughtfully curated, with a gold chandelier serving as a striking focal point. A black sideboard provides practical storage while contributing to the room's modern aesthetic. A painting of the ocean adds a touch of color and a sense of tranquility to the space.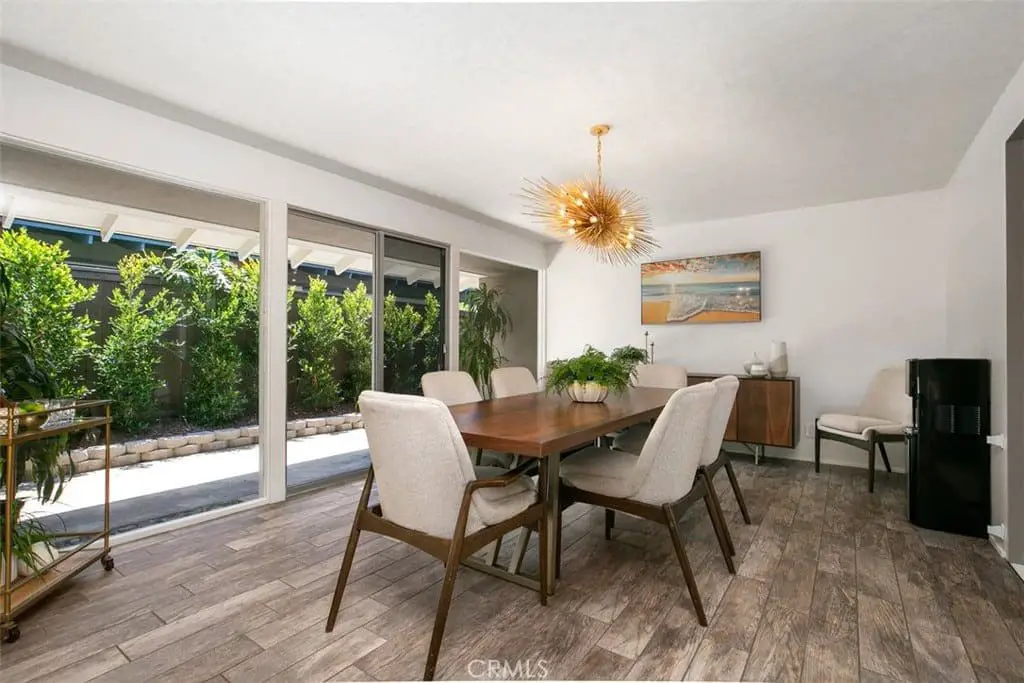 Josh Allen's dining room
Josh Allen's House Outdoor Area
The backyard, an undulating canvas of potential, currently boasts a hot tub and terrace, offering moments of reprieve amidst the serene surroundings. However, there's ample room for expansion, with the possibility of adding a pool, a secret that Josh Allen holds close to his chest.
Josh Allen's outdoor area
Josh Allen's Neighborhood
The location of Josh Allen's house, just 60 miles south of Los Angeles, ensures that he can enjoy the renowned amenities of Dana Point and Monarch Beach. From pristine beaches to fine dining, golfing, tennis, hiking, and the picturesque Dana Point Harbor, this coastal community offers an unparalleled lifestyle.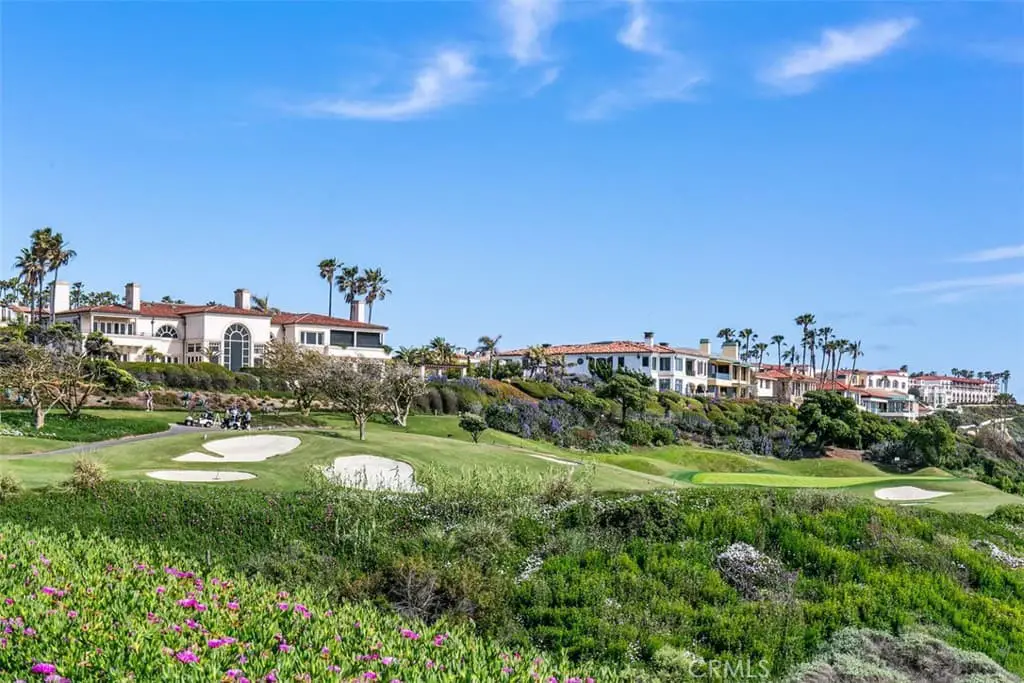 Josh Allen's neighborhood
Other Houses Owned by Josh Allen
While this article primarily focuses on Josh Allen's main residence in Dana Point, it's worth mentioning that the quarterback may own other properties. Reportedly, Josh Allen owns a house in Orchard Park. The house is worth $1.6 million and has five bedrooms, six bathrooms, a pool, a hot tub, a fireplace, a game room, a theatre room, and a three-car garage.
Josh Allen's Orchard Park house
It is located in a cul-de-sac that offers security and tranquility for Josh Allen and his family. The house is also decorated with several memorabilia and photos of Josh Allen's football career.