Justin Timberlake, the multi-talented artist and global sensation, is no stranger to the glitz and glamour of the entertainment world. Beyond his chart-topping music and successful acting career, Timberlake's life is characterized by luxury and opulence. And what better way to exemplify this than his spectacular house in Los Angeles?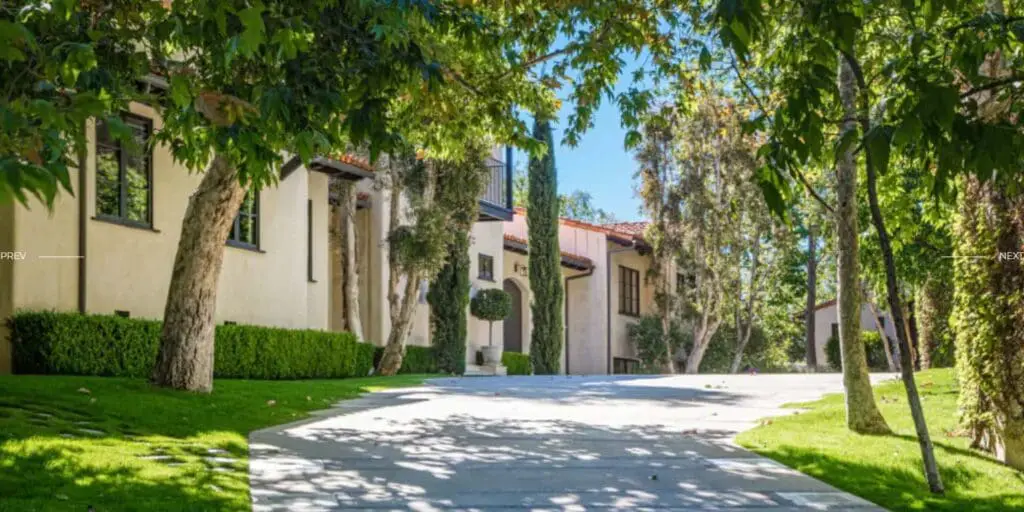 Justin Timberlake's house
In this article, we'll delve into the fascinating story behind Justin Timberlake's Los Angeles residence, providing you with all the juicy details about the property, its interior, and the neighborhood it's situated in. So, let's get started.
Where Does Justin Timberlake Live Now?
Justin Timberlake lives at 3100 Torreyson Pl, Los Angeles, California. Even though Justin Timberlake and his wife listed this property for $35 million, it still hasn't been sold, so it is his current residence. It's worth noting that Timberlake acquired this treasure in 2002 for $8.2 million.
This impressive mansion, fit for the iconic pop star, boasts a staggering 13,530 square feet of living space and features six spacious bedrooms and ten opulent bathrooms. The lot size is equally impressive, providing ample room for privacy and a luxurious outdoor oasis.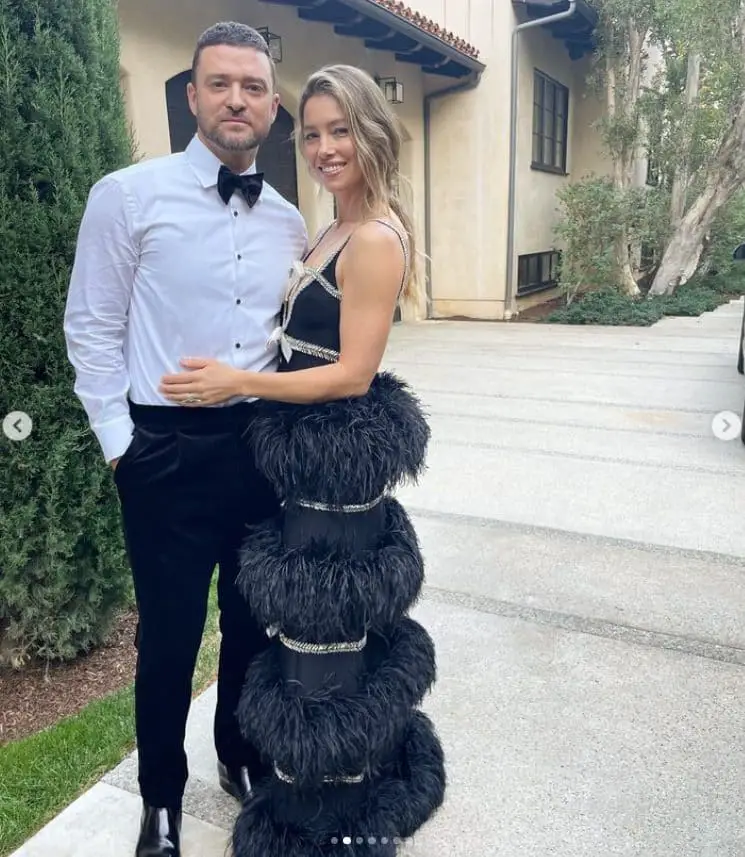 Outside of Justin Timberlake's house
Timberlake's net worth, at an estimated $250 million, makes this lavish residence a drop in the bucket, showcasing his status as a true Hollywood heavyweight.
Now that you have a glimpse of the grandeur, let's delve into what makes this house so remarkable.
Justin Timberlake's Opulent House Interior
Inside, the property boasts an open floor plan and upon entering you are greeted by a modern living space with several noteworthy features:
Dark Wood Elements: The dark wood floor and staircase add warmth and contrast to the white walls. Wood is a common material in modern architecture, known for its versatility and natural appeal.
Colorful and Tapestry: The colorful rug in the center of the room and the red and gold tapestry on the wall add vibrancy and character to the space. These elements bring in color and texture, enhancing the overall interior design.
A Grand Piano: The grand piano, located in the corner of the room, serves as a focal point. Its placement suggests a thoughtful layout designed for both functionality and aesthetic appeal.
Justin Timberlake's interior
The living areas are the perfect blend of comfort and sophistication in Justin Timberlake's house, featuring beamed ceilings and fireplaces that create a warm, inviting ambiance. The stone-surround fireplace stands as a striking centerpiece, radiating warmth and adding texture to the room.
The seating arrangement is designed for relaxation and conversation, with a large gray sectional sofa, white armchairs, and a wooden coffee table. A blue area rug adds a splash of color and defines the seating area, while wooden elements in the coffee table and side table bring a touch of nature indoors, reflecting modern design principles.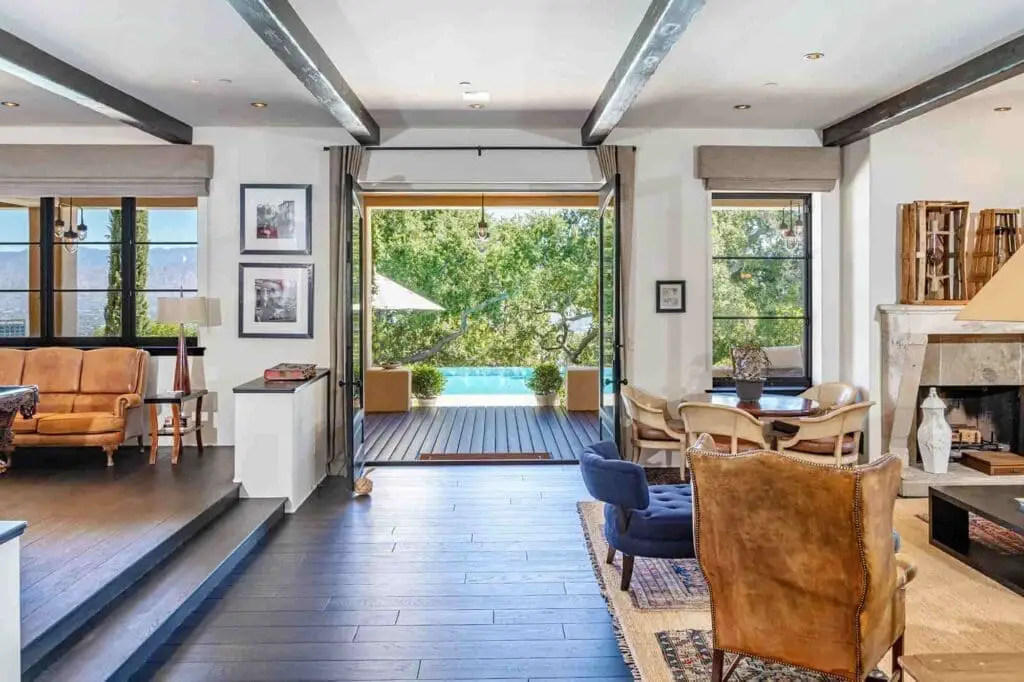 Justin Timberlake's living room
The walls, painted in a neutral white, enhance the room's spaciousness and brightness. Adding a personal touch is a large black-and-white portrait – an intriguing piece of wall art that could very well be pop icon Justin Timberlake.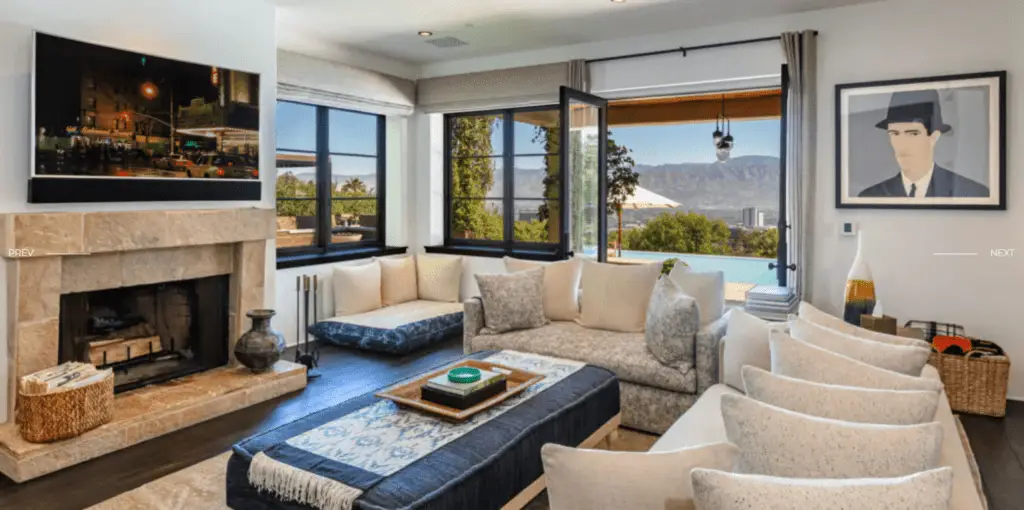 Justin Timberlake's living room
A gourmet kitchen awaits the culinary enthusiast, while a large dressing room promises luxury and convenience. A decadent home theater stands ready for entertainment, and throughout the home, the seven bedrooms provide comfort and privacy.
Justin Timberlake's home theater
One of the most striking features of this residence is the fully equipped gym that keeps Timberlake and his wife in shape and ready for their demanding careers.
Justin Timberlake's gym
An Outdoor Oasis: Justin Timberlake's Spectacular Los Angeles House
The outdoor area of the Timberlake-Biel residence in the Hollywood Hills is a veritable paradise, offering an extension of the luxurious lifestyle that the couple enjoys. The estate boasts a sprawling 10-acre lot, providing ample space for a range of outdoor amenities.
A magnificent 85-foot zero-edge pool, added by Justin Timberlake himself in 2009, is the crown jewel of the outdoor space, offering a refreshing escape on hot California days. A plunge pool below adds a touch of opulence to the poolside experience.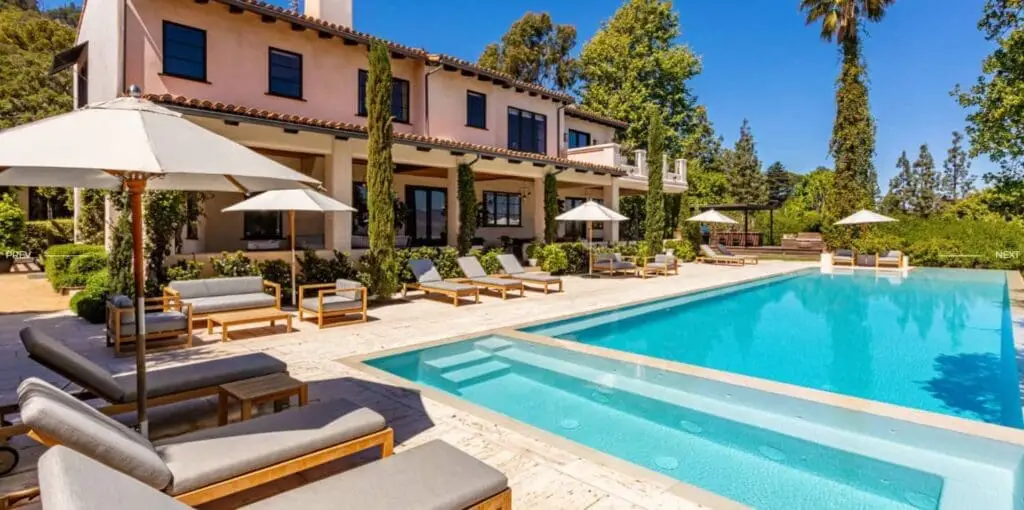 Justin Timberlake's pool
A fully lit tennis court provides an opportunity for sport and recreation, surrounded by lush greenery. The property also includes a charming meadow, a picturesque forest, and flourishing vegetable gardens, promising an escape into nature's embrace right in the heart of Los Angeles.
Justin Timberlake's tennis court
An outdoor living room wraps around the main house, inviting residents and guests to unwind in style, creating the perfect setting for large-scale entertaining while soaking in the breathtaking views and savoring the sweet Californian breeze. This outdoor area truly embodies the ideal California dream lifestyle, offering a seamless fusion of luxury, privacy, and natural beauty.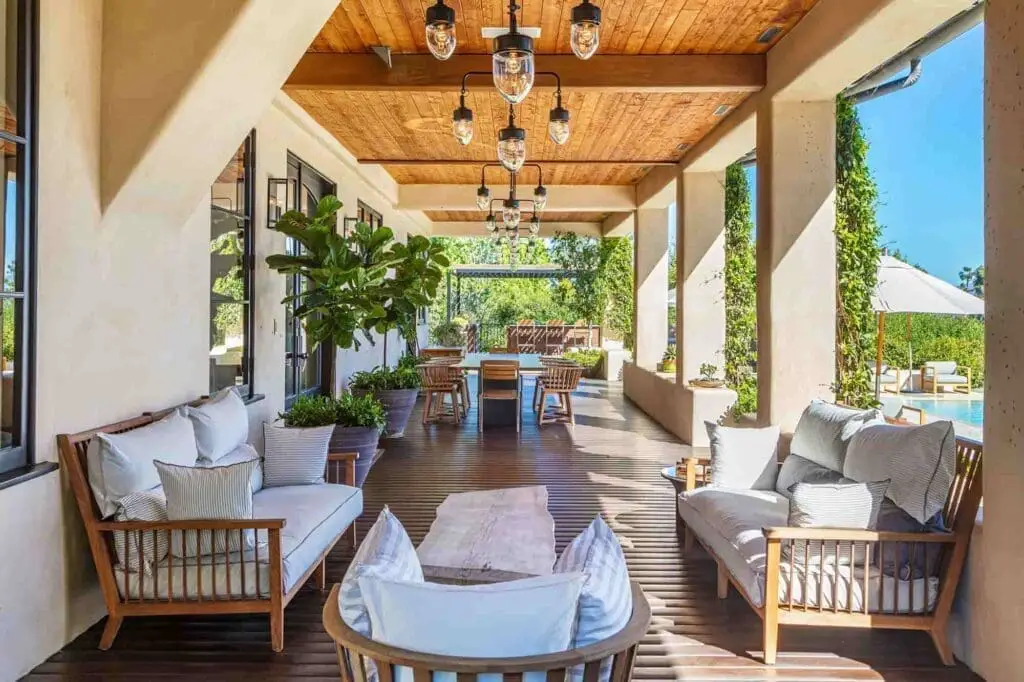 Justin Timberlake's outdoor living room
Justin Timberlake's Celebrity Neighbors
Timberlake's choice of residence places him in the exclusive neighborhood of Los Angeles, where fellow celebrities are no strangers. The sprawling estates and upscale amenities attract Hollywood's elite, creating a sense of community among stars. Notably, Timberlake shares his neighborhood with notable neighbors, including Jennifer Konner and Brian Tyler.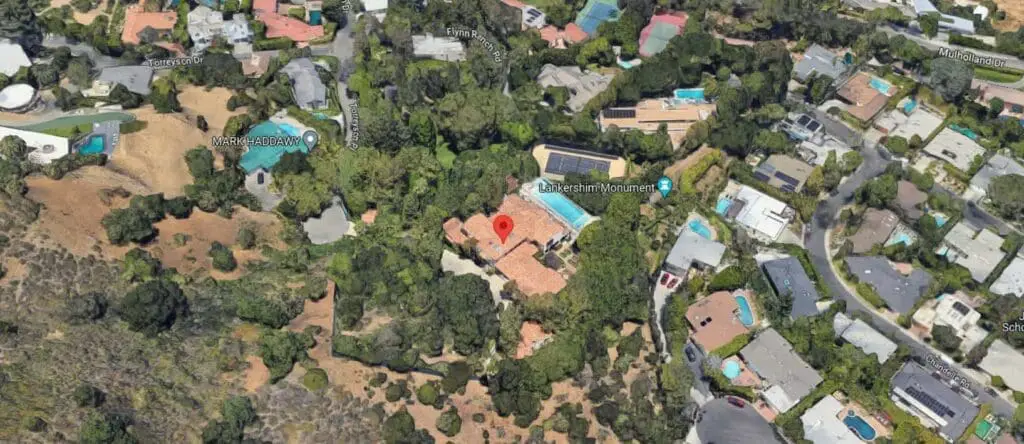 Justin Timberlake's neighborhood
In this upscale area, you'll find the finest amenities, exclusive clubs, and a palpable sense of luxury. If Justin Timberlake succeeds in selling this property at the price point of $35 million, it would stand as one of the most significant real estate transactions in the neighborhood's history.
Other Properties Owned by Justin Timberlake
While Justin Timberlake's Los Angeles mansion is the crown jewel of his real estate collection, it's not the only property in his portfolio. He began building his property portfolio from a young age, starting in the 2000s.
Tribeca Penthouse
Located at 443 Greenwich Street, their home in New York City is nothing short of luxury. They share the neighborhood with Ryan Reynolds and Blake Lively, Jennifer Lawrance, Harry Styles, and other high-profile celebrities. Reports show that the couple paid $28 million for this penthouse. Unlike the typical NYC apartment, the couple's penthouse is spacious and has its own wine cellar, kitchen, and outdoor areas. The building also has a wide array of amenities, such as a fitness center, storage spots, an indoor lap pool, steam rooms, a drive-in parking garage, and a landscaped roof deck. The penthouse has 4 bedrooms and plenty of open space for the couple's two kids to run around. It has large windows, a cozy fireplace, and a gorgeous terrace for the family.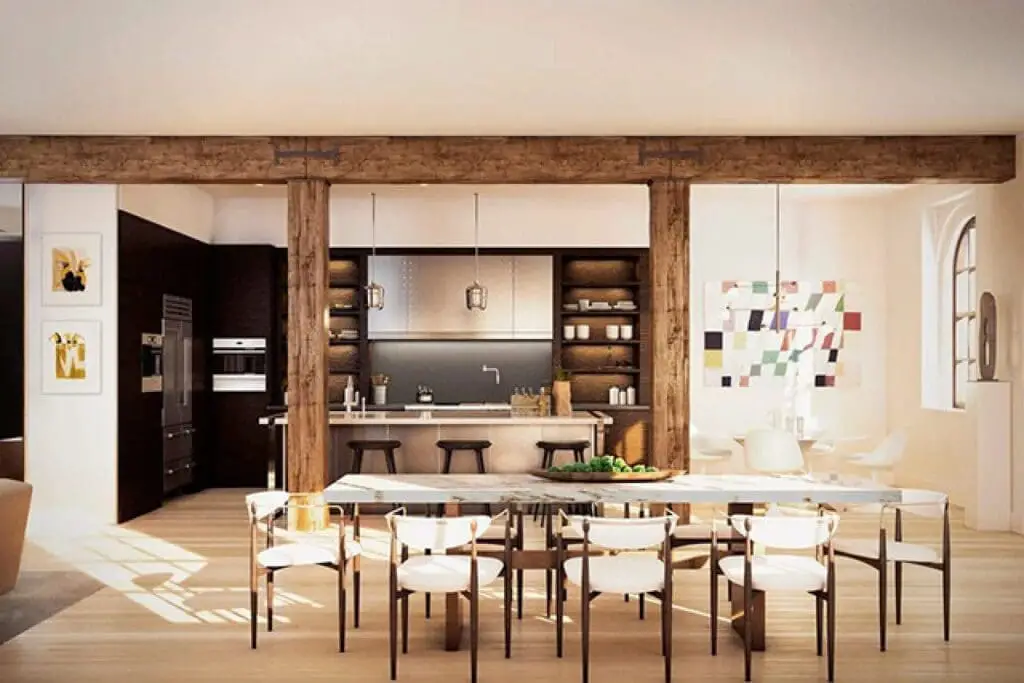 Justin Timberlake's Tribeca penthouse
New York Apartment in Soho
Before acquiring this prestigious Tribeca penthouse, Timberlake had another remarkable property in the neighboring Lower Manhattan area, specifically in Soho Mews. In November 2010, he bought a 2,598-square-feet penthouse in NYC at a price of almost $6.5 million. The property has comfortable interiors, packed floorboards, floor-to-ceiling windows, a private terrace, 3 bedrooms, and three bathrooms.
Following the purchase of the Tribeca penthouse, Timberlake decided to list the Soho Mews penthouse that had been his residence for eight years in 2018, initially seeking nearly US$8 million.
Justin Timberlake's apartment in Soho
Montana Vacation House
The couple's acquisition of their Montana Mansion can be considered their most impressive real estate purchase to date. The property is located in Big Sky, Montana, specifically at the prestigious Yellowstone Club. Their home is located within the 13,600-acre-club near Yellowstone National Park.
The 2,200 acres of 13,600-acre lot is skiable, giving the couple and their kids an abundant space for outdoor adventure activities right in their backyard. Justin and Jessica said they've considered this place their home because they want their kids to stay away from the glare and glam of Hollywood until the kids can handle it.
And the cost of this ideal family life is hefty. Reports show that residents of the Yellowstone Club are required to pay $300,000 for membership and $30,000 for annual dues. That's on top of the cost of the home itself. The Club is also called the "playground of the rich and the famous." And they share the neighborhood with Tom Brady and Bill Gates.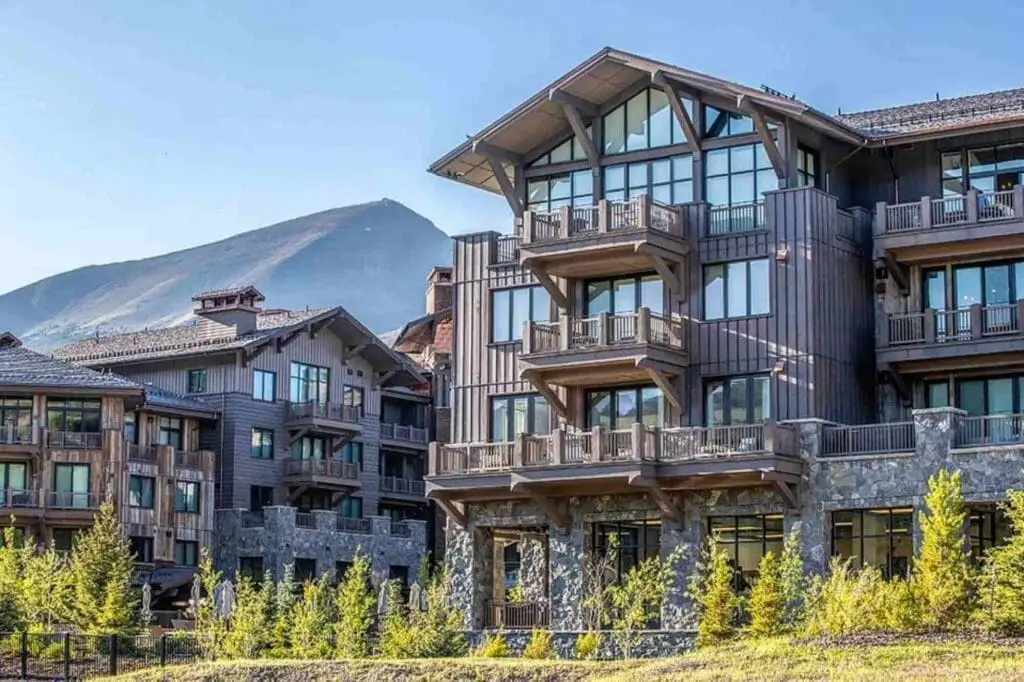 Justin Timberlake's Montana house
The Property in Tennessee
Lastly, Justin Timberlake's love for his roots is evident as he invested in a sizable piece of land in Williamson County, just outside Leiper's Fork, not far from his hometown of Memphis, Tennessee. In 2015, Timberlake paid around US$4 million for over 126 acres of land. This property provides an ideal environment for the couple's children to grow up, offering endless opportunities for playing in streams, running through hills, and exploring vast fields.