Step into the world of NBA superstar Kyrie Irving as we explore the remarkable house that once served as his private oasis during his time with the Cleveland Cavaliers. With four bedrooms and six bathrooms spanning over 5,508 square feet, this remarkable property showcases Irving's unique style and personality.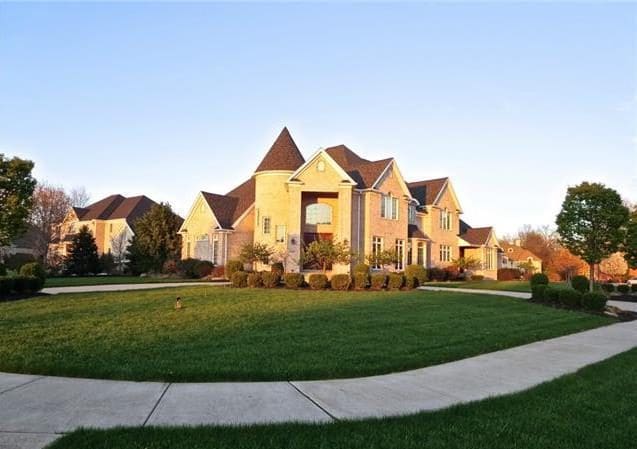 Kyrie Irving's house in Cleveland
From a carpeted basketball court to an exclusive theater and a private discotheque, the house exudes an unconventional charm. Though Irving has moved on from this enchanting house, its walls continue to echo his legacy as a basketball legend.
Where Did Kyrie Irving Live in Cleveland?
Kyrie Irving lived at 2431 Cornerstone, Westlake. Having purchased the property in 2014 for $800,000, Irving's former residence encompasses over 5,508 square feet, boasting four bedrooms and six bathrooms. Its unassuming exterior belies the awe-inspiring wonders that await within. Spanning an impressive square footage, the house featured a grand design befitting a basketball superstar of Irving's stature.
A Closer Look at the Interior
The interior of Kyrie Irving's former mansion in Ohio exudes grandeur from the moment you step through the double doors of the impressive entrance. The staircase, which branches off in two directions—one leading up and the other descending to the basement—adds a touch of architectural intrigue.
Kyrie Irving's entrance
Another room, potentially the family room, catches the eye with its intriguing artwork and a captivating chandelier that serves as a centerpiece. The dark-colored ceilings and hardwood floors add warmth and richness to the space, perfectly complemented by the luxurious touches that carry into the adjacent kitchen.
Kyrie Irving's family room
The kitchen features a fancy and modern design with a brick-like backsplash, marble countertops, and beautiful artwork.
Kyrie Irving's kitchen
As you explore further, you can find various kinds of amenities in Kyrie Irving's house. For example:
A Carpeted Basketball Court and Unusual Fireplace:
Inside the mansion, a surprising sight awaits visitors – a private indoor basketball court with a twist. Unlike traditional hardwood floors, this court is carpeted, providing a distinctive playing experience. The unconventional design, featuring only one basket, adds a touch of individuality to the space. Furthermore, an unexpected addition can be found within the court—an elegant fireplace, an uncommon feature in a basketball court.
Kyrie Irving's basketball court
Private Cinema for Ultimate Movie Nights:
Irving's mansion also boasts a private cinema, perfect for indulging in the magic of the silver screen. The cinema features a relatively large screen and five plush leather seats, providing an intimate atmosphere for enjoying movies in the comfort of home.
Kyrie Irving's cinema
As expected in a luxury residence, Irving's master suite is nothing short of opulent. The bedroom features a vaulted ceiling, double-door entry, and a cozy fireplace. A step-up platform leads to the sleeping area, which offers ample space for a grand bed. The master bathroom, accessed through double doors, showcases beautiful colors, and is accompanied by an expansive walk-in closet, providing ample room for the tall NBA player's extensive wardrobe.
Kyrie Irving's bedroom
Kyrie Irving's Outdoor Area
The exterior of Kyrie Irving's former mansion in Ohio exudes a sense of understated elegance. Nestled within the serene suburbs, the property offers a tranquil escape from the bustling city life. Though not extravagant, the house possesses a certain charm with its well-maintained façade and a grand entrance featuring double doors.
Outside of Kyrie Irving's house
Surrounded by lush greenery, the mansion blends seamlessly into its natural surroundings, creating a harmonious blend of comfort and tranquility. While the true magic lies within its walls, the inviting exterior hints at the captivating treasures that await inside, beckoning visitors to embark on a journey of discovery.
Exploring Kyrie Irving's Neighborhood
The neighborhood surrounding Kyrie Irving's former residence was renowned for its exclusivity and charm. It attracted not only high-profile individuals but also other celebrities seeking a prestigious place to call home.
Kyrie Irving's neighborhood
Some of the affluent names that can be called Kyrie's former neighbors are Khloe Kardashian and Tristan Thompson, Michael Symons, Mark Nolan.
Kyrie Irving's Other Houses
Kyrie Irving, the renowned basketball player, has established an impressive collection of residential properties. Among his notable acquisitions is a spacious penthouse loft in Union City, purchased in 2019. Additionally, Irving possesses another residence in West Orange, situated just outside of Newark. This remarkable estate boasts nine bedrooms and seven bathrooms, acquired four months prior to his Union City loft.
Kyrie Irving's house in West Orange