Trae Young, the talented professional basketball player, has recently made headlines with his impressive purchase of a stunning new $20 million house. Known for his exceptional skills on the court, Young has also become a prominent figure in the world of sports.
Trae Young's $20 million Calabasas house
With a flourishing career, a growing net worth, and a dedicated fan base, Trae Young's success has allowed him to invest in a remarkable property that reflects his taste and style.
Where Does Trae Young Live Now?
Trae Young lives at 25314 Prado De La Felicidad, Calabasas. Located in the prestigious Estates at the Oaks, a highly exclusive double-gated community in Calabasas, this sprawling estate was formerly owned by retired NFL linebacker Clay Matthews.
Trae Young's house
Spanning an impressive 14,021 square feet, Young's new house offers the utmost in grandeur and elegance. Boasting seven-bedroom suites and eleven bathrooms, the mansion provides ample space for relaxation and entertainment.
A Glimpse into the Interior of Trae Young's House
The interior of Trae Young's house is a testament to sophistication and modern design. When you step inside, you'll be welcomed by a vast hall that beautifully combines minimalistic and contemporary elegance, creating a luxurious atmosphere.
The entry to Trae Young's house
The magnificent great room, the centerpiece of this stunning house, invites you with its irresistible charm. This elegant space, bathed in an abundance of natural light, harmoniously merges comfort and style. The tasteful combination of neutral furniture, intricate wooden details, and lofty ceilings produces an impeccably aesthetic environment.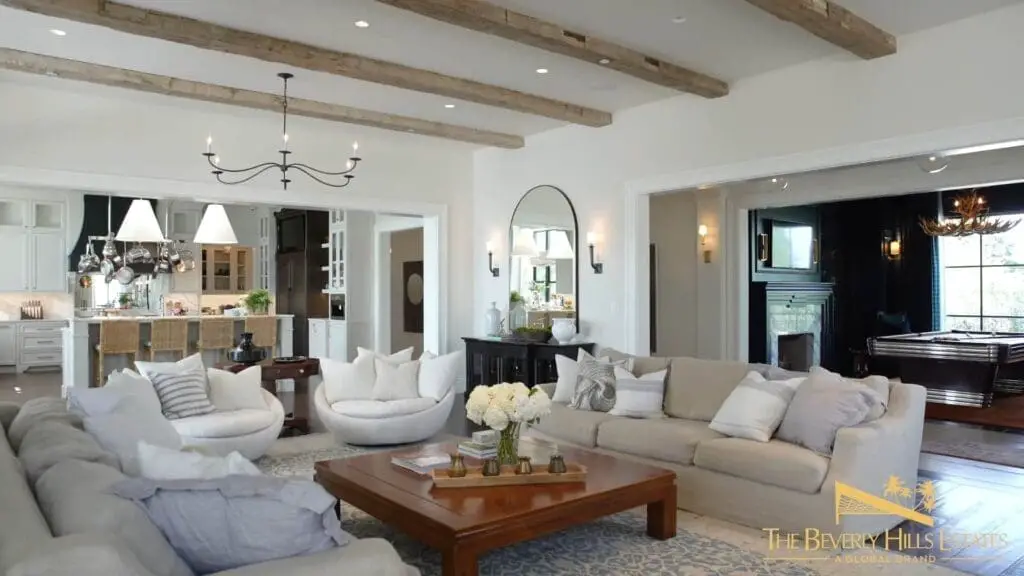 One of Trae Young's living rooms
Discover the remarkable chef's kitchen, situated next to the great room, boasting high-end appliances and a cozy eat-in nook. This culinary haven offers a delightful space for Young and his guests to savor gourmet delicacies. Both rooms are adorned with exquisite wooden accents, adding a touch of warmth and elegance.
Inside Trae Young's kitchen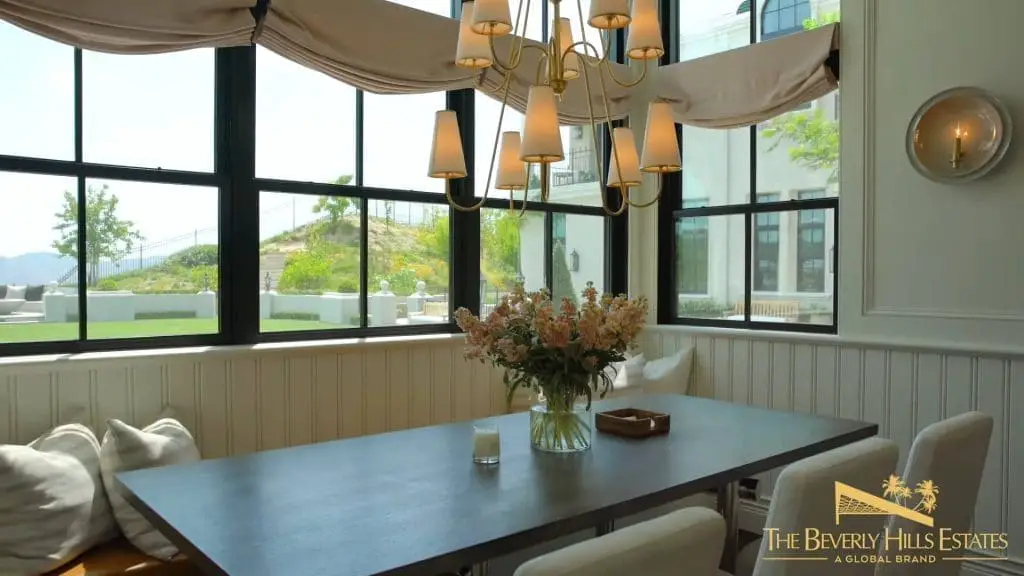 Trae Young's breakfast nook
Experience pure luxury in the en-suite bathroom, where marble accents and custom vanities create a spa-like retreat for Young to unwind and rejuvenate. Step into the primary suite, an exquisite haven of tranquility, adorned with a captivating wall adorned with stunning art.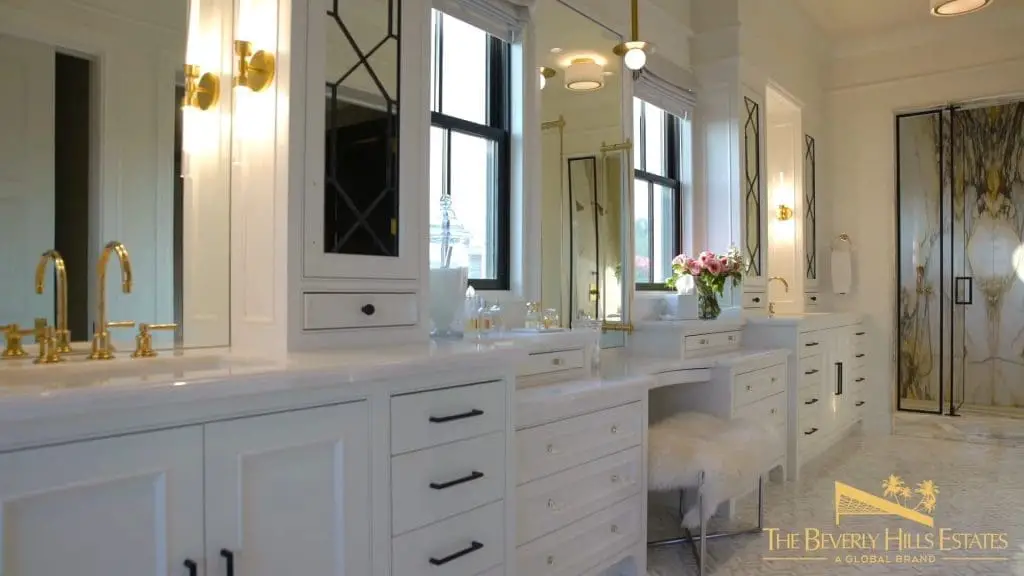 Trae Young's luxurious bathroom
Trae Young's primary suite
For those who love entertainment, this mansion goes above and beyond with its dedicated subterranean level designed for leisure and recreation. Prepare to be amazed by the 15-seat theater, ideal for hosting unforgettable movie nights or immersive gaming experiences.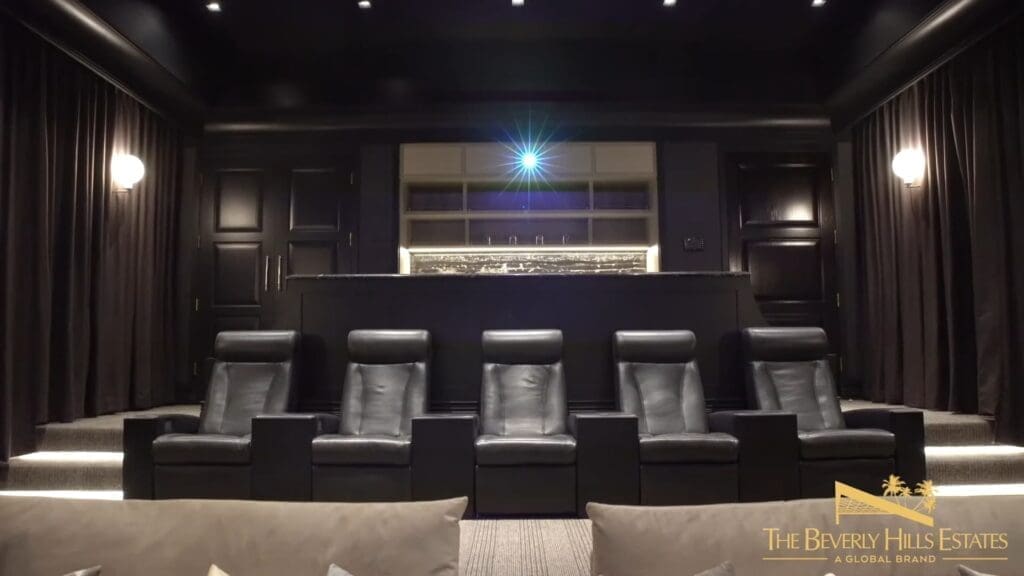 Trae Young's theatre
Immerse yourself in the refined ambiance of the wine cellar, a showcase of Young's fine wine collection, offering a sophisticated space for tastings and gatherings.
Young's wine cellar
Step into a world of sophistication and leisure, where friendly competitions and social gatherings flourish, in the meticulously designed wood-paneled game room featuring a billiards table.
Trae Young's game room
Additionally, enjoy the convenience of a gym, a spacious walk-in closet and a library.
Trae Young's inside gym
Trae Young's Outdoor Haven
The property exudes a sense of prestige from the moment you arrive, with a large front motor court and a separate gated second motor court.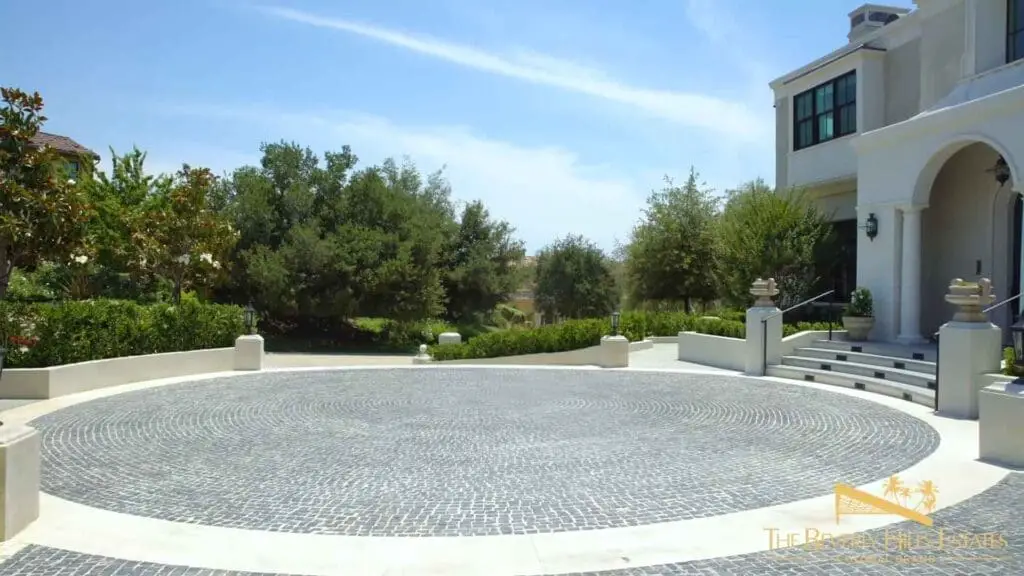 The outside of Trae Young's house
Furthermore, a partially subterranean garage, capable of housing up to nine cars, ensures that Young's automobile collection is well accommodated.
Trae Young's garage
Moving outside, the 1.63-acre lot offers breathtaking views of the Santa Monica Mountains, further enhancing the allure of this remarkable property.
Outside of Young's house
Here, a saltwater swimming pool beckons residents and guests to unwind and enjoy the idyllic California weather.
Trae Young's pool
The grounds also feature a sports court, perfect for the basketball prodigy for Young to continue honing his skills.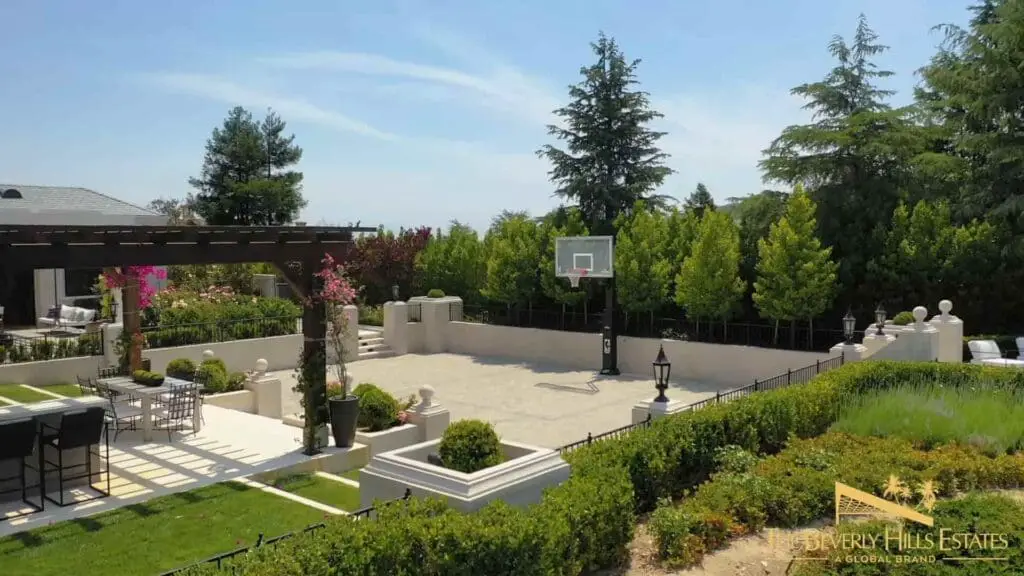 Trae Young's basketball court
Additionally, meticulously manicured gardens and sprawling lawns add to the estate's splendor, affirming its status as a truly remarkable $20 million Los Angeles retreat.
Trae Young's garden
The Trae Young's Neighborhood and Nearby Celebrities
Trae Young's choice of residence in the prestigious Estates at the Oaks in Calabasas places him in the company of several notable celebrities. This exclusive double-gated community is renowned for attracting high-profile individuals who seek privacy, luxury, and a prime location.
Trae Young's neighborhood
Here are some of the other prominent celebrities who also call this neighborhood home: Britney Spears, Kourtney Kardashian, Travis Barker. Living alongside such influential figures, Trae Young finds himself in the midst of a vibrant community that encompasses talent from various fields.
Other Houses Owned by Trae Young
In addition to his remarkable Calabasas house, Trae Young boasts other luxurious residences that highlight his impressive success. Not limited to just one lavish home, the basketball star also maintains residences in Atlanta's prestigious Brookhaven neighborhood and the charming city of Norman, Oklahoma.
Trae Young's house in Norman, Oklahoma