Zendaya, the multi-talented Hollywood sensation, has made quite the buzz in recent years with her incredible talent, poised demeanor, and unmistakable charm. Not only is she a gifted actress and singer, but she's also established herself as a prominent fashion icon.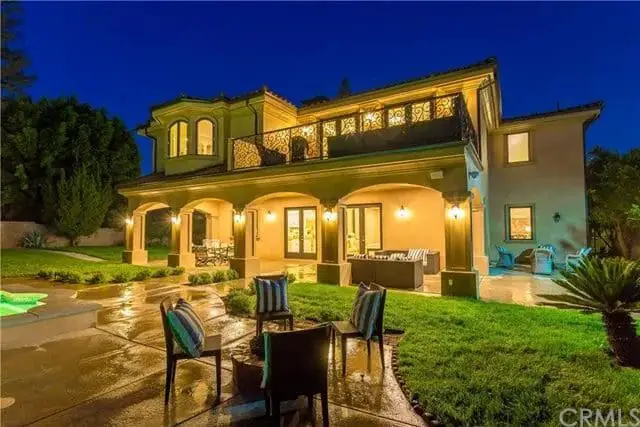 Zendaya's house
Zendaya's success in the entertainment industry has been nothing short of remarkable, and her thriving career has enabled her to indulge in the finer aspects of life, such as her luxurious residence in Northridge, Los Angeles.
Where Does Zendaya Live Now?
Zendaya lives at 19641 Citronia St, Northridge, California. Back in 2020, the talented actress known for her role in the hit series "Euphoria," discreetly acquired an exquisite property tucked away in the serene Encino area. Zendaya's clandestine $4 million purchase only came to the public's attention several months later.
This stunning property boasts an impressive 4,155 square feet, featuring five bedrooms, five bathrooms, and a spacious lot size that provides a private sanctuary away from the hustle and bustle of Hollywood. Zendaya's Northridge abode is a striking example of contemporary architecture. The house boasts an open floor plan, with ample natural light pouring in through large windows.
Zendaya's Contemporary House Interior
According to realty sites we can see some photos from Zendaya's interior, even though we know that the house has witnessed numerous renovations over the years, ensuring that it remains a captivating and modern sanctuary. 
As for the interior design, Zendaya's minimalistic yet modern and chic aesthetic is evident throughout the property. The presence of grand staircases is reminiscent of something from a fairy tale, like Cinderella's own staircase. The first floor's open design, with recessed lighting, rich hardwood floors, and soaring ceilings, reflects Zendaya's vibrant and larger-than-life personality.
Zendaya's entryway
The high ceiling in the living room, a common feature in modern architecture, gives the room a spacious and airy feel, further enhanced by the large arched window that invites ample natural light into the room. The light beige color of the walls and the white furniture create a neutral and calming color palette, often used in modern design to create a relaxing environment.
Zendaya's living room
Zendaya's kitchen boasts white cabinets and a large island, topped with a white marble countertop and backsplash that create a harmonious and sophisticated look. The white tile floor complements the overall color scheme, and a large window above the sink allows for ample natural light, enhancing the bright and airy ambiance of the space.
Zendaya's kitchen
On the image below, we can see just a little part of Zendaya's kitchen, and it complements the image from the realty sites. This partial view prompts us to speculate if she renovated the kitchen after, or not.
A glimpse of Zendaya's kitchen
Zendaya often shares a glimpse of her house and from one of her Instagram posts we could see that the bedroom features a white bed with a white headboard and a brass footboard, which adds a touch of classic elegance to the modern space. The bed is adorned with a white comforter and a gray throw blanket with fringe, along with two black and white striped pillows and a black and white polka dot pillow, adding texture and visual interest to the room. A gray nightstand with a white lamp provides functional lighting, while the gray walls create a neutral backdrop that enhances the warm and cozy ambiance of the room.
Zendaya's bedroom
Zendaya's Outdoor Area with a Massive Pool
Zendaya's outdoor paradise truly embodies the quintessential California dream. Bathed in sunlight, this idyllic backyard boasts a magnificent pool, an outdoor spa, a stone patio, and lush green lawns fringed by towering palm trees.
Zendaya's pool
It's an ideal setting for hosting pool parties with loved ones, providing an unparalleled sense of retreat and relaxation. The property doesn't stop at the main house, either; it boasts a separate two-bedroom guesthouse, complete with its own bathroom and kitchenette, perfect for accommodating visitors in style.
Zendaya's outdoor living space
Zendaya's BBQ area
Zendaya's green thumb may even extend to her Northridge residence, where the potential for growing fruit trees, akin to her other home, adds a touch of whimsy and sustainability to this idyllic abode.
Zendaya's garden
Zendaya's Neighborhood
Northridge, Los Angeles, is known for its upscale and tranquil neighborhoods. Zendaya's choice of location reflects her desire for privacy and a serene environment. She shares her neighborhood with other celebrities who value a quiet suburban life while staying close to the entertainment industry.
Zendaya's neighborhood
To ensure privacy, the mansion is well-hidden from prying eyes due to the long driveway that leads to the actual house. Plus, beautiful oaks and California pine trees fill the yard, giving the entire property a refreshing Zen and resort-like vibe.
Other Houses Owned by Zendaya
In addition to her stunning Northridge residence, Zendaya's real estate portfolio includes several other impressive properties that reflect her unique style and preferences. One of these properties is located in London, where she resides with her partner, Tom Holland.
The couple shares Holland's $3 million London home, which he acquired in January. This charming abode is just four miles away from Tom's hometown, offering the couple a cozy haven close to his roots. The lovebirds are not only investing in their relationship but also in the property itself.
According to reports, Zendaya and Tom are planning to spend nearly $311,000 on a renovation project. This renovation will include the addition of a gym, a movie theater, and a stylish man cave, ensuring that the home caters to their every need and desire.
It is rumored that back in Los Angeles, Zendaya herself owns another magnificent property, valued at nearly $4 million. This lavish house in the heart of Los Angeles offers over 5,000 square feet of living space, providing ample room for both relaxation and entertainment. With seven bathrooms and six bedrooms, it's a spacious retreat fit for a Hollywood superstar.