Get ready to be blown away by the extravagant mansion of hip-hop sensation, Rick Ross! With his 109 room mega mansion, Rick Ross has made quite the name for himself. This grand residence was purchased by Ross for $5.8 million back in 2014 and is located in Fayetteville, Georgia. Spanning across 235 acres, this luxurious estate features 12 bedrooms, 21 bathrooms, and a lot of extravagant amenities. 
(Source: homesoftherich)
From a 350,000-gallon outdoor pool to an indoor movie theater, a bowling alley, and a recording studio, Ross has spared no expense in creating a home that truly reflects his larger-than-life persona. With a net worth of over $40 million, Ross has achieved great success as both an entrepreneur and rapper. 
In an interview with Nate Robinson, he asked Rick: "What did you do your first day in this big house?", and Rick responded: "It took me maybe two or three days just to walk through the whole house, and just absorb it in."
Join us on a virtual tour of this lavish palace and prepare to be dazzled by its magnificence! Discover the stunning features of this magnificent mansion and see why it's the talk of the town.
Rick Ross' Extravagant 109-room Megamansion in Georgia
Explore the sprawling 235-acre megamansion in Fayetteville, Georgia, boasting an impressive 45,000 square feet of living space, making it one of the biggest private homes in the US. The stunning mansion was originally built in 1994 by a famous boxer, with an annual upkeep cost of $1 million and it is located on 794 Evander Holyfield Way Atlanta, Georgia 30214. In 2014, the lavish mansion was purchased by hip-hop icon Rick Ross for $5,879,000. 
The megamansion features 109 rooms, including 12 bedrooms, 21 bathrooms, and a formal dining room that can seat up to 100 people. Rick Ross loves to host lavish birthday celebrations in his grand home, making the most of the vast space.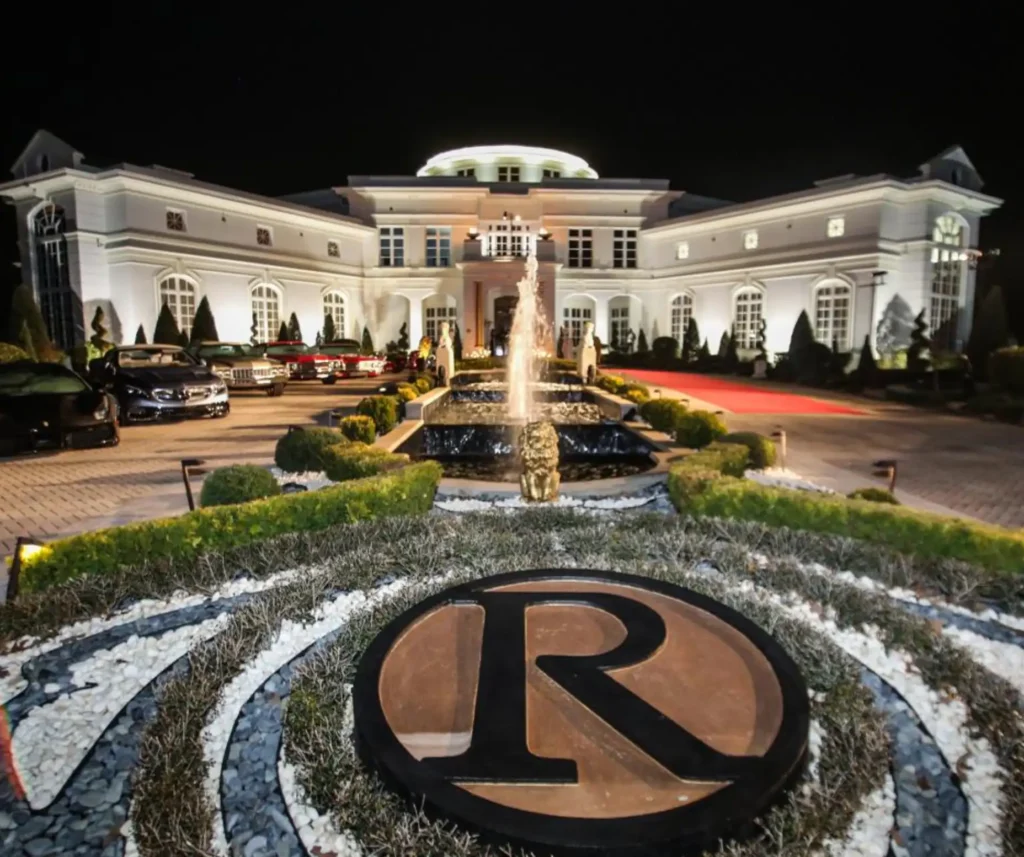 (Source: homesoftherich)
Indoor amenities are in abundance in the mansion, including a 135-seat theater, a bowling alley, a boxing gym, an indoor pool, and a recording studio equipped with the latest equipment. Outdoors, the estate boasts a huge pool that can hold over 350,000 gallons of water, a detached guest house, a basketball court, a tennis court, and even a softball court. 
Prepare to be awed by the magnificence of this estate, offering luxurious living at its finest.
Rick Ross' Home: Where Modern Meets Classic Elegance
Step into Rick Ross' home, where contemporary design meets classic opulence. The interior features luxurious furnishings in neutral tones and sleek lines, from plush sofas to state-of-the-art appliances in the kitchen. With a fitness center, indoor basketball court, and sauna, this home offers both luxury and functionality.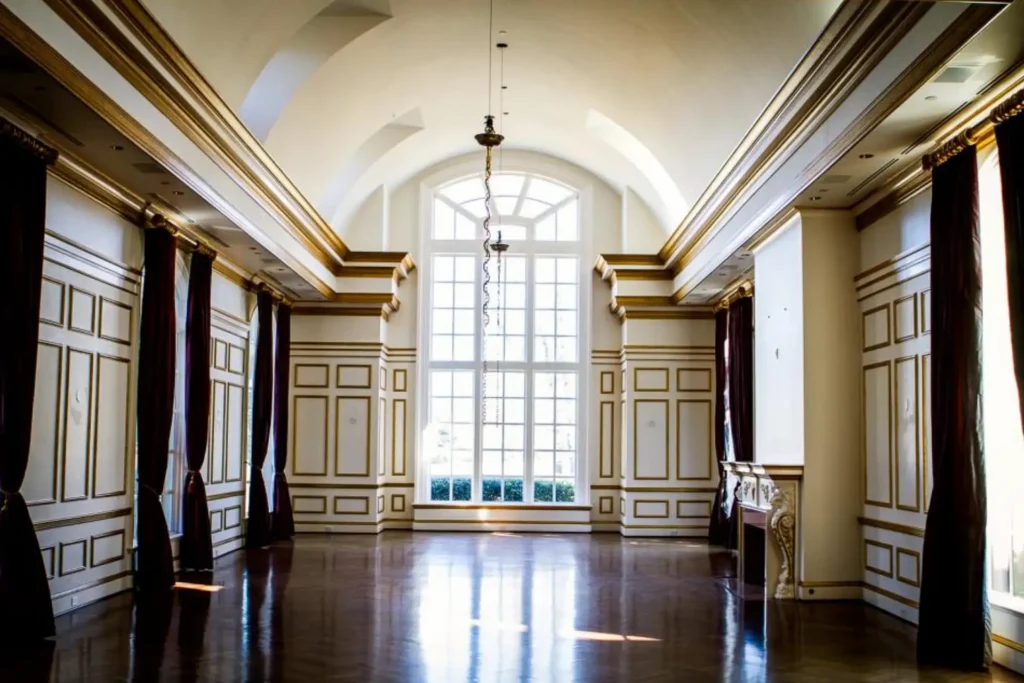 (Source: homesoftherich)
Rick often posts his house on social media, but one thing could not go unnoticed. He posted on his Instagram account a video of his brunch table and said: 
"I turned a 757 airplane motor to a brunch table for me to enjoy my fav drink."
From above, the house has a futuristic look, but on the ground, it exudes classic elegance. With a remarkable 109 rooms, including 12 bedrooms, and a dining room that can seat over 100 guests, this mansion is perfect for extravagant dinner parties and entertaining guests in style.
(Source: homesoftherich)
Experience the Ultimate Outdoor Luxury at Rick Ross' House Tour
Welcome to Rick Ross' breathtaking outdoor oasis! Let's dive right into the pool. Discover the stunning 350,000-gallon pool, complete with a swim-up bar, fountains, and a magnificent waterfall. It's unbelievable that the house has not one, but two pools! In addition to the outdoor pool, there's also an indoor pool, although the exact number of gallons it holds is unknown. Indulge your inner sports enthusiast with the basketball, tennis, and softball courts, all set within the serene natural surroundings. 
(Source: The Players' Tribune)
But that's not all – Rick's private zoo is a unique feature that will leave you in awe. Meet the majestic horses, impressive buffalos, and gentle cows, all residing in their own designated areas. And that's not all, as two lions also joined the Ross animal family!
(Source: homesoftherich)
The Neighbors of Rick Ross' Fayetteville Estate
The area surrounding Rick Ross' mansion is relatively secluded and quiet, as it is located on a large estate with plenty of trees and greenery. However, there are other celebrity homes in the area, such as Tyler Perry's estate, which is located just a few miles away.
(Source: homesoftherich)
Discover Rick Ross' Other Mansions
Rick Ross always dreamt about having a nice home and not only did he dream of it, he finally has one, or more. This hobby ended up costing him millions. While he has a vast real estate portfolio that includes several multimillion dollar homes, he evidently purchased one home just for the long time hobby. Ross admitted that he literally bought a home he thought was cool just so that he could drive by it every day and know that it was his.
Apart from his massive Fayetteville mansion, Rick Ross owns a stunning Miami waterfront property worth $3.5 million. This 8,600 sq. ft. mansion features 6 bedrooms, 7 bathrooms, and luxurious amenities that'll take your breath away. 
(Source: Pinterest)
In addition to his sprawling Georgia mansion, hip-hop mogul Rick Ross has several other properties to his name. One of his most notable properties is his waterfront mansion located in Miami, Florida, which he purchased in 2014 for a whopping $3.5 million. The 8,600 square foot property boasts six spacious bedrooms and seven luxurious bathrooms, making it a perfect vacation spot for families or groups of friends.