The Sagrada Familia: Gaudí's Architectural Masterpiece in Barcelona, Spain
On March 19, 1882, the construction of this magnificent building began; it still stands as a work-in-progress, a symbol of enduring ambition and human creativity's transformative power. A year after its inception, Antoni Gaudí joined the project, an involvement that would span over four decades of his life. With a deep-rooted fascination with nature as inspiration, the initial Gothic and traditional design gave way to innovative uniqueness under his laborious hands.
Passersby find themselves captivated by the grandeur and complexity of the Sagrada Familia's exterior. Three grand facades, designed by Gaudí, adorn this structure: to the East lies the Nativity Façade; to its West stands the Passion Façade; finally, there is Glory Façade on its Southern side. The Basilica's exterior, a visual narrative of Christian mythology, transforms as each façade portrays scenes and characters from the Bible with intricate symbolism on full display.
The structure of the Sagrada Familia mainly manifests Gaudí's love for nature: inside the Basilica, support pillars, designed to mimic trees, branch out into more minor supports as they ascend towards an overhead canopy. This forest-like effect enhances and amplifies a distinctly organic ambiance within this architectural masterpiece. The intricate stained-glass windows of the Sagrada Familia allow light to stream in, transforming its interior into a mesmerizing kaleidoscope of colors.
The exterior of the basilica hymns to both nature's grandeur and religious history, yet its interior is equally stunning. Inside, Gaudí amalgamates his distinct design language with potent spiritual symbolism. Columns divide the three naves; they ascend to converge with the nave's starry vault. Echoing the grandeur of Gothic cathedrals yet maintaining a distinct style, the central nave soars to a height of 45 meters.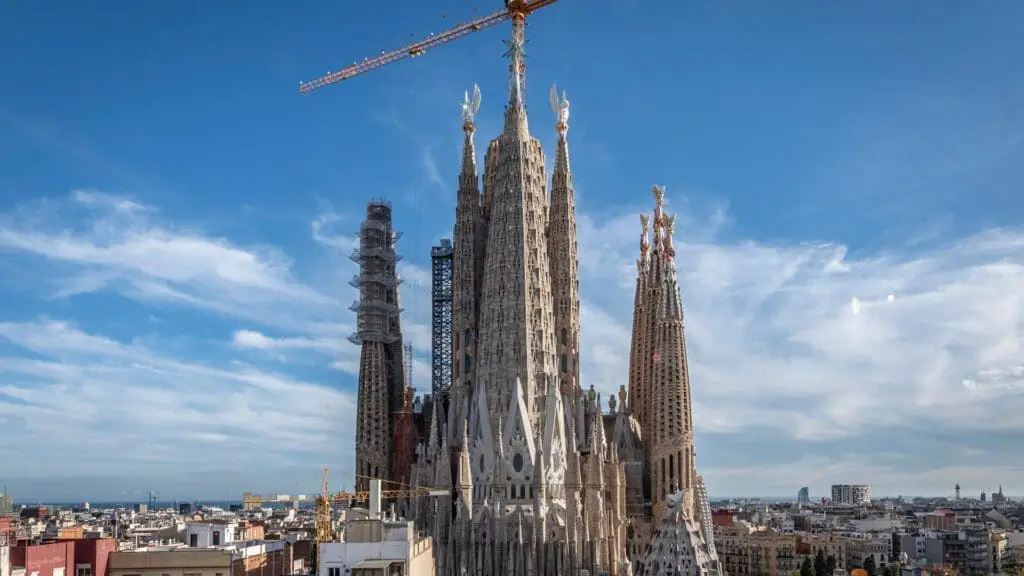 The Basilica, estimated to have a floor area of approximately 4,500 square meters, can house around 9,000 people. Upon completion, this masterpiece's projected height will be 172.5 meters, an accomplishment that positions it among some of the earth's tallest religious structures.
The Sagrada Familia transcends being merely an architectural spectacle: it has a dual role as a place of worship and a homage to Catalonia's robust cultural history. Indeed, the Basilica pulsates with every inch, radiating the spirit of Catalan Modernism; this renowned architectural style is celebrated for its bold, distinct character.
The Basilica, situated at Carrer de Mallorca 401, 08013 Barcelona, Spain, welcomes the public for tours. Detailed information concerning the architect, the building process, and its many intricate design elements are available. Its construction still needs to be completed; however, this unfulfilled state does not deter millions of visitors annually; it continues to captivate them with its allure.
To comprehensively understand Gaudí's genius and the breathtaking magnificence at Sagrada Familia, visit their official website (www.sagradafamilia.org). There, you will find more detailed information: an option for a virtual tour is available to those unable to make an in-person visit. The opening hours change with the seasons; during summer – from 9:00 AM until 8:00 PM, and in winter – from 9:00 AM until 07:00 PM. Nonetheless, always make sure to confirm on the official website for precise, current information.
Further Information On The Sagrada Familia
Date Construction Started: March 19, 1882
Date Opened: N/A
Cost Of Building :N/A
Architect: Antoni Gaudí
Architectural Style: Catalan Modernism
Size Or Floor Area: 4,500 square meters
Height: 45 meters
Function Or Purpose: Place of worship
Address: Carrer de Mallorca 401, 08013 Barcelona, Spain
Phone Number: +34 932 08 04 14
Website: www.sagradafamilia.org
Opening Hours: Summer –9:00 AM – 8:00 PM, Winter – 9:00 AM-07:00 PM