Demi Lovato, the multi-talented singer, songwriter, and actress, has taken the plunge into the world of real estate with the purchase of a stunning farmhouse in the picturesque state of California. In this article, we will delve into Demi Lovato's house, its enchanting details, and the surrounding neighborhood, offering you an exclusive peek into the life of this remarkable celebrity.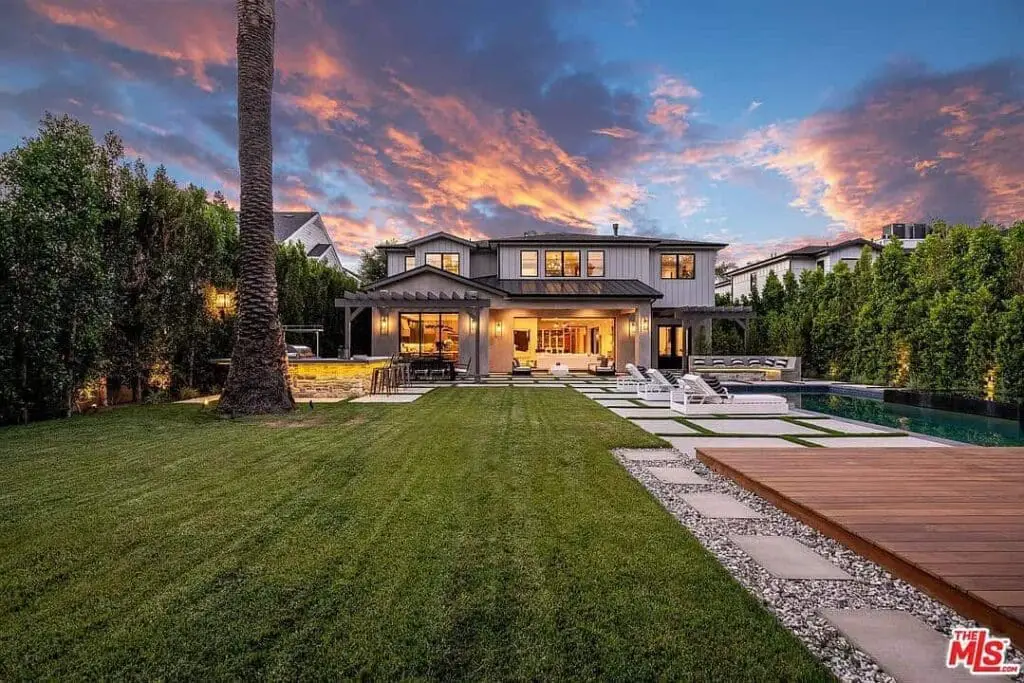 Demi Lovato's house
Where Does Demi Lovato Live Now?
Demi Lovato lives at 11584 Dilling St, Studio City, California. The property boasts a sprawling 8,500 square feet, providing ample space for the star to relax and unwind. In 2020, Lovato made headlines when she acquired this magnificent residence for a reported $7 million. The farmhouse features six spacious bedrooms, each with its own unique character, and eight luxurious bathrooms that showcase a commitment to modern design.
The Intriguing Interior Design Choices of Demi Lovato
Upon entering the house, one is greeted by a mesmerizing reception room. The walls, adorned with a black and white abstract pattern, create a dynamic backdrop for the bold-colored furniture, including a yellow sofa, a black armchair, a blue stool, and a white coffee table. A geometric-patterned rug echoes the abstract wall design, while a black fireplace with a white mantel serves as the room's focal point.
Demi Lovato's reception room
The living spaces are adorned with tasteful furniture, and the walls showcase a remarkable collection of art. The blue accent wall with a fireplace and a TV mounted above it serves as a focal point, adding warmth and modernity to the room.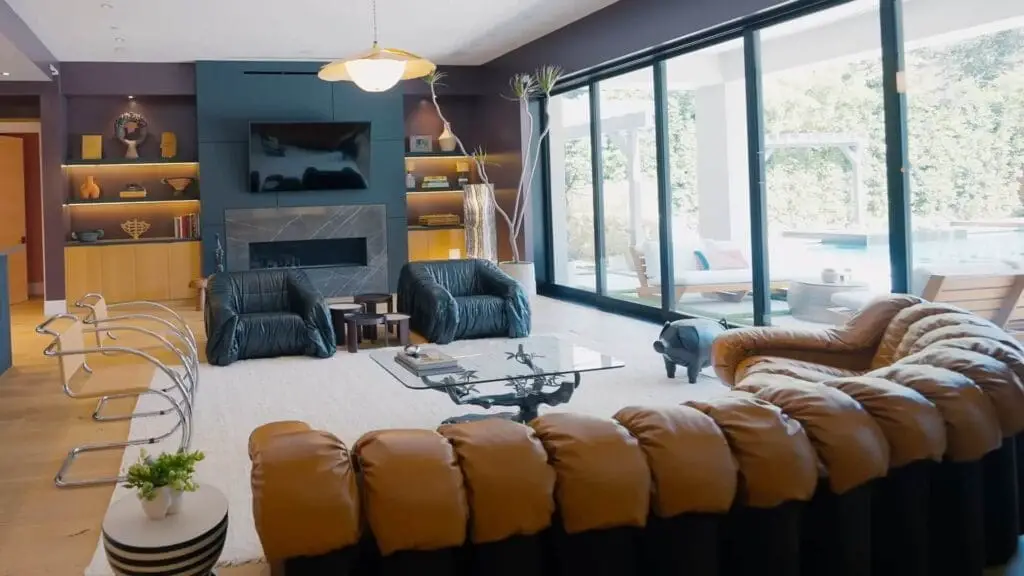 Demi Lovato's living room
The high ceiling, adorned with a yellow pendant light, creates an illusion of spaciousness, and adds an element of grandeur. The furniture arrangement, including a brown leather sofa, a black coffee table, and a yellow tufted ottoman, is well-thought-out, ensuring comfort while maintaining the room's aesthetic appeal.
Demi Lovato's living room
Connected to the living room is a kitchen that defies convention. The kitchen features a large island with bar seating, providing a versatile space for cooking, dining, and socializing. The island is topped with a white countertop that houses a sink and is adorned with a vase of white flowers, adding a touch of freshness to the space.
Demi Lovato's kitchen
The kitchen showcases a vibrant yellow and blue color scheme, with yellow floral wallpaper and blue cabinets creating a cheerful and inviting atmosphere. Stainless steel appliances lend a sleek, contemporary look while ensuring high functionality. The light wood flooring adds warmth to the space, complementing the bold colors of the kitchen.
Demi Lovato's kitchen
Home Features That Make Demi Lovato's House So Special
Like many people, Demi enjoys spending time at home with her family. And she makes sure that her brood is going to have an amazing time at her Studio City home by furnishing the abode with the comforts anyone could need and want at home. These are the top 5 features that make her home extra special and luxurious:
1.Glam room – The room also houses the homeowner's "glam room." The walls are painted in a refreshing coral color, which is beautifully contrasted by the ceiling covered in green leafy wallpaper, creating an immersive, tropical atmosphere. The furniture selection, including a blue velvet sofa and a pink armchair, complements the room's color scheme while adding comfort and style.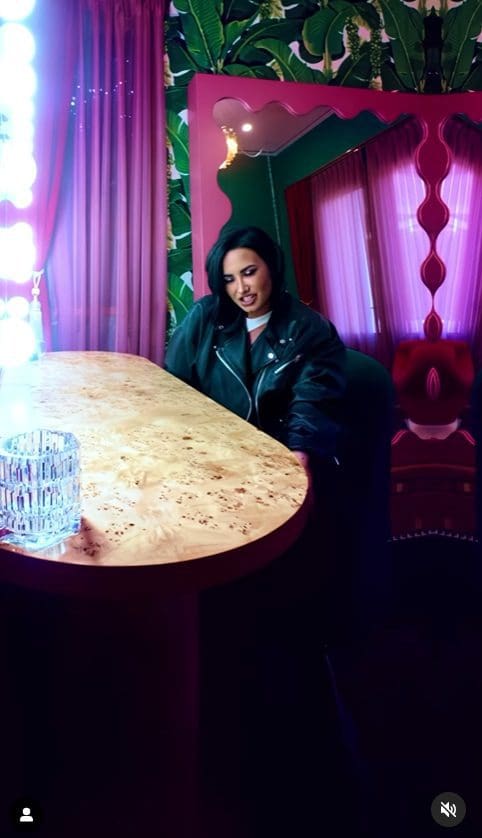 Demi Lovato's glam room
2. An elevator – Aside from all the remarkable features of Demi's home, her Studio City estate also has an elevator. Of course, how can you go to and from the 6 bedrooms without one?
3. Shroom room – Using the futuristic elevator, you can ride to the "psychedelic shroom room." Starting from the top, the room features a large blue and white cloud-like chandelier hanging from the ceiling. The walls are adorned with silver glitter wallpaper, adding a touch of glamour and sparkle to the room.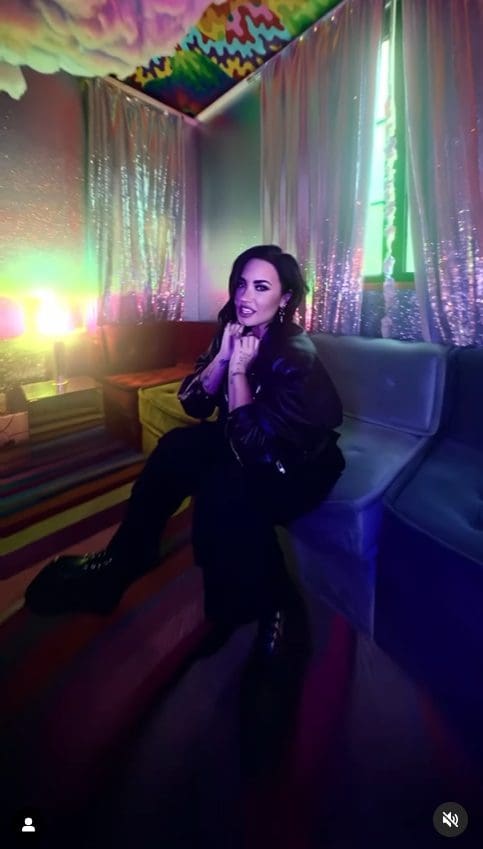 Demi Lovato's shroom room
The furniture in the room is a mix of velvet sofas and chairs in a rainbow of colors – pink, orange, yellow, green, blue, and purple. The seating arrangement is centered around a round black metal wireframe coffee table with a glass top, which adds a modern touch to the room.
Demi Lovato's shroom room
4. Movie theater – Demi Lovato's house also boasts a state-of-the-art movie theater, where the star can enjoy the latest blockbusters in the comfort of her own home. With plush seating, cutting-edge audiovisual technology, and a cozy ambiance, Lovato's movie theater is the perfect setting for entertainment enthusiasts to unwind and enjoy their favorite films.
Demi Lovato's movie theater
5. Music studio – Tucked away in the outdoor space is Demi Lovato's home studio, originally a pool house, where creativity blossoms. This studio is where the talented artist can channel her creativity and passion for music, allowing her to compose, record, and fine-tune her chart-topping hits from the comfort of her own home.
Demi Lovato's music studio
Stepping Outside Demi Lovato's House
Demi Lovato's house extends its allure to the outdoors, where a spacious garden and a magnificent pool beckon. A small section of the yard has been affectionately designated as the "pup area" for Demi Lovato's dogs. An in-ground trampoline, a bar area, and a pool add to the charm of this unique backyard. This eclectic six-bedroom abode also features serene retreats, including an outdoor kitchen, a hot tub, a fire pit, a secluded patio, and a netted area.
Demi Lovato's pup area
Demi Lovato's pool
Demi Lovato's serene retreat
Demi Lovato's outdoor kitchen
Demi Lovato's Neighborhood
Demi Lovato's exclusive neighborhood is also home to some notable celebrities, including the renowned baseball pitcher Clayton Kershaw, who can often be spotted enjoying the serenity of the area. Additionally, the neighborhood has a touch of musical history as it includes the former house of acclaimed singer-songwriter Lisa Loeb, adding an extra layer of artistic legacy to the community. These illustrious neighbors further enhance the allure of Demi Lovato's house and the remarkable neighborhood she calls home.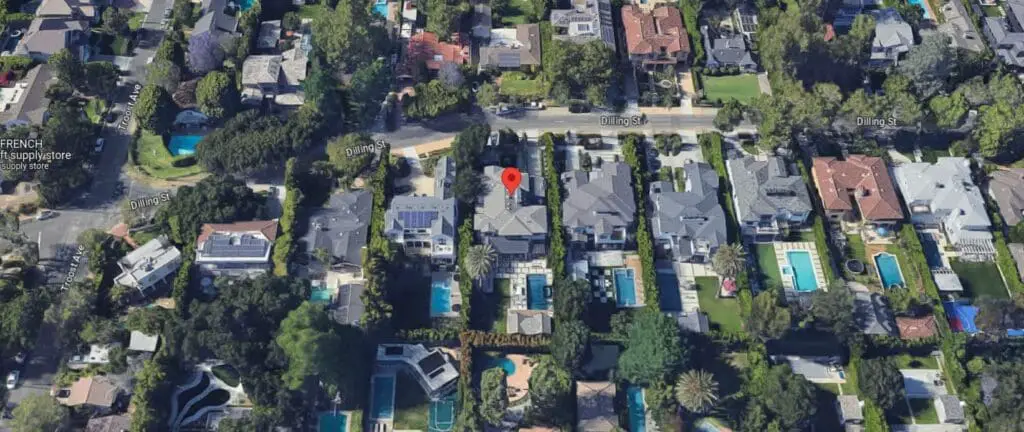 Demi Lovato's neighborhood
Other Houses Owned by Demi Lovato
Demi Lovato's journey through the world of real estate has been nothing short of fascinating. In 2007, before her California farmhouse, she embarked on her homeownership ventures by renting a magnificent home in Toluca Lake, where she and her family enjoyed themselves for a significant two-year period. This extraordinary house featured an impressive six bedrooms and an astounding seven bathrooms, spanning over an expansive 5,000 square feet of living space.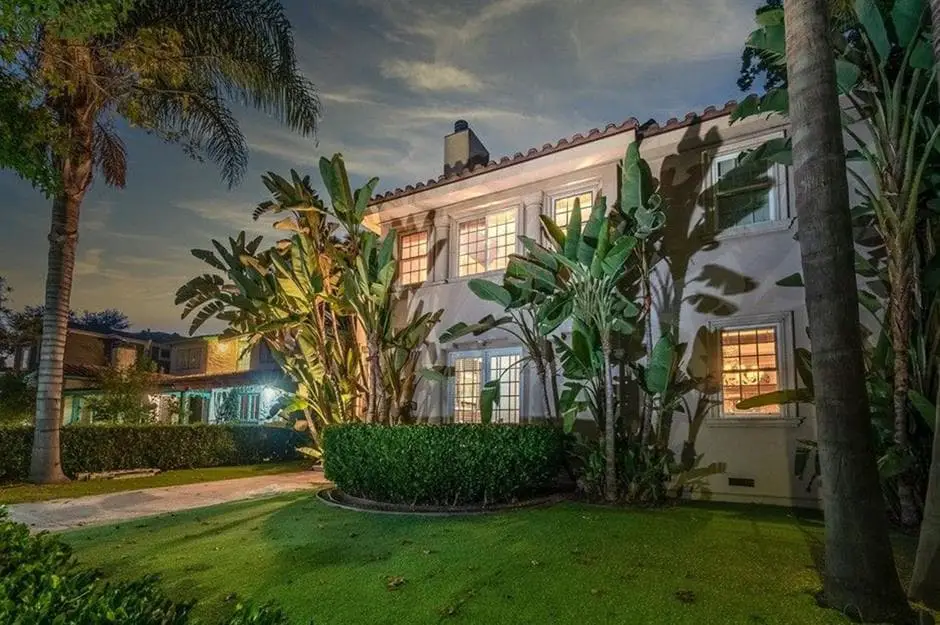 Demi Lovato's former Toluca Lake house
Then, in 2010, Demi Lovato took another step in her real estate journey when she made a notable purchase in Sherman Oaks. She acquired a charming Spanish-style house for a reported $2.3 million. This enchanting property boasted four bedrooms and six bathrooms, spanning over 4,000 square feet of living space. Dating back to 1928, this house carried a rich historical charm, adding a touch of classic elegance to Lovato's property portfolio.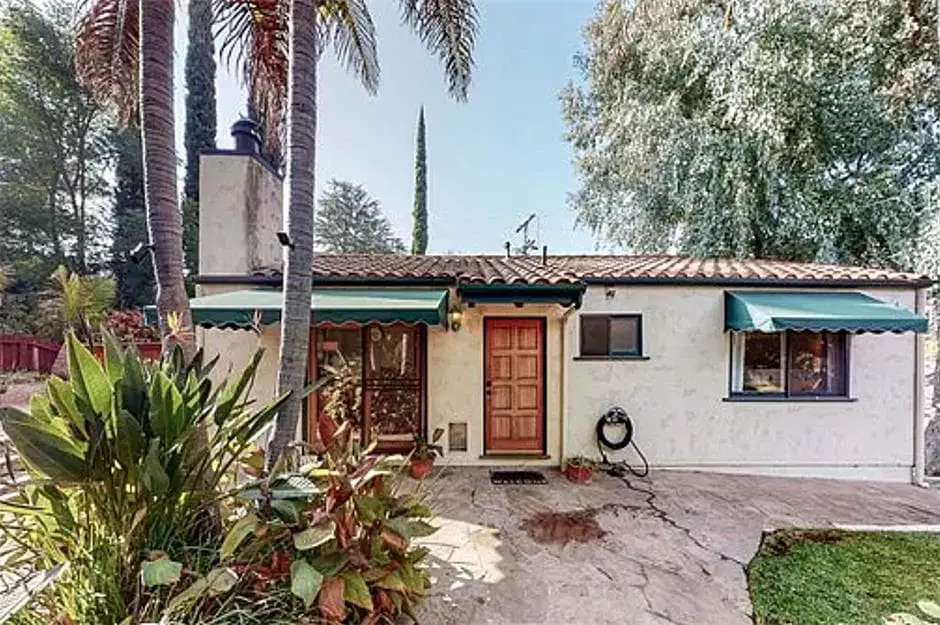 Demi Lovato's former Sherman Oaks house
In 2016, Demi Lovato made headlines once again with her acquisition of a lavish Los Angeles residence, situated in the iconic Hollywood Hills. This opulent home, purchased for a staggering $8.3 million, offered the star an exquisite lifestyle. The house features four bedrooms and an impressive seven bathrooms, set on over an acre of picturesque land. What truly sets this property apart are its captivating living areas that are sure to evoke awe and admiration.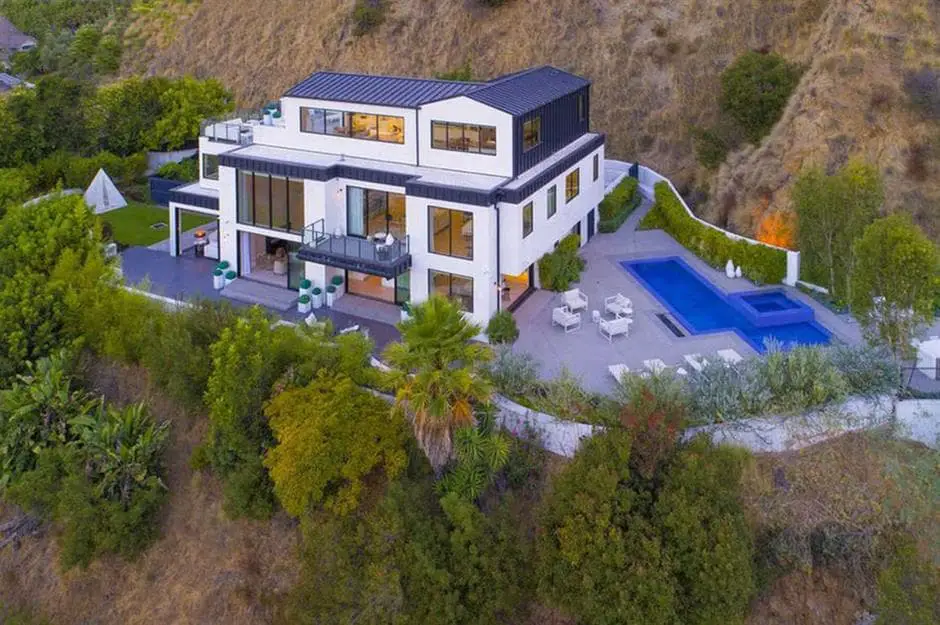 Demi Lovato's Hollywood Hills house
From her early rental in Toluca Lake to her Spanish-style abode in Sherman Oaks and the lavish Hollywood Hills retreat, Lovato's real estate journey mirrors her incredible transformation from a rising star to an established celebrity in the entertainment industry.