Cardi B, the renowned rapper and cultural icon, has made headlines not just for her chart-topping hits and charismatic personality but also for her impressive real estate ventures. One of her most notable acquisitions is her stunning house in Tenafly, New Jersey or should we say New York? In this article, we'll take a closer look at Cardi B's mansion, exploring its features, the neighborhood, and even a glimpse into her life as a superstar.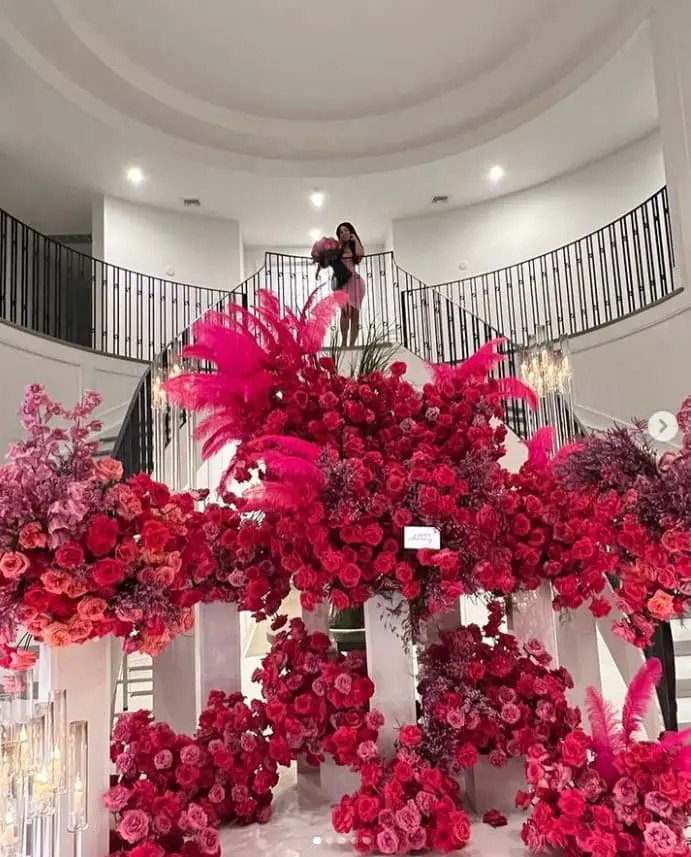 Cardi B's house
Where Does Cardi B Live Now?
Cardi B lives at 100 Churchill Rd, Tenafly, NJ. Sitting majestically on a sprawling 1.8-acre gated property, the mansion spans a colossal 13,000 square feet, a realm of luxury befitting Cardi B's status. This splendid abode, acquired for a cool $5.85 million, offers a glimpse into the opulent lifestyle of the superstar.
The property boasts not just eight bedrooms, but likely nine when you count the guesthouse. With a grand total of twelve bathrooms, including nine full ones, convenience is paramount in this lavish haven.
Cardi B's house
Cardi B initially delightedly announced to her fans that her new dream home was situated in her beloved New York City. However, there was a slight twist to the story. In reality, her opulent residence is nestled in the serene suburbs of New Jersey, not the bustling streets of Manhattan as she had first suggested.
This charming mix-up between the neighboring states added an unexpected twist to her acquisition. Despite the geographical discrepancy, Cardi B's enchanting retreat remains a symbol of luxury and comfort for her and her family.
Inside Cardi B's Tenafly House
Stepping inside, the interior reveals itself with a grand imperial staircase, hinting at the opulence that awaits. The staircase is curved, a design choice that adds an element of elegance and fluidity to the space. It has black railings, providing a stark contrast to the white walls and light-colored wood floor.
Cardi B's foyer
The main residence features a gourmet kitchen and a spacious dining area suitable for hosting banquets. It features white cabinets, which give the space a clean, bright look. The refrigerator blends seamlessly with the cabinets, suggesting a thoughtful design approach. The floor is made of tiles, a practical choice for a kitchen as it's easy to clean and maintain.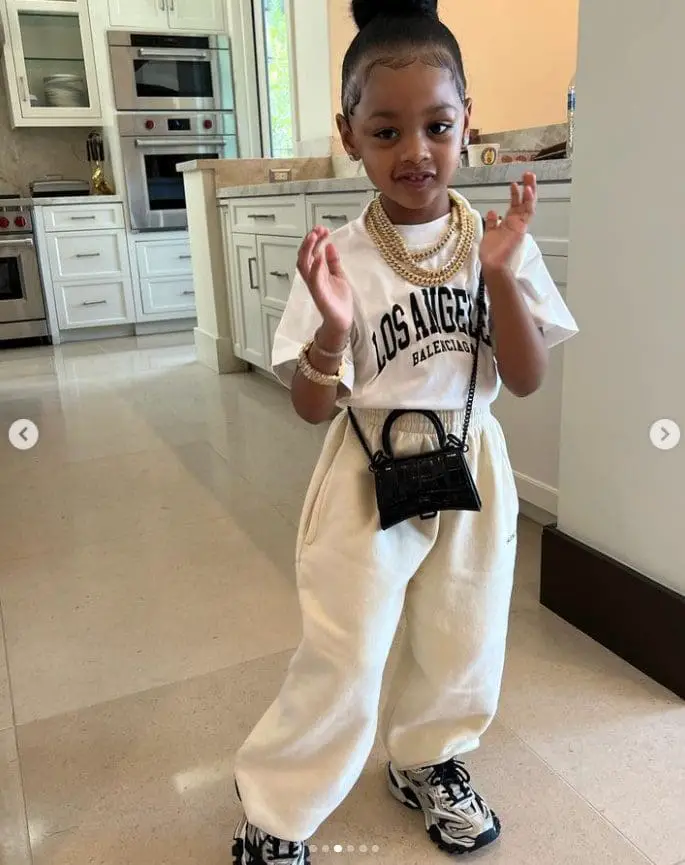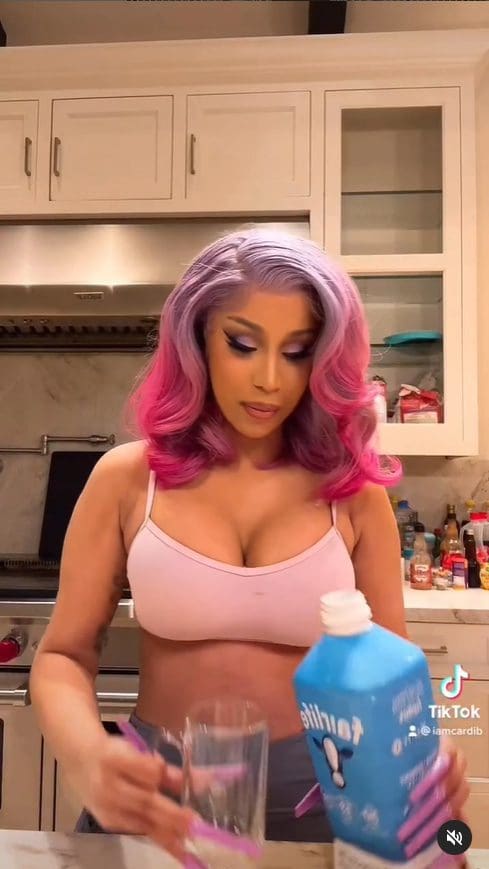 Cardi B's kitchen
Cardi B's living room has a distinct modern and minimalist aesthetic. The floor is carpeted, which adds a sense of warmth and comfort to the space. A unique wooden detail on the floor further enhances the room's character. The wall features a white fireplace, serving as a focal point that adds an element of sophistication and coziness. The pink coffee table with a vase of pink flowers adds a pop of color and personal touch to the space.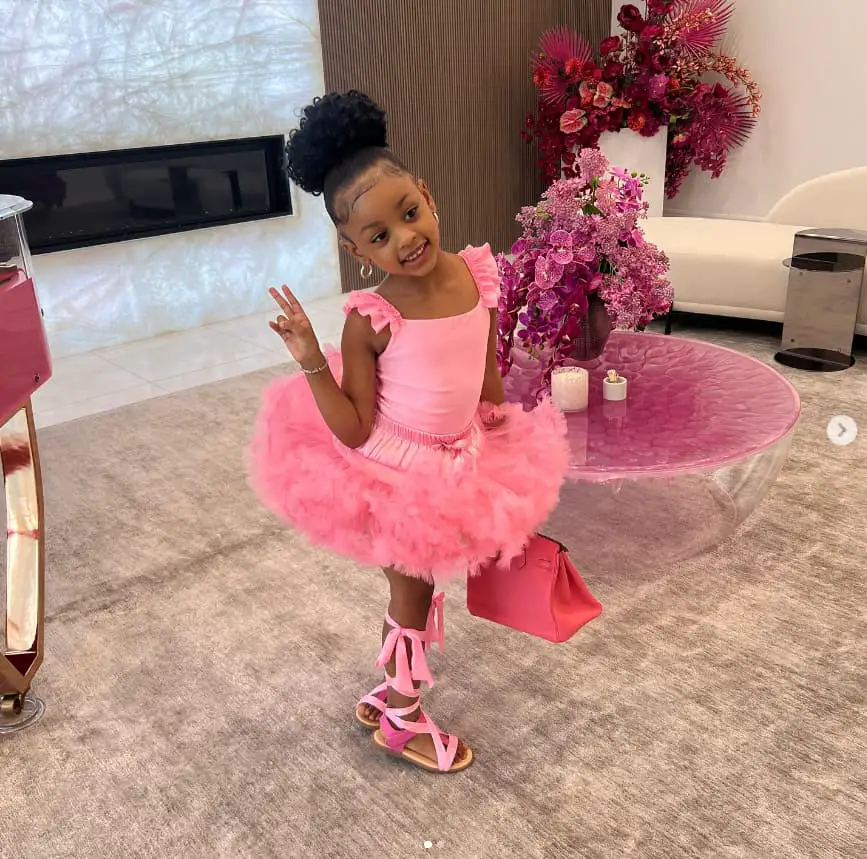 Cardi B's living room
The master bedroom, the epitome of comfort and luxury, includes twin walk-in closets and en-suite baths, ensuring that Cardi B and her family can retreat to their own sanctuary whenever they desire.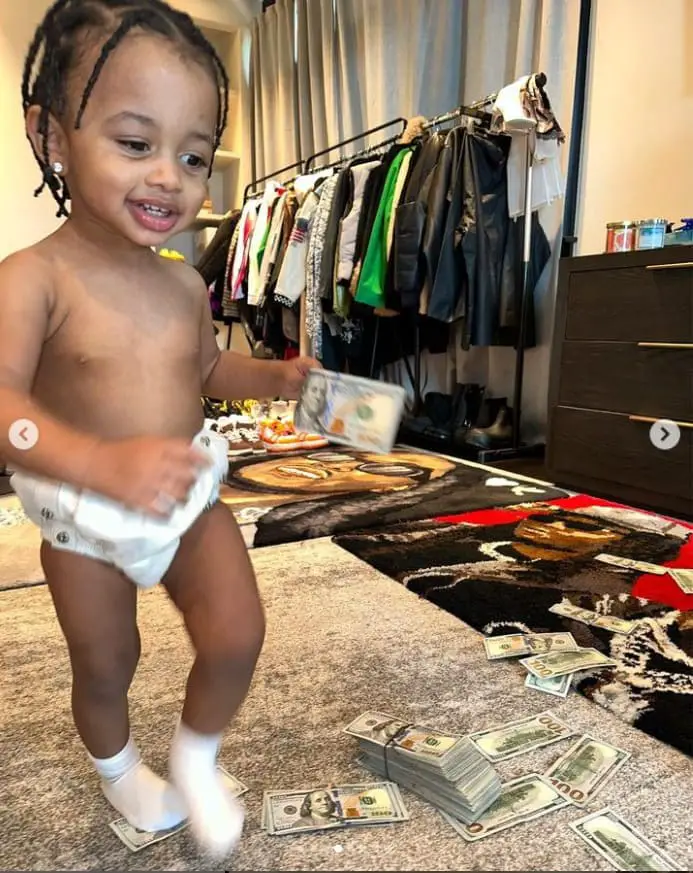 Inside one of Cardi B's bedrooms
Also, Cardi B's house boasts a library for moments of quiet reflection, an office for business endeavors, and a family room with an extra fireplace for cozy family time.
But the extravagance doesn't stop there. The mansion also boasts a home theater for cinematic indulgence, a state-of-the-art fitness center, and a wine cellar for those with discerning tastes. Additionally, a powder room, a leisure area, and an elevator make everyday life in this mansion a breeze.
Cardi B's Outdoor Area Has a Massive Pool and a Tennis Court
Cardi B's house in Tenafly extends its luxury beyond its walls. The outdoor area is a magnificent oasis, complete with a sprawling garden, a massive pool, a tennis court, and a guest house.
Upon entering the estate, the first thing that captures attention is the magnificent in-ground pool. It's the epitome of luxury and leisure, perfect for relaxation and hosting extravagant gatherings. In addition to the pool, a tennis court awaits those who are athletically inclined.
Cardi B's tennis court
The guesthouse, more than just an auxiliary structure, boasts a complete kitchen and bathroom, possibly even an extra bedroom. Meanwhile, a capacious four-car garage and an outdoor kitchen add to the list of amenities that make this mansion a truly self-contained paradise.
Cardi B's garage
Other Properties Owned by Cardi B
Cardi B's foray into the world of real estate is as impressive as her music career. While her Tenafly mansion garners attention, the rapper owns other noteworthy properties. One of these is a massive 22,000-square-foot mansion in Buckhead, Atlanta.
Cardi B's Atlanta house
Notably, Cardi's husband surprised her with a stunning holiday home in the Dominican Republic. This property, known as Villa Loft, is available for rent on Airbnb at approximately $890 per night.
Cardi B's house in Dominican Republic
In addition to these luxurious properties, Cardi B also owns a condo in Edgewater, New Jersey, offering a chic yet practical living space. While she keeps most details private, occasional glimpses reveal a stylish chef's kitchen with modern appliances.
Cardi B's New Jersey house