We've always known Adam Sandler as a humble, humorous, and sweet guy in most of his movies. But don't be fooled by his too-casual look and down-to-earth character! He's actually incredibly rich due to his long and lucrative career in Hollywood as an actor and producer. His wealth might not show in his daily outfit, but it sure does in his choice of properties.
As of 2022, his net worth is a whopping $420 million. And he sure knows how to invest his cash. In fact, he signed deals with Netflix worth over $250 Million. The Spanglish star has purchased real estate properties at some of the country's elite residential areas from the East Coast to the West Coast and many places in between. Over the years, he's had mansions in Bel Air, L.A., New York, New Hampshire, Boca, Malibu, and Miami. But currently, he calls his Pacific Palisades mansion in L.A. his main home where he lives with his wife and kids.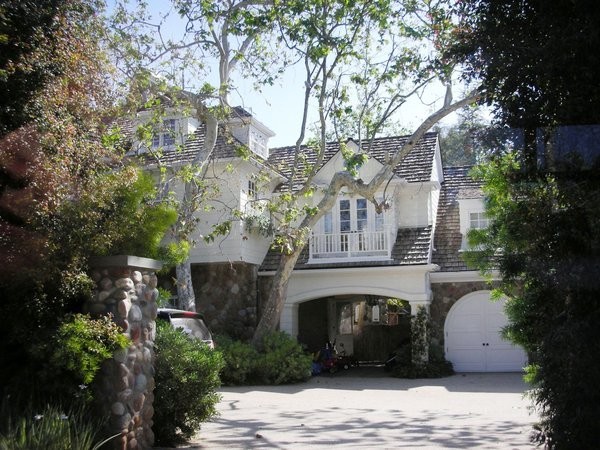 The Sandler's Pacific Palisades Home
So where does Adam Sandler live now? Sandler's home is definitely a haven for his family. For starters, the mansion is a sprawling 13,000-square-foot estate with fourteen bedrooms and seven bathrooms. the Hustle star mainly resides at his Pacific Palisades home in Los Angeles. This residence has a star-studded history. Sandler bought his house from Goldie Hawn and Kurt Russell for a whopping $12 million in 2004!

Covering over two-thirds of an acre, Adam Sandler's home is located in the Brentwood area of Los Angeles and is surrounded by large green trees, which provide the Uncut Gems star with sufficient privacy. Of course, with the renovations and additional fixtures, the mansion's market price indeed increased. And there's also no news that the couple wants to say goodbye to it just yet. The Sandler family still enjoys the luxury and privacy they have at their Pacific Palisades home.
At first sight of the Pacific Palisades properties, Sandler knew it's the perfect place for his brood, considering the family-friendly neighborhood, quiet streets, and excellent schools nearby. The only thing that got in their way was that the property they were interested in wasn't on the market at that time. But instead of moving on and finding another mansion to buy, the Sandler's opted to contact the owner, who happened to be the celebrities Kurt Russel and Goldie Hawn.

Sandler also owns the adjoining home, which is comparatively modest, covering 3,971 square ft., with four bedrooms and four bathrooms. The combined worth of both these homes is a whopping $28 million! More on that house later. Let's talk about what made Adam Sandler shell out $12 million for this piece of paradise where The Waterboy star resides with his wife and kids? 
5 Unique Features of Adam Sandler's House
It seems that the Sandlers are quite private about their abode as there aren't many pictures of their home's interior. But based on the photos from the previous property owners, these are the 5 defining features of their residence: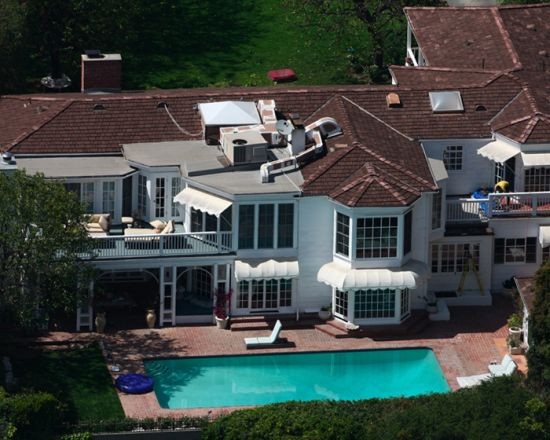 Massive yard – The Sandler's 13,000 square foot property is certainly a huge treat for their kids, who love to play outdoors. When the weather is perfect, the lawn is the best place to hang out for outdoor parties with friends and family.
Tennis Court – The Property also has a full-size tennis court. The tennis court is raised off the ground to get it at the same level with the pool and garden area.
Pool – Like numerous other luxurious mansions, Adam Sandler's not-so-humble abode comes with a gigantic swimming pool. The crystal clear water gives the Sandler family a perfect opportunity to dip in the scorching summer heat and hold pool parties whenever they want. Running a lap in the pool is not only accessible but also private as the mansion peeks from behind lush green trees, keeping the inner workings away from the prying eyes of outsiders. Their pool is located adjacent to their lawn, which makes it extremely easy to have a pool and barbecue party anytime they want.
3. Sports area – Adam Sandler is a huge basketball fan. And he's frequently seen balling with NBA stars (e.g., Jordan Clarkson, Boban, Tobias Harris). Although he's not usually seen flaunting his 6-packs, he didn't take his fitness for granted. So does his wife who's also an actor herself. The Pacific Palisades home is fitted with a basketball court, and is also equipped with the latest gym equipment. It's also fitted with all the fitness equipment and amenities they need to stay in great shape.

Sandler and his wife are often seen socializing with NBA stars, and their home is testament to their interest in the sport. 
4. Plenty of rooms – The Sandlers' Pacific Palisades mansion has 7 bedrooms and 9 bathrooms. The couple also bought the property next to their home, which is a 3,971-square feet estate with 4 bathrooms and 4 bedrooms. The couple's huge property serves a good purpose, though, as Sandler usually invites family and friends to enjoy a party or a premiere of his movies. At one of his interviews with Jimmy Kimmel Live!, he admitted that there was a time when his home was so packed with visitors that his mother-in-law and mom had to share a bed.
5. Landscaping – One of the best things about the Sandlers' mansion is that it's surrounded by trees. This gives the family even more privacy. Plus, lots of fresh air. The trees and flowering plants also added a touch of elegance to the overall facade of their property.
Other Properties Owned By Adam Sandler
While the Hollywood funnyman has designated the Pacific Palisades mansion as his permanent residence, he owns numerous other properties across the US. While the star's simple aesthetic may make one believe him to be of modest means, Sandler's net worth is jaw-dropping $440 million! This figure would certainly explain his other properties located across the United States. 
Malibu
Back in 2001, Sandler purchased a seemingly modest home in Central Malibu. The house cost $3.9 million (although its current price tag is a little over $6 million) and was originally built in 1947. This house is spread over 1,315 square ft. and has three bedrooms and three bathrooms. 
Boca Raton, Florida
Apart from being a superb comedian, Sandler has been incredibly astute in purchasing properties whose values have skyrocketed over the years. The condo in Boca Raton was bought by Adam Sandler for $640,000, while the current price listing for it is approximately $1.25 million. This property also has three bedrooms and three bathrooms.
Lake Winnipesaukee, New Hampshire
The 2,260 square ft. house was bought by Sandler for his parents, as this is the star's childhood residence. The house is modest compared to his other properties, but the memories are more to his family rather than the price tag of $423,889. 
Pacific Palisades – The Latest House Purchased By Adam Sandler
The Happy Gilmore star recently also acquired another house, adding to this property portfolio worth more than $40 Million!. The three bedroom structure comes with two baths, one of which is attached to the main bedroom and features an incredibly chic double vanity. The house was originally built in the 1940s but has been remodelled to match the fancy, luxurious homes of the 21st century. Adam Sandler bought the ranch-style house located at 15415 Albright Street  Pacific Palisades, Los Angeles, for $4.1 Million. Thinking about getting your hands on the ultimate suburban dream house? Looks like Sandler got his hands on it!
At 56, Adam Sandler has been enjoying the life typical of an A-list Hollywood celebrity – expensive vacations, mansions, and cars. Plus, a loving wife and kids to boot. His Pacific Palisades home is already a luxurious hideout in itself, although he has a lot of options to come home to in different parts of the country.