We've always known Adam Sandler as a humble, humorous, and sweet guy in most of his movies. But don't be fooled by his too-casual look and down-to-earth character! He's actually incredibly rich due to his long and lucrative career in Hollywood as an actor and producer. His wealth might not show in his daily outfit, but it sure does in his choice of properties.
As of 2021, his net worth is a whopping $420 million. And he sure knows how to invest his cash. The Spanglish star has purchased real estate properties at some of the country's elite residential areas from the East Coast to the West Coast and many places in between. Over the years, he's had mansions in Bel Air, L.A., New York, New Hampshire, Boca, Malibu, and Miami. But currently, he calls his Pacific Palisades mansion in L.A. his main home where he lives with his wife and kids.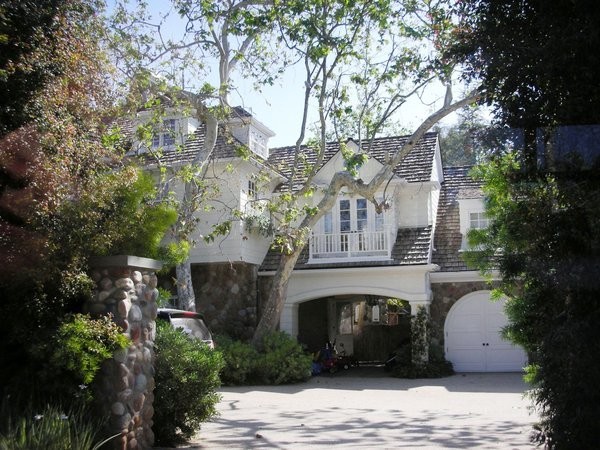 The Sandler's Pacific Palisades Home
Sandler's home is definitely a haven for his family. For starters, the mansion is a sprawling 13,000 square foot estate that's worth around $13 million. Of course, with the renovations and additional fixtures, the mansion's market price certainly increased. And there's also no news that the couple wants to say goodbye to it just yet. The Sandler family still enjoys the luxury and privacy they have at their Pacific Palisades home.
At first sight of the Pacific Palisades properties, Sandler knew that it's the perfect place for his brood, considering the family-friendly neighborhood, quiet streets, and excellent schools nearby. The only thing that got in their way was that the property they were interested in wasn't on the market at that time. But instead of moving on and finding another mansion to buy, the Sandler's opted to contact the owner, who happened to be the celebrities Kurt Russel and Goldie Hawn. They got a $12 million deal on the estate in 2004 and, as they say, the rest is history.
5 Unique Features of His Home
It seems that the Sandlers are quite private about their abode as there aren't many pictures of their home's interior. But based on the photos from the previous of the property, these are the 5 defining features of their residence: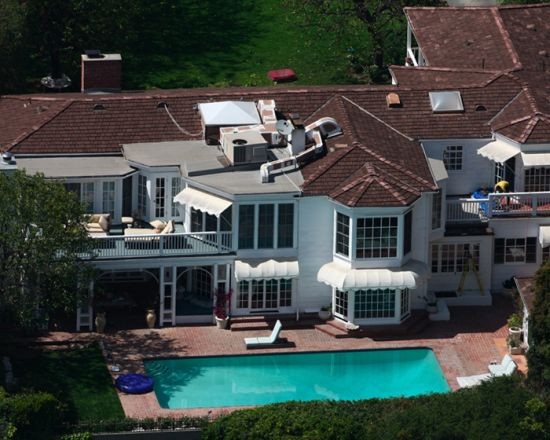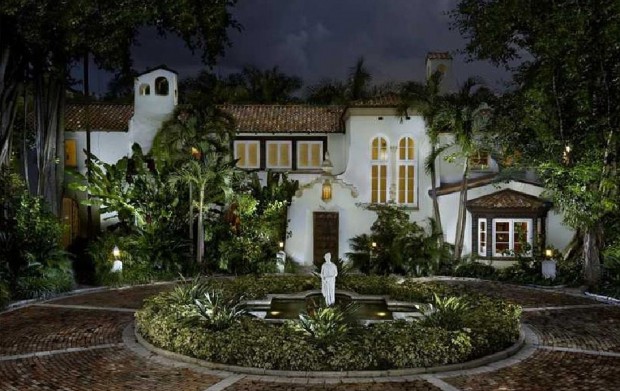 Massive yard – The Sandler's 13,000 square foot property is certainly a huge treat for their kids, who love to play outdoors. When the weather is perfect, the lawn is the best place to hang out for some outdoor party with friends and family.
Pool – A swimming pool is something the Sandlers didn't miss having at home. With this, they can enjoy a refreshing bath anytime. Their pool is located adjacent to their lawn, which makes it extremely easy to have a pool and barbecue party anytime they want.
3. Sports area – Adam Sandler is a huge basketball fan. And he's frequently seen balling with NBA stars (e.g., Jordan Clarkson, Boban, Tobias Harris). Although he's not usually seen flaunting his 6-packs, he didn't take his fitness for granted. So does his wife who's also an actor herself. That's why the sports area is one of the most frequented areas of their home. It's also fitted with all the fitness equipment and amenities they need to stay in great shape.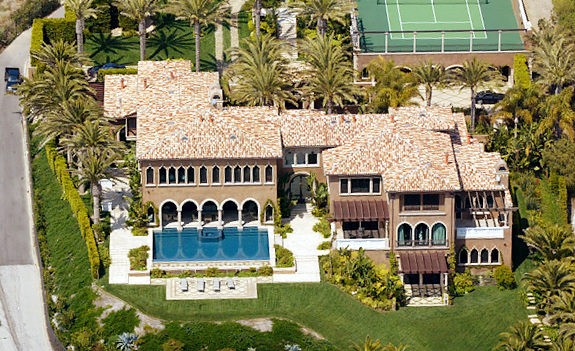 4. Plenty of rooms – The Sandlers' Pacific Palisades mansion has 7 bedrooms and 9 bathrooms. The couple also bought the property next to their home, which is a 3,971-square feet estate with 4 bathrooms and 4 bedrooms. The couple's huge property serves a good purpose, though, as Sandler usually invites family and friends to enjoy a party or a premiere of his movies. At one of his interviews with Jimmy Kimmel Live!, he admitted that there was a time when his home was so packed with visitors that his mother-in-law and mom had to share a bed.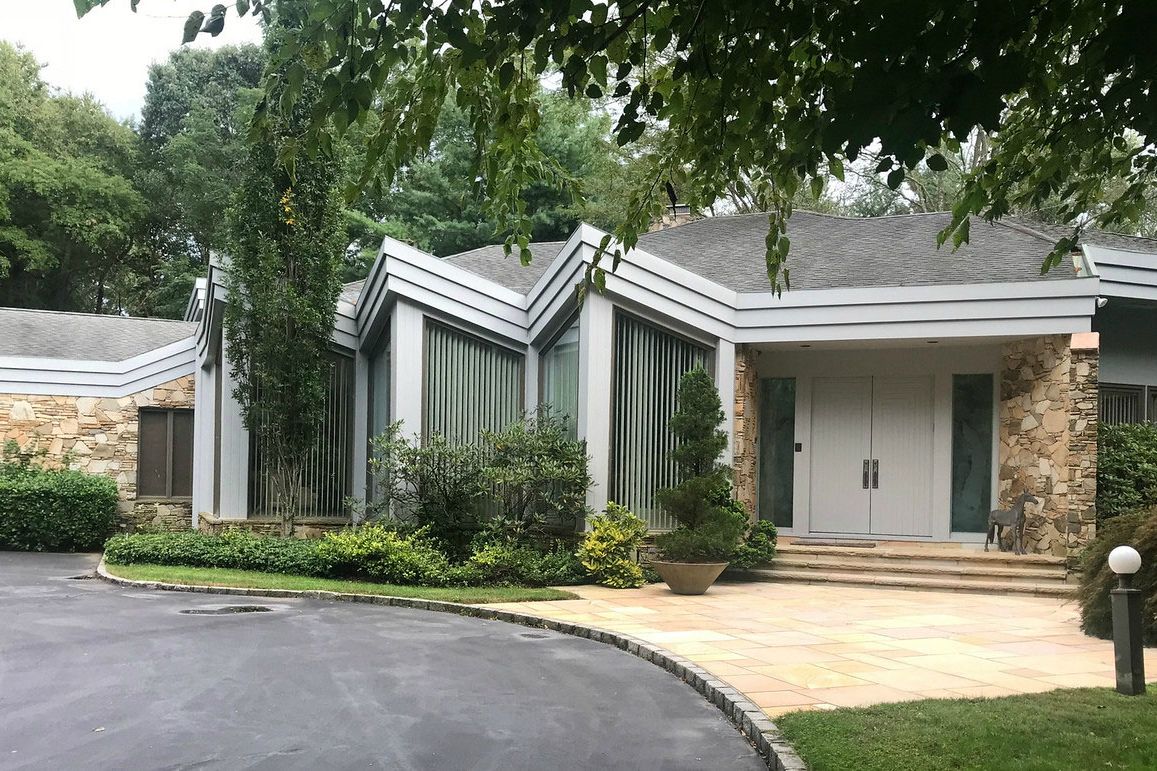 5. Landscaping – One of the best things about the Sandlers' mansion is that it's surrounded by trees. This gives the family even more privacy. Plus, lots of fresh air. The trees and flowering plants also added a touch of elegance to the overall facade of their property.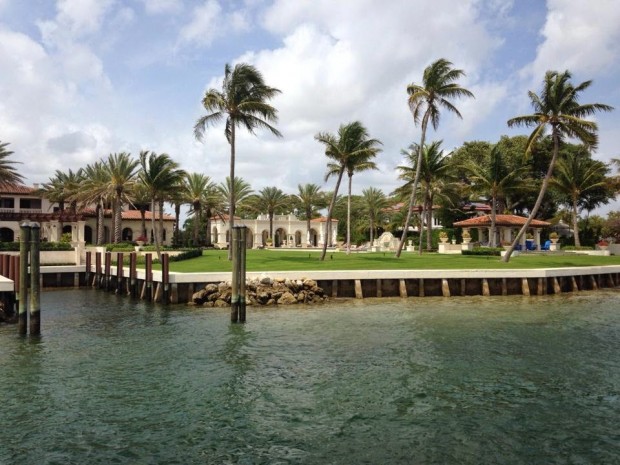 At 52, Adam Sandler has been enjoying the life typical of an A-list Hollywood celebrity – expensive vacations, mansions, and cars. Plus, a loving wife and kids to boot. His Pacific Palisades home is already a luxurious hideout in itself, although he has a lot of options to come home to in different parts of the country.