Casa Batlló: Barcelona's Architectural Masterpiece
The remarkable architectural gem Casa Batlló, stands on the elegant boulevard of Passeig de Gràcia in Barcelona's heart. Antoni Gaudí – a visionary architect – designed this building as a proof to his innovative genius and a shining example of modernist architectural style.
In 1904, during a period of architectural innovation in Barcelona, construction on Casa Batlló began. After Gaudí masterfully transformed the building, it opened to the public on December 17th, 1912.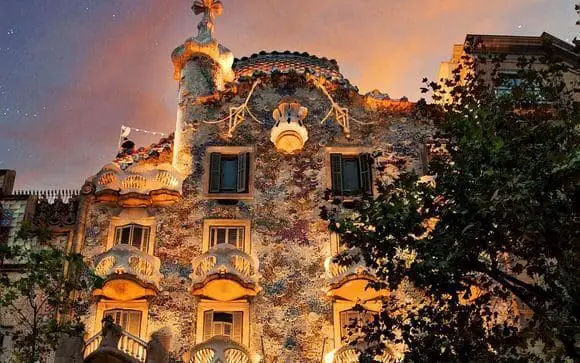 The creative mind behind Casa Batlló was Antoni Gaudí, a Catalan architect of groundbreaking designs and pioneer in the modernist movement. This movement, known for its emphasis on organic forms, natural elements, and departure from traditional architectural norms – was his brainchild.
Casa Batlló's exterior presents a genuine spectacle: an amalgamation of architectural innovation and artistic expression. The building façade, characterized by its riotous color, texture, and curvy lines, is quintessentially modernist; this is consistent with Gaudí's signature style. Further distinguishing features are the intricate mosaics stained glass windows, which allow for a play of light and shadow, along with undulating balconies that disrupt traditional linear design principles, all these elements serve to set Casa Batlló uniquely apart from nearby structures.
Undoubtedly, as you approach the building, the rooftop will draw your gaze: its splendor is unparalleled. Ceramic tiles, gracefully covering its surface create an illusion of fish scales; this effect further enhances the majestic charm emanating from it. Moreover, with undulating forms akin to a dragon's back, the rooftop tiles inject myth and magic into the structure, a genuinely captivating touch! The pinnacle of Casa Batlló proudly displays a symbol: the cross, an embodiment of Saint George's sword, representing Catalonia's patron saint.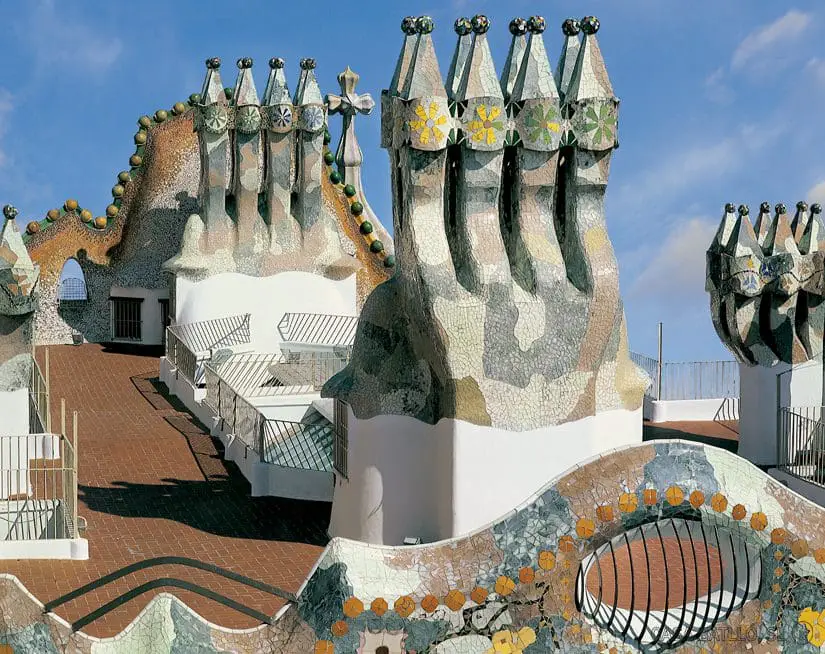 An awe-inspiring space, the Noble Floor of Casa Batlló immerses visitors in a surreal underwater cave. The undulating walls and ceiling evoking feelings of being beneath the sea feature wood, glass, and wrought iron furnishings; these elements add to its overall charm. From this floor, one gains a unique vantage point that allows for gazing at Passeig de Gràcia's bustling scenery.
Despite its compactness with a floor area of approximately 4300 square meters, Casa Batlló is an iconic and imposing structure in Barcelona's heart. This building does not function as a residential dwelling; instead, it operates inviting visitors to explore its depths of creativity as an esteemed cultural and artistic landmark.
A living testament to the creative brilliance of Antoni Gaudí, Casa Batlló emerges as a masterpiece of modernist architecture. As a UNESCO World Heritage site, it mirrors Barcelona's rich cultural heritage and beckons architecture enthusiasts and art lovers alike. Make sure to detour at Passeig de Gràcia, number 43, when visiting Barcelona; there, you can immerse yourself in the magical world painted by Gaudí's architectural brushstrokes. Not merely a building, Casa Batlló beckons exploration of its depths and invites appreciation for innovative design's beauty; it symbolizes Barcelona's artistic spirit–a timeless tribute to the genius of Antoni Gaudí.
To plan your visit and gather further information, contact Casa Batlló at +34 932 16 03 06 or visit their website: https://www.casabatllo.es/. The building opens its doors to the public daily from 9:00 AM until 8:00 PM.
Magic Nights at Casa Batlló; these special events offer a truly enchanting and unique experience. They immerse visitors in an artful journey into culture, exploring this architectural masterpiece in unattainable ways. You can find calendar for this events on their website: https://www.casabatllo.es/.
Live music, such as classical guitar or piano performances that harmonize with the enchanting ambiance of Casa Batlló, often accompanies the event. Guests may immerse themselves in Antoni Gaudí's whimsical and artistic atmosphere by strolling through its various rooms and spaces.
Visitors to the Magic Nights experience can indulge in a glass of cava under Barcelona's starry sky on the rooftop terrace, boasting its dragon, inspired design as a highlight. From this vantage point, offering breathtaking city views, they relish their Catalan sparkling wine.
Further Information On The Casa Battlo
Date Construction Started: 1904
Date Opened: 17 December 1912
Cost Of Building: N/A
Architect: Antoni Gaudi
Architectural Style: Modernism
Size Or Floor Area: 4300m2
Height: 32m
Function Or Purpose: UNESCO World Heritage site
Address: Passeig de Gràcia, 43 08007 Barcelona
Phone Number: +34 932 16 03 06
Website: https://www.casabatllo.es/
Opening Hours: Daily: 9:00-20:00