Nestled in the scenic beauty of Malibu, California, we find ourselves drawn to the allure of Mel Gibson's house, a haven that offers a peek into the life of Hollywood royalty. Mel Gibson, a name synonymous with versatility and excellence in the world of cinema, has crafted a legacy through his unforgettable performances in iconic films like "Braveheart" and "Lethal Weapon." While his professional journey has left an indelible mark, today, our focus is on Mel Gibson's house in Malibu, a retreat that exudes luxury and class.
Mel Gibson's house
Where Does Mel Gibson Live Now?
Mel Gibson lives at 22313 Carbon Mesa Rd, Malibu, California. The 5.5-acre estate, once acquired by Mel Gibson, remains an unsold enigma with a price tag that has undergone a rollercoaster of fluctuations. Back in July 2008, Gibson shelled out $11.5 million to make this property his own.
In 2017, the world caught wind of its availability when it was listed at $14.5 million, only to be mysteriously taken off the market. It then resurfaced under the care of a new broker, but it seems that this enigmatic mansion is still waiting for the right owner to unlock its secrets.
Mel Gibson's House: A Glimpse of the Interior
From the outside, the property might appear like any other upscale residence, but as you cross the threshold, you're transported into a world of understated luxury. Inside, the 6,578-square-foot main house boasts an array of remarkable features. There are five bedrooms, each with its own unique character, and five well-appointed bathrooms. The interior's defining elements include stone-topped archways and exposed wood beams, which lend an irresistible old-world charm to the contemporary spaces.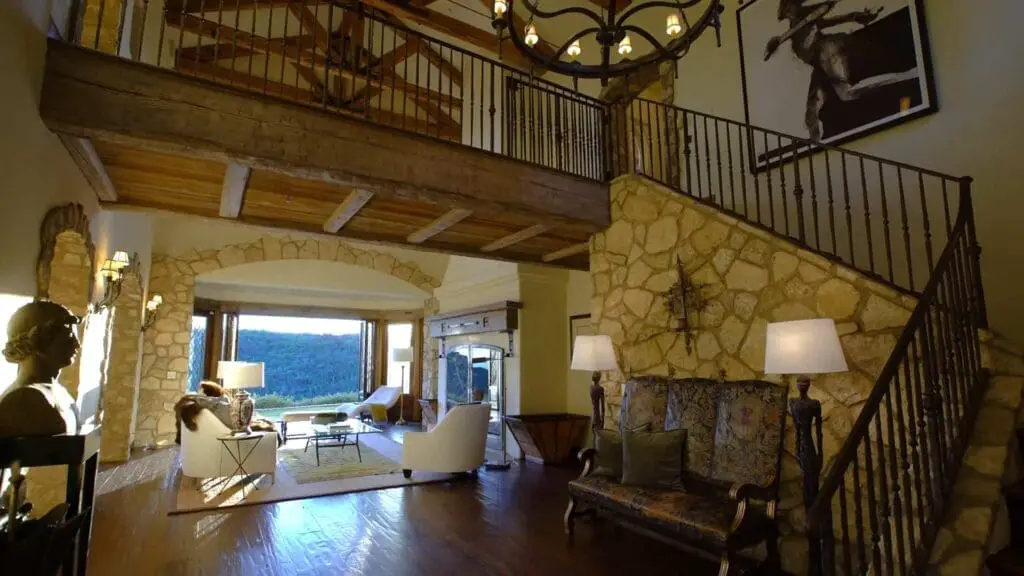 Mel Gibson's entryway
The spacious family room exudes a rustic and cozy feel, beautifully blending traditional and modern elements. The high exposed wooden beam ceiling adds grandeur, and a beautiful stone fireplace with an elegant mantel radiates warmth. Tastefully furnished with a mix of modern and antique pieces, this inviting space features a white sofa contrasting with a leather ottoman and wooden armoire. Natural light floods in through large windows, while a luxurious chandelier and well-chosen rug complete the harmonious, welcoming ambiance.
Mel Gibson's main living room
The heart of Mel Gibson's kitchen is a large island, topped with a granite countertop and equipped with a sink, offering a practical and stylish workspace. The cabinets, crafted from wood and finished in a light hue, provide ample storage while enhancing the room's warm and inviting atmosphere. A striking feature of the kitchen is the ceiling, adorned with exposed wooden beams that add a rustic charm. The hardwood floor further complements the room's traditional aesthetic, while the stainless-steel appliances introduce a touch of modernity.
Mel Gibson's kitchen
Dominating the dining room is a large wooden table surrounded by matching chairs, setting the stage for intimate meals and lively conversations. The room is graced with a large window and French doors that open to a balcony, inviting an abundance of natural light and offering a glimpse of the outdoors. The room's decor enhances its traditional charm. A large painting serves as a captivating focal point, while chandeliers add a touch of elegance. A rug under the dining table adds warmth and texture to the space.
Mel Gibson's dining area
The dining room further extends into some kind of a library. The area is characterized by a stone fireplace, wooden beams, and a coffered ceiling, all of which contribute to a sense of rustic charm and warmth. The furniture, consisting of a sofa, armchairs, and a coffee table, is arranged in a symmetrical layout, creating a balanced and harmonious space. Additional elements such as a bookcase and a desk add functionality and character to the room.
Mel Gibson's library
Mel Gibson's House: A Glimpse of the Outdoor Area
The main entryway, in the form of a colossal folding door, opens up to the sprawling backyard, creating a natural flow between the indoor and outdoor areas. The outdoor spaces are as spectacular as the interior. A sea of native flora and eucalyptus trees envelops the property, providing shade, a forest-like ambiance, and an added layer of security, making it feel like your private park.
Mel Gibson's entrance
The estate boasts multiple alfresco areas, including a scenic ground-level dining space and a vine-wrapped pergola-covered lawn, perfect for relaxation. The property also includes terraces with panoramic ocean views, two swimming pools (one regulation-sized lap pool), a pool house, and a built-in barbecue area for endless entertainment possibilities.
Mel Gibson's pool
Mel Gibson's outdoor seating area
In addition to the main house, there is a charming 2-bedroom guesthouse situated above the detached 3-car garage, providing an additional layer of privacy and comfort.
Mel Gibson's Neighborhood
Nestled in the canyons above the Pacific, Mel Gibson's estate enjoys a privileged position in one of the most beautiful and sought-after neighborhoods in central Malibu. Surrounded by native flora and eucalyptus trees, the property offers an idyllic retreat, providing natural shade, a refreshing forest-like atmosphere, and an added layer of security. The neighborhood exudes exclusivity and tranquility, offering breathtaking views of the ocean and a sense of seclusion that's highly coveted by celebrities and discerning homeowners.
Mel Gibson's neighborhood
Other Houses Owned by Mel Gibson
While we've dived deep into Mel Gibson's main residence in Malibu, it's worth mentioning that the actor-director owns multiple properties, showcasing his taste and wealth. He sold his Sherman Oaks, California home for US$2.1 million, a property he acquired in 2009 for US$2.4 million. Another notable property was a one-bedroom cottage in Agoura Hills, west of Los Angeles, purchased in 2007 for US$2.15 million and currently poised for a sale at around US$699,000.
Mel Gibson's Sherman Oaks house
His real estate ventures aren't confined to the United States; he's ventured into exotic locales, including Costa Rica and Fiji. Mel Gibson has been trying to offload his Costa Rican jungle hideaway, featuring three houses on a vast 162-hectare estate with 3.2 kilometers of coastline, since 2014, with no success thus far. However, he still possesses his private Fijian island, a gem he acquired in 2005 for approximately $19 million, providing him with an exclusive sanctuary.
Mel Gibson's Costa Rica house