After a long, tiring day spent at work or taking care of the kids, there's nothing like stepping into a hot, bubbly bath or a steamy shower, and letting all your stresses and strains melt away.
Unfortunately, if your bathroom is looking somewhat past its best, the restorative effects of your soak may not be as thorough as you had hoped. After all, trying to wash your tension away while contemplating dingy tiles, toothpaste-spattered taps and rows of half-empty toiletries isn't what we dream of when we're flicking through glossy interior design magazines.
Fortunately, if your bathroom isn't living up to your stylish ideals, there are plenty of things you can do to transform it into the showstopping sanctuary you fantasise about. Read on for some bathroom decorating tips that will suit different tastes and budgets. With their help, before you know it, you will enjoy a soak in the effortlessly elegant and soothing space you deserve.
Update Your Palette
If your bathroom was decorated in unappealing shades by previous owners, or if you just want to switch things up, the easiest option is a fresh coat of paint. You may not even have to paint the walls if you don't want to; simply touching up the radiators, towel rails and toilet-roll holder can give the room a stylish uplift.
Alternatively, the bolder DIY decorators among you may want to set their sights a little higher – quite literally – and paint the ceiling instead. Choosing a bright and uplifting colour for your bathroom ceiling will dramatically alter the look and feel of the space, and give it some extra zest, even if the rest of the surfaces are plain white.
Not keen on the idea of getting messy while repainting your bathroom? Never fear, you can transform the space with some eye-catching wallpaper instead. Once thought of as old-fashioned, wallpaper is now decidedly back in the limelight, and it can be used to great effect to effortlessly upgrade your bathroom. There are so many different wallpapers to choose from, so take your time and pick a colour scheme or pattern that you know you will love for years to come.
Invest In A Bespoke Shower Screen
To spruce up your bathroom and make it more personalised at the same time, a bespoke shower or bath screen is the perfect solution.
For instance, if you purchase glass shower screens from Go Glass, not only will you receive a luxurious made-to-measure screen in your choice of finish, but you can also have it custom etched. You could ask for the initials of yourself and your partner, or perhaps your kids' names. Whatever personalised design you go for, you are sure to be thrilled with your expertly made and entirely unique shower screen.
Style Up Your Storage
Bathrooms don't typically come with a great deal of storage, unless you happen to be an A-list celebrity. As a result, if you're pressed for space, you may need to be a little creative when it comes to making some room for your toiletries.
Happily, there are plenty of smart and stylish storage ideas you can make use of in your bathroom. For example, if you don't already have a heated towel rail, perhaps now is the time to install one. It will keep your towels wonderfully warm and dry and also means you don't need to find extra space to store them.
For something a little more shabby chic, wicker baskets of various sizes are a charming way to store your bathroom bits and bobs. They are particularly handy for holding towels, face cloths, or unused bottles of toiletries.
On the other hand, if you already store most of your things on shelving underneath your bathroom sink, you may simply be worried about how it looks. After all, no matter how carefully you tidy away your bottles, spare razors and toothbrush heads, they will never look particularly aesthetically pleasing. Fortunately, all you need to remedy this is a pretty patterned sink curtain – or 'skirt' – that will stylishly conceal your assorted bath products. Job done!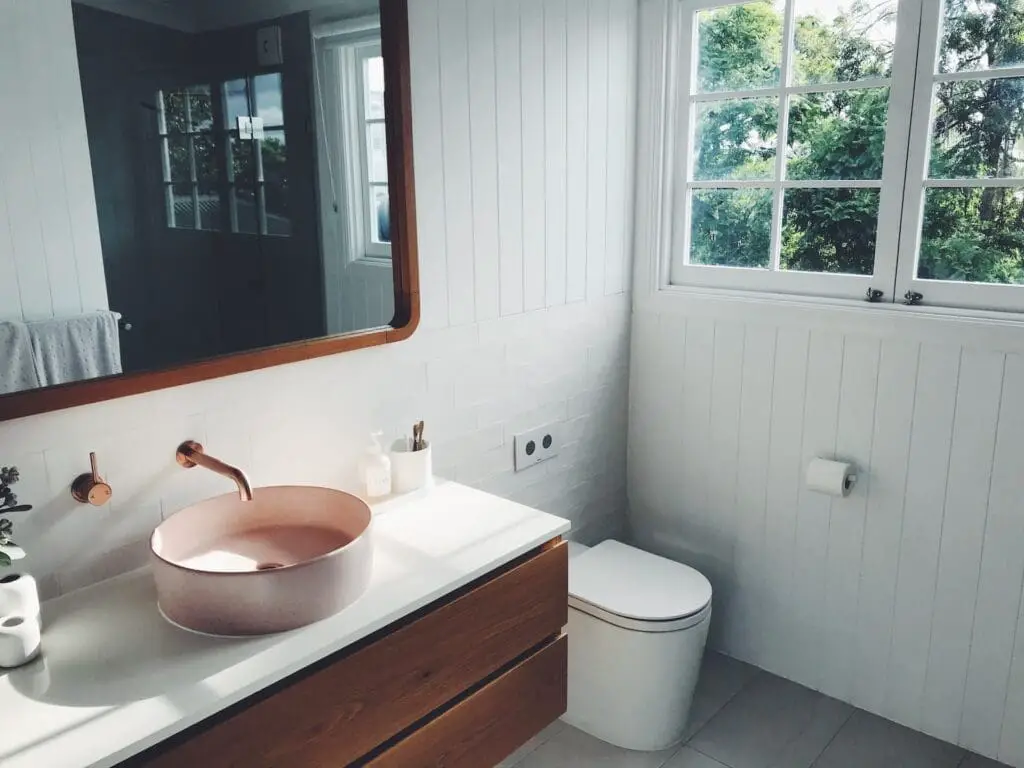 Turn Your Bathroom Into A Mini Art Gallery
If you have a large expanse of bare wall in your bathroom, you can easily revitalise the entire space by creating an art gallery wall, filled with your favourite photos, artworks and ornaments.
The way you decide to lay out your gallery wall will, of course, be entirely up to your preference and your available space.
If you want to keep things simple, you can adhere to the design 'rule of three' and hang up three particularly striking artworks or framed photographs. Alternatively, for something a little different, you could hang shabby chic macrame plant holders that will send foliage trailing artfully down your bathroom wall.
Another heart-warming option is to create a gallery wall filled with your children's framed pictures, paintings or drawings – a sight sure to delight you and your family and friends whenever they need to use the powder room.
Final Thoughts
As you can see, transforming your dull or neglected bathroom into a sparkling oasis of style and serenity needn't be hard work. In fact, it can even be a lot of fun, and give you another chance to express your unique tastes and style as a family, while creating the perfect place to relax at the end of the day.