After a long, tiring day spent at work or taking care of the kids, there's nothing like stepping into a hot, bubbly bath or a steamy shower, and letting all your stresses and strains melt away.
Unfortunately, if your bathroom is looking somewhat past its best, the restorative effects of your soak may not be as thorough as you had hoped. After all, trying to wash your tension away while contemplating dingy tiles, toothpaste-spattered taps and rows of half-empty toiletries isn't what we dream of when we're flicking through glossy interior design magazines.
Fortunately, if your bathroom isn't living up to your stylish ideals, there are plenty of things you can do to transform it into the showstopping sanctuary you fantasize about. Read on for some bathroom decorating tips that will suit different tastes and budgets. With their help, before you know it, you will enjoy a soak in the effortlessly elegant and soothing space you deserve.
Update Your Palette
If your bathroom was decorated in unappealing shades by previous owners, or if you just want to switch things up, the easiest option is a fresh coat of paint. You may not even have to paint the walls if you don't want to; simply touching up the radiators, towel rails and toilet-roll holder can give the room a stylish uplift.
Alternatively, the bolder DIY decorators among you may want to set their sights a little higher – quite literally – and paint the ceiling instead. Choosing a bright and uplifting colour for your bathroom ceiling will dramatically alter the look and feel of the space, and give it some extra zest, even if the rest of the surfaces are plain white.
Not keen on the idea of getting messy while repainting your bathroom? Never fear, you can transform the space with some eye-catching wallpaper instead. Once thought of as old-fashioned, wallpaper is now decidedly back in the limelight, and it can be used to great effect to effortlessly upgrade your bathroom. There are so many different wallpapers to choose from, so take your time and pick a colour scheme or pattern that you know you will love for years to come.
Invest In A Bespoke Shower Screen
To spruce up your bathroom and make it more personalised at the same time, a bespoke shower or bath screen is the perfect solution.
For instance, if you purchase glass shower screens from Go Glass, not only will you receive a luxurious made-to-measure screen in your choice of finish, but you can also have it custom etched. You could ask for the initials of yourself and your partner, or perhaps your kids' names. Whatever personalised design you go for, you are sure to be thrilled with your expertly made and entirely unique shower screen.
Style Up Your Storage
Bathrooms don't typically come with a great deal of storage, unless you happen to be an A-list celebrity. As a result, if you're pressed for space, you may need to be a little creative when it comes to making some room for your toiletries.
Happily, there are plenty of smart and stylish storage ideas you can make use of in your bathroom. For example, if you don't already have a heated towel rail, perhaps now is the time to install one. It will keep your towels wonderfully warm and dry and also means you don't need to find extra space to store them.
For something a little more shabby chic, wicker baskets of various sizes are a charming way to store your bathroom bits and bobs. They are particularly handy for holding towels, face cloths, or unused bottles of toiletries.
On the other hand, if you already store most of your things on shelving underneath your bathroom sink, you may simply be worried about how it looks. After all, no matter how carefully you tidy away your bottles, spare razors and toothbrush heads, they will never look particularly aesthetically pleasing. Fortunately, all you need to remedy this is a pretty patterned sink curtain – or 'skirt' – that will stylishly conceal your assorted bath products. Job done!
Revolutionizing Toilet Systems   Upgrade your bathroom experience with the incredible innovation of the Sanicompact toilet. Gone are the days of traditional, space-consuming toilets that limit your bathroom design possibilities. The Sanicompact offers a revolutionary solution, allowing you to transform your bathroom into a sleek and functional space. With its compact design and cutting-edge technology, this ingenious toilet system combines a toilet and macerator pump in one unit, eliminating the need for a separate cistern or external plumbing. Its powerful pump efficiently disposes of waste, enabling easy installation in any part of your home, even below the sewer line. With the Sanicompact, you gain the freedom to create the bathroom of your dreams, no longer restricted by the limitations of conventional plumbing. Say goodbye to bulky, outdated toilets and welcome the future of bathroom transformations with Sanicompact.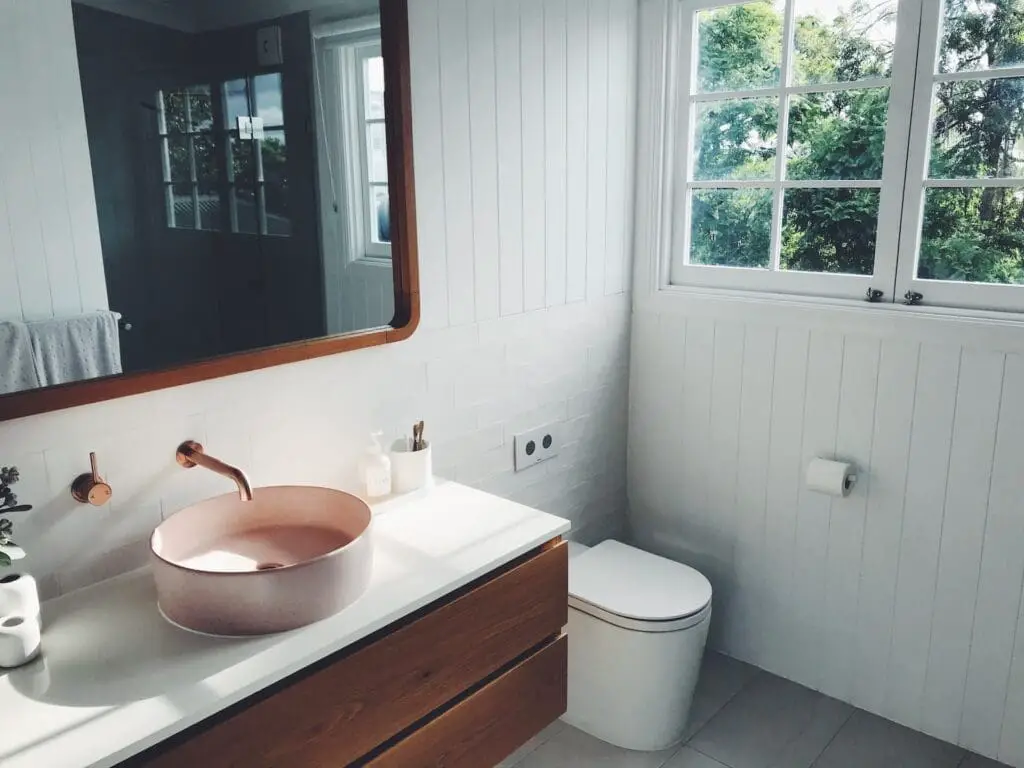 Turn Your Bathroom Into A Mini Art Gallery
If you have a large expanse of bare wall in your bathroom, you can easily revitalise the entire space by creating an art gallery wall, filled with your favourite photos, artworks and ornaments.
The way you decide to lay out your gallery wall will, of course, be entirely up to your preference and your available space.
If you want to keep things simple, you can adhere to the design 'rule of three' and hang up three particularly striking artworks or framed photographs. Alternatively, for something a little different, you could hang shabby chic macrame plant holders that will send foliage trailing artfully down your bathroom wall.
Another heart-warming option is to create a gallery wall filled with your children's framed pictures, paintings or drawings – a sight sure to delight you and your family and friends whenever they need to use the powder room.
Important Things People Forget With Bathroom Remodels
A bathroom remodel is an exciting yet challenging project – especially when you are doing it yourself.
In anticipation of remodeling, you may start googling something like 'handtuchradiatoren und elektrische badheizkörper" to find the top quality Swiss-made products, but at the same time, you may forget some essentials. And this can be disastrous. Not only will your bathroom remodel may fail, but you may also have to spend twice the amount in fixing the mistakes. It is why we have dedicated this post to important things people forget with bathroom remodels. Read on!
Planning
When remodeling a bathroom, it is easy to lose yourself in the appearance and feel. You want the bathroom to look just as you envisioned it to be. But while doing so, don't forget that it should be practical too. 
It's best to start the project with proper planning. Jot down your ideas on a paper and determine what features can be incorporated without compromising on the functionality.
Also, decide which materials will be used and how much they will cost. Most bathroom remodels will cost you 10% to 15% more than the initial quote. It's because there are many repairs and maintenance work that pops up in the process.
Lights
Strategically placed lights can make a world of difference in your bathroom's ambiance.
If you install a small downlight above your large vanity, chances are that the light will cast huge shadows. You won't be able to see yourself properly or do makeup. However, if you install two more lights on the sides of the vanity, the resultant light will be balanced and proportionate.
Similarly, the type of light also affects your experience. Place recessed LED lights all over your bathroom roof, and the space will feel too bright to be comfortable. So, it's better to explore different lights and decide which ones will create the desired feel in your bathroom.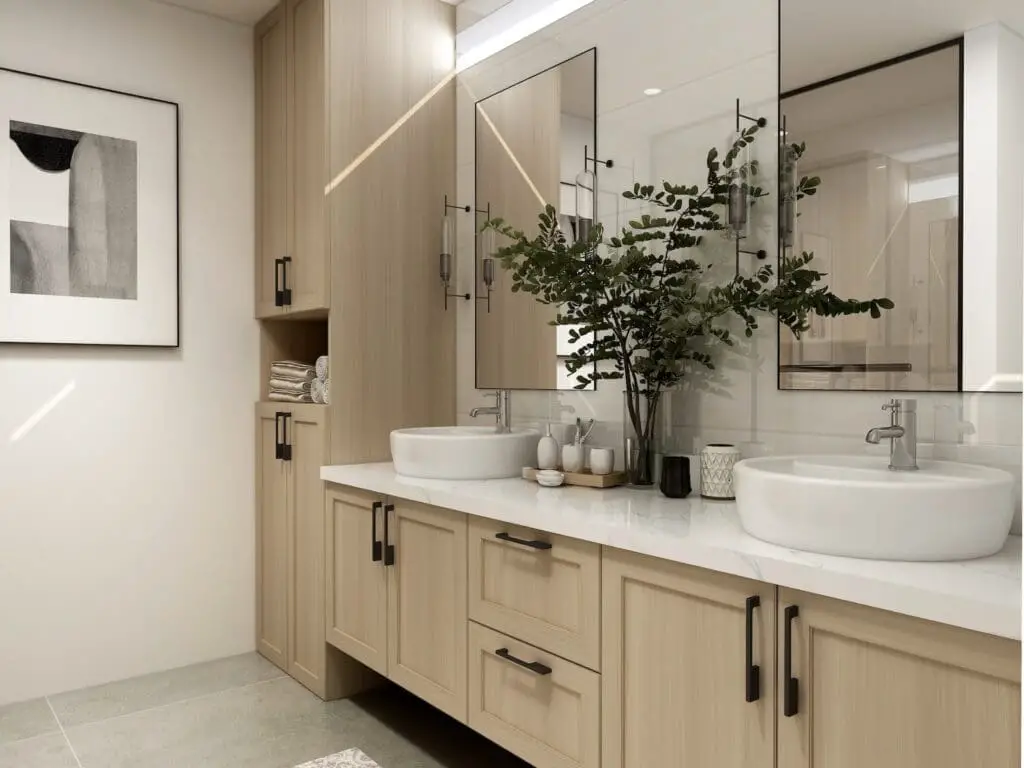 Ventilation
Warm and wet air is inevitable in bathrooms. Whenever you take a hot shower, water will evaporate and move into the air. This means high moisture levels.
If there is no proper ventilation system, moisture can accumulate and damage the walls, flooring, and even those delicate timber vanities. Mold can also settle if unnoticed early and ruin your bathroom in the long run.
To avoid all this, make sure to install a small window and exhaust fan in your bathroom. Install more fans if the area is big and requires different ventilation points.
Toilet  
Having the most beautiful toilet in the world doesn't make it wonderful. It may look good but it still doesn't feel nice when the toilet is the center of attention in the bathroom. So, you should look for ways to disguise the toilet like:
●     Create a partition wall
●     Separate the toilet from the rest of the bathroom
●     Place the toilet behind the door
You can also keep the toilet in plain sight without drawing attention to it. Just make sure the focal point of the bathroom is something else, like an interesting portrait or a luxury soaking tub.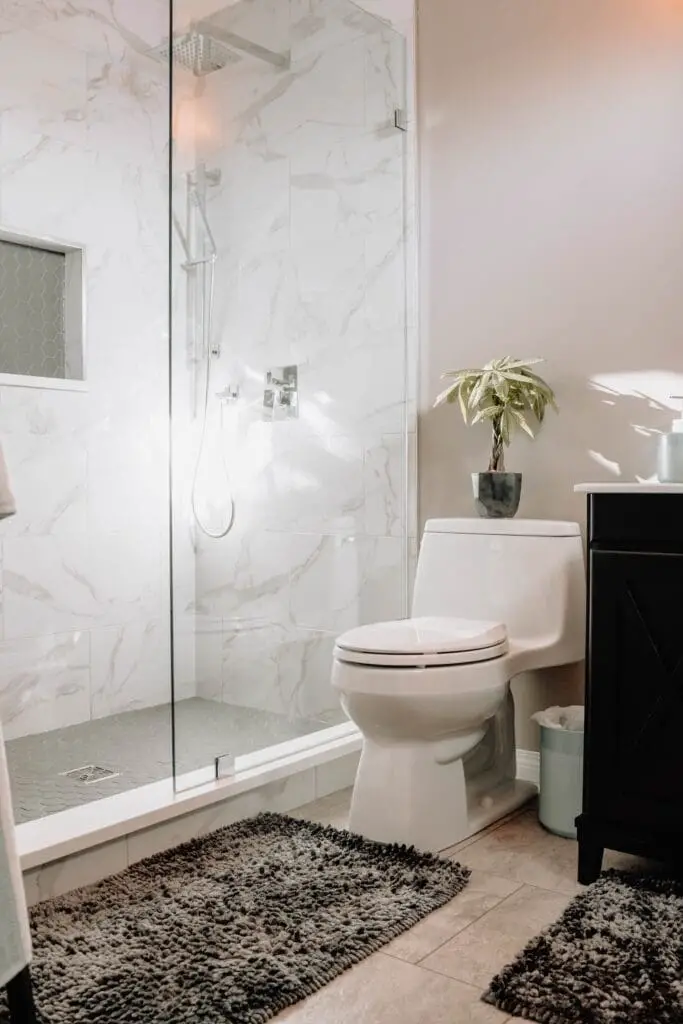 Flooring
Lastly, always pay attention to the type of flooring in your bathroom. Since the floor can and will become wet, it is easy to slip and injure yourself. This is especially true for the elderly,  children, and those who are in a hurry.
When remodeling the bathroom, invest in a slip-resistant floor material like rubber. It never remains wet for long, and if someone falls, the rubber cushions the impact.
Vinyl is another great example that not only prevents slipping but also comes in a variety of designs. You can choose a wood grain, marble, or any other type of vinyl sheet to create the look you want.
Final Thoughts
As you can see, transforming your dull or neglected bathroom into a sparkling oasis of style and serenity needn't be hard work. In fact, it can even be a lot of fun, and give you another chance to express your unique tastes and style as a family, while creating the perfect place to relax at the end of the day.