From his humble beginnings in Athens, Greece, Giannis Antetokounmpo rose to fame when he became the 15th pick of the NBA draft in 2013. He's now fondly called the "Greek Freak" because of his remarkable height (7 feet) and performance on the court. In 2021, for instance, he led the Bucks' first championship since 1971 with 50 points, 5 blocks, and 14 rebounds.
His first four professional campaigns gave him almost $3 million per year. But with his recently signed four-year $100 million extension, he'll be able to bring his income up to over $22 million. His current net worth is estimated at $70 million, plus a $40-45 million annual pay. Most importantly, he's also been wise with his money. He used a part of his first NBA contract to buy a property in River Hills, one of Wisconsin's affluent suburbs.
Where Does Giannis Antetokounmpo Live Now?
Giannis has gone from living in a two-bedroom apartment with his girlfriend, mother, and brother to enjoying the luxuries of a $1.8 million mansion. Currently, he lives at 9200 N Upper River Rd, River Hills, Wisconsin, an affluent suburb located 5 minutes north of Milwaukee's downtown area.
Giannis Antetokounmpo's home is touted as "luxury living." His property is equipped with fixtures and appliances for comfort, style, and a pro-athlete-level lifestyle.
Giannis Antetokounmpo's House at 9200 N Upper River Rd, River Hills, Wisconsin
Giannis' two-story house was constructed in 2005. It sits on 11,000 square feet of land and has 9,900 square feet of living space. The structure has 7.5 bathrooms and six bedrooms, as well as other amenities. The Greek Freak bought the house in 2018 at $1.8 million two years after he signed Buck's four-year $100 million contract in 2016.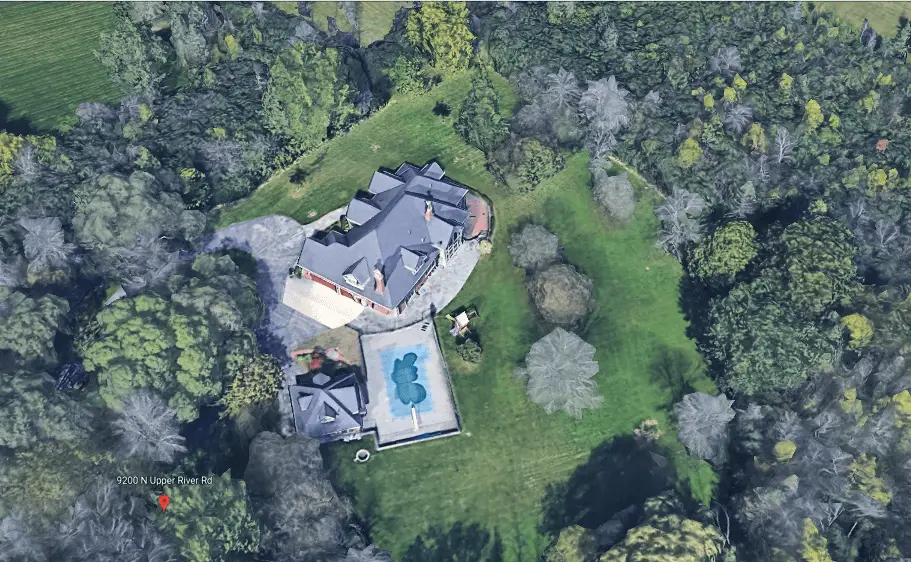 The Best Features of Giannis Antetokounmpo's Property in River Hills Wisconsin
This Giannis Antetokounmpo's house tour will walk you through the top features of his home. The main level has a vaulted ceiling sunroom and a two-way fireplace. It features an open-concept family room and kitchen.
Main suite – The Greek Freak's main room has two walk-in closets, a separate tub, a walk-in shower, an expansive spa bath, and a huge wall-mounted mirror. He also secured a massive bed to suit his 7-foot frame. Two bedside lamps flank the bed.
Formal living room – Giannis fitted this area with huge brown sofas, lampstands, framed abstract artworks, and a glass center table. He also opted to have light brown, beige, and gray throw pillows. Potted plants are also placed at strategic corners to add a pop of color to the space.
Study – This space is fitted with wooden fixtures and furniture pieces, such as shelves, drawers, window frames, and flooring. There's also a wooden table that sits next to the huge French windows, a perfect spot to take in the stunning greenery outside while having a drink.
The additional five bedrooms of the home are located on the second floor. Meanwhile, the exterior and lower level house the other amazing features of the property, including the:
Wet Bar
Wine cellar – This area is fitted with brick walls and flooring and can contain at least 100 bottles of wine.
Game Room
Home Theater
Gym – The gym is perhaps one of the home features that caught Giannis' eye. It is as large as most hotel fitness centers.
In-ground Pool
Separate Heated Garage
Guest house – A separate two-story structure with a retractable wall that opens to the outdoor pool. It has a deck on the second floor that overlooks the pool.
A Quick Look at River Hills, Wisconsin: The Neighborhood Near Giannis Antetokounmpo's Home
The River Hills community has around 1,600 residents. There are plenty of restaurants, coffee shops, parks, and shopping centers to visit. And the public schools in the area are highly rated. It's also close to some of Wisconsin's top attractions, such as Kletzsch Park (7 minutes away), Lynden Sculpture Garden (3 minutes away), and Lincoln Park (10 minutes away). Menomonee River, Brantwood Lake, and Milwaukee River Greenway are other top attractions to visit nearby.
River Hills has historically attracted professional athletes. Giannis' house alone is considered a "Bucks' heritage home" as it had been the residence of two other Bucks players. When the house was 10 years old, in 2015, it was bought by Michael Carter-Williams at $1.65 million. Mirza Teletovic purchased the home from Carter-Williams for $1.6 million in 2017, which he then sold to Giannis for $1.8 million in 2018.
Other Houses Owned by Giannis Antetokounmpo
The River Hills mansion isn't the only seven-figure property that Giannis owns. He reportedly finalized the purchase of two villas in Rolling Hills, Costa Navarino in June 2022. He bought these properties with his brother, Thanasis. The villas have private pools, basement levels, yards, and 3 to 4 master bedrooms. The structures sit on 235 to 295-square-meter plots of land with a price range of 1.25 to 1.8 million euros.
Costa Navarino is located in Messinia, a place in the southwestern part of the Peloponnese peninsula. This area is famous for its old Venetian towns, beaches, and impressive castles. The resort complex where the villa is located offers training programs, which is perfect for athletes like himself and his brother. Most importantly, Giannis also said that he has great memories of the place with his family. He might have found a great career in Milwaukee, which is why he chose to live in River Hills. But he also bought a home in Costa Navarino because he wanted to keep his family together and relive memories. In one of his interviews, he said "There are beautiful places everywhere, famous hotels, but none of that interests me. This is a place I have been to before, my father and mother have been here, and so have my brothers."
Giannis and his family survived their hard conditions in Athens before his rise to fame with the Bucks. But his difficult experiences helped him become the elite athlete that he is today. With his discipline, persistence, and character, one can only expect his fame and wealth to grow.