Pete Davidson's house in the bustling borough of Brooklyn, New York, is the focus of our exploration today. When it comes to the world of stand-up comedy, Pete Davidson has made a name for himself as one of the brightest talents in recent years. From his iconic performances on Saturday Night Live to his hilarious stand-up specials, Davidson's career has been nothing short of meteoric. But today, we're not here to discuss his career; we're here to take a closer look at the place he calls home.
Where Does Pete Davidson Live Now?
Pete Davidson currently lives in the vibrant and culturally rich neighborhood of Brooklyn, New York. Just when you thought you had Pete Davidson's living situation figured out, the enigmatic comedian upends expectations yet again, leaving his past behind in search of a new, unrecognizable home in the heart of Brooklyn.
While the exact address is not disclosed for privacy reasons, we know that Pete Davidson now calls Brooklyn home, where he reportedly pays a monthly sum of $30,000 for an expansive, newly renovated loft.
Pete Davidson's Brooklyn House
Pete Davidson's recent relocation to a new house in the heart of Brooklyn marks a significant transformation in his living situation. Formerly residing in his mother's basement, the comedian has now embraced a lavish lifestyle in a sprawling penthouse loft, symbolizing his evolving career and personal development. This 4,500-square-foot penthouse is adorned with arched windows offering stunning views of the Brooklyn Bridge and the iconic Manhattan skyline.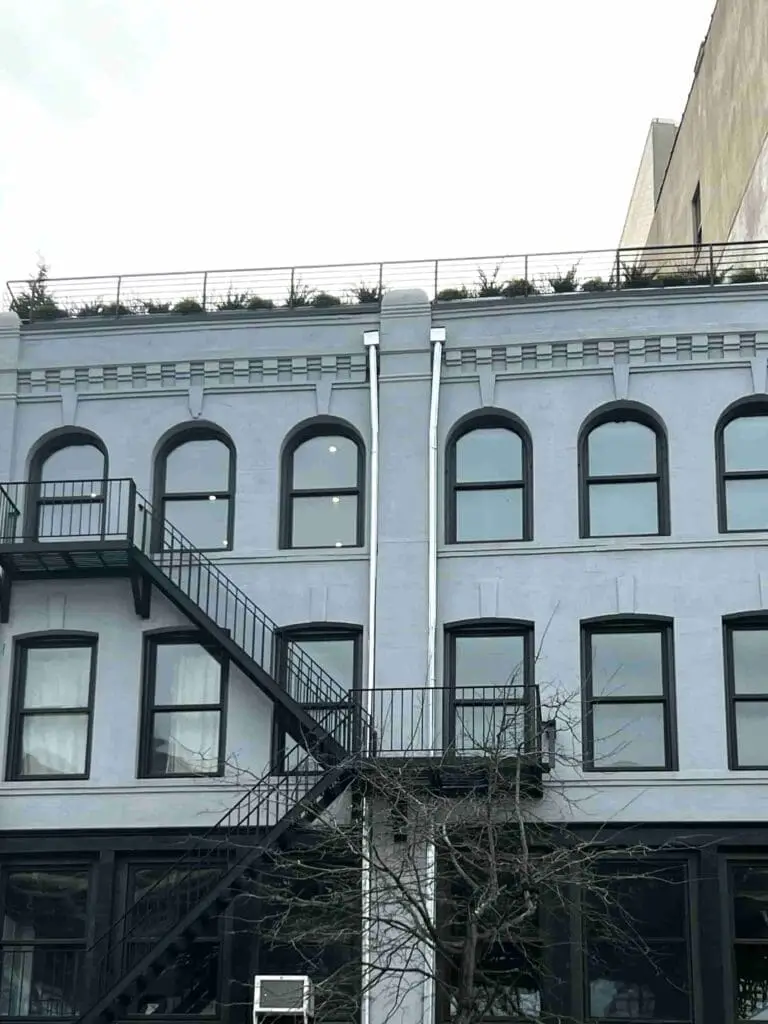 Pete Davidson's Brooklyn house
Pete Davidson has chosen Brooklyn as his new home, reportedly investing $30,000 per month for this expansive loft. Situated in the trendy Dumbo neighborhood, this loft provides privacy, opulence, and an air of intrigue that aligns perfectly with the enigmatic comedian's evolving persona. It's a remarkable departure from his previous residences and serves as a testament to Pete Davidson's complete immersion in the vibrant borough of Brooklyn.
Pete Davidson's Staten Island House
Before his relocation to the vibrant heart of Brooklyn, Pete Davidson had his roots firmly planted in Staten Island. Born and raised in this charming borough, the comedian initially sought to remain close to his family and heritage, purchasing a waterfront condo for $1.2 million in 2021. This 2-bedroom condo provided a scenic view of the Manhattan skyline and marked a significant step in his journey to independence. Specifically, these are the enviable features of his new place:
1.Open Floor Plan
The apartment has a total of 1,592 square feet of living space. But the place definitely feels and looks a lot more spacious because of the open floor plan that it follows. The home boasts high ceilings and tall windows, which allow more natural light into the interior. There's also a private terrace that could be accessed both from the lounge room and the master bedroom.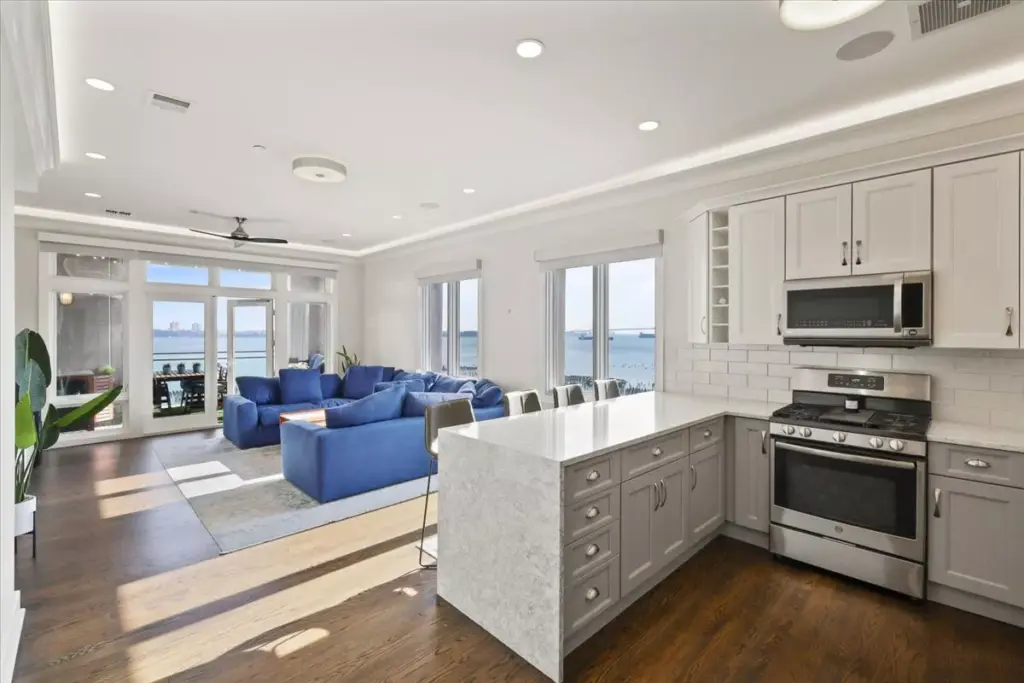 Pete Davidson's open-floor plan
The open floor layout also combines the dining area and kitchen with the main living room. Meanwhile, the peninsula seating serves a dual purpose of separating the kitchen and dining area. It also features a beautiful quartz countertop and a one-of-a-kind "waterfall" installation.
2.Panoramic Views
Access to panoramic views is definitely one of the perks of living in a high-rise located on an island. Pete's property might only have 2 and a half bathrooms and 2 bedrooms, but it does boast panoramic views of the sea and the Manhattan skyline. From another angle on the terrace, one can see the iconic Verrazzano-Narrows Bridge.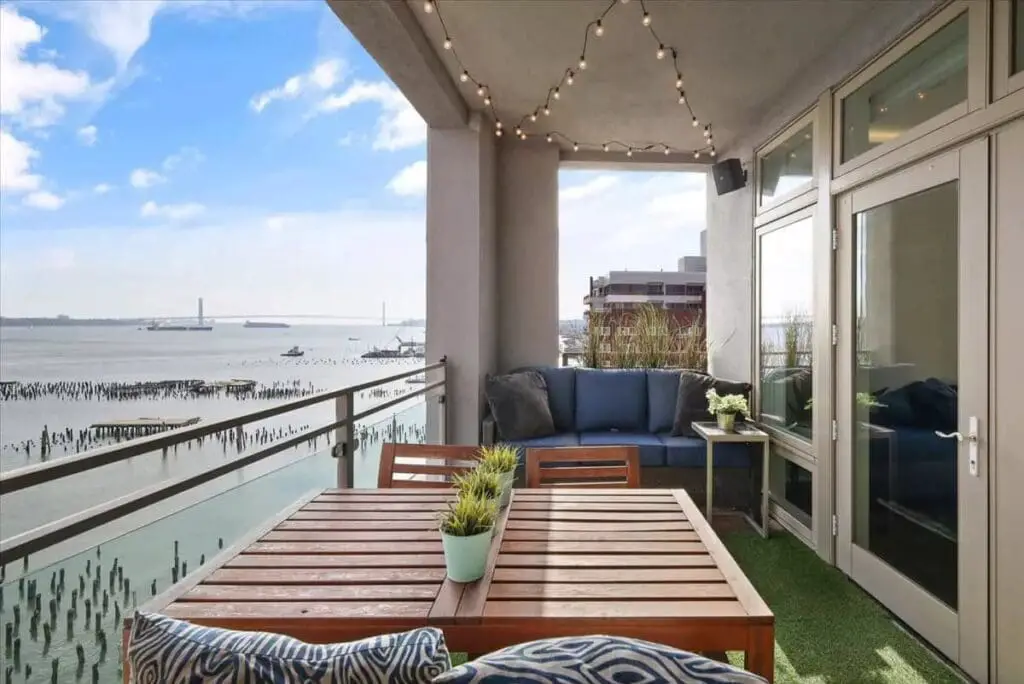 Pete Davidson's terrace
The apartment's expansive terrace and long windows are perfect for viewing the calm sea surrounding Staten Island, be it during the sunset or sunrise.
3.Space-Efficiency
Pete might have chosen a smaller apartment, which only has 1,592 square feet of living space, but the property is well-loved for its space-efficient design. Based on the images of previous owners' listings, one of the 2 bedrooms has bunk beds. However, there's no news if Pete retained the bunk beds in his design.
Pete Davidson's interior
The sitting area located in the hallway doubles up as a bridge between the bathroom and the kitchen. The lounge room and master bedrooms are designed to have access to the private deck. Then, the small nook between the dining area and the living area serves as a little bit of office space.
4.Cool and Refreshing Color Scheme
Pete's pad also exuded a refreshing color scheme of purple, white, and teal. Potted plants could also be found in the nooks and crannies of the apartment. Pictures from the original listing even show the guest bathroom donning a Hawaiian-printed wallpaper. The kitchen area has the perfect blend of purple paint and white accents. The patio is fitted with artificial grass, fairy lights, and a wooden patio seating area. The main suite comes with a Jacuzzi tub, separate shower, and marble-vanity bathroom. There's also a decent-sized walk-in closet.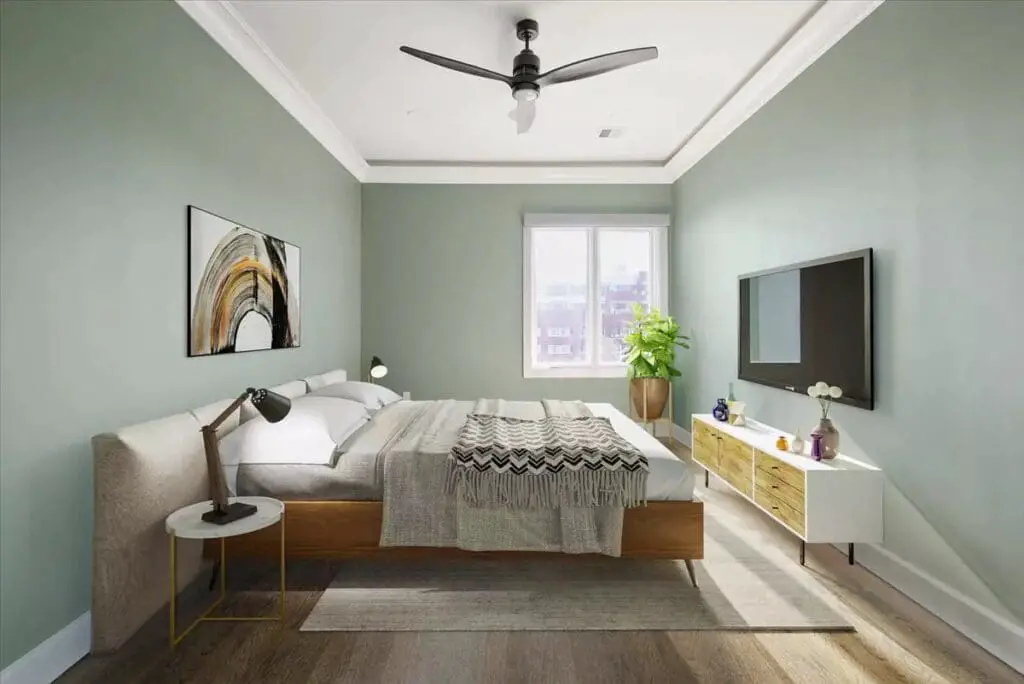 Pete Davidson's color scheme
Pete Davidson Living in His Mother's House
Before his initial upscale condo purchase, Davidson resided in his mother's basement, a fact he was unashamed to share with the world. However, it's essential to clarify that he wasn't merely a freeloader. In a heartfelt gesture, he co-purchased the house with his mother, ensuring her security before venturing into homeownership himself.
Their Staten Island home, valued at $1.3 million, features four bedrooms and four bathrooms. The entrance is grand, adorned with a stained-glass skylight that filters sunlight beautifully. Inside, a custom kitchen, a brick fireplace in the living room, and a private master wing add an air of opulence to the place.
Pete Davidson's mother's house
Making the best of his unique living arrangement, Davidson transformed his mother's basement into a cool man cave, equipped with entertainment and gaming areas for guests. This spacious basement also boasts a large open closet, a small kitchen, a roomy bathroom, a private office, and a bedroom. In 2021, Davidson confirmed his departure from his mother's residence, opting for a condo unit not far from his original home i.e., his own Staten Island house.