Rafael Nadal's house, nestled in the scenic town of Porto Cristo, is a true testament to the Spanish tennis legend's remarkable success and his passion for a well-rounded lifestyle. In this article, we will take you on a captivating journey through the lavish abode of one of the world's greatest tennis players. We'll delve into the story behind his house purchase, the features that make it an architectural gem, and the neighborhood that surrounds it.
Rafael Nadal's house
Where Does Rafael Nadal Live Now?
Rafael Nadal's magnificent home is situated in Porto Cristo, a charming coastal town on the eastern side of Mallorca, Spain. While we won't reveal the exact address, we can tell you that his residence is nestled in the lap of luxury, surrounded by the breathtaking beauty of the Mediterranean coast.
Tucked away near a yacht club in this idyllic coastal town on Mallorca Island, Rafa Nadal's abode has become the stuff of legends. Spanning a vast 7,000-square-meter plot of land and comprising four distinct volumes and a combination of two-story buildings and one-story structures, the house has seamlessly integrated with its natural surroundings, perched majestically atop seaside cliffs.
Rafael Nadal's House Details
For Rafael Nadal, this place is not just a house; it's a deeply personal haven that oozes sentimental value, as it is built on land acquired a decade ago, linked to the heirs of one of the owners of the Caves of Drach. In the past ten years, this plot of land has been transformed beyond recognition to meet the needs of Rafa and his family.
The architectural design showcases a contemporary style, with a predominant use of concrete and glass. These materials are popular in modern architecture for their versatility and aesthetic appeal. Notably, the building boasts a flat roof, a hallmark of modernism, celebrated for its simplicity and functionality.
Rafael Nadal's house under construction
The structure is currently surrounded by scaffolding and an array of construction equipment, clearly indicating that active construction is underway. These elements offer a fascinating insight into the dynamic process of transforming architectural concepts from blueprints into tangible reality.
Each floor of this luxury mansion features expansive windows and terraces, providing an unobstructed view of the open waters and the enchanting Porto Cristo. The impressive infinity pool, which harmoniously blends with its natural surroundings, offers a luxurious oasis while gifting its residents unparalleled views of the captivating coastline.
Rafael Nadal's pool
Rafael Nadal's Neighborhood and Surroundings
Porto Cristo is a picturesque town on the east coast of Mallorca, known for its beautiful beaches, crystal-clear waters, and charming Mediterranean ambiance. This idyllic setting serves as the backdrop for Rafael Nadal's impressive residence. The serene coastal location offers the perfect escape from the hustle and bustle of the tennis world.
Rafael Nadal's house
While Rafael Nadal's house in Porto Cristo stands as a testament to his achievements, he is not the only notable figure in the area. Many celebrities and affluent individuals have also chosen this charming town as their second home, appreciating its natural beauty and tranquility.
Other Houses Owned by Rafael Nadal
Although our primary focus is Rafael Nadal's magnificent residence in Porto Cristo, it's worth mentioning that the tennis star also owns other properties. In 2013, Rafael Nadal made a savvy real estate move by purchasing his Mallorca haven at a remarkable €4 million, well below the initial asking price of €5.7 million. This beautiful 2-story property with 3 bedrooms boasts Mallorca-style interior and exterior, complete with a gym and fitness area, catering to Nadal's active lifestyle.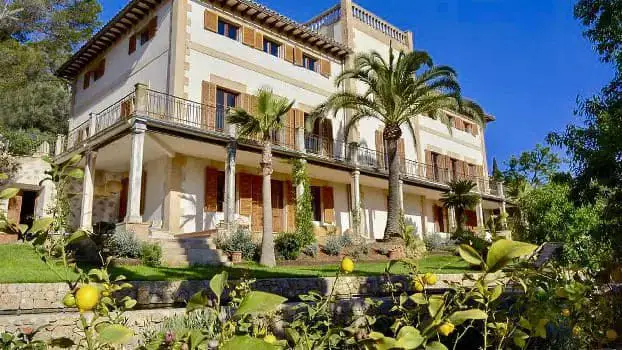 Rafael Nadal's Mallorca house
Apart from his Mallorca residence, Rafael Nadal owns a splendid beachfront villa in Playa Nueva Romana, Dominican Republic. This $2 million, 2-story, 3-bedroom house is where the "King of Clay" escapes to unwind. The villa features a custom swimming pool, a spacious terrace with stunning views, and a lush yard with trees and flowering plants, creating a private oasis for Nadal's relaxation.
Rafael Nadal's Dominican Republic house