The recent pandemic might have brought the tennis season to a halt. But the 20-time Grand Slam champ seems to have no plans on standing still! He and his entire family (wife, kids, and parents) are quarantined at their mansion in Zurich, Switzerland where he can continue his practices and more.
The Federer Home: Location and Cost
Roger Federer has homes in different areas around the world. He has owned a property in Dubai since 2006. He also lived in Bäch but sold his property in February 2014. He also owned the Studenbühlstrasse 65 property but sold it in 2018. In 2011, he purchased a 5,800 sq.m. plot of land in Herrliberg, which remains unused and is reported to be on the market soon. He also bought a 16,000 sq.m. plot in 2018 at Rapperswil-Jona. His official residence is his holiday home in Valbella, which he bought in 2015. Add to that his recently completed home in Wollerau, which is worth a whopping $8.1 million.
Wollerau in Zurich, Switzerland is well-loved among the ultra-rich, including Federer, because it is one of the municipalities that offer the lowest taxes in Europe. Federer is in the same neighbourhood with F1 drivers Felipe Massa and Kimi Raikkonen.
The Federer Home Features
As evident in his $8.1-million custom-made glass house, it's easy to tell that Federer knows what he wants. And he's willing to splurge. He wants a home fit for a world-class athlete. Federer's home is a three-storey compound built on a 1.5-acre plot of land. The following are some of the home's features:
Floor-to-ceiling windows that could afford incredible views of Lake Zurich
Two separate apartments for guests, two of which are for his parents – Robert and Lynette
Large balconies with luxury outdoor seating options that overlook the tranquil Lake Zurich. There are also balconies and patios for each storey of his home.
Glass dome over the living space
Sinks and restrooms with glass walls that feature incredible views of Lake Zurich
Multiple swimming pools
A spa
First-class, multifunctional gym furnished with high-end equipment
An underground car park where he keeps his car collection
The best part about Federer's house is its scenic view of Lake Zurich. And he has put it to good use as he spent quality time with his family while on quarantine.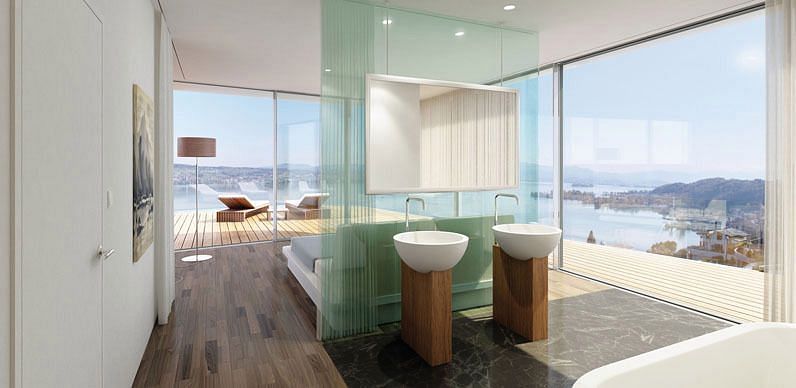 The Cash Behind the Flash
As the world's fifth highest-paid athlete, it's not a surprise Federer could afford such an extravagant home. Reportedly, Federer earned $93.5 million in 2019, $7.5 million of which came from his prize money and $86 million from his endorsement deals. Throughout his career, he managed to rack up a total of approximately $124M in prize money. And his net worth is reportedly $450 million.
The tennis season might have come to an unexpected standstill. But Federer is all about making sure he and his family are having a great time at home. And he didn't forget his fans either. He's been posting trick shot videos and workout challenges, which his fans are more than eager to follow.