In the world of ever-evolving celebrity lifestyles, the story of Katie Holmes' house in Calabasas took an unexpected turn in 2020. The actress bid farewell to her luxurious abode, embarking on a new chapter that led her to the bustling streets of Manhattan. Let's delve into the captivating narrative of Katie Holmes' house, exploring its grandeur, interiors, and the star-studded neighborhood it calls home.
Katie Holmes' house
Where Does Katie Holmes Live Now?
Katie Holmes lives amidst the towering skyscrapers and bustling streets of Manhattan. While the exact location and details of her current residence remain elusive, the actress has deliberately chosen to keep her living arrangements in the city under wraps.
But what we know is where Katie Holmes lived several years ago. Nestled in the heart of Calabasas, Katie Holmes' house exuded an air of sophistication that mirrors the actress's own refined taste. Katie Holmes lived at 25599 Prado De Amarillo, Calabasas. Boasting spacious interiors and a sprawling estate, Katie's residence epitomizes California luxury living.
Katie Holmes' New House in Manhattan
Spotted amidst the dynamic energy of Manhattan, Katie Holmes now calls the city home, accompanied by her daughter. While glimpses of her life in the urban landscape have been captured by the keen eyes of the public, details about her current residence remain securely guarded. In the heart of Manhattan, where brownstones and penthouses create a tapestry of city living, Katie Holmes has carved out a haven for herself and her family, skillfully maintaining a veil of privacy around her new abode.
Now let's move onto the details of Katie's former Calabasas home.
Katie Holmes' Calabasas House Details
Nestled discreetly in the prestigious and guard-gated community of Oaks, this hidden gem sits on an expansive half-acre plot, providing an exclusive retreat from the prying eyes of the public. The residence, encompassing over 6,040 square feet, is a testament to Katie Holmes' luxury living and boasts a range of modern amenities that surpass even the wildest of dreams. Boasting 6 bedrooms, 6.5 bathrooms and a 3-car garage, Katie Holmes bought this house back in 2014 for $3.8 million and sold it in 2020 for a stunning sum of $4 million.
Katie Holme's House Interior
Step into Katie Holmes' house, where modern elegance meets timeless charm. The grand entrance boasts a stunning curved staircase with dark wood accents against white risers and black iron railings. White-painted walls and dark wood flooring create a seamless backdrop. To the left, a cozy seating area invites guests to relax and enjoy the captivating interior.
Katie Holmes' entrance
As you explore the lower level, a modern living room with an open floor plan enhances the vertical dimension of the space and allows for natural light to enter from the large windows. The living room is furnished with a gray sofa, a coffee table, and a fireplace that creates a cozy and comfortable seating area.
Katie Holmes' living room
The kitchen in Katie Holmes' house has a large island that serves as a sink and a seating area for four people. The island has a white countertop that contrasts with the black base, creating a sleek and elegant look. The kitchen also has dark wood cabinets that provide ample storage space and complement the stainless-steel appliances.
Katie Holmes' kitchen
The dining area has a white table and chairs that match the island and the ceiling. The flooring is a light-colored tile that reflects the light and adds some brightness to the space. The overall color scheme is black, white, and gray, creating a minimalist and sophisticated style.
Katie Holmes' dining area
Experience the luxury of Katie Holmes' house as you ascend to the master suite. The light gray walls offer a neutral and soothing backdrop, complementing the dark hardwood floor for contrast and warmth. The white bed with a tufted headboard and vibrant blue throw pillows adds both color and comfort. Nightstands on either side of the bed feature lamps for ambient lighting, creating a serene interior in Katie Holmes' home.
Katie Holmes' bedroom
A spacious library/loft on the upper level serves as a versatile space, ideal for work or leisure. The interior is meticulously designed with top-of-the-line finishes, creating a seamless and welcoming open floor plan that exudes sophistication.
Katie Holmes' loft
Katie Holmes' House Boasts a Massive Pool and Beyond
Beyond the four walls of Katie's mansion lies an outdoor oasis, featuring a sprawling garden, a luxurious pool and spa complemented by a built-in sunken fire pit area, and a charming patio.
Katie Holmes' California house also boasts a guesthouse that mirrors the luxurious and secluded ambiance of the main residence. Within the guesthouse, Katie Holmes' made herself a home gym, where she enjoys her morning workout routines.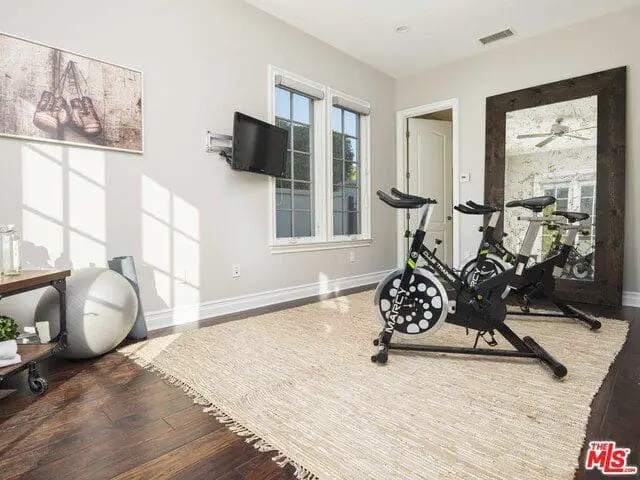 Katie Holmes' gym
The architectural style in Katie Holmes' luxurious backyard with a pool and a view of the mountains is Mediterranean. It is characterized by a terracotta roof that is sloped and tiled, stone accents that contrast with the white walls and add texture and durability, and a patio that is made of stone and has a fire pit and lounge chairs, providing a cozy and comfortable outdoor living space.
Katie Holmes' pool
In the backyard a seating area with a coffee table and two sofas creates a cozy and comfortable spot for relaxing and entertaining. The seating area also features a rug, pillows, and plants that add color and texture to the space.
The exterior of Katie Holmes' home is influenced by the regions around the Mediterranean Sea, such as Spain, Italy, Greece, and Morocco. Her house boasts a white stucco exterior that is durable and resistant to heat and moisture, and a brown tile roof that is sloped and curved, adding a sense of warmth and character to the home.
The balcony on the second floor offers a panoramic view of the mountains and the sky. It also has a railing and a canopy that add style and protection to the space. A set of French doors on the first floor open up to the courtyard, creating a seamless connection between the indoor and outdoor spaces. The French doors also allow natural light and ventilation to enter the home. A set of sconces on either side of the French doors provide illumination and decoration to the facade.
Katie Holmes' outdoor seating area
The house also boasts a modern outdoor dining area. A wooden dining table that is rustic and cozy has a bench on one side and chairs on the other, offering different seating options. The hanging chandelier is stylish and sophisticated. It also provides ambient lighting and adds a touch of glamour to the space.
Katie Holmes' outdoor dining area
Adjacent to the dining area is Katie Holmes' basketball court. The court itself is constructed from gray tiles, providing a smooth and even surface for play. It's enclosed by a white fence, offering both privacy and a clear boundary for the game.
Katie Holmes' basketball court
Katie Holmes' Neighborhood and Celebrity Neighbors
Katie Holmes' former neighbor in Calabasas was none other than John Brenkus. However, with her move to Manhattan, it's no wonder that the actress finds herself in a neighborhood boasting numerous A-list residents. While details about Katie's specific neighbors remain undisclosed, the star-studded atmosphere of her new locale aligns with the actress's preference for a life away from the Hollywood spotlight.
Katie Holmes' neighborhood
Other Houses Owned by Katie Holmes
While our focus was on Katie's former residence in Calabasas, it is known that she and her ex-husband had quite a large real estate portfolio. In 2005, they bought a $9.85 million Los Angeles home, then in 2007 they purchased a $30.5 million Beverly Hills house, in 2009 the couple bought a Manhattan apartment for $15 million and so on. From trendy city apartments to sprawling estates, Katie's real estate portfolio reflects her diverse tastes and preferences.