Are you looking for a new staircase design for your house? You may be renovating the house or building a new one. Knowing about the multiple handrails available on the market can help you choose the best and safest staircase design. This blog discusses what a handrail is, types of the same, and which one you can use.
Handrail: An Overview
A handrail is an integral part of the staircase, running at arm's length alongside the stairs. It supports people to hold it as they walk up and down the stairs. The handrail runs the entire length of the staircase and is either attached to the wall or spindles on a fence (a collective term representing base spindles, handrails, and newel posts).
Types of Handrails and Their Benefits
WOODEN HANDRAILS
The most common type of handrail for stairs, wooden handrails, are famous for domestic uses. It provides a regal, timeless look and an irreplaceable classic aesthetic charm. Its features:
They are versatile due to the availability of multiple types of wood and their finishes.
It can suit a traditional and modern home depending on grain, strain, and hue.
You can mold or paint the shape in any color to style it.
Wooden handrails use mahogany, ash, cypress, cherry wood, and oak. The latter is the most popular. All these are durable and strong.
Where can I use wooden handrails?
Wood handrails are ideal for homes as they create a warm feel, and you can add decorative items to them, making them look stylish and festive-ready.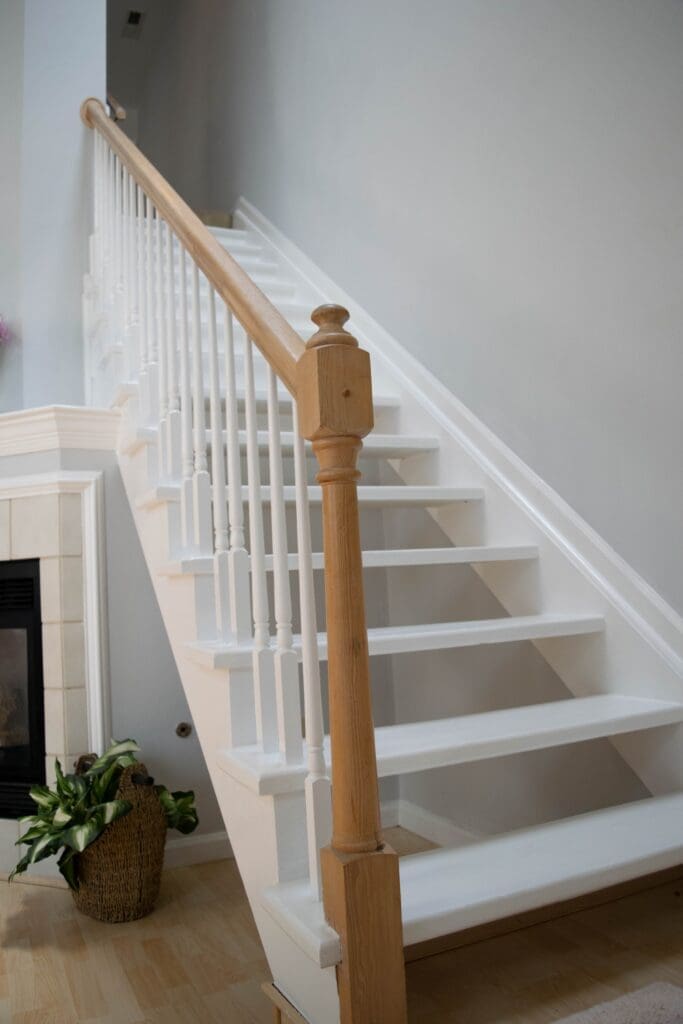 METAL HANDRAILS
Metal handrails are more common in industrial and commercial settings. However, a sleek metal handrail can suit a chic, contemporary home with a minimalist design.
Metal handrails are common in commercial or industrial settings. Yet, a sleek metal handrail can work for a contemporary home. Metal handrails come in different types, like:
Stainless steel
Stainless steel, or powder-coated and galvanized steel, is a strong, durable material that is resistant to dust. This resistance happens due to a zinc coating that prevents corrosive materials from harming the metal.
Aluminium
It is lighter than steel in weight and has a lower density, too. It is versatile, and you can cut it easily and form a powder coated in multiple colors. The con of this metal is that it is expensive and can cause scratches and dents.
Wrought iron
It was quite popular in the mid-1800s. Thus, it provides a traditional look. Iron is malleable, so you can use decorations like scrolls and leaves for a beautiful look.
What is a metal handrail?
The weight and difficulty of installation mean metal handrails for stairs are not a practical choice for simple home decor.
Metal handrails are challenging to install. Also, it has some weight, so it does not seem practical for home décor. However, every type of metal material has different suitability. For instance, stainless steel is ideal for indoor or outdoor professional spaces. They offer a contemporary and clean design with little requirement for maintenance.
Aluminum is ideal for outdoor spaces. It can withstand harsh weather conditions and still look good. It suits commercial spaces, retaining aesthetics and high functionality.
Traditional homes requiring a specific custom handrail design can go with iron handrails. However, they are expensive, and you need to custom-make them.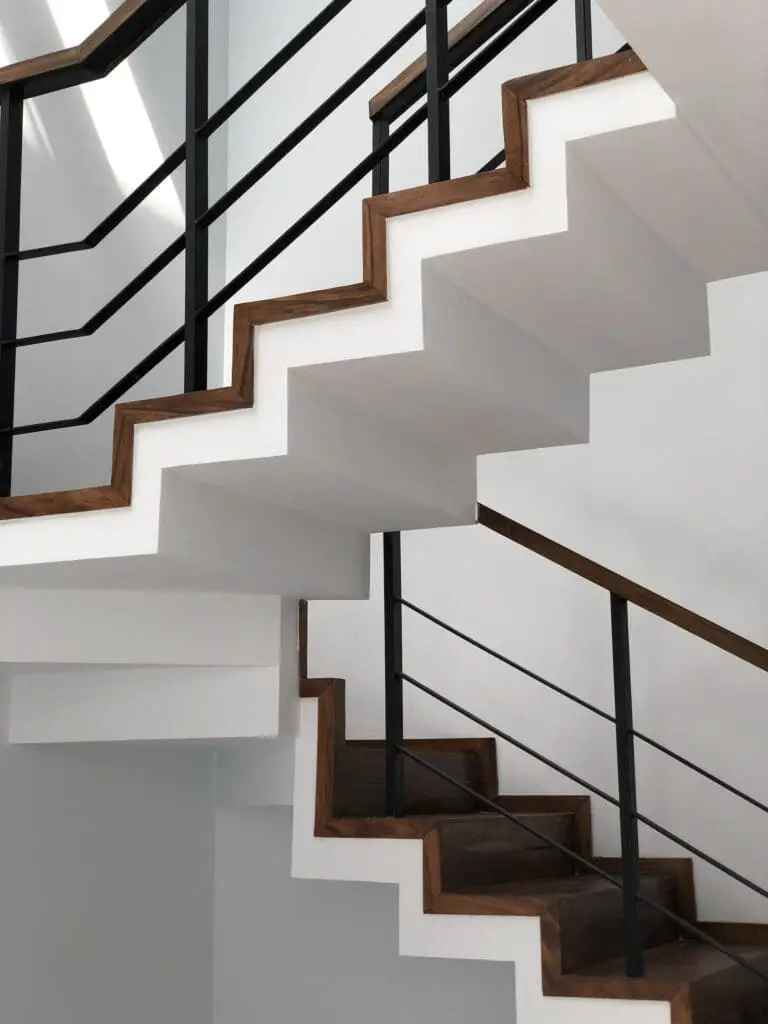 GLASS HANDRAILS
You will think that glass handrails are not a good choice and are easy to break. However, they are reliable and tough. They are best for contemporary staircases. Also, the actual handrail does not use glass but a wooden or metal handrail that you attach to a glass panel. Its benefit:
It is aesthetically pleasing.
It is safe.
There is no obstruction of view or light.
Clear, frosted, semi-transparent, tinted, and transparent glass can be used. Also, you can add decorative elements to it to have a beautiful handrail.
What is a glass handrail?
Whether it is a commercial, residential (modern or contemporary design), or professional setting, glass handrails look good everywhere. It adds a spacious feel to the house. However, you must clean it regularly, as dust can accumulate easily. Cleaning the glass staircase is a simple process.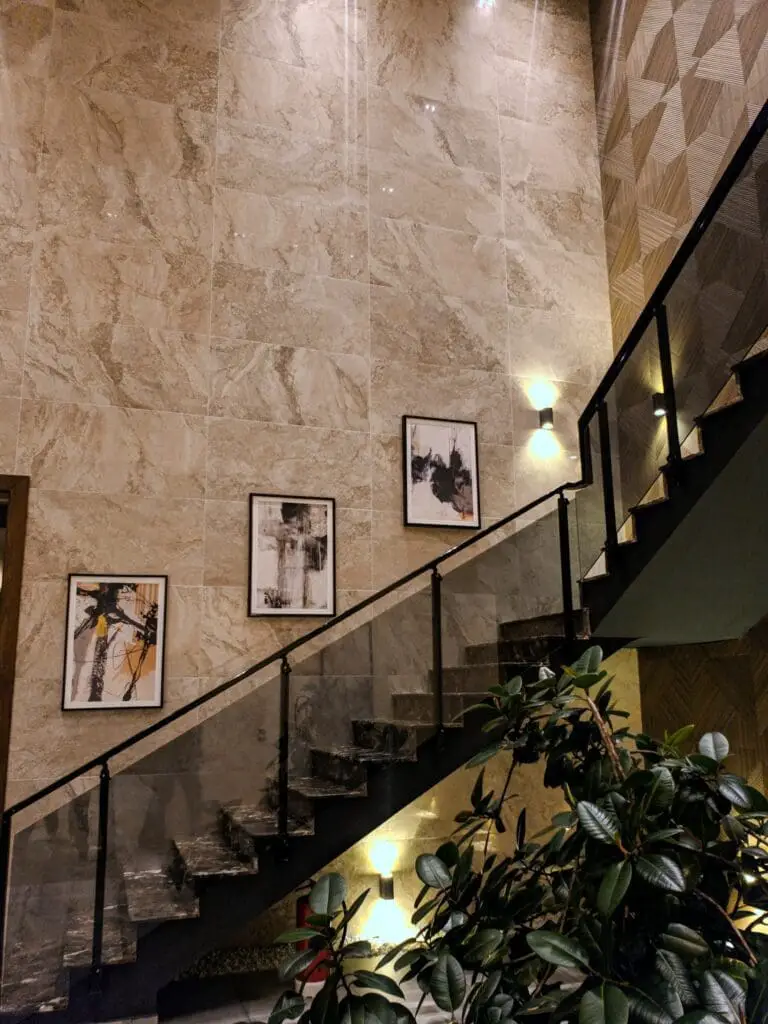 Types of Handrail Design
Other than the material, choosing a specific design can also make your staircase look aesthetic. A few common ones are:
Mopstick handrails are circular, have a flat underside, and are wall-mounted handrails.
Pig's ear handrails have a curved design resembling an ear, hence the name. They are cost-effective as you can wall-mount them, so you do not require a Patrice or bracket.
Cylindrical is a common design used for metal handrails.
Conclusion
Now that you know the best staircases handrails, you can make an informed decision. Go to a store selling handrails and understand the quality, durability, and more of each type of handrail. Then, you can purchase them online from Vevor, which sells the highest-quality handrails at an affordable price.
Once you've assessed and compared the available options, you can explore the convenience of online shopping. Vevor, a reputable online retailer, stands out for its commitment to providing customers with top-tier handrails that excel in quality while maintaining affordability. With Vevor, you can choose from a range of premium handrails, ensuring you find the ideal fit for your project or renovation.
In summary, by combining your in-store examination of handrails with the accessible and budget-friendly offerings of Vevor's online platform, you can make a thoroughly informed and advantageous selection, secure in the knowledge that your choice aligns with your practical requirements and budgetary constraints.