Las Vegas, the city of dazzling lights and boundless entertainment, has long been home to Rick Harrison, the familiar face from the hit TV show "Pawn Stars." While we're about to delve into the details of his Las Vegas house, it's worth noting that he has since sold this property, opting for a new residence outside of the bustling city. Unfortunately, the specifics of his current dwelling remain shrouded in secrecy, except for a little bit of information that we will show you at the end of this article. Join us on this journey as we explore the intricate details of Rick Harrison's past Las Vegas residence.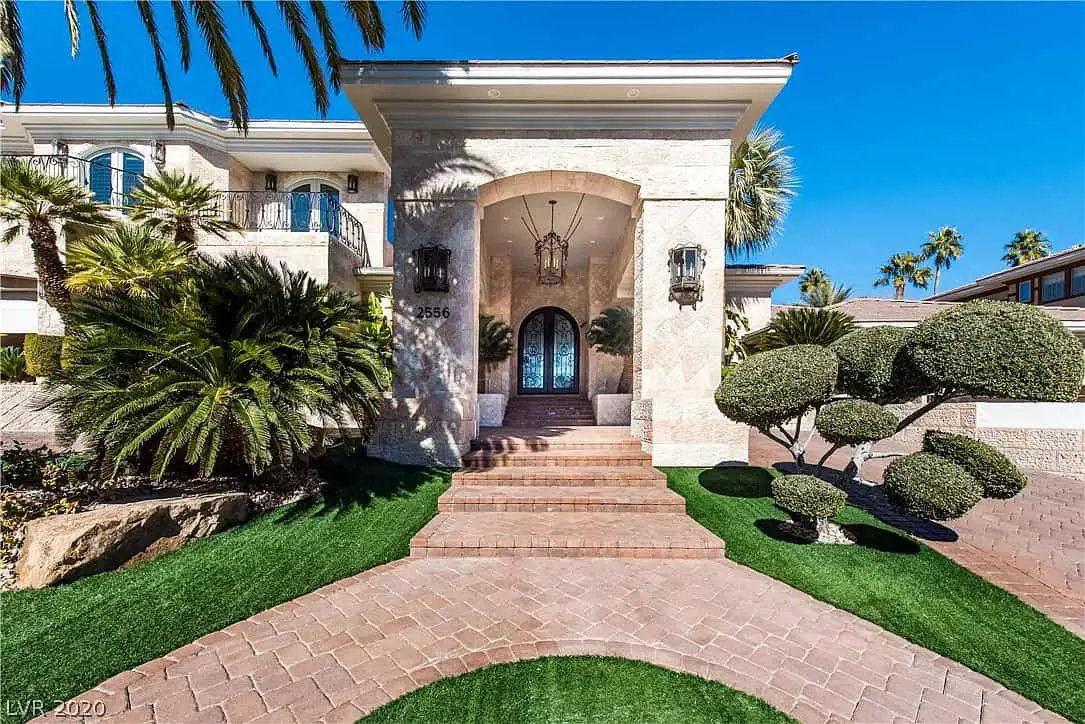 Rick Harrison's house
Where Does Rick Harrison Live Now?
As of his most recent move, Rick Harrison, the charismatic star of "Pawn Stars," now reside in his picturesque ranch in Port Orford, Oregon. Regrettably, the exact address of his current residence remains a well-guarded secret, as many celebrities understandably value their privacy. However, we can shed light on his past residence, which was located at 2556 Red Arrow Drive, Las Vegas, NV 89135. This address served as his Las Vegas base for a significant period.
This palatial abode boasts 8,845 square feet, five bedrooms, and eight bathrooms, making it a true gem in the heart of the entertainment capital of the world. This marvel was on the market for $3.99 million. Once the cherished abode of a celebrity known for his eclectic tastes, it stands as a testament to a life well-lived and a penchant for the extraordinary.
Exploring Rick Harrison's Interior Grandeur
From the latest trends in furniture to exquisite art pieces that reflect his sophisticated taste, every corner of Rick Harrison's house is like a masterpiece. The entrance hall, adorned with these curiosities, leads to a sitting area with modern furniture. The walls are painted in different colors, and the floor is covered in light grey and beige tiles. In the center of the room there is a sitting area, six chairs in different colors – all with white pillows for added comfort. To the right of the sitting area is a grass decorated wall with a tiled fireplace. The whole area is decorated with art pieces and wooden details.
Rick Harrison's entrance hall
The kitchen, designed for culinary indulgence, and the overall decor style are sure to be nothing short of spectacular. It boasts blue cabinets and stainless-steel countertops. The room is illuminated by a large chandelier hanging from the ceiling, as well as several other lights scattered throughout the space. A large island in the center of the room provides plenty of countertop space for food preparation and storage. On one side of the island is a sink and stove, while on the other side there are several drawers for storing utensils or ingredients. In addition to this, there is also a window near one corner that allows natural light into the room.
Rick Harrison's kitchen
The formal dining room was the space where Rick Harrison hosted memorable dinner parties, cementing the house's status as a hub for social gatherings. It is a luxurious dining room with an elegant chandelier hanging from the ceiling. The walls are painted in a light grey color and decorated with one green side and art pieces. In the center of the room is a large wooden table surrounded by several red chairs, each featuring black and silver frames. The floor is covered with white tiles and a beige and red carpet.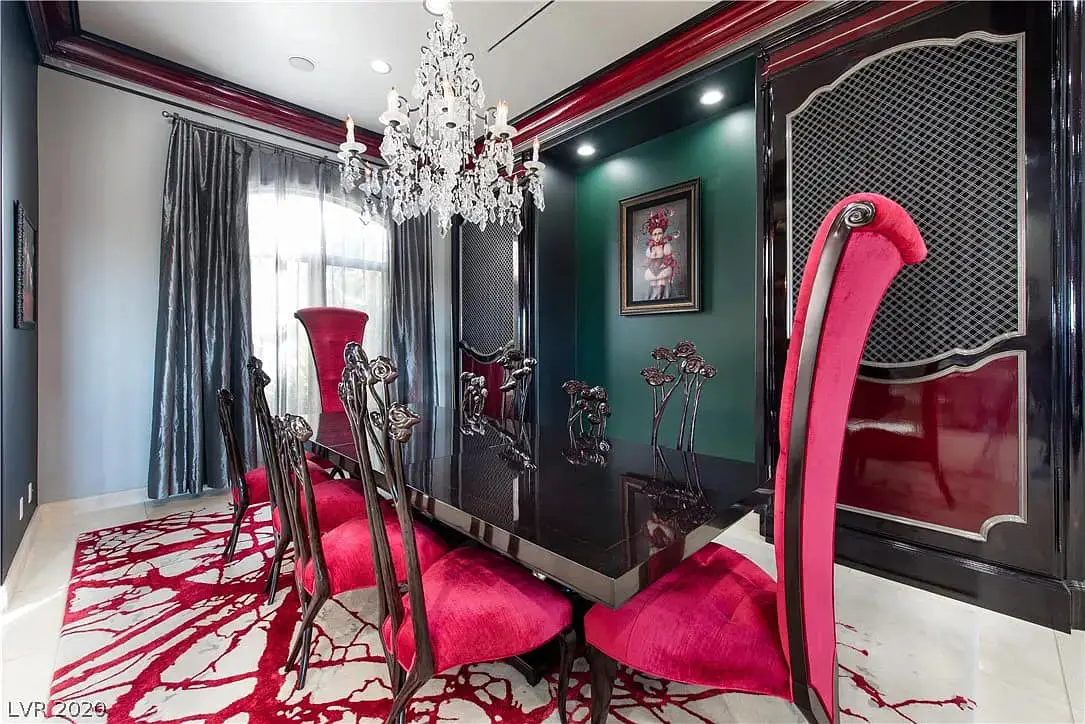 Rick Harrison's dining room
Also, the bathroom is painted dark blue, and the floor is white. The room is filled with various fixtures, including a large mirror on the wall, a shower stall with glass doors, and a sink beneath the mirror. A door can be seen in the background near the corner of the room. In front of it is an area containing countertops and cabinets for storage. On one side of this area is a bathtub surrounded by tiled walls, while on the other side there are two toilets separated by another tiled wall.
Rick Harrison's bathroom
Just beyond the dining area, the office room beckons. It exudes an air of opulence with its burled walnut woodwork. The whole room is wooden and in the center of the room is an elegant black leather chair facing towards the window, which has white blinds pulled down to let in natural light. On one side of the room is a countertop with a wood surface, while on another wall hangs two framed maps. To complete this cozy indoor space there is also a cupboard with drawers for storage as well as hardwood flooring and moldings along each wall.
Rick Harrison's office
The house's layout caters to both privacy and grandeur, with two bedrooms on the lower level, two on the upper, and a gym that can easily double as a bedroom. The seven bathrooms are a testament to luxury living, with no detail spared.
Rick Harrison's gym
Entertainment knows no bounds within these walls. A 12-seat home theater, complete with a 150-inch screen and a grand curtain, beckons cinephiles. Meanwhile, a wine cellar cradles over a thousand bottles, a treasure trove for aficionados.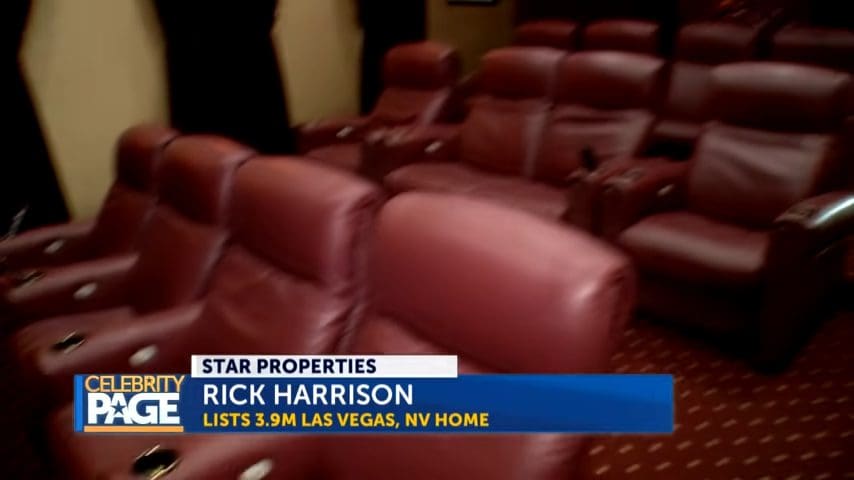 Rick Harrison's theater
Rick Harrison's Poolside Paradise
Heading outdoors, it's almost certain that Rick Harrison's house features an impressive outdoor area, befitting the Las Vegas lifestyle. Step into the backyard, and you'll be greeted by a lagoon-style pool that seems to stretch endlessly, offering a respite from the desert heat. Adjacent to it, an elevated spa beckons, providing a luxurious space for relaxation and unwinding.
Rick Harrison's pool
To complete this outdoor paradise, an impeccably designed outdoor kitchen stands ready to cater to your culinary desires, making it an idyllic space not just for relaxation but also for hosting memorable gatherings and entertaining guests under the warm Las Vegas skies.
Rick Harrison's BBQ area
Rick Harrison's Neighborhood
Rick Harrison's former Las Vegas residence at 2556 Red Arrow Drive, Las Vegas, NV 89135, was nestled in an exclusive and star-studded neighborhood. It's not uncommon for celebrities to rub shoulders with one another in the entertainment capital of the world, and Rick was no exception. Among his notable neighbors were Phil Ruffin, the billionaire businessman with a keen interest in the hospitality and gaming industry, and Rita Rudner, the beloved comedian known for her wit and humor.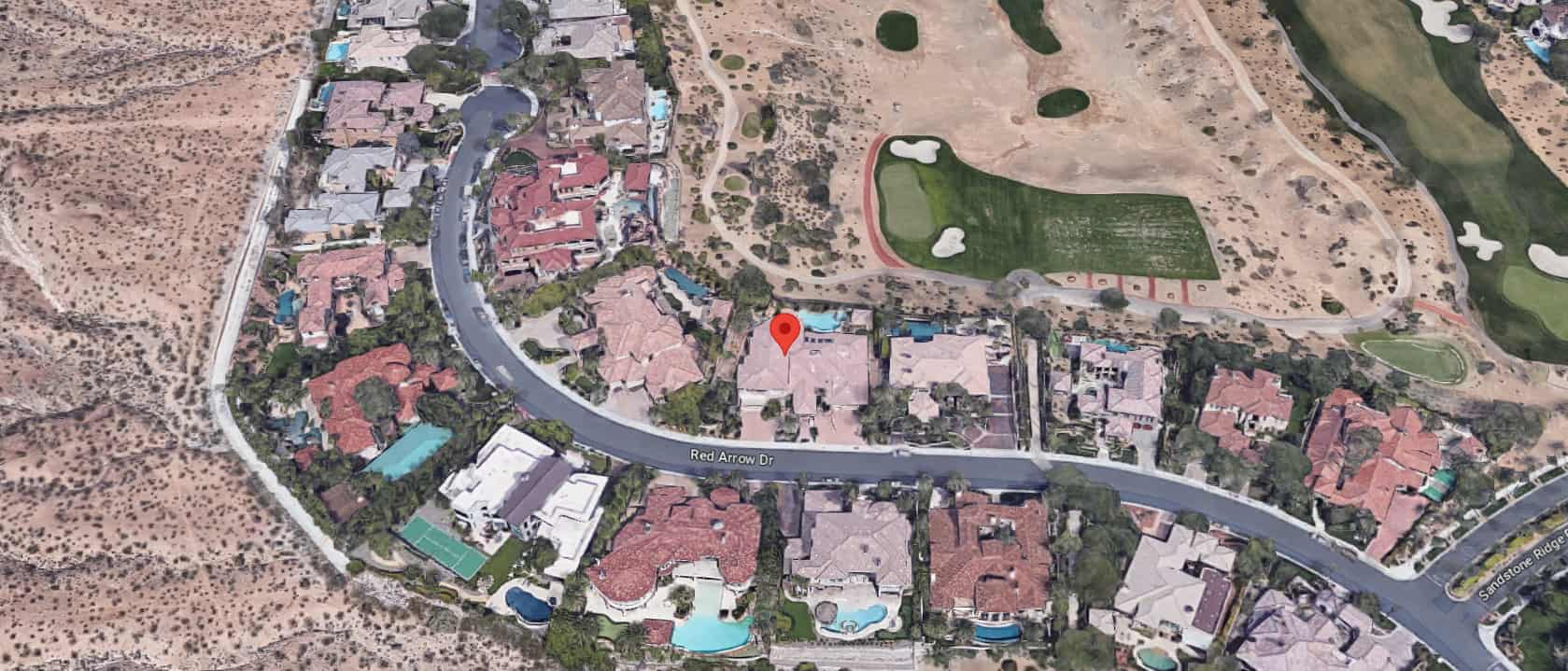 Rick Harrison's neighborhood
This upscale neighborhood provided a perfect blend of privacy and luxury, catering to the tastes of high-profile residents like Rick Harrison and his esteemed neighbors. While Rick may have moved on to a new abode, his time in this neighborhood undoubtedly left a lasting impression, serving as a testament to the allure of the city's exclusive communities.
Other Houses Owned by Rick Harrison
While we've primarily focused on Rick Harrison's Las Vegas residences, it's worth exploring his other notable properties. Beyond the glitz and glamour of the entertainment capital, Rick's real estate portfolio is a testament to his diverse taste and lifestyle choices.
Rick Harrison's Las Vegas House: His first house, a single-family residence, was a luxurious haven featuring four bedrooms, four full bathrooms, one half bathroom, and a grand total of 3,932 square feet of living space. Rick Harrison made this residence his own, having purchased the .54-acre lot on 02/13/1998 for a modest $85,000. This property served as a significant part of his journey, reflecting his growth and success over the years.
Rick Harrison's first Las Vegas house
Rick Harrison's Off-Grid Paradise in Oregon: Beyond the bustling streets of Las Vegas, Rick Harrison has a unique retreat. Nestled outside Port Orford, Oregon, is a property that represents an off-gridder's dream paradise. As rumored, here Rick lives off the grid since he sold the property, embracing a self-sustained lifestyle far from power lines or the conventional grid.
Rick Harrison's off-grid ranch
This picturesque ranch, initially conceived as a humble fish hatchery in 1929, evolved over the years into something far more extraordinary, thanks to the unwavering dedication of its current owner, who happens to be none other than the famed Rick Harrison of "Pawn Stars" fame. Today, this sprawling estate comprises not one, but three houses, accompanied by two sizable garages and a fully equipped machine shop.
Rick Harrison's ranch