Sarah Jessica Parker's house in the heart of New York City is not just a dwelling; it's a stunning piece of real estate that has become an integral part of the actress's life. This elegant townhouse, with its charming story of acquisition, prime city location, exquisite interior, and lush outdoor space, provides a captivating window into the world of a Hollywood icon.
Sarah Jessica Parker's house
In this article, we'll take you through the purchase story, the neighborhood, the interior, and the outdoor area of Sarah Jessica Parker's house, offering a glimpse into the world of the rich and famous.
Where Does Sarah Jessica Parker Live Now?
Sarah Jessica Parker lives at 271 West 11th Street, New York. In 2016, the power couple set their sights on a pair of adjacent townhouses. Purchased for an impressive $35 million, these 1900-built, landmarked properties had long been occupied by a nonprofit organization. The vision? To combine these two structures into a grand, single-family dwelling that would seamlessly blend historical charm with contemporary luxury.
When complete, this remarkable home will boast a remarkable 50-foot-wide brick façade that stands as a testament to its historical significance. The property will feature an astonishing nine bedrooms, five full bathrooms, three half bathrooms, and a grand total of 13,900 square feet.
The Interior of Sarah Jessica Parker's House
The interior of Sarah Jessica Parker's house remains somewhat of a mystery to the public. While we don't have detailed information about the house, we can catch a few tantalizing glimpses through the actress's social media accounts.
On Parker's Instagram we could see a living room that exudes a sense of elegance and tranquility. Dominating the space is a tall, stately white column and a captivating stone fireplace that takes center stage, with a decorative mantel for art and mementos. The room features a plush white sofa and a modern glass coffee table. White walls create a neutral canvas, adorned with personal framed pictures. A wooden floor adds a natural touch, balancing the formal architecture.
Sarah Jessica Parker's living room
Another thing that we could catch in Sarah Jessica Parker's house is a room that beautifully blends simplicity and functionality. With a wooden floor and white walls, this space exudes calm and tranquility. A wooden dresser with a practical sink sits beneath a framed picture, adding a personal touch. In a cozy corner, a gray armchair awaits for relaxation. Natural light bathes the room, enhancing the warmth of the wooden floor and furniture textures.
Sarah Jessica Parker's interior
Furthermore, the townhouse includes various amenities, such as an indoor gym and a cozy reading nook, which is a personal favorite of the actress. With large windows that allow natural light to flood in, the house feels warm and inviting.
Sarah Jessica Parker's gym
Outdoor Area of the House
The exterior's stunning red-brick townhouses, combined with exquisite plasterwork and molding, offer a glimpse into the extraordinary craftsmanship and attention to detail involved in the project. Although Sarah Jessica Parker is known for her discretion when it comes to sharing glimpses of her family home, the recent social media post of a mesmerizing view from her window left her fans dreaming of a life in New York.
Sarah Jessica Parker's view from the house
The captivating scene featured the red-brick townhouses aglow in the warm light of the setting sun, surrounded by flourishing greenery. It's a breathtaking vision that only hints at the grandeur that lies within the unassuming façade.
Sarah Jessica Parker's Neighborhood
Parker's townhouse is situated in one of Manhattan's most prestigious neighborhoods. Beyond the West Village, former New York City Mayor Michael Bloomberg and Russian billionaire Roman Abramovich are currently crafting mega-mansions of their own on the Upper East Side. As the city's elite invest in such remarkable homes, it becomes clear that these residences aren't merely places to live; they are statements of opulence, style, and the embodiment of a luxurious urban lifestyle.
Other Houses Owned by Sarah Jessica Parker
Sarah Jessica Parker's real estate journey in New York City reflects her enduring love for the metropolis. Together with her husband, Matthew Broderick, whom she married in 1991, they have maintained their first property, a townhouse, for over 20 years. This iconic home was originally acquired in 2000 for just under $3 million, and its extensive renovations over the years have made it a true gem. In 2021, the couple decided to part ways with this incredible property, selling it for a staggering $15 million, making a remarkable profit of $12 million from their initial purchase in 2000.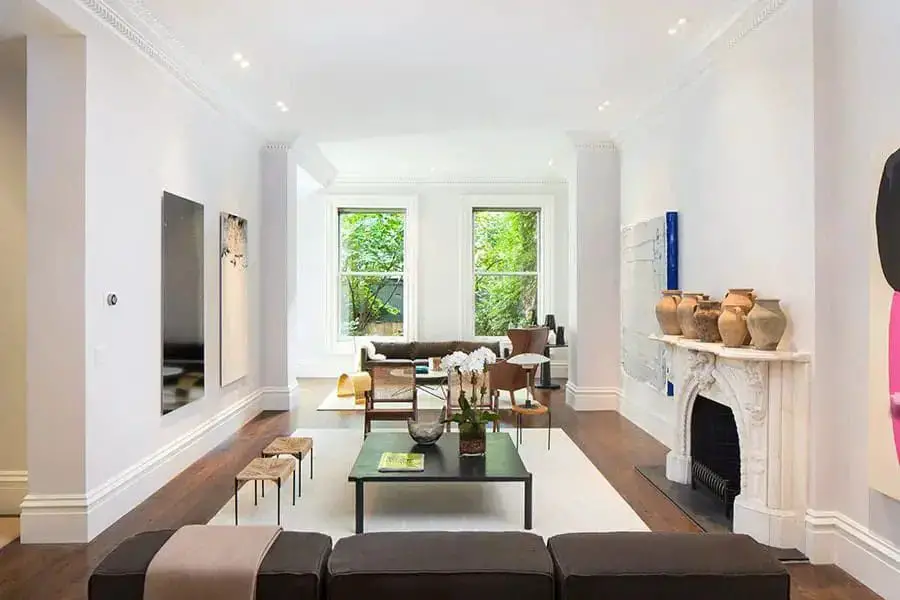 Sarah Jessica Parker's former house
In 2011, Parker and Broderick added another jewel to their collection, purchasing a magnificent 6,800-square-foot estate with 5 floors, 5 bedrooms, and 8 bathrooms for a hefty $19 million. Despite its high initial price tag, the property proved its worth, with a final sale price of $20 million after nearly three years on the market. Originally listed in 2012 for $25 million and subsequently re-listed for $22 million in September, the townhouse was a remarkable investment.