Lenny Kravitz's house in Brazil is a testament to his eclectic style. The iconic rock star and multi-talented artist has always been known for his distinctive style and exceptional taste. Beyond his music career, Lenny has dabbled in acting, design, and even interior decorating. His passion for design and aesthetics is beautifully reflected in his stunning house located in the vibrant city of Rio de Janeiro, Brazil. So, let's take a deep dive into Lenny Kravitz's house and explore the unique elements that make it a true celebrity haven.
Lenny Kravitz's house
Where Does Lenny Kravitz Live Now?
Lenny Kravitz lives in a Brazilian retreat, a 1,000-acre property that he purchased in 2007 for $3 million. This extraordinary estate is nestled in the heart of Brazil and has become a cherished haven for the artist. It's a blend of history, nature, and artistry, featuring 19th-century Portuguese colonial-style farmhouses and meticulously converted outbuildings.
Inside Lenny Kravitz's Brazilian Home
As we delve into the interior of Lenny Kravitz's house in Brazil, it's impossible not to be captivated by the eclectic mix of styles and the unique artistry that adorns every corner. The entrance features modern, monochromatic design with a spacious, well-lit feel, thanks to predominantly white walls and warm wooden floors. The striking black and white mural serves as the room's focal point, adding personality and charm. Minimal yet functional decor includes a transparent piano and two white chairs, creating a balanced and harmonious atmosphere.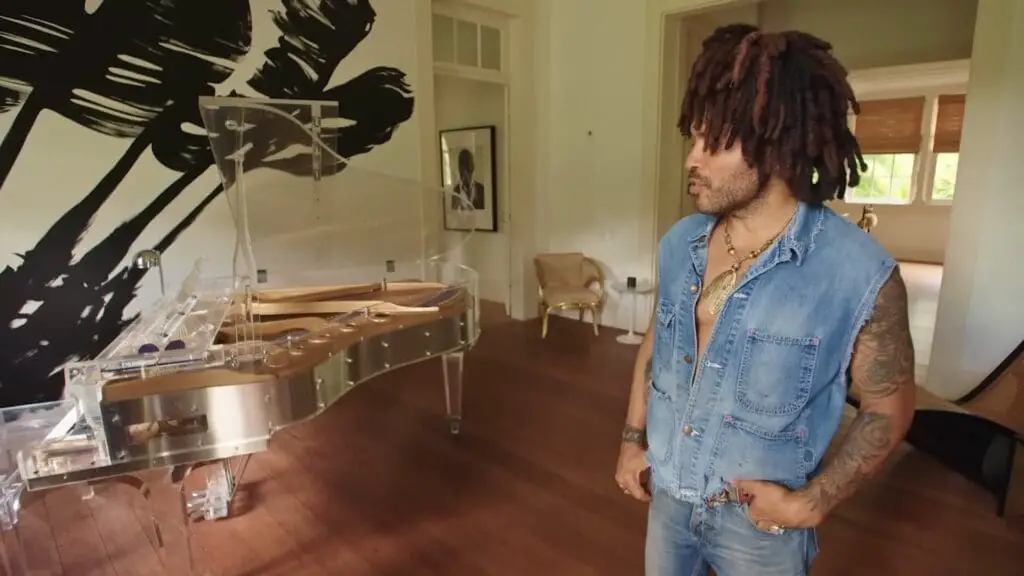 Lenny Kravitz's entryway
One of Lenny Kravitz's most unique touches in his house is a copper bathtub, strategically placed just steps away from the bedroom, illuminated by a profusion of windows that allow the natural world to spill into the living space. A rustic wooden fan hangs from above, while striking black and white abstract shapes on the walls add dynamic visual interest. The central bed boasts a wooden headboard and vibrant orange bedding, infusing warmth into the space. Two windows with bamboo blinds usher in natural light, enhancing the inviting ambiance. Various furnishings like a dresser, chair, tub, and a plant add to the bedroom's cozy atmosphere.
Lenny Kravitz's bedroom
On the opposite side, the living area harmoniously merges modern and artistic elements with traditional architecture. The walls feature a captivating black and white abstract mural, creating a focal point. This contemporary design interacts intriguingly with traditional architectural details like windows and crown molding. The furniture, including a brown leather sofa and an elegant glass coffee table, adds both comfort and style to the room's modern aesthetic.
Lenny Kravitz's living space
The kitchen is a culinary haven with a spacious island featuring a sink for ample workspace. Its stylish white and black color scheme exudes sophistication, complemented by a patterned backsplash for visual interest. Abundant natural light and well-placed lighting create a welcoming atmosphere. Equipped with modern appliances and ample counter space, it meets both practical and aesthetic needs. A bar area with stools extends functionality for informal dining and socializing.
Lenny Kravitz's kitchen
The main living room boasts a high ceiling with rustic wooden beams. Mixing modern and vintage pieces, it offers a large leather sofa, a vibrant red armchair, and a wooden coffee table as the centerpiece. Entertainment needs are met with a TV and sound system. White walls provide a neutral backdrop, and the wooden floor adds warmth. A rug under the coffee table adds coziness, while a plant in the corner introduces a natural touch, enhancing the welcoming ambiance.
Lenny Kravitz's living room
In his boundless creativity, Lenny Kravitz even transformed an outhouse into a guesthouse with an open space plan, replete with four bedrooms. Its minimalist decor highlights simplicity and functionality, featuring natural materials like wood and leather. A black leather couch serves as the centerpiece, complemented by a wooden coffee table for both style and utility. A red rug on the floor adds a splash of color to the neutral palette. The room's standout feature is the bold abstract mural on the walls, adding personality and making the space unique and memorable.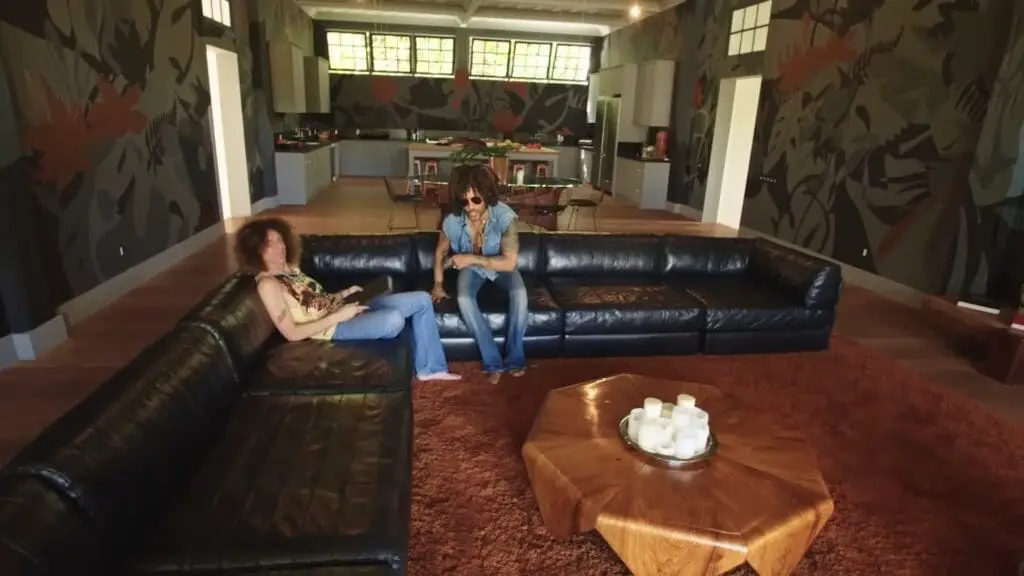 Lenny Kravitz's guest house
Lenny Kravitz's House Outdoor Area
Beyond the captivating interior, the true marvel of Lenny Kravitz's house unfolds in the expansive outdoor spaces. Here, the artist's commitment to preserving the natural beauty of the land is evident, with lush plantations, swaying coconut palms, amiable farm animals, and bountiful fruit groves thoughtfully maintained. However, this commitment to nature's bounty is only the tip of the iceberg.
Lenny Kravitz's outdoor area
Embracing the vibrant spirit of Brazilian living, the property boasts an array of meticulously designed outdoor amenities. At its heart is a vast, inviting swimming pool that glistens in the tropical sun, offering a refreshing respite for those seeking relaxation and recreation. Nearby, a tranquil lagoon provides a serene escape for those in search of a more secluded oasis.
Lenny Kravitz's pool
For those who relish the sizzle of outdoor cooking, a well-appointed barbecue area awaits, promising memorable gatherings and culinary delights. Fitness enthusiasts can enjoy an on-site gym, allowing them to stay active while surrounded by the breathtaking beauty of the Brazilian landscape. And for the soccer aficionados, a meticulously maintained soccer field offers endless opportunities for friendly matches and sports-based camaraderie.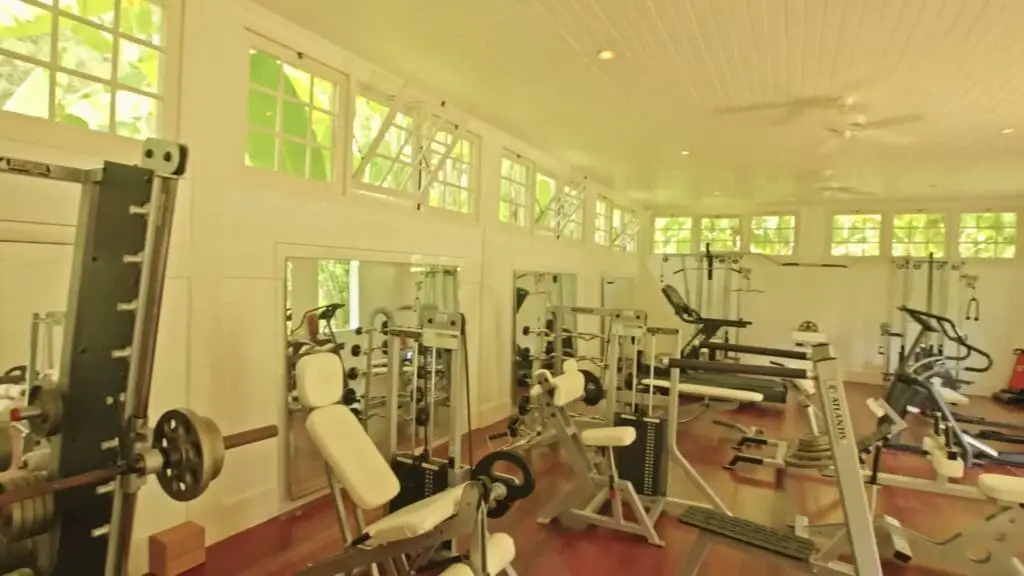 Lenny Kravitz's gym
Lenny Kravitz's Other Houses
While the focus of this article is on Lenny Kravitz's house in Brazil, it's worth mentioning that the artist owns multiple properties around the world. Lenny's diverse lifestyle is reflected in his choice of residences, and each property is a unique reflection of his artistic sensibilities.
One of his other noteworthy properties is a stunning mid-century modern home in the heart of Paris, France. This house, with its minimalist design and chic interiors, showcases Lenny's appreciation for European aesthetics.
Lenny Kravitz's Paris house
In addition to his Brazilian and French abodes, Lenny also owns a spectacular beachfront mansion in the Bahamas. This Caribbean paradise boasts breathtaking ocean views and is a serene escape for the rock star when he seeks a break from the spotlight.