In your pursuit of a good night's sleep, the bedding you choose plays an important role in the end result. Among the wide range of choices available, Jersey cotton fabric stands out with its blend of softness, durability, and style that elevates your bedtime routine to new heights. But what exactly makes this material a top choice for a restorative and indulgent sleeping experience? Let's take a closer look at its exquisite benefits.
Soft and Comfortable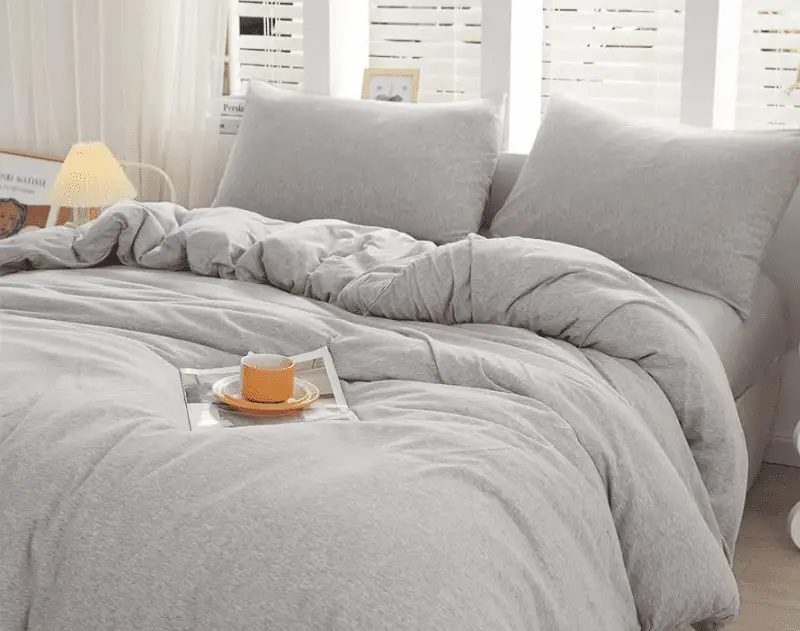 If you want to transform your bed into a haven of softness and comfort, Jersey cotton bedding made of 100% cotton is a fantastic choice. This weave is gentle on the skin and creates these little loops in the fabric, which give it extra plushness. Its unique, soothing softness is incomparable to other materials. When you slip between the sheets, you feel like sinking into a cloud of cosiness. The fibres create a fabric that adapts to your body's contours. No more wrestling with stiff, unforgiving sheets; this bedding moves with you, and offers a snug, personalised embrace.
Stretchy
Another feature that makes Jersey bedding so comfortable is its stretchiness. When you slip into your bed, these sheets give you a cosy hug. It's not going to come untucked or bunch up in weird places. So, you can roll around and change positions, and your bedding will happily move with you. This quality makes it a fantastic choice for those who love to use their bed for more than just sleeping. Whether you're reading a book, watching a movie, or enjoying breakfast in bed, this cotton bedding will adapt to your every position and give you the perfect level of cosiness. And let's not forget that the stretchiness makes it super easy to put on your fitted sheet. No more struggling with corners that won't stay in place.
Durable
Jersey cotton bedding feels like a dream and stays that way for years. The fabric is made with tightly woven fibres that can withstand the test of time, and plenty of trips to the washing machine. You can wash, wash, and wash these sheets, and they won't lose their softness or start to look tired and wear out. Night after night, these sheets will provide the same level of comfort and cosiness you fell in love with from day one. And that's a big deal because it means you're making a long-term investment in your comfort. No more need to constantly replace your bedding; your Jersey sheets will stay soft, snug, and inviting, just the way you like them.
Available in Many Colours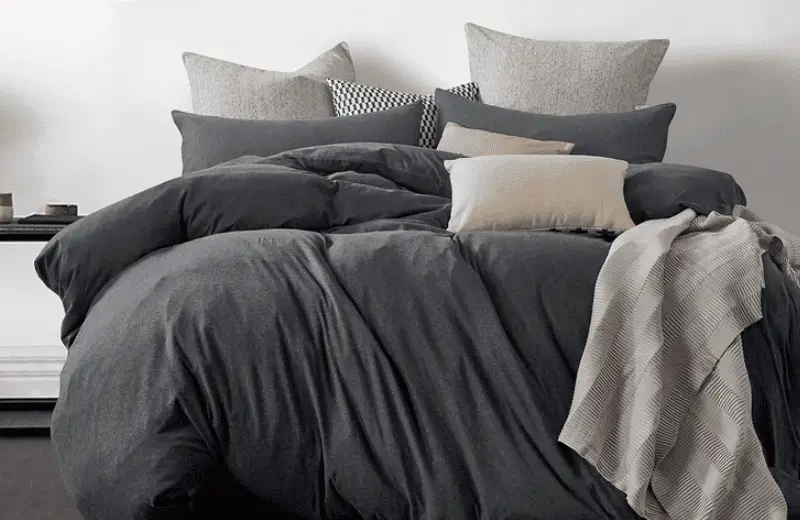 Your bedroom is your personal sanctuary, and the sheets are the artwork on its canvas. Jersey sheets aren't plain, ordinary sheets. They help you add some personality and refresh your bedroom. Whether you're a fan of calming pastels that create a tranquil atmosphere or you prefer bold and vibrant patterns that add a splash of energy to your room, Jersey cotton has something for everyone.
The variety of colours and designs is like an artist's palette. You can match your sheets to your bedroom décor, change it with the seasons, or even mix and match and create your own unique look. This variety helps you express yourself and set the mood for a peaceful night's sleep. If you want your bedroom to reflect your style and taste, Jersey sheets give you a lot of creative freedom for that.
Hypoallergenic
If you suffer from allergies or sensitive skin, Jersey bedding in the UK can be a game-changer for you. You can sleep soundly without worrying about allergens, dust mites, or other irritants causing you discomfort during the night. Jersey cotton is less likely to trap allergenic particles and, in turn, less likely to trigger allergies or skin sensitivities. So, you get a cosy, itch-free, and sneeze-free night of rest. You don't have to sacrifice comfort for a good night's sleep or choose between the two.
Low Maintenance
Life can get busy, and the last thing you should do is spend your precious time dealing with high-maintenance bedding. That's where the beauty of Jersey bed linen comes in. You throw it into the washing machine, give it a spin, and voila, it comes out looking as good as new. No need for fancy detergents or special care instructions. Jersey cotton doesn't wrinkle easily either. So, even if you're not an ironing enthusiast, your bed will still look neat and inviting.
Jersey bedding requires less hassle and offers you more time to enjoy the things you love, whether it's reading a good book, watching a movie, or simply getting a little extra shuteye. You get to relax and unwind without the added chore of high-maintenance care.
Affordable
Some luxurious bedding out there can cost an arm and a leg. However, Jersey cotton is here to break that stereotype. It offers you all the comfort, softness, and style without breaking the bank. You're still getting durable, soft, and cosy sheets, but they won't drain your wallet. So, whether you're a student on a tight budget or someone who simply appreciates a good deal, this bedding is a fantastic option. You can indulge in the luxury of a restful night's sleep without worrying about your budget.
Is Jersey Bedding Good for the Summer?
Jersey cotton is popular for its breathability. It's made with a special weave that allows air to circulate, keeping you cool and comfortable. When the temperatures rise, you won't have that sticky, sweaty feeling you might get with other materials. Instead, this cotton weave helps wick away moisture, leaving you feeling fresh and dry. Another thing that makes jersey cotton so good is its lightweight quality. It doesn't feel heavy on your body, which is perfect for those sweltering summer nights when you want to feel like you're sleeping on a cloud.
The Bottom Line
From its soft and durable embrace to its hypoallergenic and low-maintenance qualities, Jersey bedding is an investment in a better night's sleep. So, whether you're looking to upgrade your bedtime routine or simply yearn for the embrace of luxury each night, this bedding is a timeless and accessible choice for those who truly value their sleep. Sweet dreams and here's to many nights of restful slumber in your own cocoon of comfort!