In the dazzling world of celebrities, where fame and fortune often collide, there are those whose lifestyle extends beyond the glitzy red carpets and flashing cameras. One such celebrity is the renowned singer and performer, Adam Lambert. In this article, we're going to delve into Adam Lambert's house in Los Angeles, an abode that mirrors his impressive career and penchant for extravagance.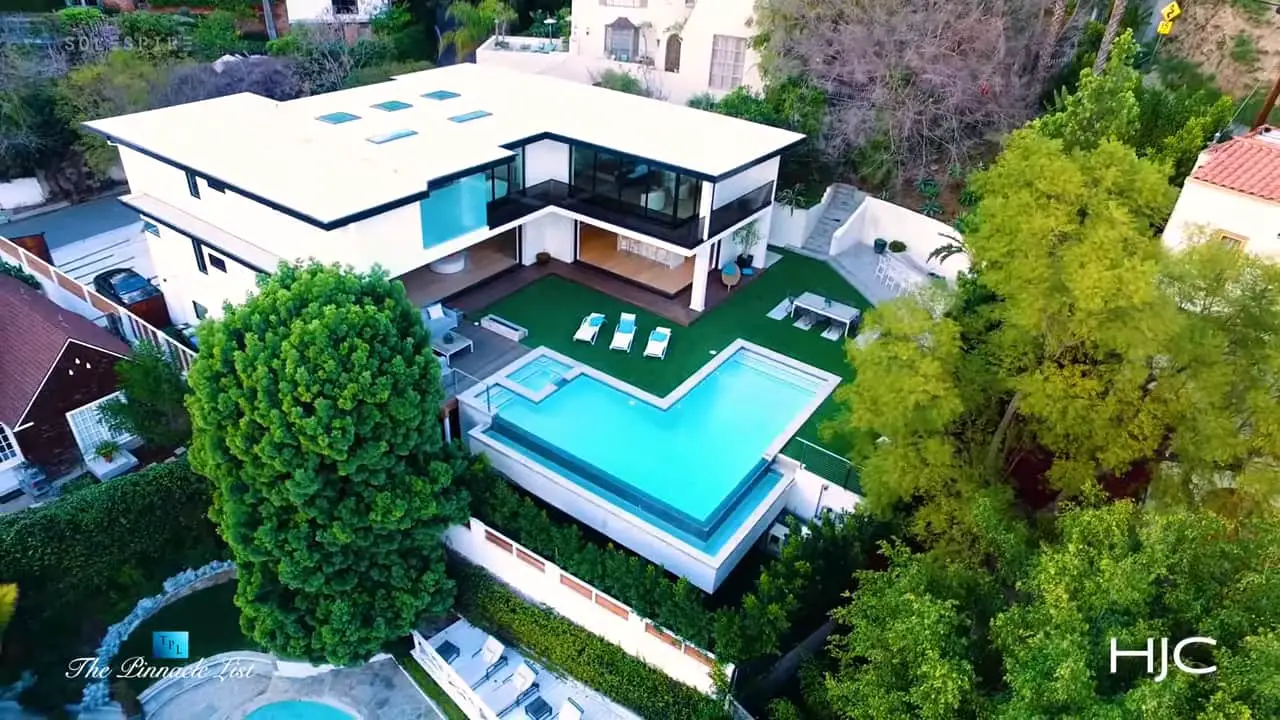 Adam Lambert's house
Where Does Adam Lambert Live Now?
Adam Lambert is located at 1516 N Kings Rd, Los Angeles, California. Purchased in 2018, this stunning property boasts a remarkable 4,739 square feet of living space, a testament to Lambert's success in the music industry. The purchase price was $6.5 million, reflecting the singer's substantial net worth.
The house features five bedrooms and six bathrooms, providing ample space for Lambert's family, which includes his parents and younger brother. The lot size, 0.26 acres, is generously proportioned, affording both privacy and scenic views of the surrounding area. Adam Lambert's house is a masterpiece of modern architecture, seamlessly blending luxury with functionality.
Adam Lambert's Contemporary House Interior
Stepping inside, you'll discover a haven of tranquility that mirrors the artistic sensibilities of its enigmatic owner, Adam Lambert. In the main living room, an entire wall of sliding glass opens up to reveal a meticulously manicured backyard, a sanctuary of solitude amidst the urban hustle and bustle.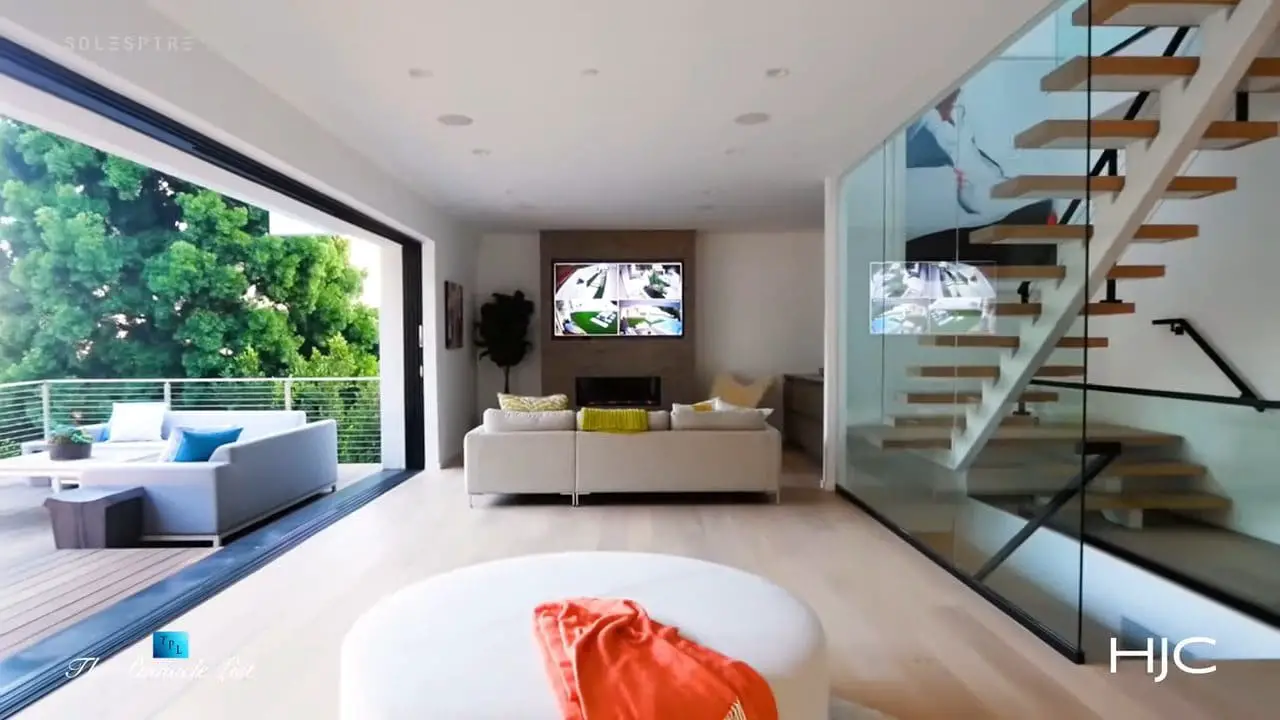 Adam Lambert's main living room
In the center of the room is a large sofa bed upholstered in white fabric, complete with two armrests and several pillows for added comfort. On one side of the couch is a glass coffee table, while on the other side there's an entertainment unit featuring a flat screen television set mounted to the wall. Finally, at one end of the room sits a fireplace surrounded by stone tiles and topped with a wooden mantelpiece – perfect for keeping warm during cold winter nights!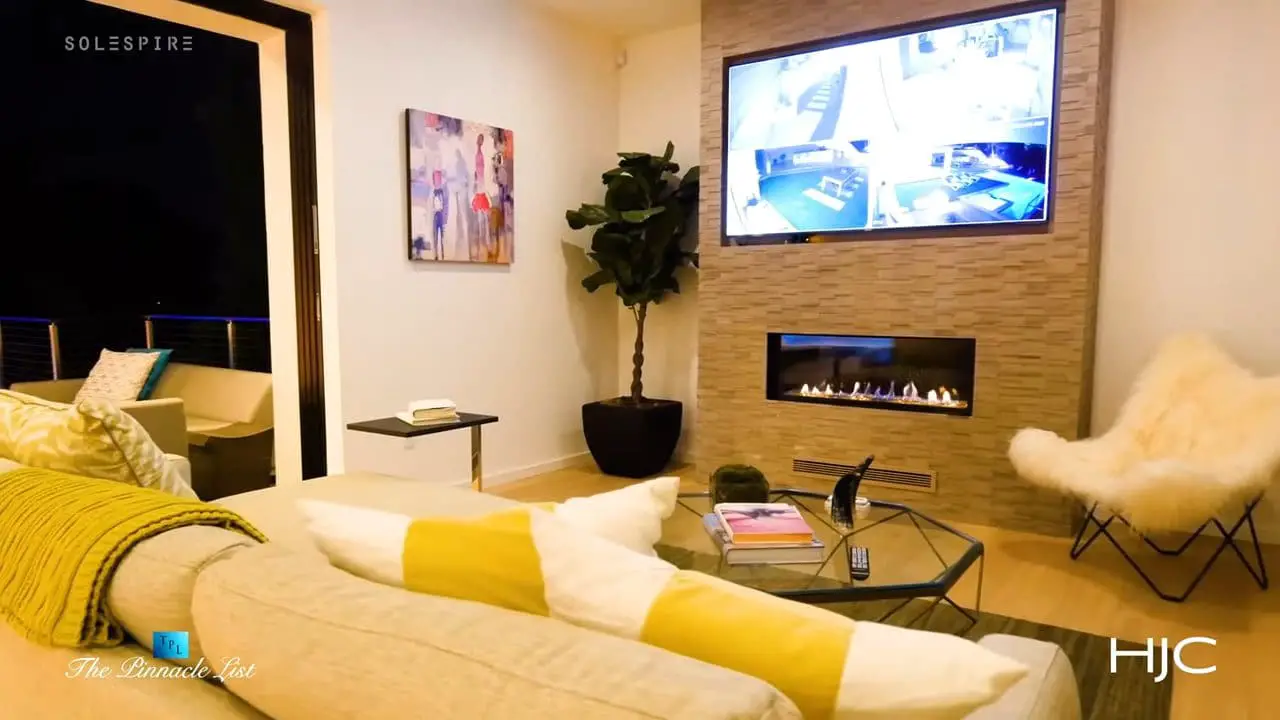 Adam Lambert's main living room
Adjacent to the living room, you'll find a dining space that seamlessly flows into a gourmet kitchen. The dining space is furnished with a glass-top dining table, eight chairs around it and above this hangs an abstract painting that adds to the contemporary feel of this interior design. The ceiling has recessed lighting fixtures which provide bright illumination for this space.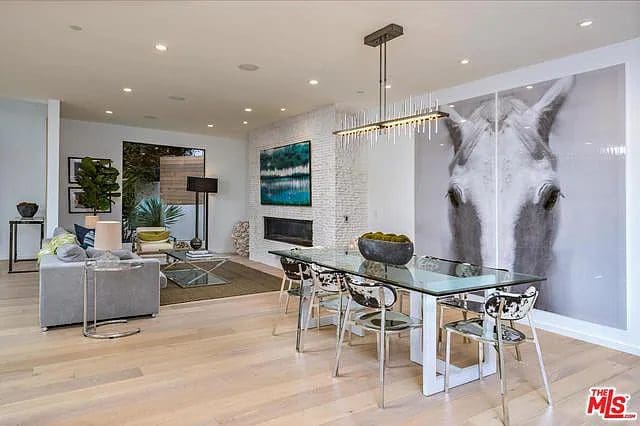 Adam Lambert's dining space
This culinary masterpiece is equipped with a breakfast bar, a spacious island, and white cabinets and countertops. The room is illuminated by several lights in the ceiling, which are surrounded by a metal railing. In the center of the room is a large island with four chairs around it with white seats and metal legs.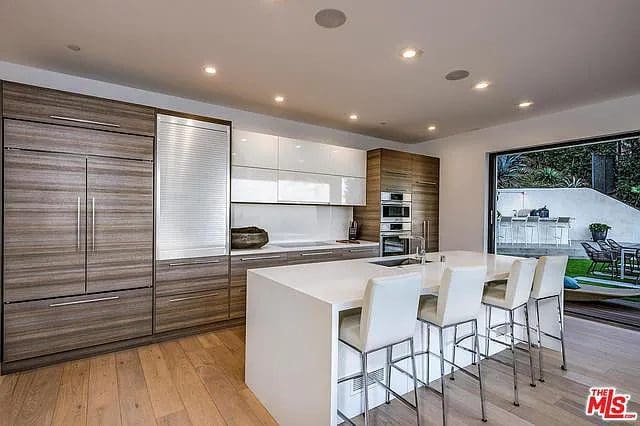 Adam Lambert's kitchen
Not to be overlooked is the all-glass wine storage unit, nestled elegantly between the dining and living areas, a testament to the owner's discerning taste.
Adam Lambert's wine storage unit
With five bedrooms and an equal number of bathrooms, every corner of this estate exudes an air of luxury, but it's the master suite and ensuite that truly steal the spotlight. The master suite, a sumptuous sanctuary, boasts another sliding glass wall that opens to a private sitting area, offering breathtaking views of the radiant city beyond.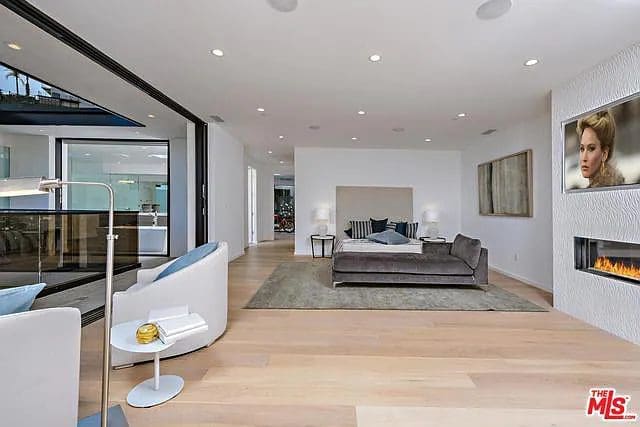 Adam Lambert's bedroom
The ensuite, an epitome of opulence, features vanity, dual showers, a lavish soaking tub, and its very own private balcony, perfect for moments of reflection and reprieve.
Adam Lambert's House Outdoor Area
Stepping into the outdoor area of Adam Lambert's house feels like entering a private oasis, a world apart from the hustle and bustle of Los Angeles. It is equally captivating, offering a spacious infinity swimming pool that appears to blend seamlessly into the horizon. This stunning feature not only provides a sense of boundless luxury but also affords panoramic views of the cityscape below, creating an enchanting backdrop for days and nights of relaxation.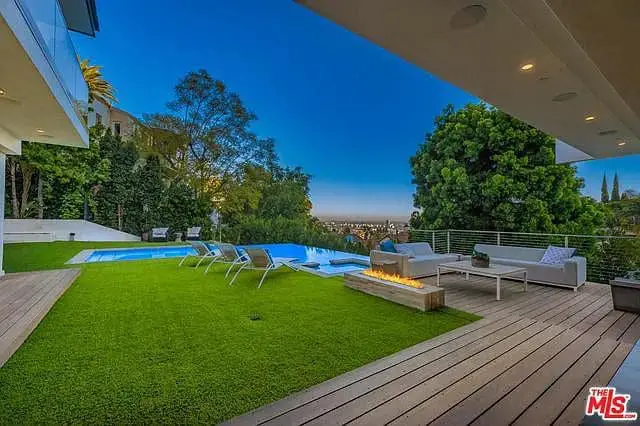 Adam Lambert's outdoor area
The spa, nestled beside the pool, beckons with promises of ultimate relaxation. Its bubbling waters invite residents and guests to unwind, soak away the stresses of the day, and indulge in the soothing embrace of warm water.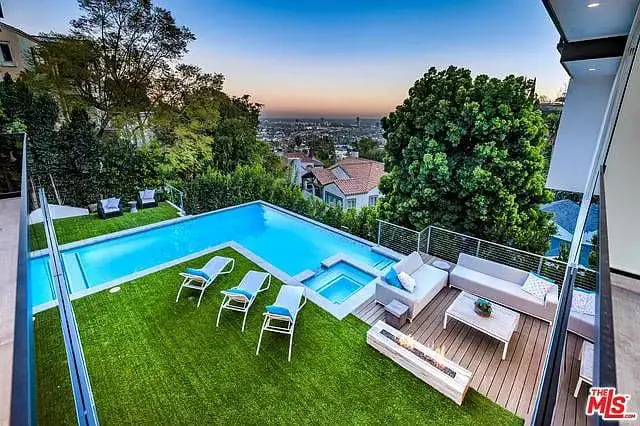 Adam Lambert's pool
A firepit area adds a touch of coziness to the outdoor space. As the sun dips below the horizon, this spot becomes a gathering point for friends and family to share stories, laughter, and perhaps a few marshmallow-roasting adventures.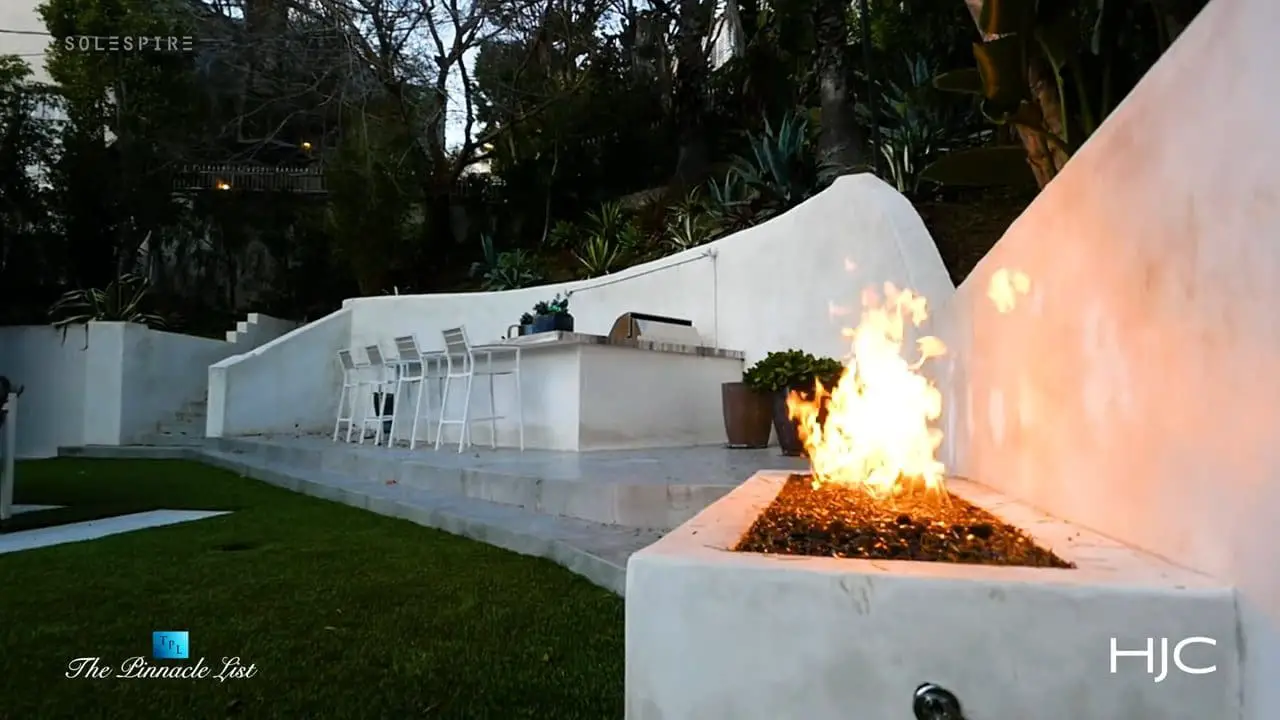 Adam Lambert's firepit area
For those who appreciate the joys of outdoor cooking, Adam Lambert's house doesn't disappoint. The built-in barbecue station is a culinary oasis, where one can grill delectable meals while enjoying the fresh California air.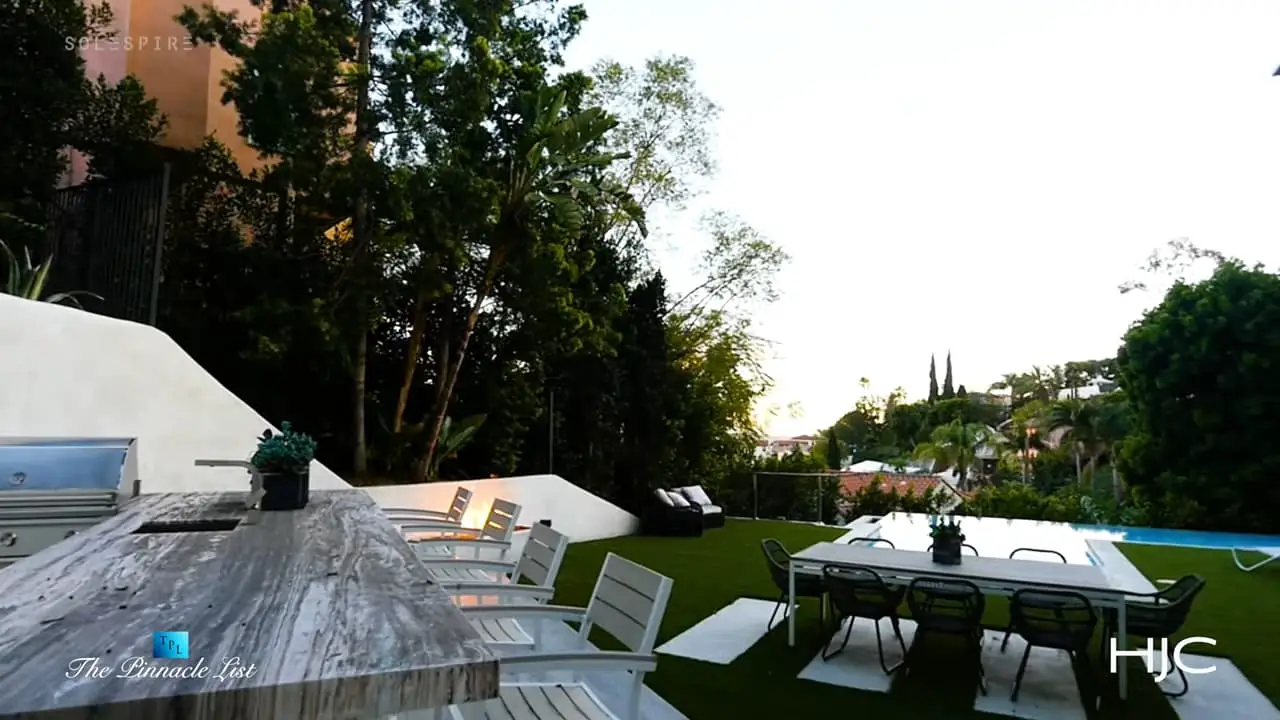 Adam Lambert's outdoor culinary oasis
Multiple lounge spaces thoughtfully scattered around the outdoor area provide various vantage points to soak in the California sun. Plush sun loungers invite residents to bask in the warmth, work on their tans, or simply enjoy a good book.
Adam Lambert's Neighborhood
Adam Lambert's house is nestled in the exclusive and star-studded neighborhood of Beverly Hills. His notable neighbors include the iconic Sarah Jessica Parker and legendary filmmaker John Carpenter.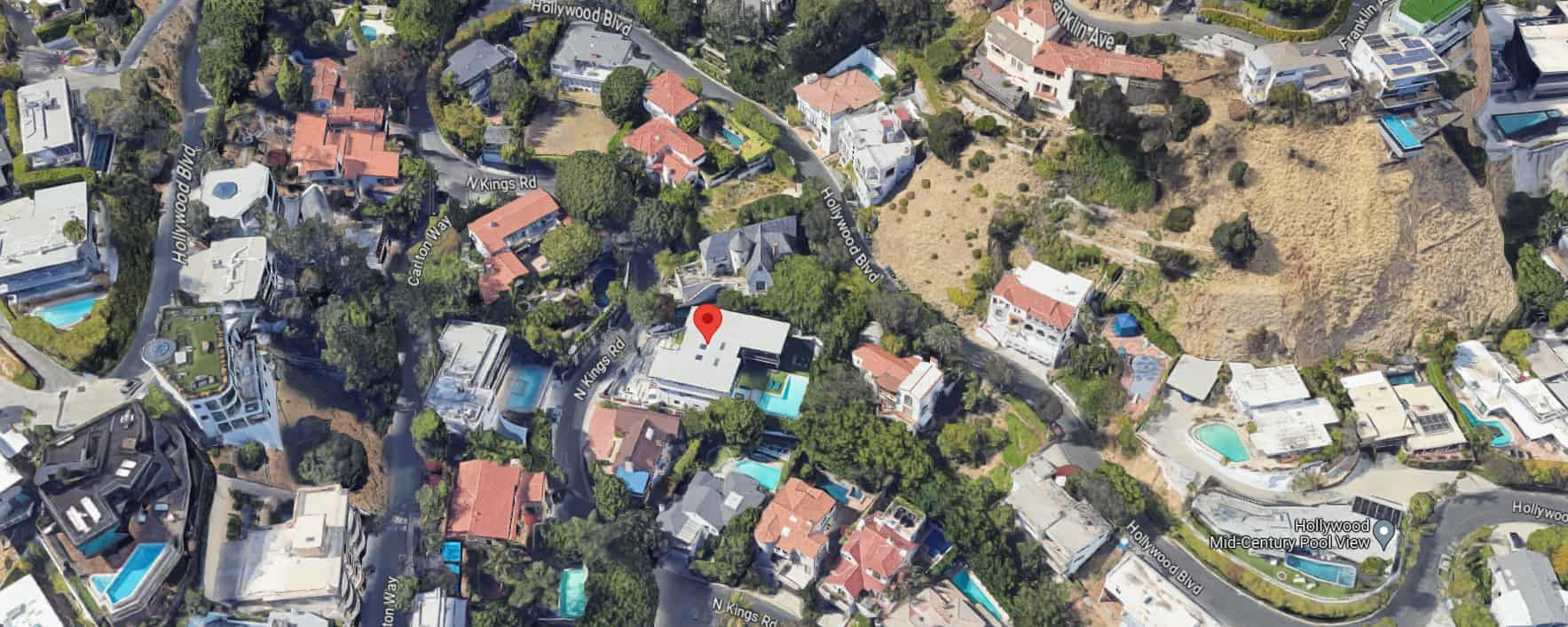 Adam Lambert's neighborhood
Additionally, the neighborhood boasts the former residences of Paris Hilton and former NBA star Elton Brand. Beverly Hills' allure stems from its luxurious real estate and vibrant community of celebrities, providing Lambert with both privacy and the chance for encounters with fellow stars in the entertainment industry.
Other Houses Owned by Adam Lambert
While this article primarily focuses on Adam Lambert's main residence, it's worth mentioning that the singer purchased a striking home overlooking the Sunset Strip in 2009. Listed at $3.35 million, this 3,799-square-foot property offers stunning Los Angeles city views, privacy, and a disappearing glass wall that leads to a terrace with an outdoor living area, fire pit, and a modern pool and spa.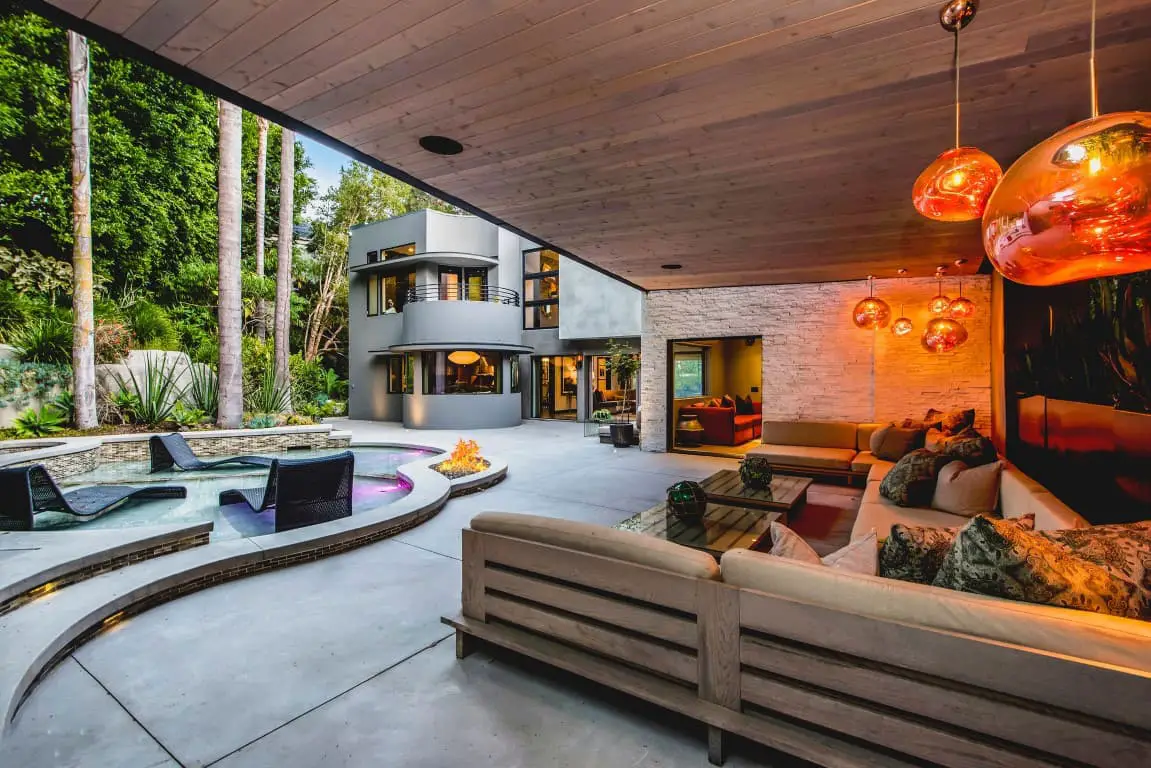 Adam Lambert's former Hollywood Hills house
The master suite features two balconies, a spacious dressing room, and a luxurious marble bath. Built in 1947, the house has been updated and includes a chef's kitchen, custom wine storage, and a separate studio with a private entrance.