Bad Bunny has officially joined the long list of celebrities who call the Hollywood Hills home. The Puerto Rican rapper and reggaeton phenomenon, born Benito Antonio Martinez Ocasio, has made quite a name for himself in the music industry, and his success is now being reflected in his living space.
Bad Bunny's Hollywood Hills house (Source: YouTube)
The Grammy-winning star recently purchased a stunning property in Hollywood Hills for an impressive $8.8 million, which he considers to be his first mansion in the United States.
Where Does Bad Bunny Live Now?
Bad Bunny lives at 1651 Haslam Terrace, Los Angeles. Built in 2005, the contemporary compound was last sold in 2015 for $8.2 million. Situated high up in the hills above the bustling Sunset Strip, the house wasn't listed for sale at the time of Bad Bunny's acquisition.
Combined, the guest and the main house have eight bedrooms, seven bathrooms, and total living space of over 7,000 square feet.
A Look at Bad Bunny's Stunning Design Choices
The main house features a sleek and modern design, with whitewashed interiors and lavish contemporary finishes. There are several living rooms, a dining room, and an island-equipped kitchen with Viking appliances.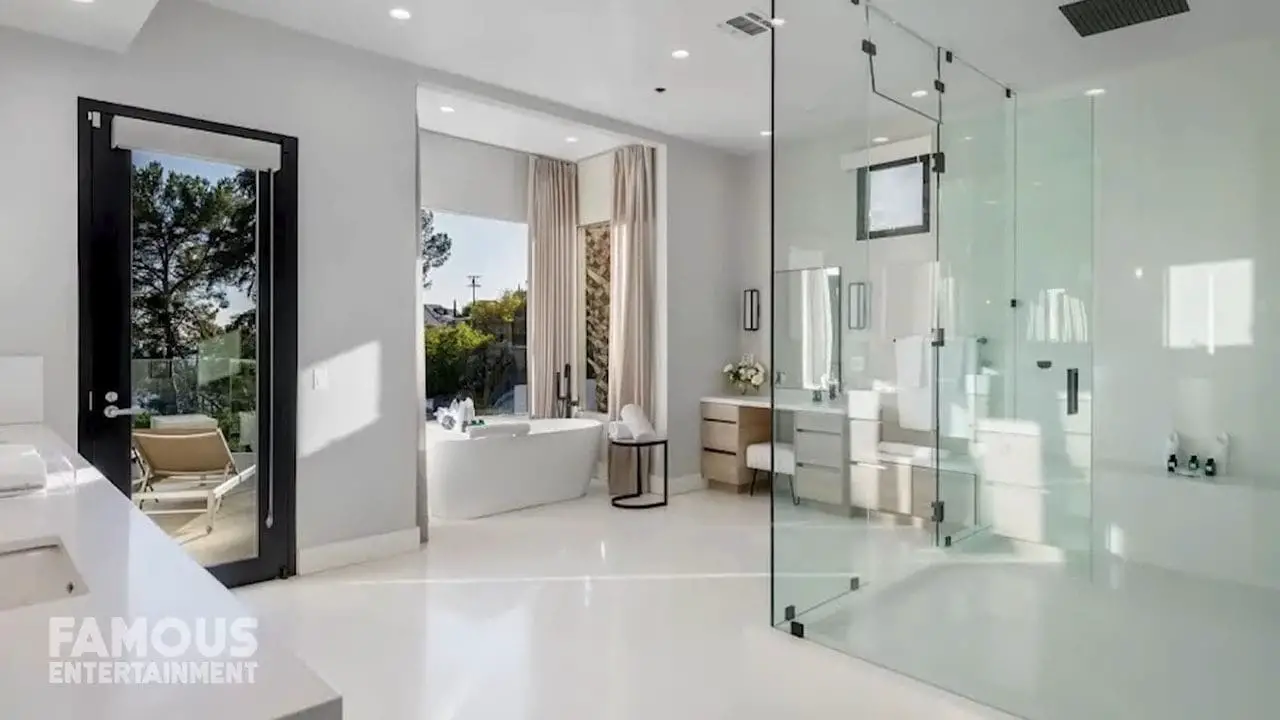 Bad Bunny's bathroom (Source: YouTube)
Upstairs, the master suite is the epitome of luxury living, defined by a strikingly huge closet complete with its own designated sitting area. The suite also has a private balcony and bathroom with a glass-enclosed shower and freestanding tub.
Bad Bunny's closet (Source: YouTube)
Bad Bunny's dining room (Source: YouTube)
From the Recording Studio to the Infinity Pool: A Tour of Bad Bunny's House
Bad Bunny's new home is surrounded by towering palm trees and tropical plants, giving it a luxury resort vibe that is perfect for an A-list star. Gates and an enormous wall shield the fortress-like residence from public view, and there is off-street parking for six or more cars.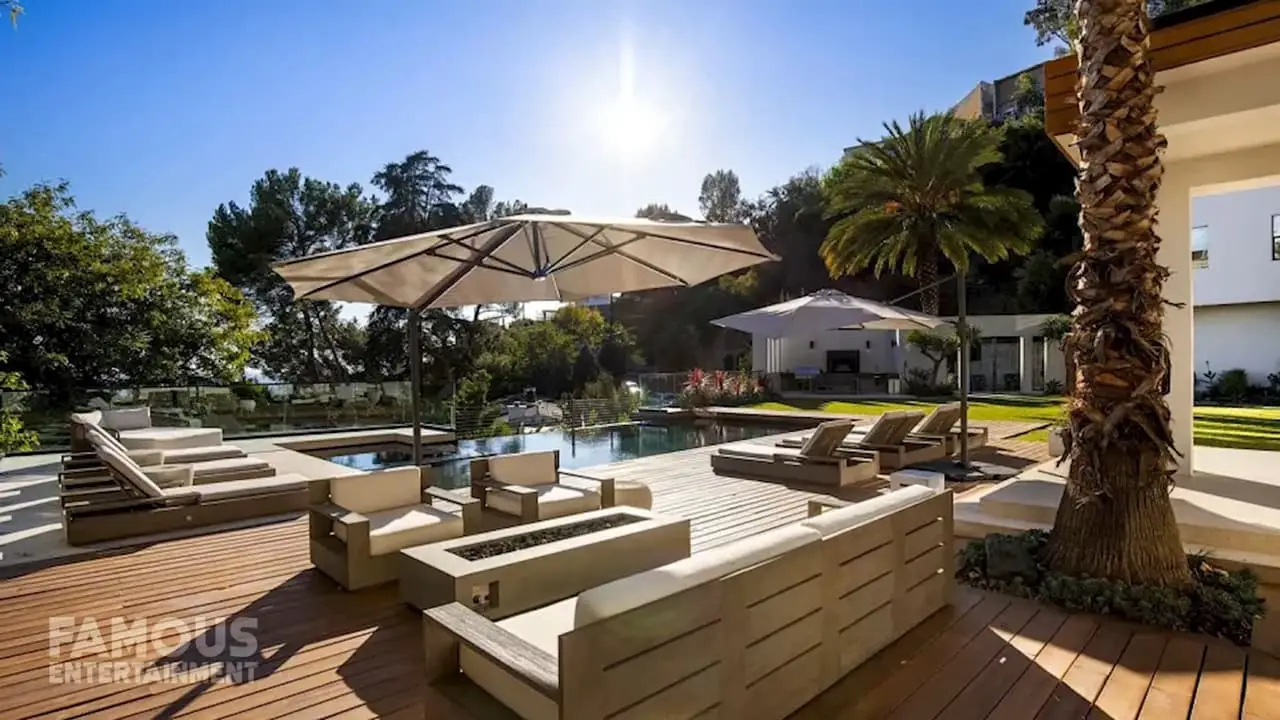 Bad Bunny's outdoor area (Source: YouTube)
The garage is attached to a two-story guesthouse that is a short walk away from the five-bedroom main house. The guesthouse has its own multiple-car garage and is big enough for a family. Towering palm trees and tropical plants decorate the outside, giving the mansion a luxury resort vibe.
Bad Bunny's pool (Source: YouTube)
One of the highlights of Bad Bunny's new home is the amenity that is rarely found in the crowded Hollywood Hills – a large and fully usable backyard. The half-acre property features a sprawling lawn, generous patios, an infinity-edge pool, and a BBQ center.
Bad Bunny's BBQ area (Source: YouTube)
Panoramic views take in the city lights, and the mature palm trees add a resort-quality ambiance to the place. The stunning outdoor lounge area is the perfect place to entertain guests, and the wooden deck and infinity-edge pool provide the perfect backdrop for a summer pool party.
Exploring Bad Bunny's Extravagant Hollywood Hills Neighborhood
The neighborhood of Bad Bunny's main residence is known for its celebrity residents, including other famous musicians and actors. The neighborhood is located in close proximity to the Sunset Strip, which is known for its nightlife and entertainment venues. Bad Bunny's house is reportedly located in a gated community, providing extra security and privacy.
Bad Bunny's house (Source: YouTube)
From Puerto Rico to Hollywood: Bad Bunny's Other Properties
Although Bad Bunny is now based in Los Angeles, he reportedly retains a main residence in San Juan, Puerto Rico. He has always been proud of his Puerto Rican roots and often incorporates them into his music.
Bad Bunny's Puerto Rico house (Source: YouTube)