When it comes to comedy, Bert Kreischer is undoubtedly one of the brightest stars in the entertainment industry. Known for his outrageous tales and infectious laughter, this stand-up comedian has been making waves for years. While his jokes may leave you in stitches, there's nothing funny about the sheer grandeur of Bert Kreischer's house in Santa Barbara. Join us on a journey through the world of celebrity real estate as we delve into the details of the residence that the comedy king calls home.
Bert Kreischer's interior
Where Does Bert Kreischer Live Now?
While Bert Kreischer has maintained a private life, leaving much of his residential information undisclosed, we do have some intriguing insights into his real estate portfolio. It's apparent that Bert divides his time between at least two residences. One of these is undoubtedly nestled in the scenic beauty of Santa Barbara, a place where his wife occasionally shares glimpses of their tranquil abode on her Instagram account. The allure of Santa Barbara's coastal charm seems to be irresistible to the Kreischer family, offering a serene escape from the bustling entertainment world. The other residence is likely situated in Los Angeles, where Bert Kreischer is known to film his popular podcasts. Although we don't have specific details about this second property, today we will delve deeper into his Santa Barbara house, a place that provides a window into the comedian's life and style.
Bert Kreischer's Interior
Upon entering the house, you are immediately greeted by a sense of contemporary elegance. The living room is dominated by a large black leather sofa, creating a cozy spot for Bert and his guests to unwind and enjoy conversations or watch a movie. The color scheme here is intentionally understated, with shades of grey and black, creating a calming and inviting atmosphere. The laminated flooring adds a touch of modernity to the room, while an out-of-focus door in the background adds depth and intrigue to this welcoming space.
Bert Kreischer's living room
One of the standout features of Bert's Santa Barbara residence is undoubtedly the kitchen. The kitchen features green cabinets that add a pop of color and personality to the space. The choice of a black countertop provides a striking contrast, and the combination creates a visually appealing ambiance. The walls are painted in a light grey hue, which not only complements the green cabinets but also enhances the overall brightness of the kitchen. In the center of the room, a spacious island countertop takes center stage. It's adorned with two chairs, one wicker and one wooden, providing a comfortable spot for casual dining or sipping morning coffee. Atop the countertop, you'll find an array of neatly arranged white dishes, adding a touch of elegance to this functional space. Adjacent to the island, a sink is thoughtfully placed, complete with cupboards above for storage and drawers below for utensils and cleaning supplies.
Bert Kreischer's kitchen
Moving on from the kitchen, Bert's house boasts a delightful wet bar. This cozy nook is perfect for mixing drinks and enjoying intimate gatherings. Wooden cupboards and shelves make it a welcoming space, and the brown-tiled floor, adorned with black accents, adds warmth to the room. The wet bar's color scheme features grey and white as the dominant hues, with subtle hints of brown from the furniture pieces and floor tiles. While the lighting is naturally dimmed due to being indoors, it provides just enough illumination to highlight the details within the room clearly.
Bert Kreischer's wet bar
Bert Kreischer's Outdoor Area
Beyond the stylish interior, Bert Kreischer's house in Santa Barbara extends its charm to the outdoor area. The white facade of the house is accented with grey details, including grey bricks and outdoor furniture. It's a testament to Santa Barbara's coastal charm, creating a welcoming atmosphere for outdoor gatherings. One notable feature of the outdoor space is a BBQ area with a pizza oven that provides the ideal setting for alfresco dining and entertaining guests on warm Santa Barbara evenings.
Bert Kreischer's outdoor area
Bert Kreischer's BBQ area
Other Houses Owned by Bert Kreischer
While our focus today is Bert Kreischer's Santa Barbara residence, it's worth noting that the comedian is rumored to own another property, presumably in Los Angeles. This second location might serve as a filming location for his popular podcasts. Unfortunately, details about this second property remain elusive.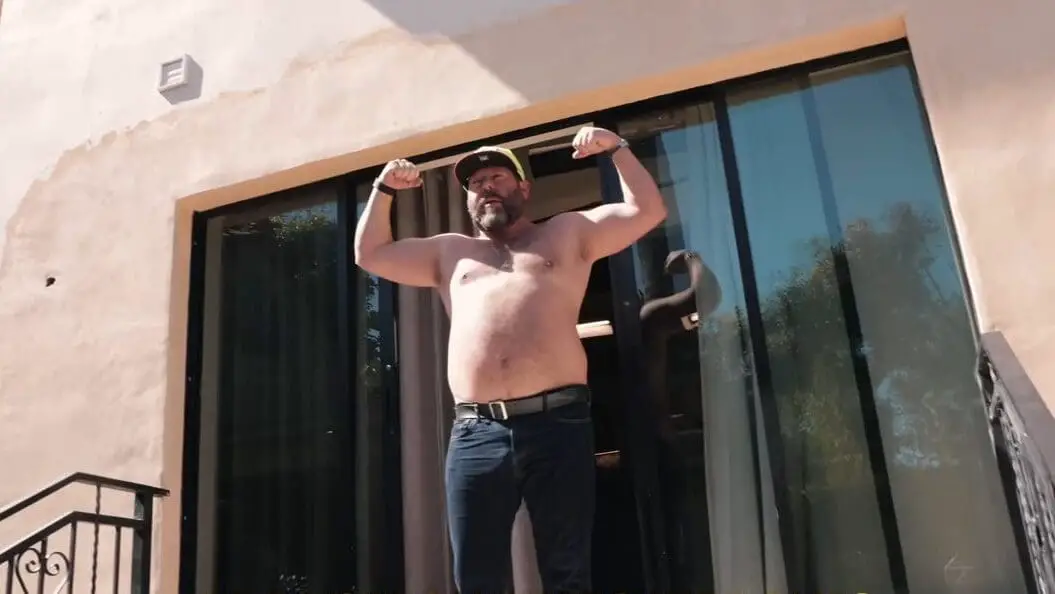 Bert Kreischer's other house