The Bibliotheca Alexandrina, located in El Shtaby, Egypt, is an architectural marvel that pays homage to the legendary Library of Alexandria, which once served as an epicenter for knowledge and learning in the ancient world. Designed with contemporary flair and attention to historical detail, this monumental construction bridges the divide between past and future.
Work on the Bibliotheca Alexandrina began in the late 20th century, with construction commencing in 1995. It took nearly six years of meticulous design, planning, and engineering to bring this unique architectural vision to life. Finally, in 16 October 2002, the world witnessed the opening of this exceptional symbol of Egypt's commitment to knowledge, culture, and international dialogue.
The Norwegian architectural firm Snøhetta was entrusted with this ambitious project. In 1988, UNESCO had organized a competition to choose the best design. That competition was won by the Norwegian architectural office associated with Austrian Architect . Renowned for their forward-thinking approach and dedication to blending functionality with aesthetics, Snøhetta conceptualized an innovative design for the library, combining elements of contemporary and ancient Egyptian architectural styles.
One of the most striking features of the Bibliotheca Alexandrina is its circular, sun-disk-like shape, reminiscent of the ancient Egyptian symbol for eternity. This intriguing design element is not merely aesthetic, it also serves to maximize natural light inside the building. The 160-meter diameter circular structure juts out towards the Mediterranean, reflecting the rising sun on its 32,000-square-meter roof embedded with eye-like windows, fostering an ethereal ambience within.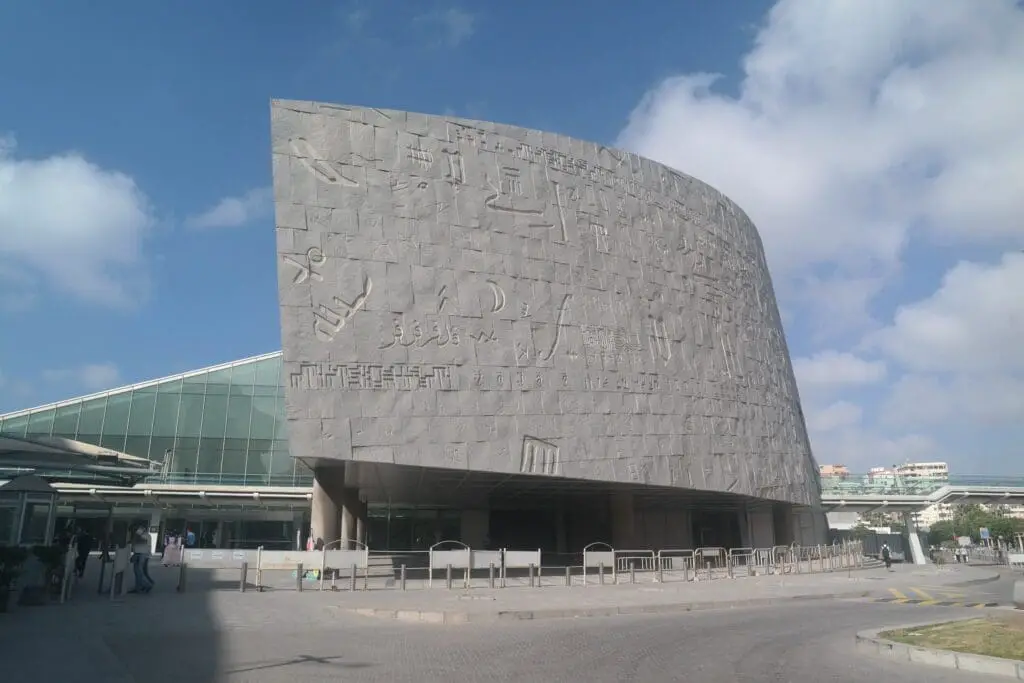 The building's impressive size – spanning across 80,000 square meters in total floor area, and standing at a height of 32 meters – further amplifies its presence in the cityscape. Interestingly, the construction process incurred a significant cost of $220 million, a testament to the monumental scale and the meticulous level of detail involved in its creation.
The function of Bibliotheca Alexandrina extends beyond its initial purpose as a library. Housing millions of books in its open shelves, it not only invites global scholars, but also serves as a vibrant cultural hub. Within its confines lie a planetarium, several museums, art galleries, and a conference center, fostering a thriving space for intellectual exploration, dialogue, and cultural exchange.
Residing at the heart of El Shtaby, Egypt, the library's address is: Bibliotheca Alexandrina, Chatby 21526, Alexandria, Egypt. It operates from Sunday to Thursday, between the hours of 10:00 am to 2:00 pm, while on Friday it is closed and for Saturday it operates between 10:00 am to 02:00 pm.
The Bibliotheca Alexandrina has evolved into an indispensable part of Egypt's cultural fabric, attracting scholars, students, and curious minds from around the globe. To find out more about this modern interpretation of the ancient intellectual powerhouse, visit the library's official website at www.bibalex.org.
Though it's impossible to replicate the grandeur and the vast intellectual wealth of the original Library of Alexandria, the Bibliotheca Alexandrina stands as an earnest tribute, embodying the spirit of inquiry and wisdom that once illuminated the ancient world. This marvel in concrete, glass, and steel bridges generations of seekers, standing as a beacon of knowledge and dialogue amidst the shifting sands of time.
Recent renovations
In May, 2018 the library was re-opened to the public after undergoing a significant renovation. The renovation was necessary due to the damage caused by the heinous attack on the nearby Cairo Police HQ in 2014. As a result of renovation, the damage has been successfully removed, restoring the library to its former glory.
The renovation project was made possible through a generous grant of 33 million pounds from Sheikh Mohamed bin Sultan al Qassemi, the ruler of Sharjah.
Further Information On The Bibliotheca Alexandrina
Date Construction started: 1995
Date Opened: 2002
Cost of building: $220 million
Architect: Snøhetta
Architectural style: Contemporary architecture
Size or floor area: 80,000
Height: 32 meters
Function or purpose: public library
Address: Bibliotheca Alexandrina, Chatby 21526, Alexandria, Egypt
Phone number: +20 3 4839999
Website: www.bibalex.org
Opening hours: Sunday to Thursday, between the hours of 10:00 am to 2:00 pm, while on Friday it is closed and for Saturday it operates between 10:00 am to 02:00 pm.