Born and raised in Georgia, Kandi Burruss started her career in the entertainment industry when she became part of the female music group Xscape in 1992. Since then, she rose to prominence as a singer, TV personality, and entrepreneur. She also starred in Bravo TV's The Real Housewives of Atlanta. She has also won several awards, such as Grammys for Best R&B Song, The Masked Singer, and 5th place in Celebrity Big Brother 2nd season. Her current net worth is estimated at $30 million, which allowed her to splurge a fortune on a mansion.
For this post, we're going to look at Kandi Burruss' home.
Where does Kandi Burruss live now?
Kandi Burruss currently lives at 525 Carondelett Cv SW, Atlanta, GA. The sprawling mansion has been her home since 2012, and it's where she, her husband Todd Tucker, and 3 children live.
In this Kandi Burruss house tour, we'll explore the jaw-dropping features of her beautiful residence.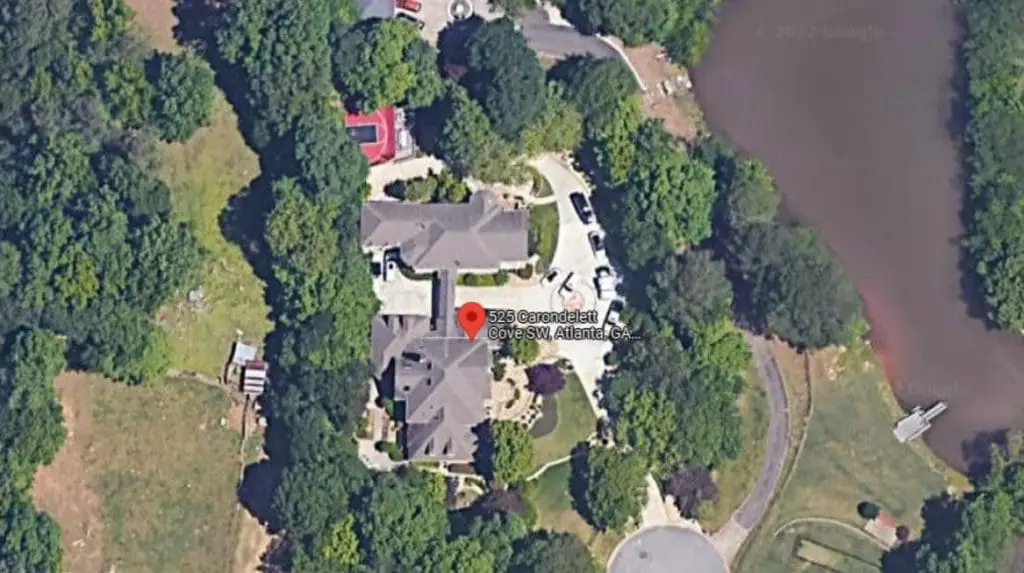 Kandi Burruss' House Address
Kandi's property is located at 525 Carondelett Cove SW, Atlanta, GA. It's a 7,000+ square feet single-family dwelling unit that was built in 1996. It was initially listed at a little over $1 Million. But when she purchased the estate in 2012, she got the deal for $503,000. Then, she spent over $200,000 on renovation. The estate is currently valued at $1.7 Million.
The mansion has 7 bedrooms, 8.5 bathrooms, and other luxury features, such as an elevator, a separate guest house, an indoor heated pool with a bar, multiple garages, and a state-of-the-art home theater with a full bar.
Kandi Burruss house interior
Kandi believes that it's not necessary to spend a fortune to have a gorgeous interior design, albeit she also wouldn't hesitate to splurge on some luxury items she really likes. This design principle leads to her home interior having a beautiful combination of new and vintage features from boutique shops, clearance sale stores, and even Craigslist.
When you enter the house, you'll see a glamorous foyer, a curved staircase, a chandelier, double-height ceilings, and marble floors.
The great room is one of the best areas of the property with its oversized area and seating options. It's big enough for all of The Real Housewives cast to hang out. The area has a tufted furniture set, which includes sectional sofas, armchairs, and ottomans. There's a fuschia center table, huge TV, white and pink throw pillows, and a fireplace flanked with shelves. A huge framed artwork was hung on one side of the wall, and it features lines that are actually words from a poem when viewed closely using a magnifying glass.
Kandi also dedicated one wall of her house to contain all her vintage black and white photos of her with celebrities. This area is one of her home's highlights.
Her music room boasts a piano wrapped in red crocodile print. The ceiling and walls are also covered in the same material. She also has a pair of red chairs, which she got from Craigslist.
The dining room flaunts an elegant 6-seater round table, which she got from a clearance sale in North Carolina. She pairs the table with white chairs with gold accents. A chandelier hangs above the table, and another set of huge framed artworks grace the wall.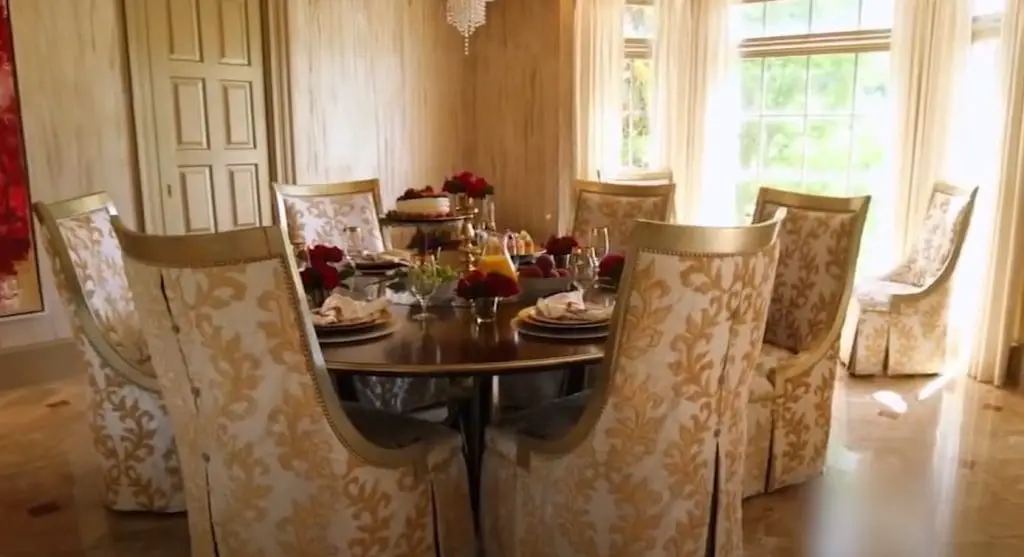 As a homemaker, Kandi also takes meal times with her family seriously. Her kitchen area shows off a mix of elegance and function with its appliances, marble kitchen island with storage and sink, shelves, and an additional 6-seater rectangular table.
The master suite features an opulent chandelier, a seating area with a fireplace, and a lot of gold accents. The master bath has a walk-in closet, a glass shower area, and a tub that sits next to a black wall with white glitter.
Exterior
When viewed from the outside, Kandi's house exudes elegance and a homey vibe, with its double-height arched portico, stone landscaping, and well-manicured lawn with the right mix of flowers, shrubs, and trees. The stone, brick, and concrete facade also added a sense of stability and security for the residents.
Kandi Burruss property's Atlanta, GA neighborhood vibe
Atlanta is the capital of Georgia, the country's "Peach State." And Georgia has always been Kandi's home. It's a state teeming with history, beautiful landscapes, and shopping destinations. This is where she thrived in various aspects, be it as a performer, housewife, or entrepreneur. In between her music gigs and TV appearances, she also overlooks Blaze Steak and Seafood, a bistro she opened with her husband.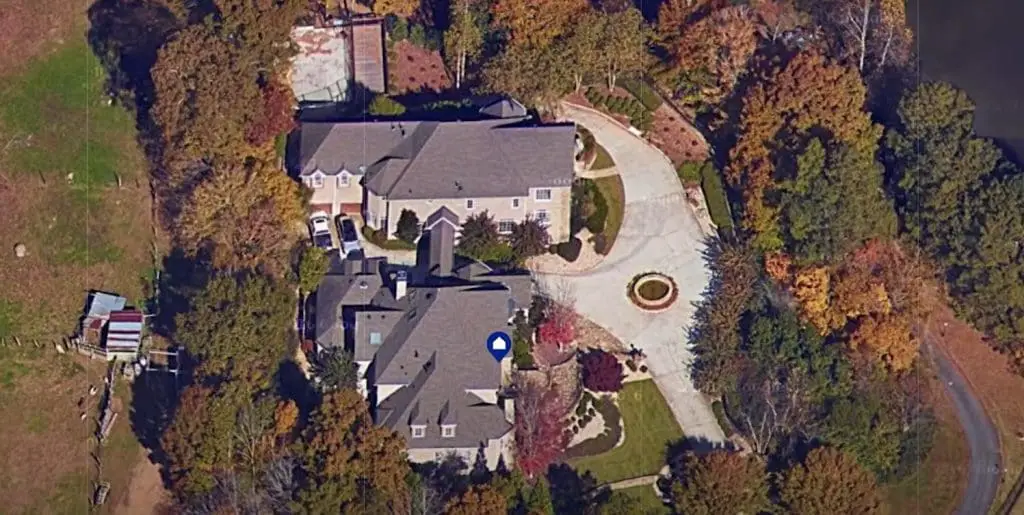 Kandi's home is also strategically located. It's close enough to the city to ensure access to establishments, while far enough from the busy metro for her to enjoy privacy. It's also near the Destiny Faith Church.
Atlanta is also a great city to live in and raise a family. It is home to some of the country's top attractions, such as the Atlanta Botanical Garden, Martin Luther King, Jr. National Historical Park, and World of Coca-Cola. Residents and tourists alike can also visit the iconic Piedmont Park, Atlanta's largest and oldest park, which is also the site of the Battle at Peachtree Creek during the Civil War. Atlanta History Center is another perfect place to visit. It's a complex that includes several museums, farms, and historic gardens. The Stone Mountain Peak, another must-visit site, features an 863-foot-high mountain of exposed granite with a five-mile circumference.
Find Kandi Burruss' home in Atlanta, Georgia fascinating? Kandi is famous for her unique taste. And she also has a knack for turning items from clearance stores stunning through her DIY projects, which is something worth emulating. But if you're still looking for more design inspiration, browse our blog for more celebrity house tours.