Tina Turner's house, known as Villa Algonquin, is not merely a residence but a testament to an enduring love story. In 2013, Tina Turner, the globally acclaimed music icon, and her partner, the illustrious German actor and music producer Erwin Bach, embarked on a journey that led them to this magnificent haven. In this article, we'll delve into the captivating narrative of this hidden gem, exploring the essence of Tina Turner's Swiss sanctuary and the life it cradles.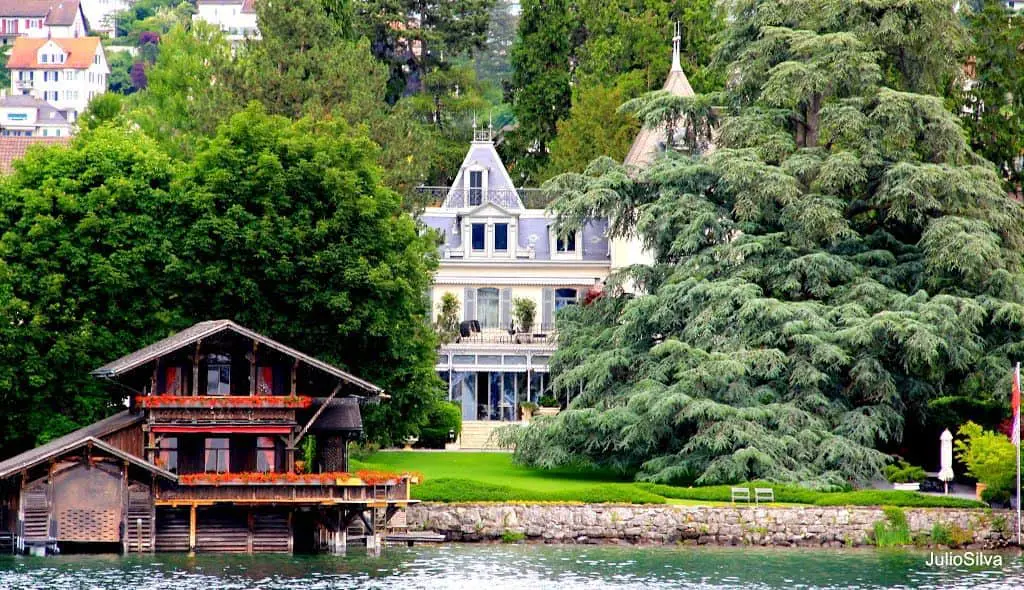 Tina Turner's house
Where Does Tina Turner Lived?
The address of Tina Turner's house is Tina's house, Seestrasse 180, 8700 Küsnacht, Switzerland. It all began in 1998, when the legendary Tina Turner and her partner, the renowned German actor and music producer Erwin Bach, found themselves drawn to the charm of Villa Algonquin. Over the years, they chose to rent this captivating abode due to strict Swiss regulations that limited foreign property ownership.
In 2013, Tina Turner became a Swiss citizen, a pivotal moment that would change the fate of Villa Algonquin forever. With her newfound citizenship, she seized the opportunity to make this dreamlike estate her own. For a reported $76 million, Villa Algonquin was officially hers, a testimony to her unwavering devotion to Switzerland and the place where she spent her last days of her life.
Features of Tina Turner's House
Tina Turner's house is a large, white house that is designed in the Victorian architectural style. This house features a turret, which is a small tower that projects vertically from the building. This is a common feature in Victorian architecture. The house also has a wrap-around porch with green trim and a green awning, providing a shaded, outdoor area and adding to the overall aesthetic appeal of the house.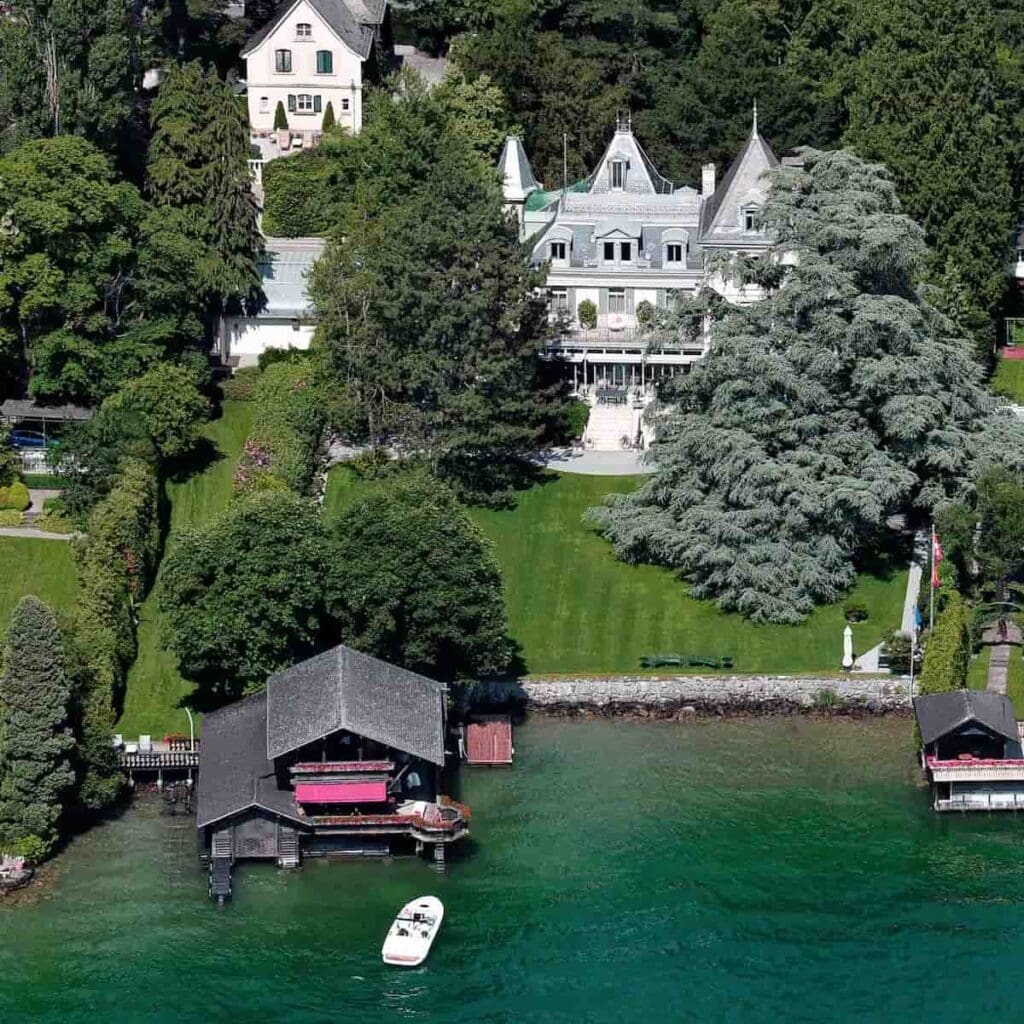 Tina Turner's house
The steeply pitched roof, another characteristic of Victorian-style homes, allows for additional living space or storage in the attic area. The house has multiple windows with green shutters, allowing for ample natural light to enter the home while also providing an option for privacy. The house is set back from the street and is surrounded by a lawn and trees, creating a sense of privacy. The property in Küsnacht, directly on Lake Zurich, covers an impressive 5,521 square meters. The magnificent country house also includes a two-story boathouse and a large garden.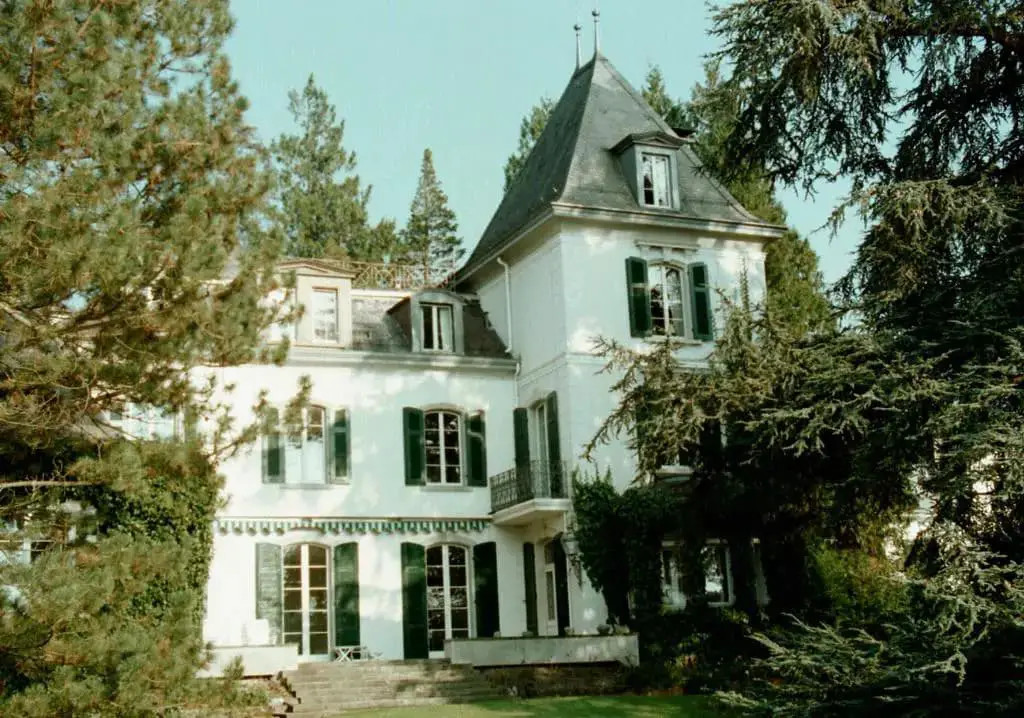 The exterior of Tina Turner's house
Tina Turner's house, where traditional architecture meets ornate design, creates an entryway that is as welcoming as it is aesthetically pleasing. The gate is made of ornately designed wrought iron and has the word "Algonquin" written on it in gold lettering. This gate is flanked by two stone pillars, each topped with a lantern, adding a touch of elegance and providing illumination. The house itself is designed in a traditional style, featuring a steep roof and dormer windows, which are common in many European architectural styles.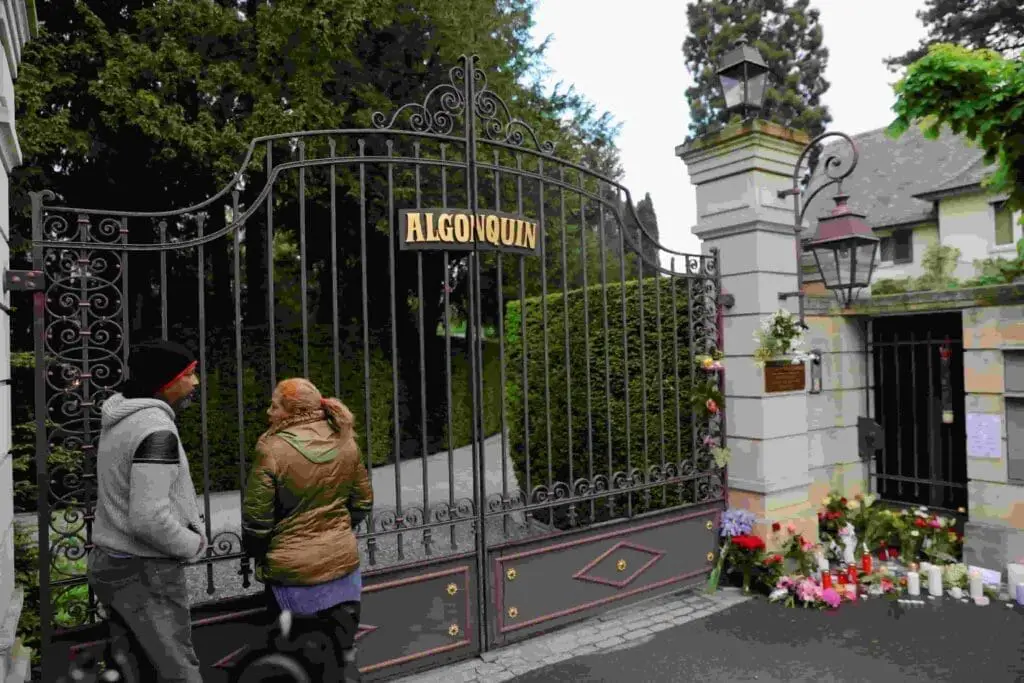 Tina Turner's entryway
Tina Turner's Neighborhood
Küsnacht, Tina Turner's chosen Swiss locale, is a high-end neighborhood that has also attracted other notable personalities. Celebrities such as Phil Collins and Tina's close friend and fashion designer Giorgio Armani own residences in the vicinity. This star-studded neighborhood offers an exclusive and secure environment, ideal for those who value their privacy and serenity.
Other Properties Owned by Tina Turner
Villa Algonquin is not the sole jewel in the couple's collection. In a remarkable move, the legendary singer, along with her husband Erwin Bach, acquired a stunning $76 million retreat located along the tranquil waters of Lake Zurich. This vast estate spans a staggering 260,000 square feet and comprises ten unique structures, offering a serene escape from the world's hustle and bustle.
Tina Turner's weekend retreat house
Tina Turner's journey was nothing short of extraordinary. Born in Nutbush, Tennessee, she later moved to St. Louis in her teens before making her way to California to chase her dreams of musical stardom. Her path led her to spend about 25 years in the Los Angeles area. In 1986, a momentous decision brought her to Europe, where she has made her home ever since. Beginning in London, she later moved with her German boyfriend to Cologne, Germany. However, since the mid-1990s, Tina has chosen to split her time between Zurich, Switzerland, and the charming city of Nice on the French Côte d'Azur. Her house in France is especially dear to her, as it was constructed to her specifications and meticulously decorated by the iconic singer herself.
Tina Turner's house in France