In the world of luxury real estate, few names carry as much prestige as Heather and Dr. Terry Dubrow. Known for their opulent tastes and flair for the extravagant, the power couple has once again set their sights on a new dream home. Heather Dubrow, the renowned actress, television personality, and real estate connoisseur, has made quite a splash in the world of luxury living with her stunning abode. Let's dive right into the story behind Heather Dubrow's house, situated in the picturesque neighborhood of Beverly Hills.
Heather Dubrow's house
Where Does Heather Dubrow Live Now?
Heather Dubrow currently lives at 1501 Tower Grove Dr, Beverly Hills, California. After making headlines with the jaw-dropping sale of their Orange County mega-mansion, humorously referred to as "Château Dubrow," for an astounding $55 million, the Dubrows have shifted their attention to a breathtaking Beverly Hills estate. The 8,997-square-foot mansion, nestled atop 7.5 acres of prime real estate, boasts its panoramic views and storied history, it's no wonder that this property commanded a staggering $29.5 million asking price. However, in a remarkable twist of fate, the Dubrows secured the estate for a comparatively modest $16.1 million, signaling a remarkable real estate coup.
Heather Dubrow's Former Newport Beach House
The Dubrows' real estate journey has been nothing short of extraordinary. From their legendary "Dubrow Chateau" in Newport Beach, a 22,000-square-foot mansion that became a character in its own right on "The Real Housewives of Orange County," to their current Beverly Hills mansion project, their commitment to luxury living knows no bounds.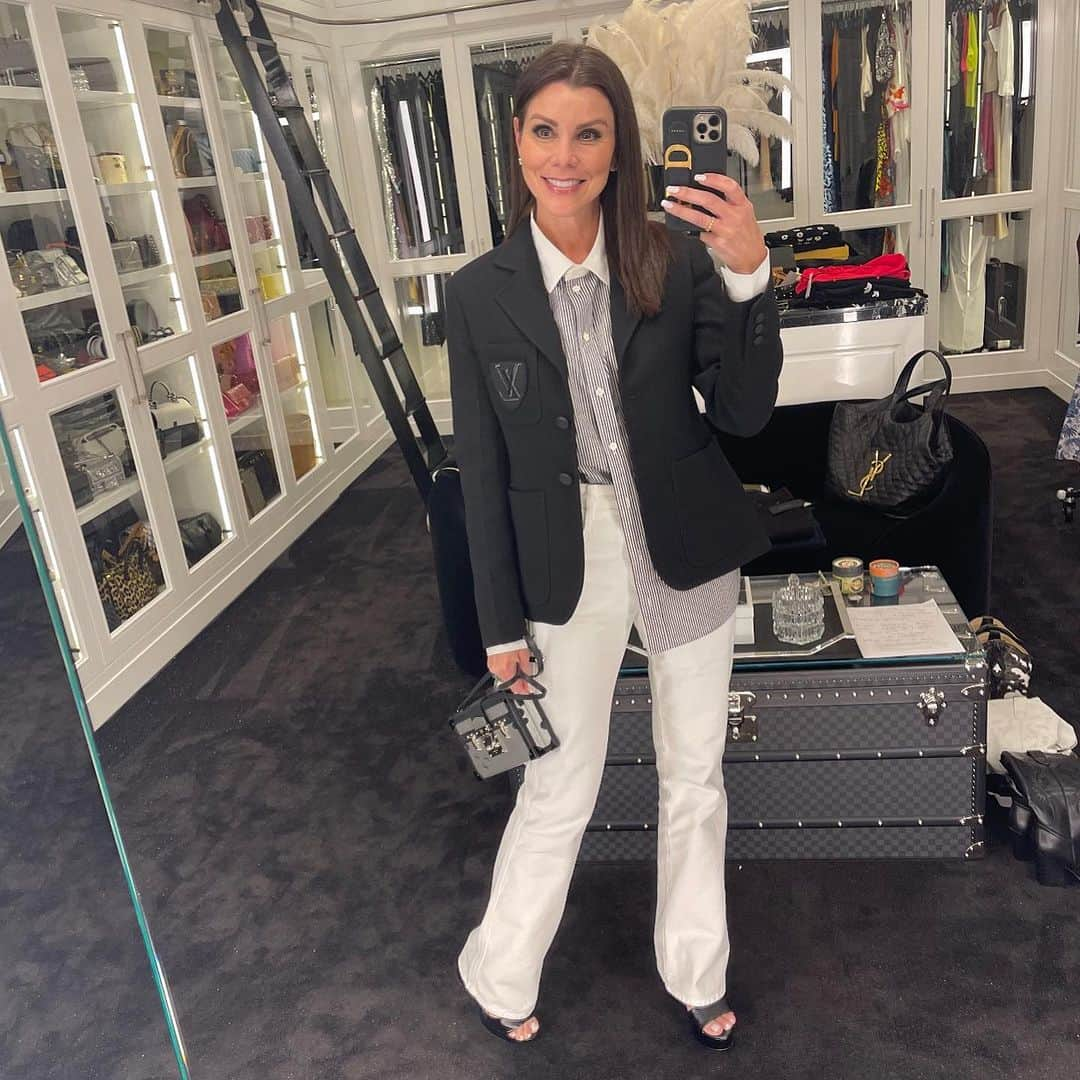 Heather Dubrow's closet in her former house
Their Newport Beach mansion featured opulent amenities such as an infinity pool with awe-inspiring views, a custom-etched glass mural and a massive gong in the backyard. The attention to detail and commitment to luxury were apparent in every corner of their former abode. Heather's meticulous design sense was showcased as she curated a mostly neutral color palette with textures of stone, wood, and leather. The result was a harmonious blend of elegance and comfort, with repeating elements that tied the entire estate together.
The outdoor area of Heather Dubrow's former house
Heather Dubrow's Plans for Her New Beverly Hills House
The Dubrows have big plans for their new Beverly Hills mansion, envisioning a three-year renovation journey to realize Heather's vision. Situated conveniently near the iconic Beverly Hills Hotel, where the couple tied the knot in 1999, this historic property is set to become their latest showpiece. With their recent acquisition of the Beverly Hills mansion, the Dubrows have once again demonstrated their prowess in the world of luxury real estate. As they embark on the journey of transforming this historic property into their dream home, fans and admirers can only anticipate another masterful creation by the dynamic couple.
Heather Dubrow's house before renovation
Other Houses Owned by Heather Dubrow
This latest purchase is just one in a series of high-profile real estate moves for the Dubrows. In 2022, they acquired a penthouse in Century City, adding to their already impressive portfolio of properties, which includes a home in Orange County, where Heather films "The Real Housewives." In an interview, Heather Dubrow expressed her excitement about the acquisition, stating that they tried to buy five properties all over Cabo, Newport Beach, Beverly Hills, Palm Springs, but they landed at the most iconic Hollywood estate. The couple's real estate endeavors have also led them to become neighbors with none other than Chrissy Teigen and John Legend.