Welcome to Jennifer Lawrence's house in Beverly Hills, a stunning mansion that provides a glimpse into the life of the beloved Hollywood star. Jennifer Lawrence, the talented and acclaimed actress who has captured hearts with her incredible performances on the silver screen.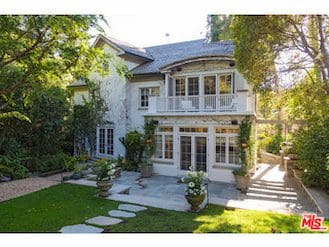 The entry to Jennifer Lawrence's house
Known for her down-to-earth personality and remarkable acting skills, Jennifer's rise to stardom has been nothing short of inspiring. But today, we are here to delve into another aspect of her life: her stunning house in the heart of Beverly Hills.
Where Does Jennifer Lawrence Live Now?
Jennifer Lawrence lives at 9555 Lime Orchard Rd, Beverly Hills, CA. Purchased in 2014 for $8,225 million, this luxurious abode is a reflection of her hard-earned success in the entertainment industry. Spanning over 5,500 square feet, this mansion boasts five bedrooms and five-and-a-half bathrooms.
A Peek into the Interior of Jennifer Lawrence's House
The interior of Jennifer Lawrence's magnificent mansion is an exquisite blend of vintage charm and modern luxury, showcasing the actress's impeccable taste and style. As soon as you step inside the grand foyer, you are greeted by the white staircase made of wood, leading up to the next floor. On the left side is a table with a marble top. At the bottom of the stairs is a piece of artwork that adds color and texture to this space. The walls are painted white and there is plenty of natural light coming from outside, making this area look bright and inviting.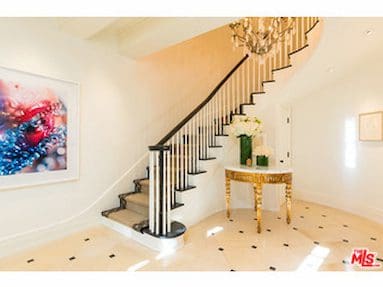 Jennifer Lawrence's foyer
The living spaces exude a timeless charm, reminiscent of an old-world living room with a touch of Hollywood glamor. The main focus of this cozy living room is a large, comfortable couch in the center of the room that has two cushions and an armrest on each side. In front of the couch is a coffee table with a light-colored vase sitting atop it. To one side there is also an ornate fireplace surrounded by framed artwork hung up on the wall above it. A loveseat sits near one window, while another window can be seen across from it, letting natural light into this inviting space. There are several pillows scattered around for added comfort and style placed strategically throughout to bring life to this homey atmosphere.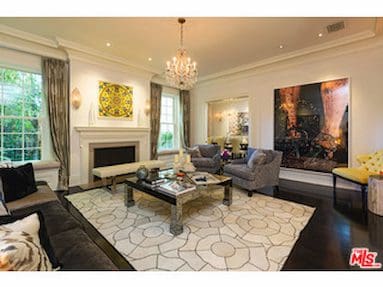 Jennifer Lawrence's living room
Adjacent to the living room is a formal dining room that further showcases the home's attention to detail and tasteful design. The walls are painted in a light shade of white, with several framed pictures hung up on the wall for decoration. In the center of the room is a large wooden table surrounded by eight chairs, all with cushioned seats and backs for comfort. On top of the table sits an elegant candle that adds to the warm atmosphere of this space. A window lets natural light into this area, while two lamps provide additional illumination when needed.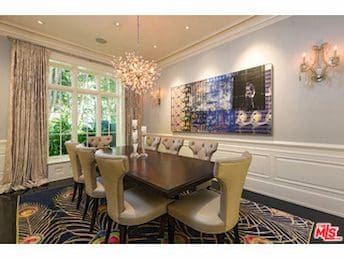 Jennifer Lawrence's dining room
The gourmet kitchen is a culinary haven with white cabinets and marble countertops that any chef would envy. In front of the window is an island with a sink and faucet. To the right of this area is another countertop with more cabinetry underneath it that houses various items such as plates and glasses. Further back in the room there is an area, a breakfast nook, with furniture consisting of a table and chair set up against one wall near some shelves filled with books or other decorative items. Above them hangs an ornate vase that adds to the overall aesthetic appeal of this space.
Jennifer Lawrence's kitchen
As we ascend the elegant black staircase to the second floor, we discover the heart of comfort and relaxation—the master suite. The bed is covered with white linens and has several pillows arranged neatly on top. On either side of the bed are two nightstands, each topped with a lampshade to provide soft lighting during nighttime hours. In addition to this, there is also a chandelier hanging from the ceiling above that features candles as its light source. The flooring appears to be hardwood and adds warmth to the room's overall atmosphere. Altogether, this bedroom provides an inviting space where one can relax after a long day or spend quality time with loved ones.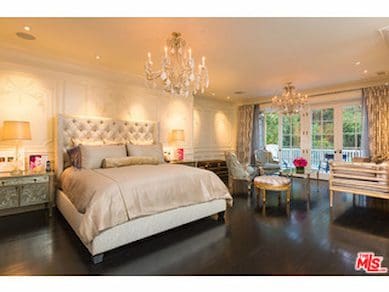 Jennifer Lawrence's bedroom
The master ensuite bathroom is equally lavish, boasting various fixtures and furniture, including a large mirror mounted on the wall above an elegant bathtub. To the right of the tub is a countertop made of white material, which has several cabinets beneath it for storage. On top of the countertop sits a sink with two faucets and handles in chrome finish. Further back in the room there is also what appears to be chest of drawers against one wall, providing additional storage space for toiletries or other items needed in the bathroom.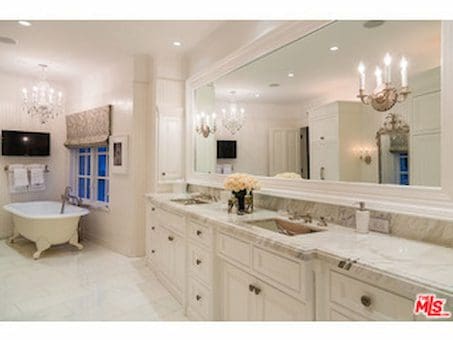 Jennifer Lawrence's bathroom
Of course, no Hollywood star's mansion is complete without a luxurious walk-in closet, and Jennifer Lawrence's is no exception. This massive closet is not only a practical storage space but also serves as a personal sanctuary. Complete with a dedicated hair and makeup station, it allows Jennifer to prepare for her high-profile appearances with ease and privacy.
Jennifer Lawrence's walk-in closet
Jennifer Lawrence's Outdoor Extravaganza
The outdoor area of Jennifer Lawrence's magnificent mansion is a lush and secluded oasis, providing the perfect escape from the spotlight of Hollywood and offering a tranquil retreat for the acclaimed actress and her guests. Upon stepping into the backyard, one is greeted by a stunning courtyard adorned with a soothing koi pond. The sound of gently trickling water and the vibrant colors of the graceful koi fish create a serene and peaceful ambiance, making it an ideal spot for relaxation and reflection.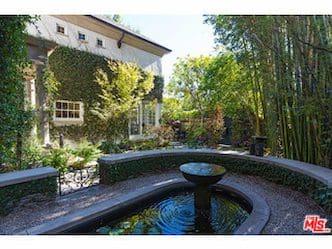 Jennifer Lawrence's koi pond
The courtyard is a picturesque setting, making it a favorite spot for Jennifer to unwind, read a book, or simply enjoy the beauty of nature. Surrounded by mature trees from every angle, the space offers a sense of seclusion, ensuring utmost privacy for the star and her guests.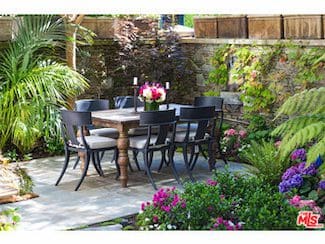 Jennifer Lawrence's outdoor sitting area
A flagstone path leads from the courtyard to the heart of the outdoor area, where a lap pool awaits. The pool is an inviting feature that beckons guests to take a refreshing dip during warm Los Angeles days. Nestled amidst the verdant greenery, the pool offers a private and serene space for Jennifer to enjoy leisurely swims or bask in the sun with loved ones.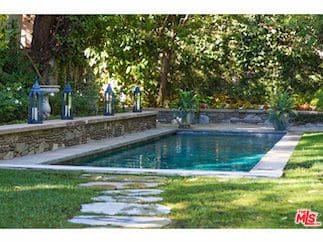 Jennifer Lawrence's pool
The abundance of mature trees not only provides shade and privacy but also enhances the charm of the outdoor space. The natural beauty of the surroundings creates an enchanting atmosphere, making it a delightful setting for outdoor gatherings and celebrations.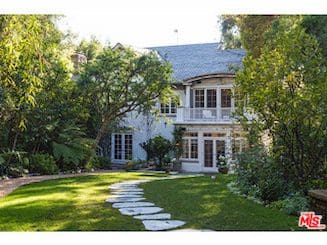 Jennifer Lawrence's patio
The outdoor area is thoughtfully designed to complement the interior of the mansion, seamlessly extending the sense of elegance and sophistication beyond the walls. Whether hosting intimate gatherings or enjoying quiet moments alone, the outdoor space allows Jennifer to savor the beauty of nature while still being shielded from prying eyes.
Outside of Jennifer Lawrence's house
Jennifer Lawrence's Neighbors
Jennifer Lawrence's mansion is situated in a super exclusive gated community in the Beverly Hills area of Los Angeles. The neighborhood is known for being a celebrity hotspot, and some of Jennifer Lawrence's notable neighbors include Cameron Diaz, Ashton Kutcher and Mila Kunis, Adele, etc. These are just a few of the famous personalities who share the exclusive neighborhood with Jennifer Lawrence. The community's allure lies in its privacy and luxury, making it a preferred location for Hollywood's elite to call home.
Jennifer Lawrence's neighborhood
Other Houses Owned by Jennifer Lawrence
Apart from her stunning Beverly Hills mansion, Jennifer Lawrence also possesses a remarkable condo in Manhattan's exclusive Tribeca neighborhood. This luxurious property, purchased for $9 million in January 2017, is a celebrity hotspot, boasting high-profile neighbors like Harry Styles, Justin Timberlake, Jessica Biel, Jake Gyllenhaal, Meg Ryan, and Rebel Wilson. With upscale amenities, privacy, and a chic design, this condo serves as her stylish East Coast retreat.
Jennifer Lawrence's New York house
Jennifer Lawrence's Kentucky house holds a special place in her heart. Located in the upscale suburban neighborhood of Indian Hills on the east end of Louisville, this 4,079-square-foot home on 0.35-acre lot features five bedrooms, 3-and-a-half bathrooms, and a swimming pool. Purchased by her family in 2003 for $440,000, it symbolizes her roots and memories of growing up in the heart of Kentucky.
Jennifer Lawrence's Kentucky house