Michigan, known for its vast Great Lakes shoreline and historic automotive heritage, is also home to some of the nation's most opulent estates. In 2023, the state's luxury real estate market has scaled new heights, blending architectural magnificence with natural beauty. From the pristine waterfront retreats of Lake Michigan to the upscale enclaves of Bloomfield Hills, the homes on this list epitomize the pinnacle of lavish living. They are not just residences but masterpieces, combining design, innovation, and craftsmanship. Beyond the brick and mortar, they narrate stories of affluence, taste, and prestige. Whether you're an enthusiast of grandeur or simply curious about the upscale lifestyle in the Wolverine State, our compilation of the "Top 10 Most Expensive Houses in Michigan 2023" promises a visual and informational treat. Dive in and explore luxury living at its absolute finest.
10. 1700 Great Fosters Ct, Rochester – $9,850,000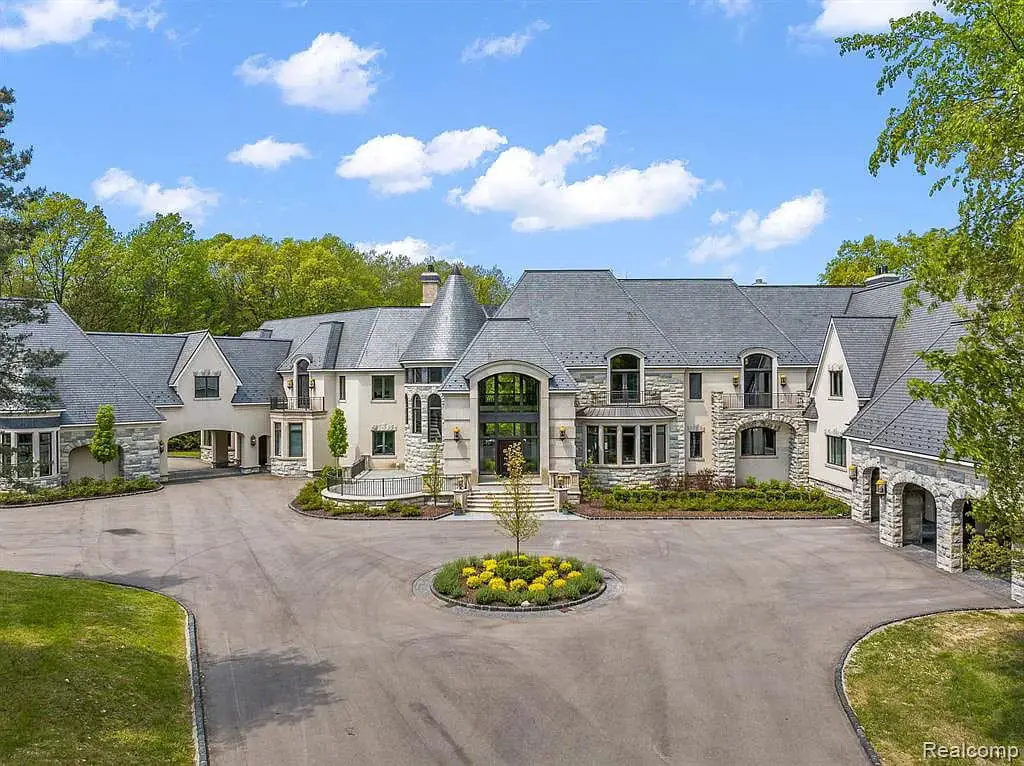 Behold, 1700 Great Fosters Ct in Rochester is not just a house – it's a monument to impeccable design and luxurious living! Constructed in 2011, this Mosher Dolan creation is a visual delight spread over 25,564 sq ft of impeccable living space, nestled within the lush confines of a 7.66-acre estate.
Drenched in architectural flamboyance, its Tudor and Country French styles intermingle with unmatched elegance. Upon entering, the 2-story foyer illuminated by a grand chandelier extends a majestic welcome, as does the marble flooring beneath and a 3-story radiant Onyx stone. Now, that's opulence!
Its price tag of $9,850,000 is a reflection of its splendor, offering 6 lavish bedrooms and an incredible 15 bathrooms. Delight in a chef's kitchen boasting custom cabinetry, built-in paneled fridge, induction cooktop, and an indoor grill that's a culinary dream.
An automobile aficionado? You'll marvel at the 6 dedicated garage spaces, including an astounding setup that can shelter a 90-foot-long motorhome or trailer!
The pièce de résistance has to be the primary suite. Envision a library, secret doors to a poker room, an attached balcony leading to a pool area, and a limestone fireplace. It's not just a suite; it's an entire world of luxury.
A testament to intricate craftsmanship, 1700 Great Fosters Ct in Rochester stands as a masterpiece in residential design. Simply unforgettable!
9. 1201 Shores Dr, Petoskey – $9,900,000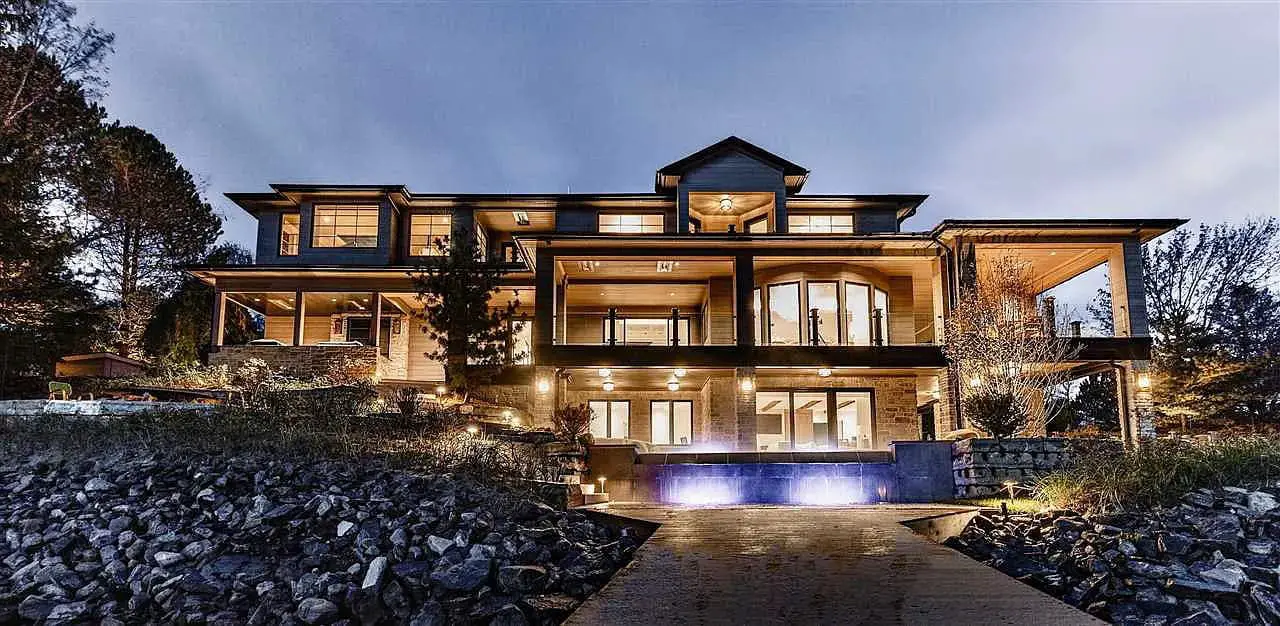 Tucked away on the serene Shores Drive in the heart of Bay Harbor, this remarkable abode boasts an impressive 6,080 sq ft of pure elegance. With a prime location offering 125' of frontage on the tranquil west shore of Bay Harbor Lake, the residence exudes an ambiance of peace and luxury.
Its recent 2022 makeover is evident in the meticulous attention to detail. The façade gleams with new siding, windows, and roof, while the interior has been transformed down to the studs. Imagine a home where every room whispers sophisticated luxury – from the custom blue kitchen cabinets offset by "Iceberg" quartzite countertops to the main floor master suite's bathroom that boasts heated floors and resplendent underlit Onyx countertops.
The living room, graced by a gas fireplace, seamlessly opens to the dining area and an upper-level deck. Here, a fully covered outdoor kitchen steals the spotlight, perfect for sunset soirees. Delight in the Hybrid Fire grill or whip up a pizza in the oven while the picturesque Bay Harbor Lake forms a mesmerizing backdrop.
Featuring 5 spacious bedrooms and 8 opulent bathrooms, this three-story architectural marvel resonates with the Single Family design. Additionally, a garage, a wine room that accommodates over 1,300 bottles, and an in-ground waterfall hot tub pool add to the allure of this Petoskey jewel.
It's not just a home, but a testament to superior design and passion for unparalleled living.
8. 1558 Dutton Rd, Rochester – $9,900,000
Nestled in the heart of Rochester at 1558 Dutton Rd lies an architectural marvel spanning 22 acres of pristine land. This Country Estate, a testament to impeccable craftsmanship, envelops you in an awe-inspiring dance of hand-carved wooden archways, mesmerizing ceiling frescos, and opulent stone and gold-leafed flourishes. Such beauty transcends the structure alone, with international antiquities and intricate art pieces gracefully occupying its vast 22,181 sq ft of luxury.
Constructed in 2005 by the esteemed Vito Anthony Homes and dreamt up by the imaginative architect Dominick Tringali, it's evident that every corner of this home reflects a deep-rooted love for old-world European design. A staggering 118 rooms are spread across three stories, each room adorned with one of its 118 windows or beckoning through one of its 131 doors.
Within the confines of this Carriage House meets Country French masterpiece, lies a world of comfort. Seven luxurious bedrooms and two baths offer reprieve, while its lower level conceals treasures: a pool, a home theatre, a full bar, and spaces that tease the line between lavish and cozy. On the outside? Tennis courts, conservatories, and a staggering 9.5 garages stand testament to this estate's grandeur.
All this splendor, intricately woven together on a canvas that the world knows as Rochester, comes at a value of $9,900,000. A marvel, a statement, and above all, a home.
7. 3499 Franklin Rd, Bloomfield Hills – $9,995,000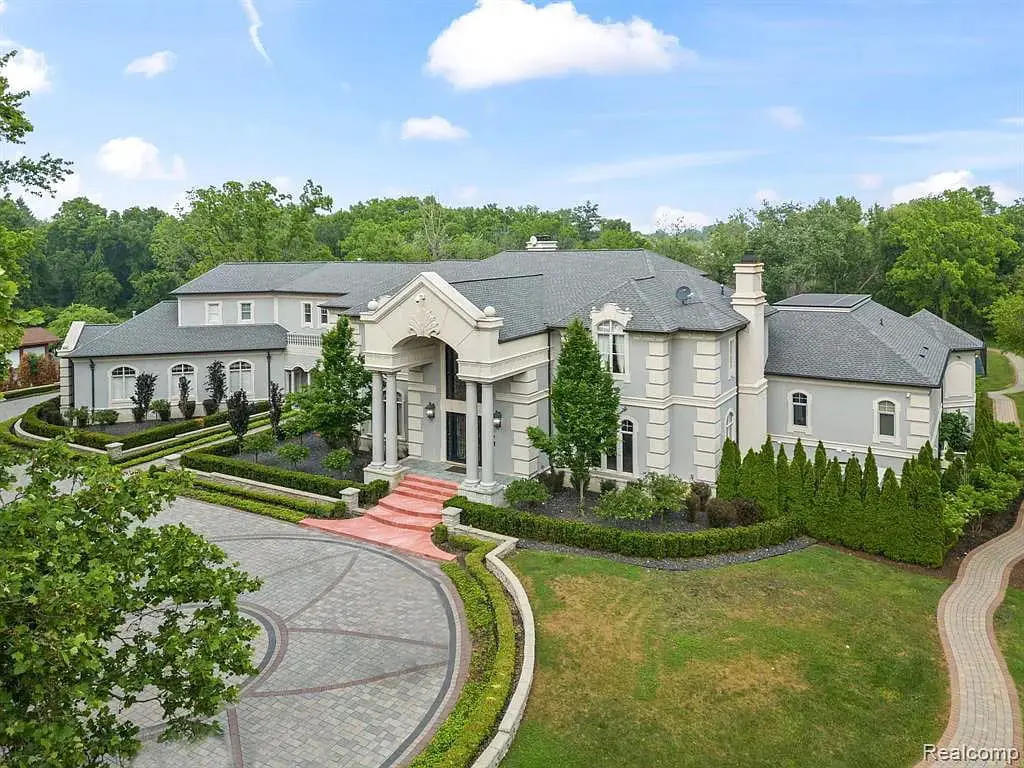 Discover a masterpiece in luxury living nestled in the heart of Bloomfield Hills! Situated on the picturesque 3499 Franklin Rd, this majestic abode sprawls across 23,143 sq ft of pure elegance, encapsulated within 4.23 lush acres of land. Built in the grand year of 1995, the Colonial architectural style is a testament to timeless grace and charm.
Inside, every corner sings a tale of opulence: from the soaring cathedral ceilings and dazzling Versace floors to the impeccably tailored custom cabinetry. For those with culinary passions, the kitchen is nothing short of a dream—equipped with top-tier chef-grade appliances. The home boasts 7 exquisite bedrooms, 13 sumptuous bathrooms, and a dedicated In-Law Suite on the first floor. Dive deep into indulgence with amenities such as a 4-D movie theatre, sauna, steam room, hot tub, and a gym all housed within its mesmerizing two stories.
And for the sports aficionados? An indoor Detroit Pistons themed basketball court awaits, inclusive of a snug locker room. Outside, new pool, jacuzzi, and tennis court paint a picture of recreation and relaxation. With a vast six-space garage, there's ample room for luxury on wheels as well. This is not just a house, but an experience, as every feature is intertwined with cutting-edge savant smart home technology, making elegance meet convenience. Welcome to a world where grandeur meets comfort, right in Bloomfield Hills!
6. 1500 W Long Lake Rd, Bloomfield Hills – $9,999,000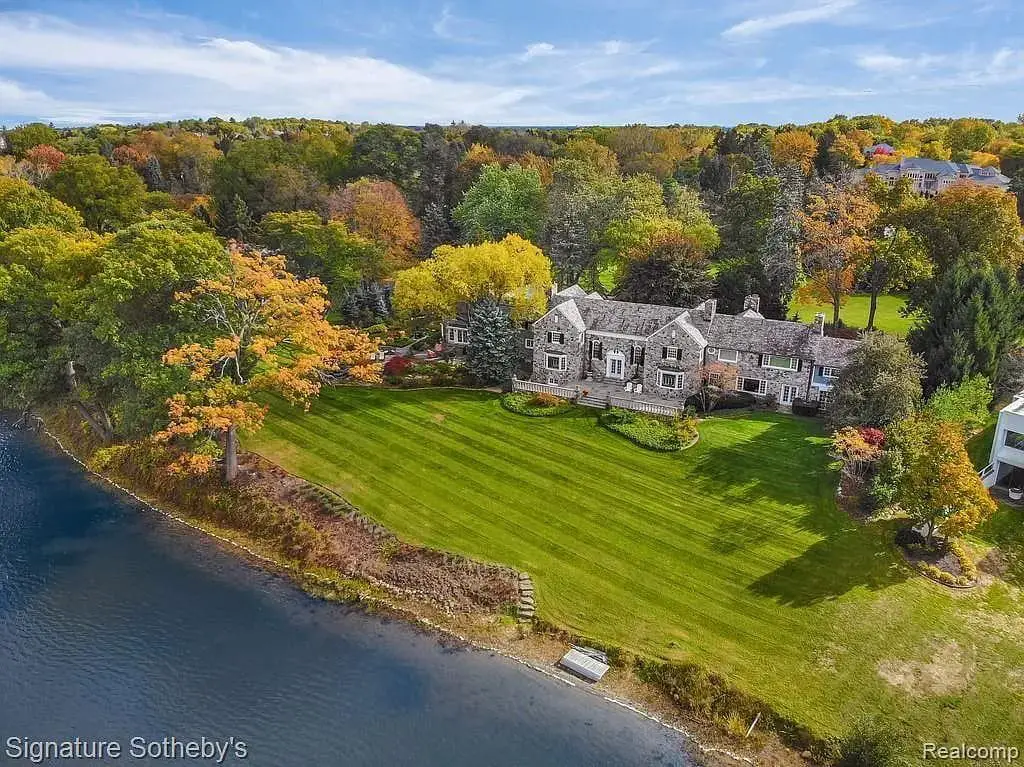 Nestled in the heart of Bloomfield Hills lies an estate that emanates grandeur, both in its storied past and its awe-inspiring present. At 1500 W Long Lake Rd, a 12,204 sq ft masterpiece stands proud on a sprawling 2.92 acres, beckoning admirers of architectural elegance and historical intrigue.
Built in 1937, this Colonial and Country French styled residence is more than just a home; it's a testament to impeccable craftsmanship and design. One can't help but marvel at its construction lineage, tied to the revered firm responsible for NY's Cathedral of St. John the Divine. From its inception, this house was destined for greatness. Its former occupant, C.E. Wilson, the U.S. Secretary of Defense under President Dwight Eisenhower, and CEO of GM, undoubtedly felt the home's unique allure.
The details are where this house truly shines. Inside, 7 spacious bedrooms and a staggering 11 bathrooms ensure luxury and comfort at every turn. Two stories of meticulously curated spaces, adorned with 18th & 19th-century pieces and antiques from across Europe, breathe life into every corner. The kitchen, a chef's dream, boasts marble & quartz countertops and top-tier appliances. Five generous garage spaces, a vaulted great room, and a spa-inspired bath in the primary suite add layers of functionality to its splendor.
Basking in the serenity of Island Lake and enveloped by pristine gardens, this $9,999,000 estate at Bloomfield Hills is a historical gem, seamlessly blending the old with the new, ready to write its next chapter.
5. 4701 E Miller Rd, Fairview – $12,500,000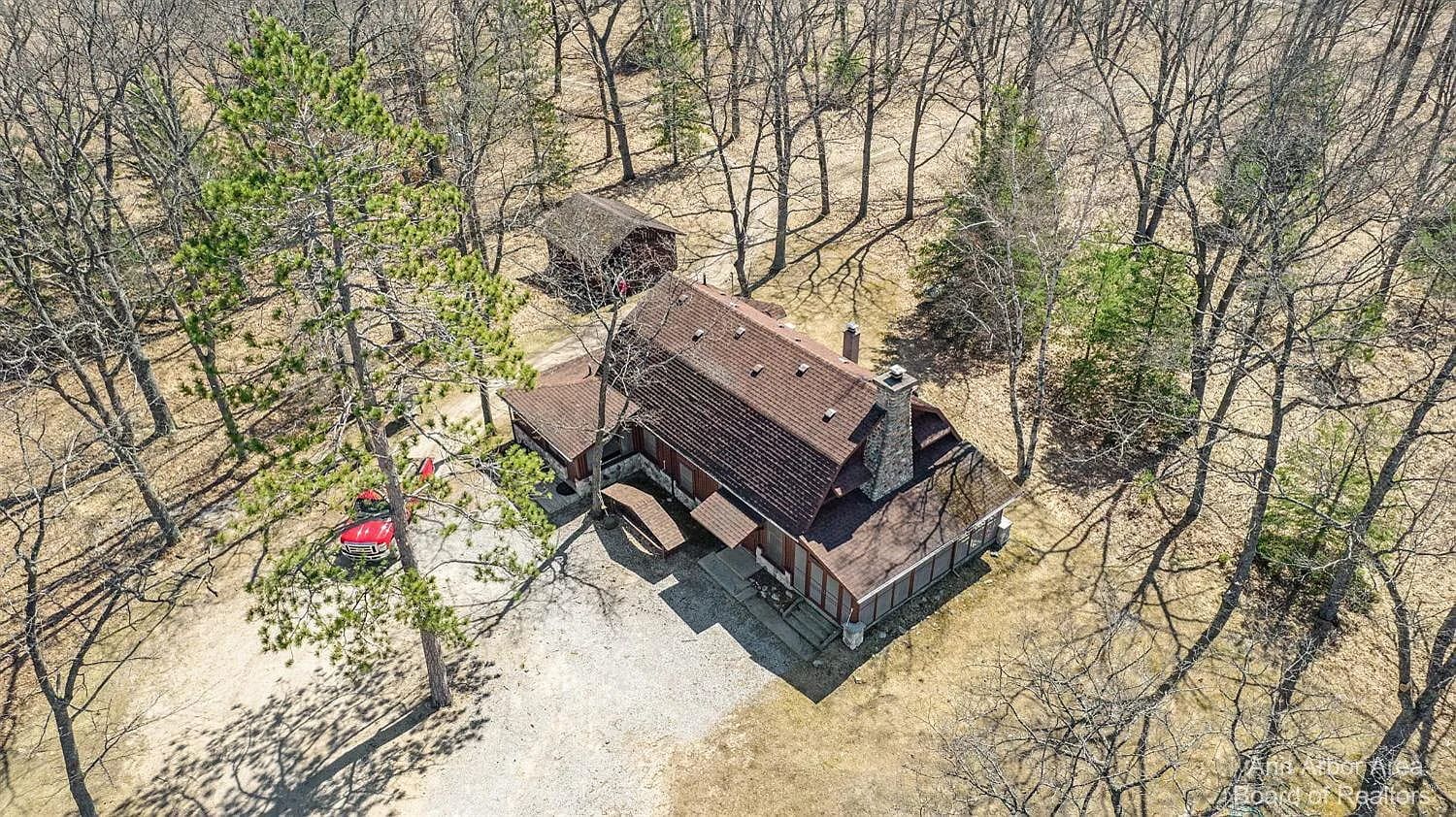 Located just five miles east of downtown Fairview lies a gem that has witnessed the changing tapestry of time for nearly a century. Sprawling over 6586 acres, the 4701 E Miller Rd estate boasts a jaw-dropping 17,409 sq ft of livable space. Built in 1940, its rich history is encapsulated in its architectural splendor—a magnificent Log Home design that stands tall and proud over two stories.
A tale of two lakes, multiple ponds, and eleven enchanting water features, this estate is at the heart of the Upper South Branch Thunder Bay River. Its 240-acre all-sports lake is particularly mesmerizing, promising countless serene mornings and vibrant sunsets. And for those who thrive in the outdoors, imagine having access to over 60 miles of winding trails, a treasure trove of hunting structures, and an array of fishing opportunities.
The main residence, oozing with character and charm, comprises 11 spacious bedrooms and 9 bathrooms. For those who love hosting, the property is thoughtfully designed with several adjacent dwellings—perfect for jubilant reunions or gatherings. And the cherry on top? Open parking spaces, a nod to the rustic beauty and expansiveness of the land.
There's something infinitely alluring about a place that holds a century of memories. At a price tag of $12,500,000, the 4701 E Miller Rd estate is more than just an address in Fairview—it's a legacy waiting for its next chapter.
4. 9842 Misery Bay Rd, Alpena – $14,000,000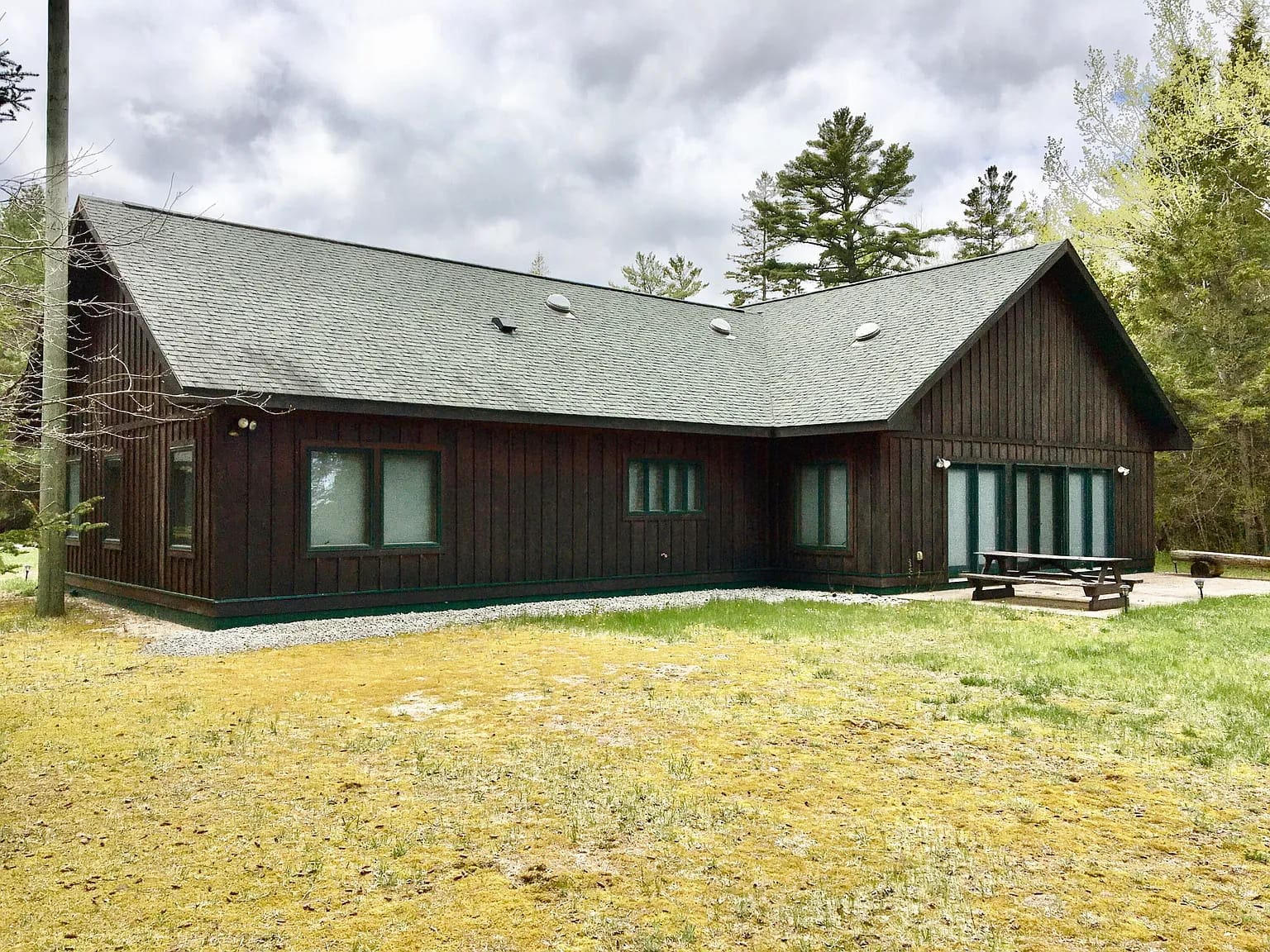 Nestled along the tranquil shores of Lake Huron lies SunUP Lake Lodge—a breathtaking abode at 9842 Misery Bay Rd, Alpena. Built in 2008, this 3,456 sq. ft. ranch-style sanctuary is the epitome of luxury and comfort. For a price tag of $14,000,000, you're not just buying a house; you're acquiring a lifestyle!
Imagine owning an astounding 710 acres of recreational property, including a staggering 18,480 feet of Lake Huron shoreline—possibly the largest private ownership on the lake! The panoramic views from the dining room, which comfortably seats 14, are surreal, encompassing islands and two sentinel lighthouses that gently blink as night cloaks the horizon.
The home's layout is sheer perfection. With 5 spacious bedrooms and 3 pristine bathrooms, space is in abundance. For vehicle enthusiasts, the 2-garage spaces are the icing on the cake!
Engulfed in nature, SunUP boasts 15+ miles of trails perfect for biking, walking, or even 4×4 adventures. And with a 40×40 pole building, maintaining these trails is a breeze, thanks to the well-maintained Kubota tractor, excavator, and other equipment.
Outdoor enthusiasts will relish in the sight of whitetail deer, bear, and a myriad of birds. And for those starry nights? Gather around the front yard bonfire pit and gaze upwards.
This house is more than a home. It's an experience—a magical enclave waiting to be discovered. And it's all situated in the heart of Alpena, the "Sanctuary of the Great Lakes."
3. 5240 Waverly Ln, Charlevoix – $15,000,000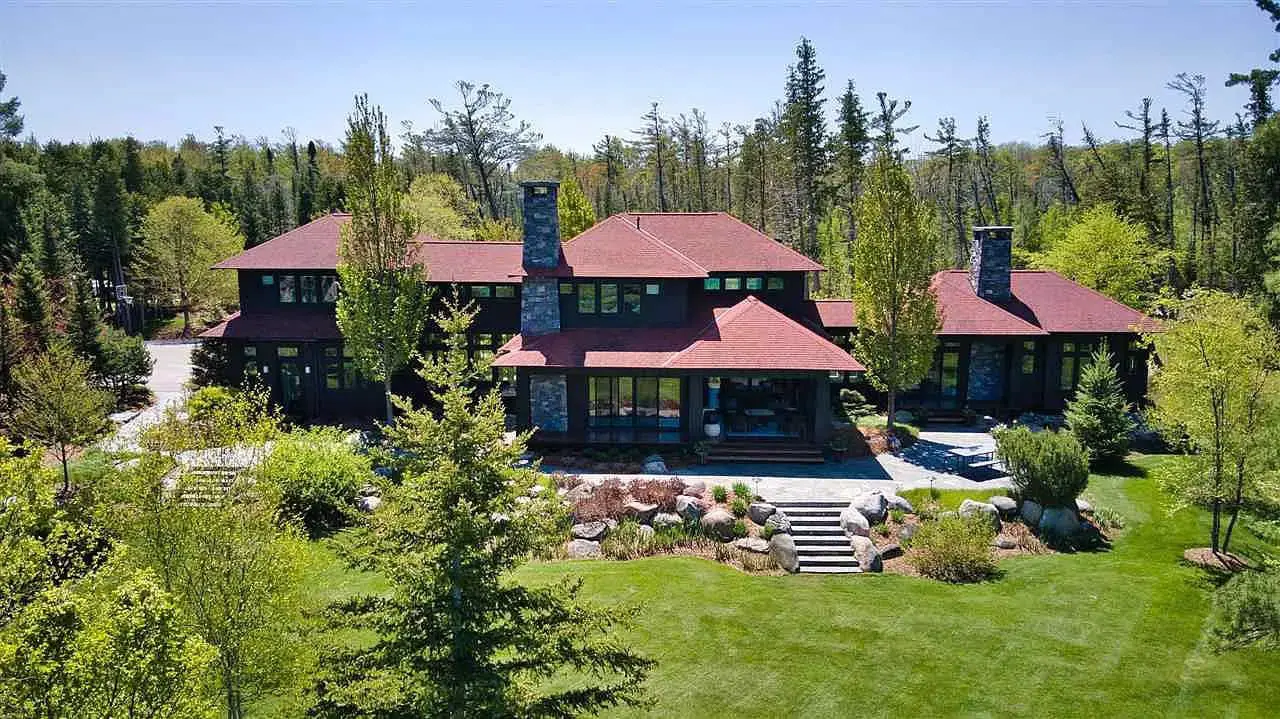 Nestled in the heart of Charlevoix, the majestic estate at 5240 Waverly Ln is an awe-inspiring showcase of artistry and opulence. The property spans over 64.5 acres, cradling the residence in the midst of nature's finest tapestry. With more than 4,350 sq ft of living space, this two-story SingleFamily architectural masterpiece, with a whopping 5 bedrooms and 6 bathrooms, seamlessly blends modern luxury with timeless design.
Picture this: a sprawling home that is a culmination of tasteful design and meticulous craftsmanship. It houses not just a family, but memories waiting to be made. Think long, laughter-filled nights by the large fireplace, casual hangouts at the custom bar, or fun-filled evenings rolling strikes at your personal 2-lane bowling alley!
A glance outside the window reveals over 1,500 feet of sandy beachfront, a rarity on Lake Charlevoix, and 64 acres of groomed forestland complete with hiking trails, streams, and bridges. Despite its vastness and an array of features including a hot tub, sauna, pool table, shuffleboard, and more, the home maintains a cozy atmosphere with its open floor plan.
And for those who are passionate about their automobiles, this abode comes with a 6-car garage and an additional 6000 sq. ft. custom storage building. Priced at $15,000,000, this iconic estate isn't just a house; it's a legacy, whispering tales of its storied past while promising a future of unparalleled elegance.
2. 4265 Balsam Ln, Boyne City – $18,000,000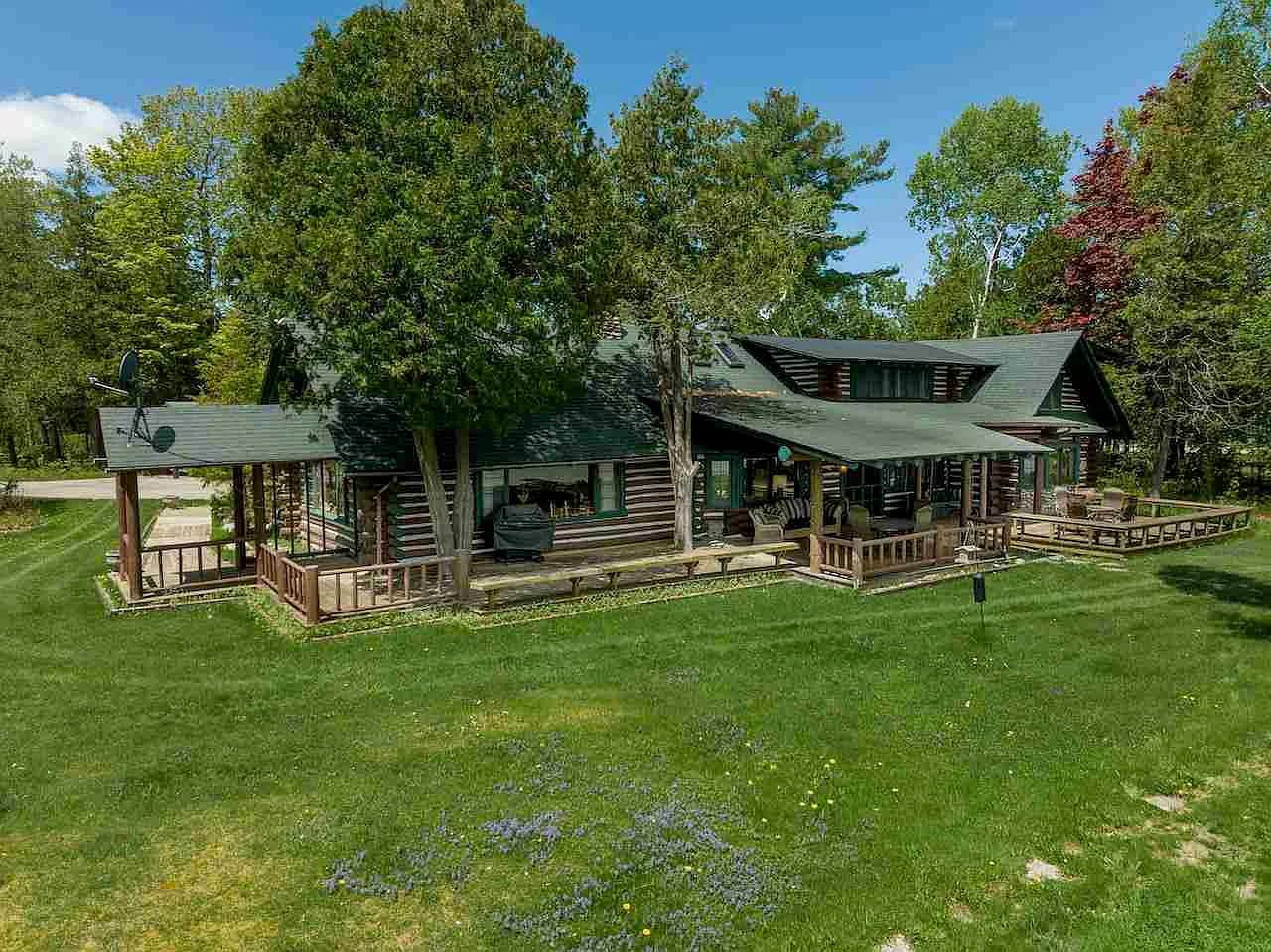 A vestige of rich history and unparalleled charm awaits at Randall's Point on Walloon Lake. This estate whispers tales from the bygone era, with its century-old homestead and unique peninsula offering 360° views from its quartet of cabins.
With its roots deep in the 1900s, the property has seen the likes of legends; think Ernest Hemingway hunting under the canopy of red and white pines! While the original barn and boathouse hold their ground, three log cabins from the 1920s and a sprawling main log home built in the 1970s stand testament to its enduring legacy. This home underwent a masterful renovation in 2001, now spanning a luxurious 5,700 sq ft of livable space.
This Charlevoix jewel is a tapestry of elegance and warmth. Inside, you're greeted with gleaming hardwood floors, walls generously adorned with windows, and a grand stone fireplace. With 14 bedrooms and 8 bathrooms, the vast interiors hold stories of their own. And that chef's kitchen? A culinary dream complete with stainless steel fittings and a granite island.
The 2-story SingleFamily architectural style home, with its covered porches, invites moments of tranquility. Imagine mornings spent admiring sunrises or evenings, beverage in hand, watching the sun kiss the water. The hard-packed sandy beach calls for bonfires, and the guest cabins are a nostalgic trip to simpler times.
At a price tag of $15,000,000, this isn't just a house. It's a piece of history, a canvas of memories, and an embodiment of architectural splendor. Welcome to a timeless legacy at 4265 Balsam L.
1. 850 W Bear River Rd, Petoskey – $18,000,000
The most expensive house in Michigan is located at 850 W Bear River Rd, Petoskey and costs $18,000,000.
Nestled on the serene shores of Walloon Lake is a dwelling that redefines elegance: 850 W Bear River Rd, Petoskey. A craftsman masterpiece, this home, stretching across an expansive 14,636 sq ft of living space, radiates opulence with every beam and brick.
Upon stepping in, one can't help but gape at the majestic, arched reclaimed Douglas fir beams that graciously touch the 30-foot ceilings of the great room. A harmonious blend of wormy maple walls, coffered ceilings, and the sophisticated touch of Van Tassell granite beckons you further. The heart of the home, a designer kitchen, is adorned with knotty alder cabinets, graced by granite countertops, and modern-day state-of-the-art appliances. For the wine aficionados, there's a bespoke wine cellar just off the butler's pantry.
Venture upwards, and the house offers two bedrooms, a guest suite complete with its own kitchen, and a snug loft. The master suite? An epitome of luxury with a gas fireplace, his and hers closets, and intricate marble flooring. And for the entertainers, the lower level promises a full-size bar, media room, fitness space, and much more.
All this grandeur is housed within a two-story single-family architectural wonder, complete with 4 bedrooms, 7 bathrooms, and a unique car garage space. And to top it all, the iconic boathouse and gazebo by the lake make it a picture-perfect setting.
This isn't just a home; it's a testament to timeless design and luxury. For those who seek nothing but the best, 850 W Bear River Rd in Petoskey stands unmatched.