Richard Gere's house in North Salem, New York, is more than just a luxurious abode; it's a testament to a life well-lived and the epitome of elegance and style. Situated in the quaint town of North Salem, this beautiful property boasts a rich history, stunning architecture, and a serene atmosphere that befits the celebrity's refined taste.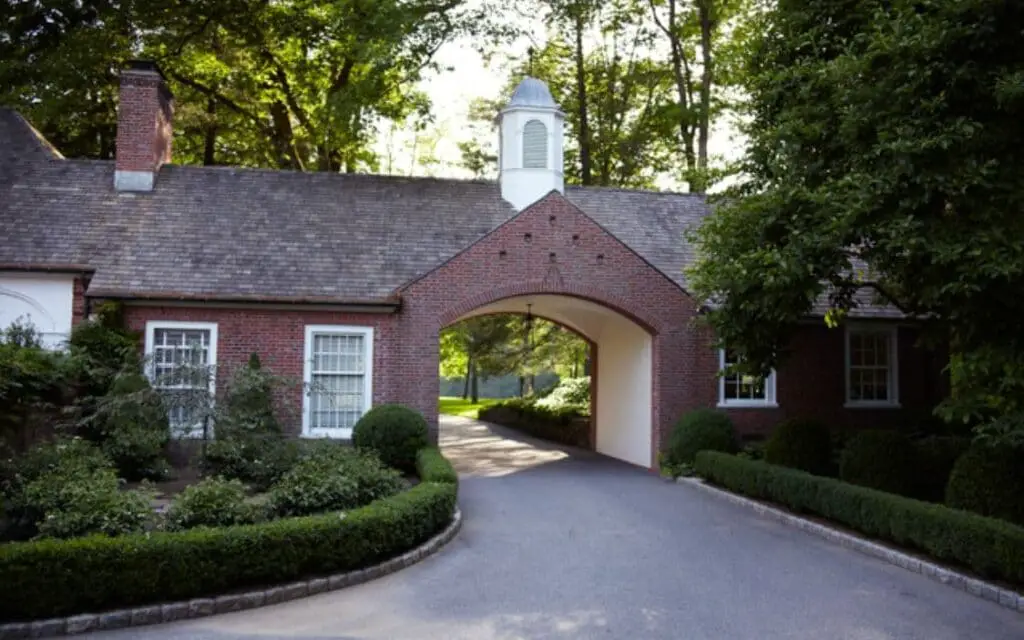 Richard Gere's entryway
In 2021, Richard Gere discreetly purchased this stunning property for a reported $9.8 million. The house, perched on 35 sprawling acres, offers the actor a respite from his bustling Hollywood life. With seven bedrooms, nine bathrooms, and 9,064 square feet of living space, it provides ample room for Gere and his family to enjoy their time in the countryside.
But let's dive deeper into the allure of Richard Gere's house in North Salem and explore its every facet.
Where Dos Richard Gere Live Now?
Richard Gere lives at 58 Cat Ridge Rd, North Salem, NY. The property sits gracefully at the end of a scenic driveway, tucked away from prying eyes and the chaos of the city. This tranquil retreat offers privacy and a sense of peace that is invaluable for someone of Gere's stature.
The house is a charming, traditional-style farmhouse with a weathered stone facade that exudes rustic elegance. Surrounded by lush greenery and mature trees, it's a true escape from the hustle and bustle of the entertainment industry. The actor's decision to make North Salem his home reflects a desire to lead a quieter, more contemplative life when he's not working on his films.
Richard Gere's Contemporary House Interior
The interior of Richard Gere's house is a testament to his appreciation for art, culture, and a minimalist, yet elegant, lifestyle. The interior embodies a traditional style living room with a calming neutral color palette. White walls create a serene backdrop for beige furniture, infusing the space with calm and tranquility. Abundant natural light and an elegant chandelier illuminate the room, while a fireplace with a mantel adds visual appeal and warmth. Built-in bookshelves flanking the fireplace offer storage and a space for personal expression. The thoughtfully arranged furniture encourages conversation, with a comfortable sofa and armchairs surrounding a coffee table, inviting people to gather and engage.
Richard Gere's living room
Richard Gere's home features a kitchen that perfectly embodies the French country style. The focal point is a spacious island with a wooden countertop and a sink, all elegantly painted in a soft gray hue. This island also offers additional storage with a shelf below. A large window fills the kitchen with natural light, creating a warm and inviting atmosphere. You can enjoy a peaceful moment on the window seat, sipping coffee and taking in the view. The kitchen is thoughtfully designed with a built-in oven, ensuring both functionality and aesthetics. Stone tile flooring complements the exposed wooden ceiling beams, adding character and authenticity. Potted plants bring a touch of nature and freshness to the space, while a graceful chandelier adds warmth and elegance.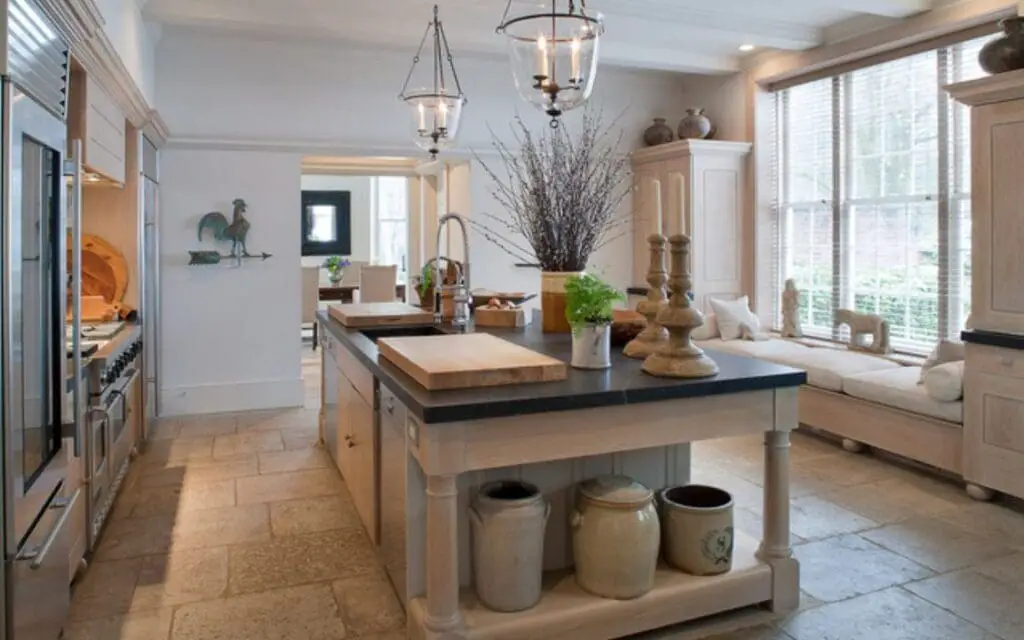 Richard Gere's kitchen
Moving on to the dining room which exudes a traditional architectural style. A fireplace, complete with a mantel and a mirror above it, serves as the focal point of the room. The walls are adorned with green damask wallpaper, lending an air of elegance and sophistication to the space. The furniture is traditional in style, featuring a wooden dining table surrounded by matching chairs. This arrangement invites family and friends to gather and share meals together. The room is tastefully decorated with a large painting that adds a touch of artistic flair.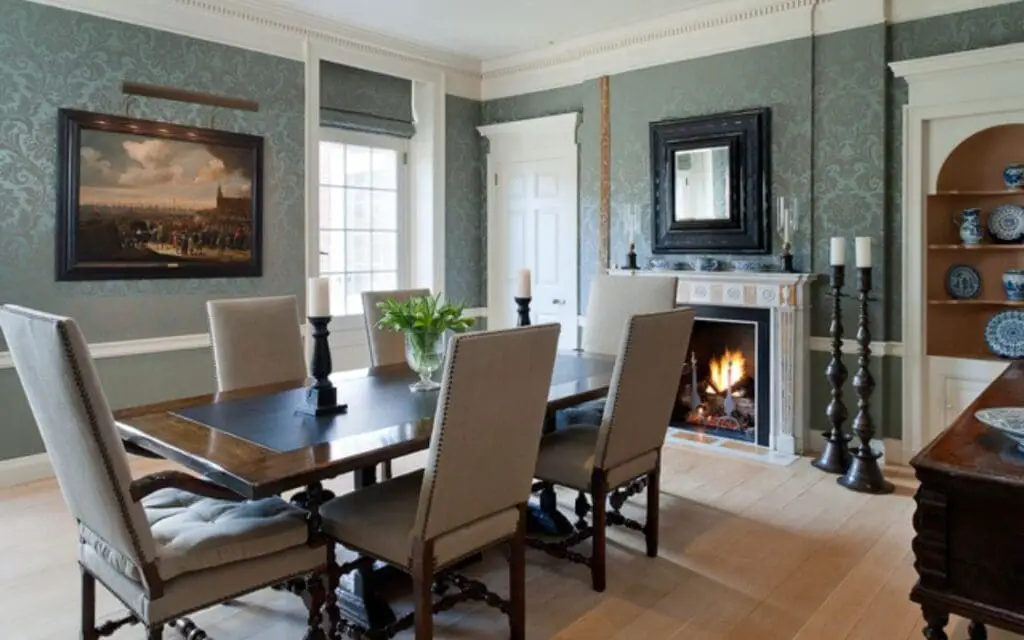 Richard Gere's dining room
The master suite is a sanctuary of opulence, complemented by six additional bedrooms, many with their own en suite baths, providing ample space for guests. The room boasts a high ceiling adorned with crown molding, enhancing the sense of space and grandeur. A large window, dressed in a roman shade, allows natural light to fill the room, creating a warm and inviting atmosphere. The walls are covered in a light green wallpaper, complemented by a white chair rail that adds a touch of elegance. Traditional-style furniture, including a four-poster bed, a dresser, and a nightstand, lends character to the room.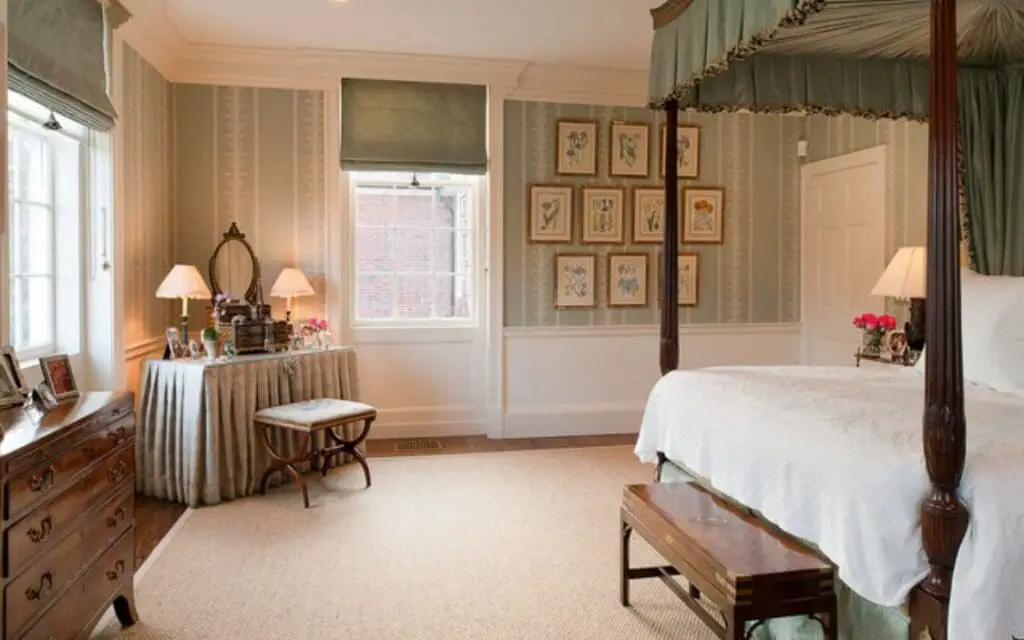 Richard Gere's bedroom
Within this extraordinary residence, a magnificent gym equipped with state-of-the-art fitness equipment beckons to those who are dedicated to their physical well-being. In its inviting confines, exercise enthusiasts will find themselves surrounded by a haven of strength and vitality, where their every fitness aspiration can be not only achieved but surpassed.
Meanwhile, for the discerning wine aficionados among us, an opulent and meticulously curated wine cellar stands as a testament to the art of oenology. This temperature-controlled sanctuary showcases a collection of rare vintages, allowing connoisseurs to indulge in the world's finest wines while basking in an atmosphere of elegance and refinement.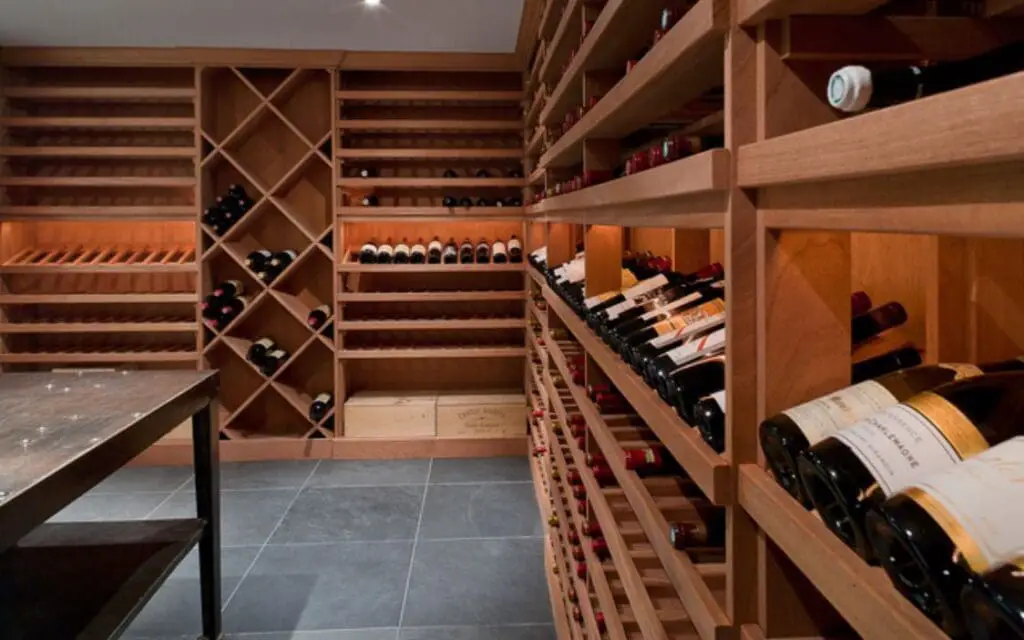 Richard Gere's wine cellar
Richard Gere's House Exterior and Outdoor Area
Richard Gere's outdoor area is a testament to his love for nature and serenity. The house's facade showcases a central entrance flanked by two elegant wings, exuding harmony and visual appeal. Large windows, adorned with white shutters, punctuate the brick exterior. The inviting patio, furnished with a table and chairs, seamlessly connects indoor and outdoor living. Surrounded by a lush garden filled with shrubs and trees, this green space adds natural beauty and privacy to the property.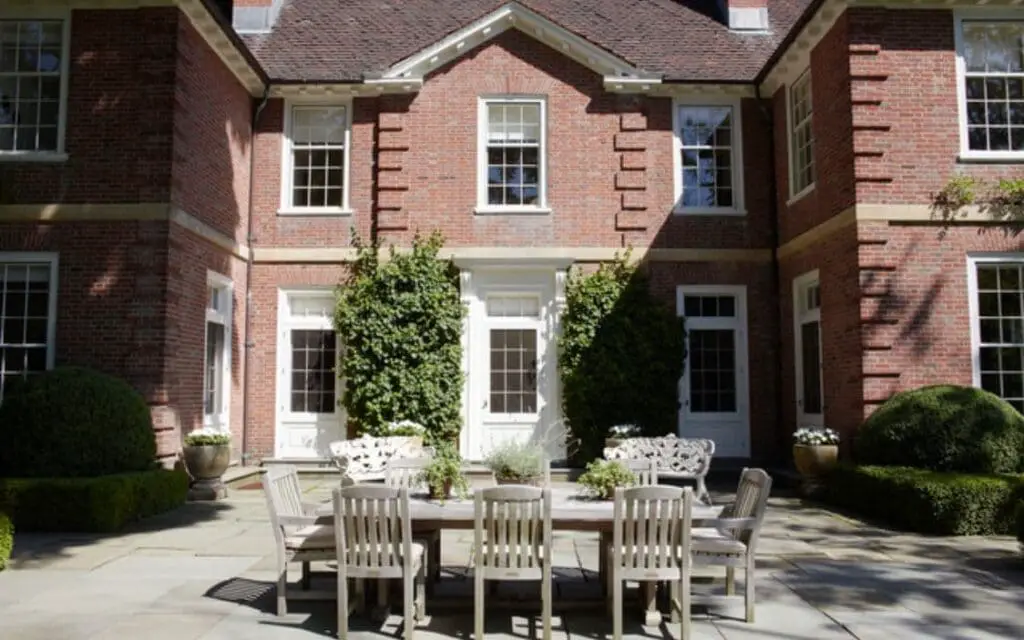 Richard Gere's exterior
The estate's original brick gatehouse, painstakingly transformed into a private office, not only serves as a functional workspace but also imparts an exquisite touch of timeless elegance to the entire property. Its historical charm and architectural significance offer a unique and captivating feature that sets this estate apart from the ordinary.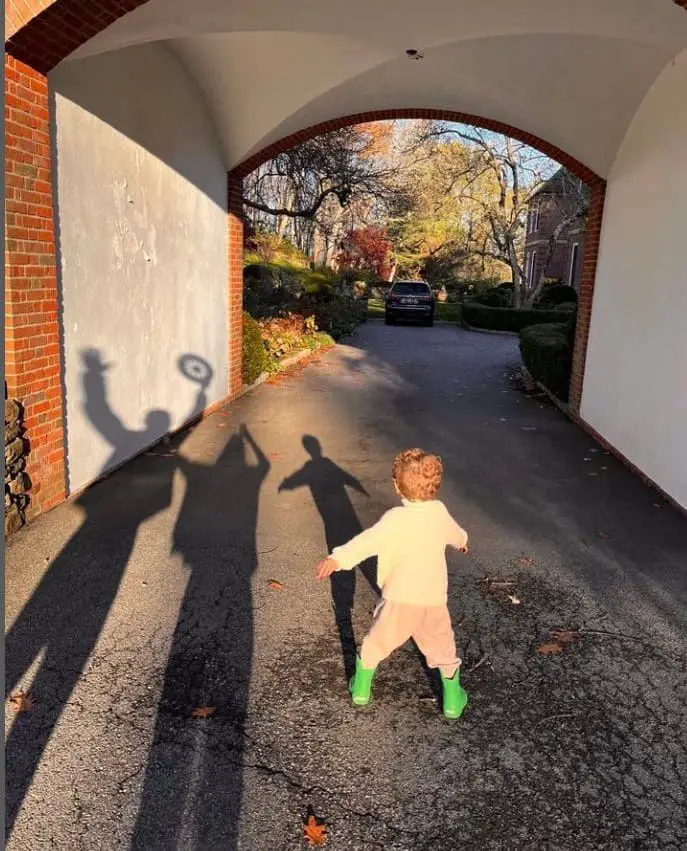 Richard Gere's outdoor area
For those yearning for moments of relaxation and rejuvenation, an inviting indoor lap pool awaits, providing a tranquil retreat for swimming and unwinding. This climate-controlled aquatic oasis allows you to enjoy a leisurely swim at any time of the year, no matter the weather outside.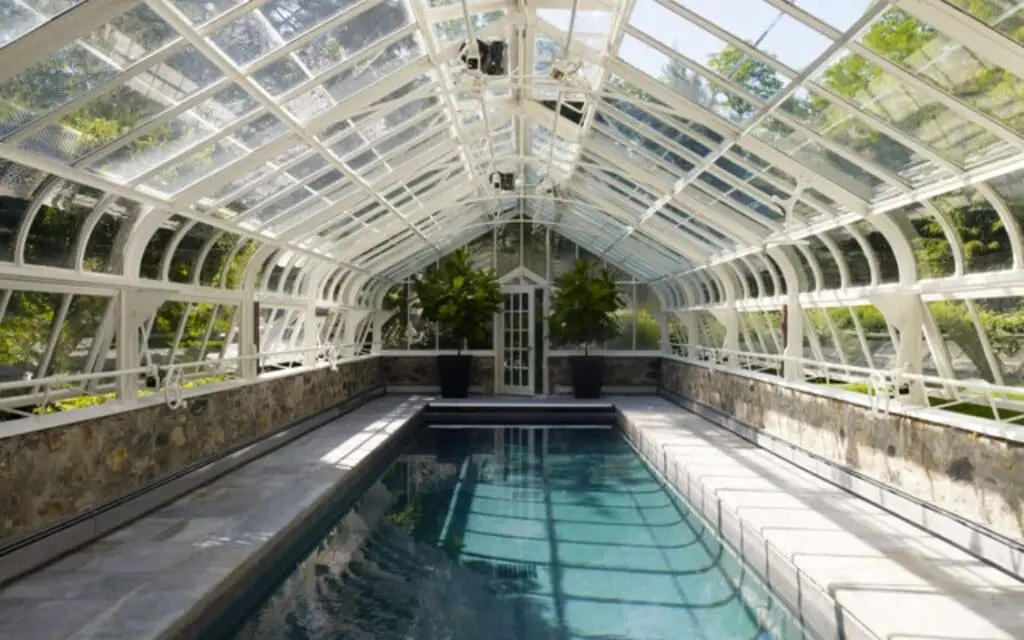 Richard Gere's indoor pool
Stepping into the outdoor realm, you'll discover an expansive pool area, complete with a pool house, where you can bask in the warmth of the sun and enjoy the fresh air. This outdoor haven becomes the perfect backdrop for lazy days spent poolside, creating a splendid setting for outdoor entertainment, lounging, and social gatherings.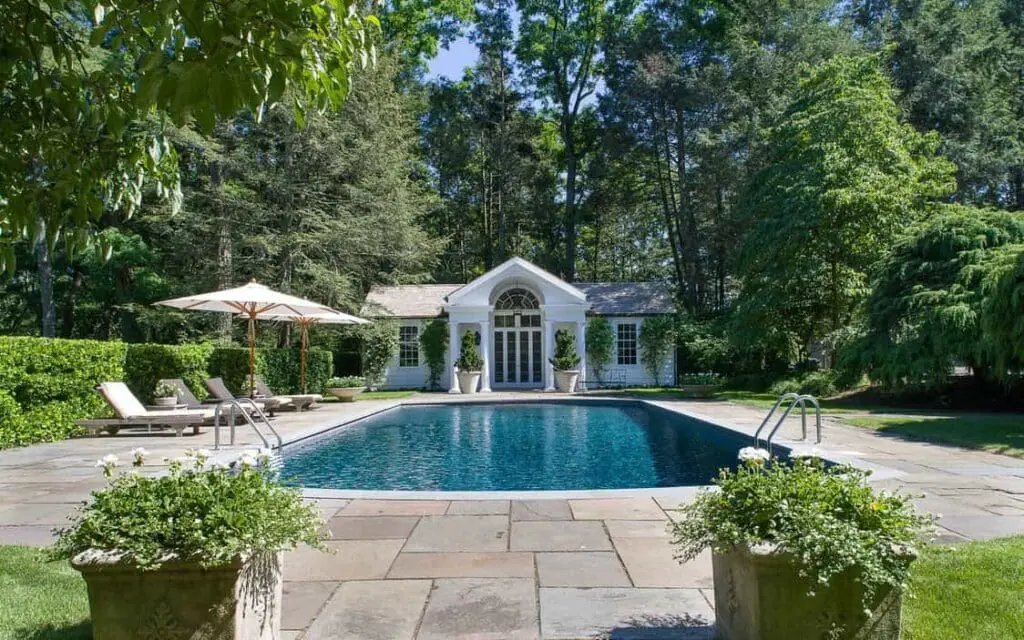 Richard Gere's pool
Sports enthusiasts will be thrilled to find a full-sized tennis court, ready and waiting for exciting and intense rallies. Whether you're a seasoned player looking to refine your skills or a beginner eager to learn, this well-maintained court offers endless possibilities for both recreation and competition, adding an extra layer of versatility to this already impressive estate.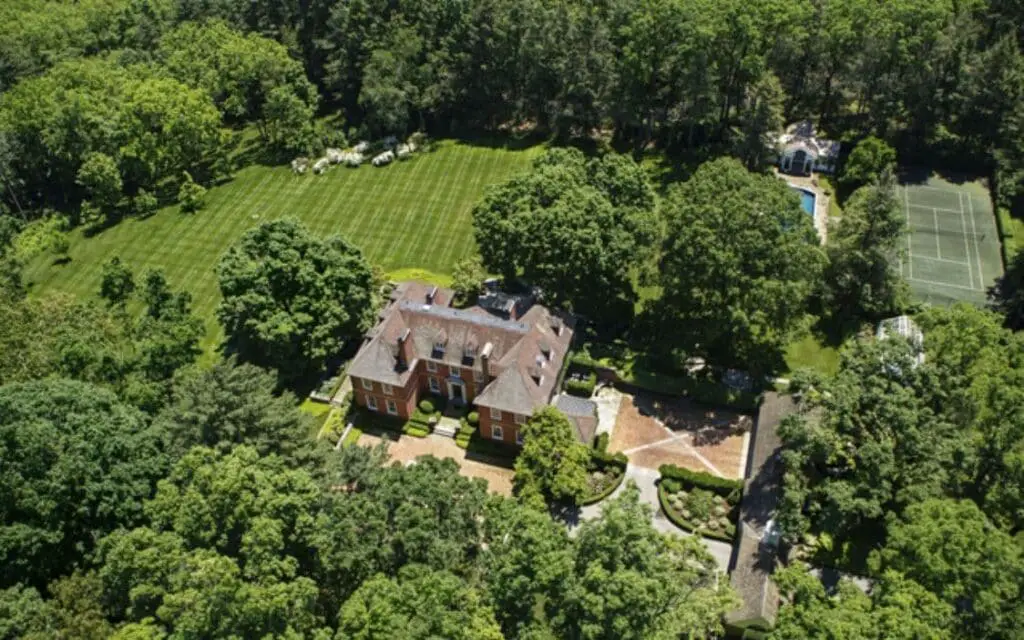 Aerial view of Richard Gere's outdoor area and the tennis court
Richard Gere's Neighborhood
North Salem is known for its charming, picturesque surroundings and a community that values privacy. It has become a haven for several other celebrities who seek a respite from the city, including Ryan Reynolds and Blake Lively, who also own property in the area. The neighborhood is well-suited to Gere's desire for a tranquil lifestyle and is a testament to the allure of the North Salem region.

Richard Gere's neighborhood
Other Houses Owned by Richard Gere
Apart from his North Salem haven, Richard Gere enjoyed a 20-year stay in Hudson Valley, New York. Recently, he made headlines by putting this remarkable property on the market. Back in 1986, Gere bought the compound for a humble $1.51 million, situated on 48.7 acres with around 11,658 square feet of living space. Subsequent renovations and added structures transformed the property into a sprawling estate, featuring over 8 bedrooms, 9 bathrooms, 2 half-baths, and a total of 5 separate structures.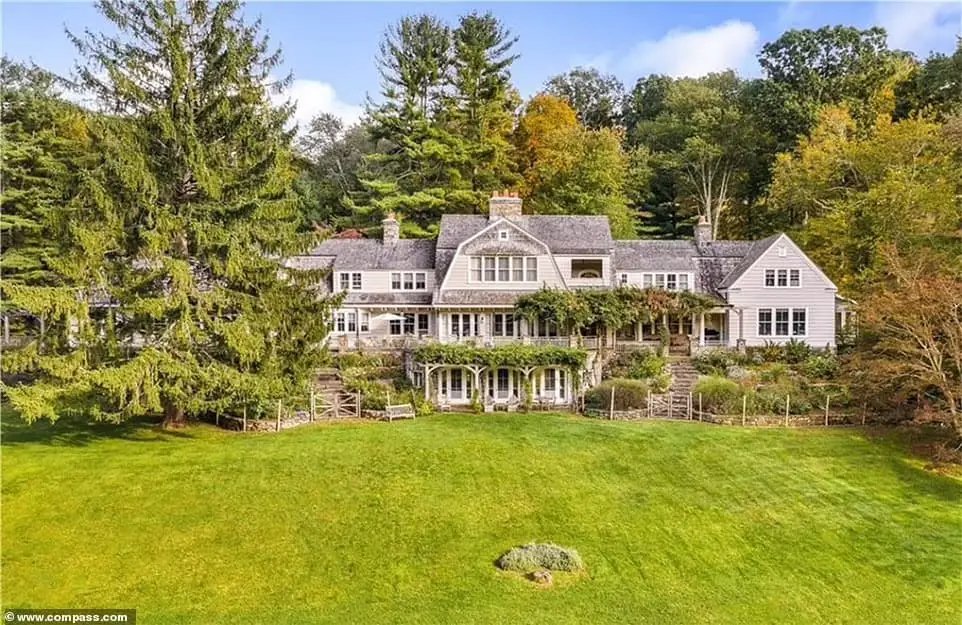 Richard Gere's Hudson Valley house
Gere's Hudson Valley home is considered one of the great American family compounds, just an hour from New York City and 50 miles from Manhattan. He recently listed his cherished Hudson Valley estate for $28 million. This massive compound includes five separate residences on 50 acres of pristine land, representing a remarkable chapter in the actor's real estate journey.