Nicki Minaj's humble beginning is equally inspiring as her success in music. She started in the music and performing industry as a backup singer. Now, she's fondly dubbed as the "Queen of Rap." It's her versatility and artistic talent that got her to where she is now. Her recent estimated net worth is $80 million, which means it's not a surprise that she can buy her dream home for her brood.
Despite her fame, Nicki keeps her personal life private. That includes her residence and even her son's name. But she's also been active on social media, which is why pictures of her lavish dwelling occasionally grace her fans' newsfeed. In this post, we'll take a quick look at her luxurious home in Los Angeles, C.A., specifically in the Flats neighborhood. She shares her home with her son and husband, Kenneth Petty.
The Flats: Neighborhood and Vibe
Much like the other Beverly Hills neighborhood, The Flats is a prime real estate location fit for the rich and famous. Based on a survey, people who'd like to live in any of the neighborhoods in Beverly Hills need to earn twice the national average income.
The Beverly Hills area is well-loved for its luxury hotels and shopping centers. One can also laze the day away taking trolley tours around the area and marveling at the fascinating architecture and lavish homes.
Nicki Minaj's home in The Flats is a 7000-square foot property, which she reportedly bought at $10 million. Her home has 8 bathrooms, 6 bedrooms, luxury amenities, and a lot of other personal touches added by the crooner.
Aside from her $10 million home, Minaj owns another property in Beverly Hills just a walking distance away from her abode in The Flats.
Notable Features in Nicki Minaj's House
Nicki's home exudes her class and style of a diva. If you've considered taking inspiration from her home for your next construction project, these are the notable features of her luxury mansion:
Extravagant Kitchen – There's no report saying she's fond of cooking for her brood. But by the looks of her kitchen, it seems that she takes this place pretty seriously. She has a lavish collection of China wares, which she carefully arranged inside a white, glass-fronted cabinet. The kitchen area has wooden floors furnished with stainless steel appliances. The lower half of the wall is fitted with a white wooden panel lining.
Grand Entrance Hall – Nicki's opulent grand entrance hall often appears on social media as the backdrop of some of Nicki Minaj's home fashion photoshoots. The hall has wooden double doors with carved glass panel frames. The flooring is made of breathtaking marble.
Exquisite Living Room – The crooner's living room is designed for comfort and luxury. It also looks over the equally gorgeous dining area. The area has high ceilings and floor-to-ceiling windows, which overlook the garden. The windows are 10 feet high, giving the residents a fascinating view of the well-tended greenery and shrubs outside. There's a window seat on one corner of the area, which perfectly blends with the white walls surrounding it. The area is also equipped with top-of-the-line electronic gadgets and a built-in fireplace.
The Bedrooms – Nicki's bedrooms exude elegance and luxury. It boasts a collection of gold sculptures, which decorate the sturdy white walls. Like the living area, the bedrooms also have high windows, which give great morning views. Nicki's master suite is located on another floor, which could be accessed via a dramatic flight of stairs. Her room has two huge walk-in closets, as probably can be expected from a fashion influencer. There's also an auxiliary working space and a lavish bathroom.
The Outdoor Area – The exterior of the Minaj mansion is as breathtaking as its interiors. For one, it has a built-in plant family room that leads to a casual outdoor dining area. It also overlooks a huge swimming pool. Floor-to-ceiling walls made of glass panels separate the swimming pool and the adjacent room. The pool boasts an impressive layout and comes fitted with a spa. It's wide enough for the entertainment of the whole family, even with some friends thrown in. Sun loungers line the sides of the pool. And from a distance, one can enjoy the amazing view of the city. Aside from the pool and landscape, the property also has a detached guest house equipped with its own amenities and lavish setting.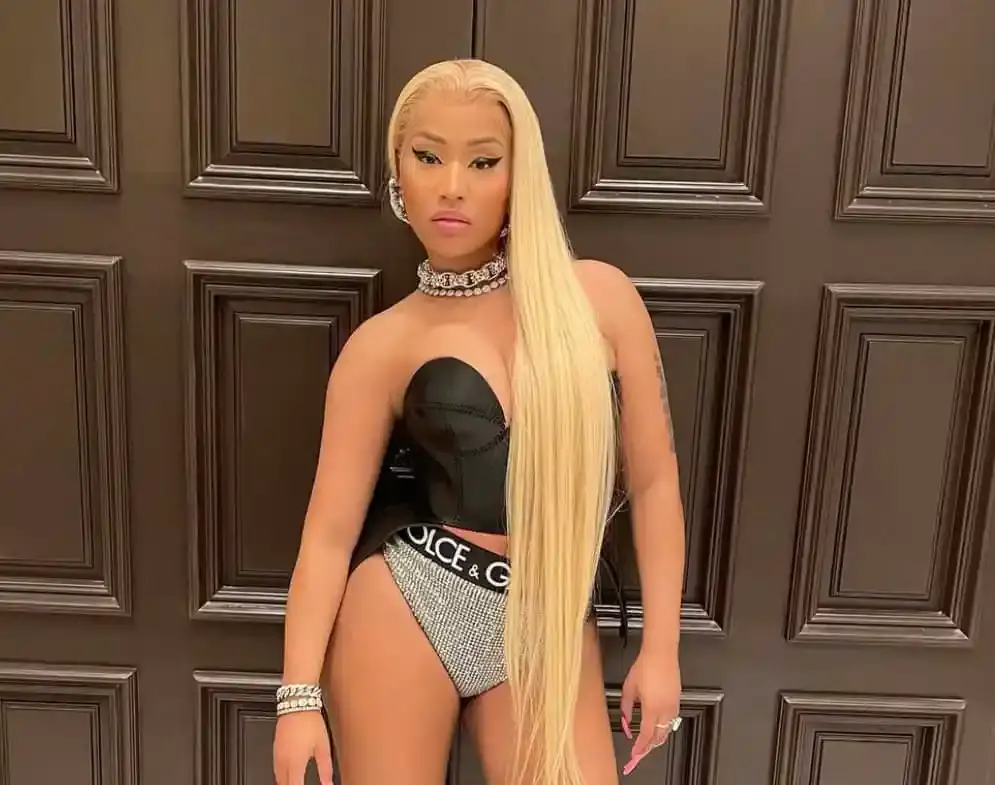 Nicki Minaj is among those celebrities who started from humble beginnings and worked their way to the top. Now with countless music and video awards under her belt, she enjoys the diva life at her L.A. mansion with her husband and son. And as her fame and influence aren't showing any signs of waning just yet, one can expect that she'd continue making music, earning, and adding to her investment portfolio in the coming years.