Nicki Minaj's house, nestled in the exclusive enclave of Hidden Hills, California, is the epitome of luxury and opulence. The renowned rapper and singer's real estate purchase was not just a transaction; it was an investment in a lifestyle of extravagance and privacy. Join us as we take a closer look at the extravagant abode of one of the music industry's most iconic figures.
Where Does Nicki Minaj Live Now?
Nicki Minaj lives at 5510 Jed Smith Rd, Hidden Hills, California, USA. After years of residing in opulent rented mansions across various neighborhoods in the greater Los Angeles area, Nicki Minaj has finally found her own piece of paradise. In 2019, Nicki acquired this newly constructed modern farmhouse-style home for a sum of $19.5 million, which spans over 11,820 square feet, boasting a total of 8 bedrooms and 10 bathrooms, and 2 powder rooms.
Nicki Minaj, with a net worth of over $100 million, has had a stellar career in the music industry. Her talents as a rapper and singer have earned her numerous accolades and made her a household name. In her pursuit of a dream home, she found herself in Hidden Hills, an upscale suburb of Los Angeles.
Nicki Minaj's House Interior
Despite the veil of secrecy surrounding the property, we do have some insights into the features that make it a true paradise. Regarding Nicki Minaj's Instagram posts we can see a modern entryway, which is the first impression of a home's interior design.
The door is made of dark wood and features a geometric pattern. Next to the door, there's a stained-glass window with a floral design. This not only adds an artistic touch but also allows natural light to filter into space. The floor is made of marble tiles, which gives the entryway a luxurious and timeless appeal.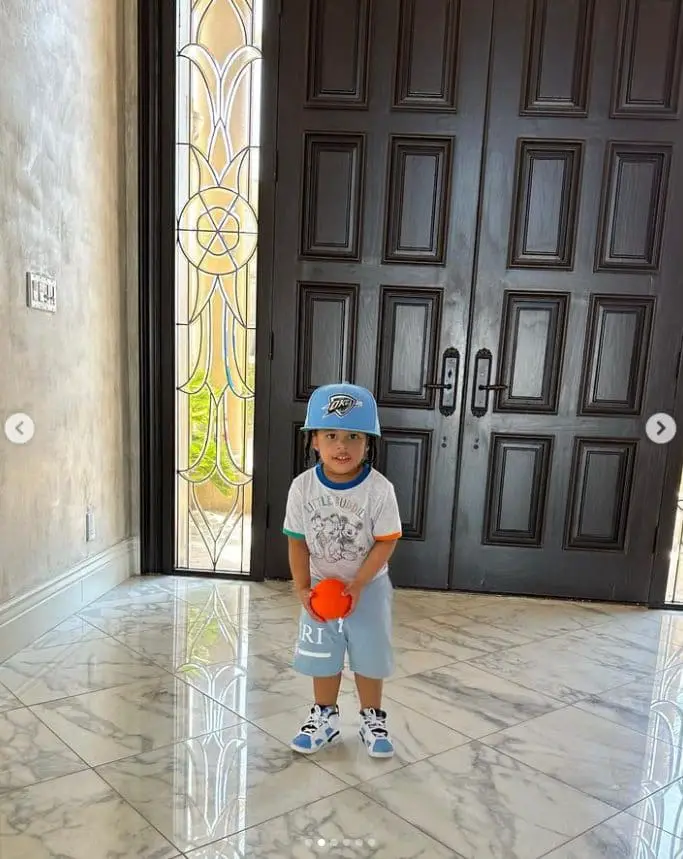 Nicki Minaj's entryway
Stepping into Nicki Minaj's living room beautifully captures the essence of modernist design, embracing the concept of open space to create an atmosphere of spaciousness and tranquility. The room features elegant furniture, including a pristine white sofa and a sleek glass coffee table, with their clean, straight lines characteristic of modern design. The predominant use of a neutral color scheme, primarily white and grey, further enhances the room's contemporary allure, making it a serene haven for relaxation and modern living.
Nicki Minaj's living room
In a recent reveal, Nicki Minaj presents her elegant walk-in closet, a testament to modern luxury. This extraordinary space features a spacious central island with ample storage and a versatile surface for folding or displaying items. The closet's floor-to-ceiling cabinetry on both sides maximizes storage and maintains a sleek, uncluttered look.
An exquisite chandelier suspended from the ceiling adds a touch of opulence and provides ambient lighting, enhancing the closet's overall ambiance. The light wood flooring complements the cabinetry, creating a cohesive and modern aesthetic that ties the entire closet together.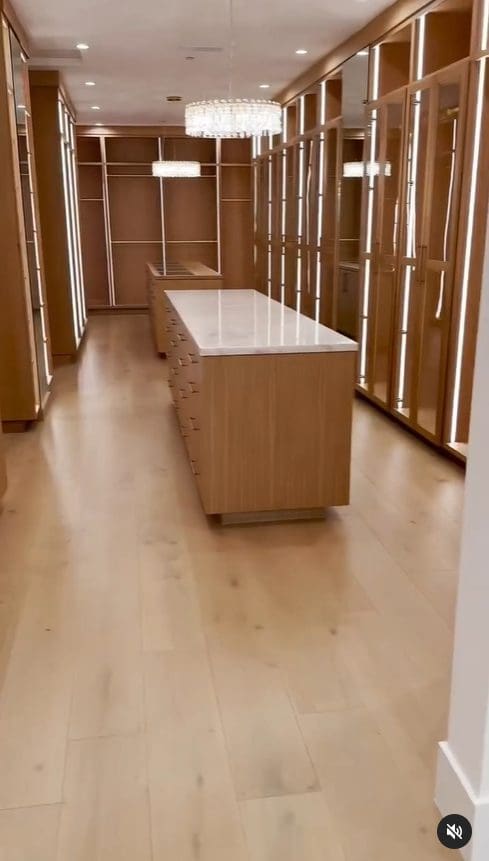 Nicki Minaj's walk-in closet
Nicki Minaj's Outdoor Area
Nicki Minaj's house is not just about the interior. The property boasts a detached guesthouse and a charming cabana, complemented by a stunning saltwater pool. According to reputable sources, Minaj's new haven also incorporates a three-car garage, expansive grassy lawns, and meticulously landscaped grounds that ensure the utmost privacy. The saltwater swimming pool, equipped with a spa and a Baja shelf for sunbathing, is a testament to the lavish lifestyle that Minaj is known for.
Nicki Minaj's Neighborhood and Celebrity Neighbors
Hidden Hills is a sought-after neighborhood for the rich and famous. Nicki Minaj's neighbors, including Scott Disick, Kylie Jenner, and Kim Kardashian, likely appreciate the exclusivity and privacy that this community offers. This area is known for its exclusivity and security, making it the ideal choice for high-profile public figures like Nicki Minaj and her celebrity neighbors.

Nicki Minaj's neighborhood
Other Houses Owned by Nicki Minaj
Nicki Minaj's house in Hidden Hills is undoubtedly a jewel in her real estate crown. However, the rapper has also enjoyed the privilege of calling several other lavish properties "home" over the years. Let's take a peek into her previous residences and see how she's experienced the epitome of luxury in different locations.
Apart from her Hidden Hills mansion, the rapper reportedly lived in a $10 million home in the Flats area of Los Angeles with her family. This spacious residence features six bedrooms, eight bathrooms, and approximately 7,000 square feet of living space. The grandeur of this house aligns perfectly with Nicki Minaj's taste for luxury and comfort.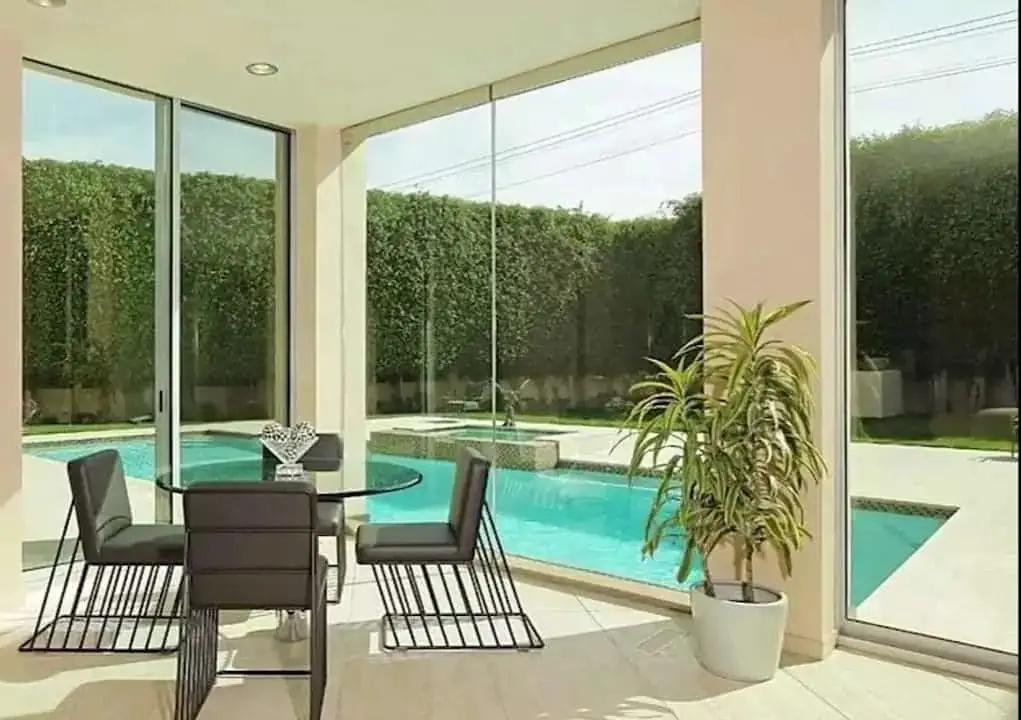 Nicki Minaj's Los Angeles house
Before moving into her residence in the Flats area, Nicki Minaj, along with rapper Meek Mill, used to reside in a similarly luxurious Beverly Hills mansion. This remarkable property boasted a whopping 11 bathrooms and was built on the location of Frank Sinatra's former home, adding an extra layer of historical significance to her real estate portfolio.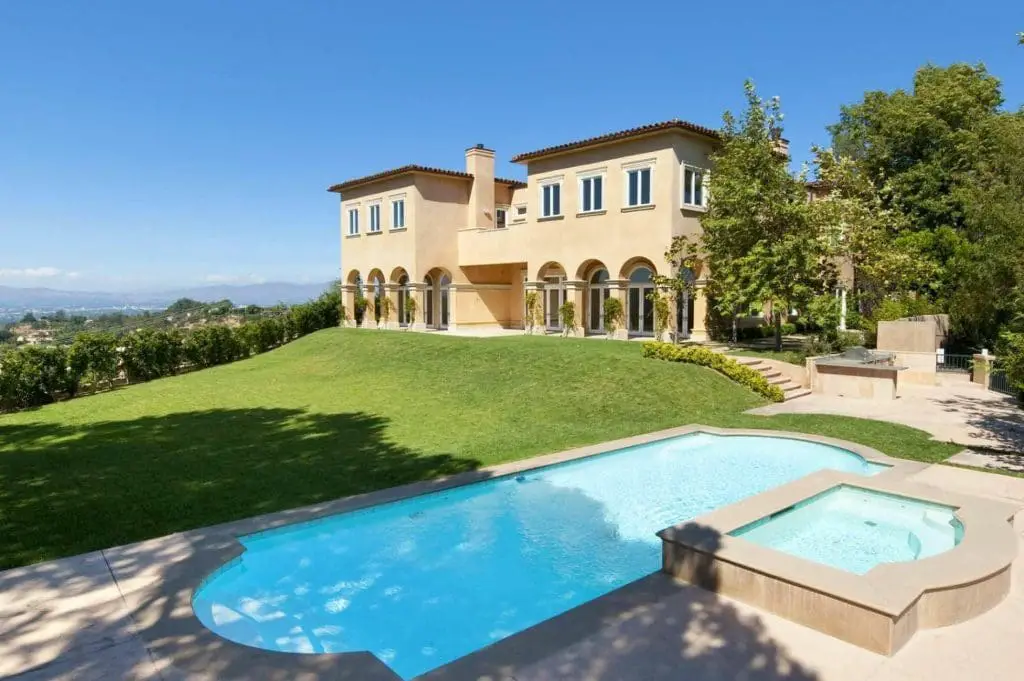 Nicki Minaj's Beverly Hills house
One interesting fact is that Nicki Minaj rented every house that she has ever lived in, aside from her Hidden Hills purchase. This highlights her ability to sample different luxury lifestyles in various locations, showcasing her adaptability and penchant for opulent living arrangements.