The allure of Louisiana is undeniable. With its rich cultural tapestry, savory cuisine, and timeless jazz rhythms, it holds a unique charm. But amidst the lively street festivals and mysterious bayous, there exists a realm of opulence that's a class apart. In 2023, Louisiana's luxury housing market stands as a testament to architectural grandeur, combining classic Southern elegance with contemporary flair. These properties, not just homes but veritable landmarks, offer a window into an elite world of privilege and extravagance. This article delves deep into the crème de la crème of Louisiana's residential offerings, spotlighting the top ten most expensive mansions. Get ready to embark on a journey through palatial rooms, sprawling estates, and amenities that redefine luxury. Welcome to the epitome of Southern sophistication!
10. 5603 Saint Charles Ave, New Orleans – $4,949,000
Nestled in the heart of New Orleans stands a timeless testament to both history and luxury: the iconic New Orleans home at 5603 Saint Charles. Originating from 1903, this architectural gem has been meticulously restored, blending its cherished historic details with state-of-the-art amenities and top-tier fixtures.
Sprawling over an impressive 9,200 sq ft of livable space, this home breathes grandeur from every corner. From the awe-inspiring entrance and magnificent stairwell to the expansive bedrooms and entertainment zones, every inch resonates with tales of the past and promises of the future.
The culinary aficionado will find joy in the gourmet kitchen, while the estate's exterior captivates with its breathtaking grounds. Picture this: a shimmering pool reflecting the golden sun, a captivating fountain adding to the allure, and a quaint carriage house whispering stories of yesteryears.
Safety and comfort are paramount. An automatic gated driveway ensures privacy, while a generous carport and a single garage space add convenience. Additionally, the home boasts an indispensable backup generator, ready to power the entire household if the need arises.
Built in 2014, the house sits on a generous 0.51-acre lot, encompassing three stories of Historic/Antique architectural brilliance. With 7 luxurious bedrooms and 8 bathrooms, this home priced at $4,949,000, truly embodies the essence of opulence intertwined with history.
9. 616 Dejean St #103, Washington – $4,950,000
Set in the heart of Washington, just a whisper north of Lafayette, Louisiana, stands Magnolia Ridge – an emblem of timeless grandeur. This 1830 Greek Revival beauty, nestled on a sprawling 58-acre estate, tells tales of meticulous preservation and a profound appreciation for the past.
The 3,667 sq ft main residence, ensconced in classic columns and eloquent architectural charm, boasts of six spacious bedrooms and five bathrooms. But the essence of Magnolia Ridge is not confined to this central gem alone. As you meander through the vast acreage, you'd be greeted by multiple guest houses, principal dwellings, and quaint out-buildings – each a testament to architectural finesse.
Marvel at the three-mile tapestry of paved trails designed both for quiet reflection and healthful vigor. On this journey, discover dozens of meticulously curated gardens, crystalline ponds, enchanting fountains, and even tennis courts. And while modernity subtly interlaces the property with features like a three-story elevation and a garage space, the overall architectural style remains undeniably rooted in tradition and historical essence.
Located at 616 Dejean St #103, Washington, and priced at $4,950,000, Magnolia Ridge isn't just an address or a property; it's an experience, a legacy, a whisper from history delivered in the language of luxury.
8. 79397 Old Military Rd #1082, Bush – $4,985,000
Located at the scenic expanse of 79397 Old Military Rd #1082 in Bush lies a testament to impeccable craftsmanship: the Nine Mile Halt. Encased in a sprawling 100-acre tapestry, this elegant 5,988 sq ft abode was meticulously constructed in 1998, blending an enchanting French/Provincial architectural style with timeless luxury.
As you approach this grand estate, be prepared to be mesmerized by the canopy of century-old oaks lining the mile-long driveway. The A. Hayes Towne home, touched by George Hopkins' genius, presents a graceful silhouette with its 10 ft deep porches.
Step inside to be greeted by the warmth of the antique heart of pine floors that seamlessly flow through the five magnificent bedrooms and four splendid bathrooms. Its three stories boast of exquisite details – from the grandeur of its gourmet kitchen adorned with cypress cabinets to the thoughtful inclusion of three fireplaces that promise cozy evenings.
Your guests will revel in the luxury of a separate suite replete with its own kitchenette, ensuring both comfort and privacy. And for the car enthusiast, a spacious 3-car garage awaits.
Ever imagined hosting soirées with classical melodies wafting from a state-of-the-art surround sound system? At Nine Mile Halt, this dream comes alive. As daylight fades and the trees shimmer under elegant uplighting, the estate transforms into an ethereal paradise.
And, if the outdoors beckon, there's no place better than the lush grounds of this estate. Meander through its trails or challenge someone to a game on the shuffleboard court.
At a price tag of $4,985,000, the Nine Mile Halt isn't just an estate – it's a world where every brick, beam, and path tells a tale of grandeur and tranquility. Dive into this realm, where artistry meets nature in the most magnificent way.
7. 7666 Bocage Blvd, Baton Rouge – $4,999,000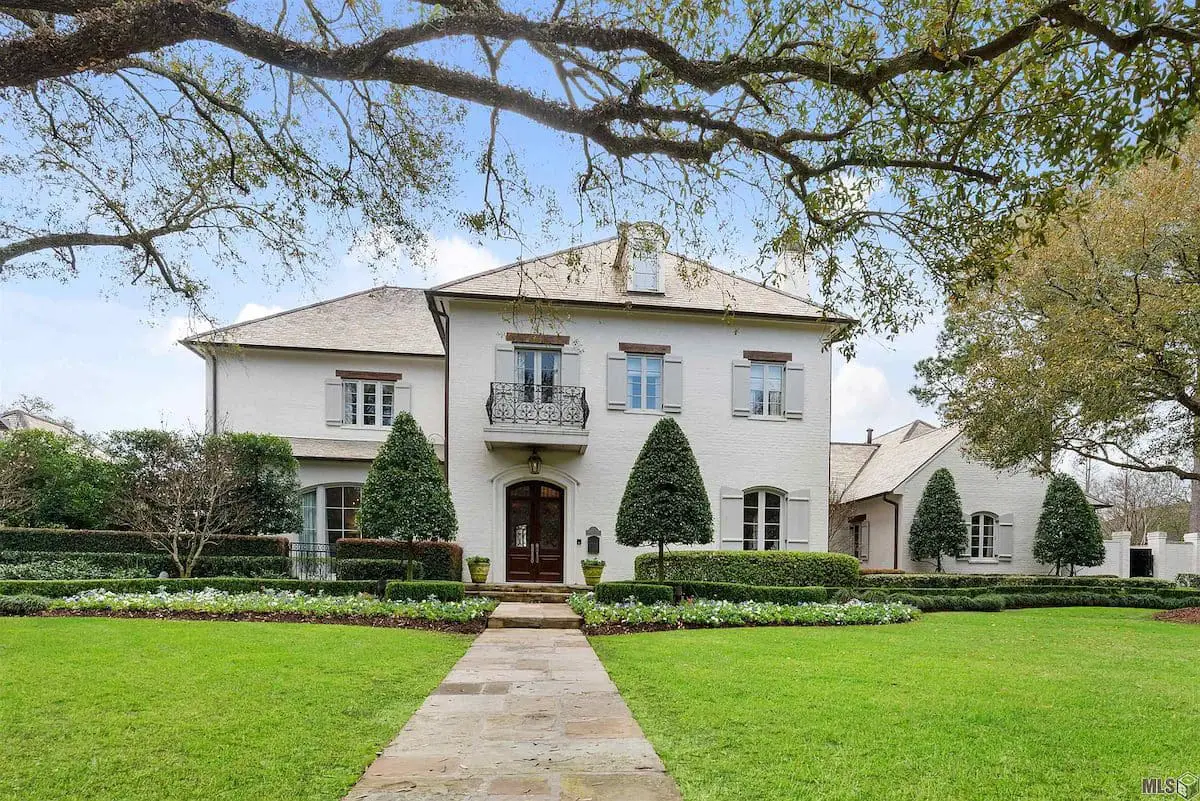 A symphony of design and elegance graces Baton Rouge at 7666 Bocage Blvd. Nestled on 0.9 acres, this Al Jones masterpiece, imbued with French/Provincial architectural flair, unfolds over 7,813 sq ft of livable space. As you set foot on the property, the majestic oaks and immaculate lawn reflect the home's essence: ageless, elegant, grand.
The eye is irresistibly drawn to the slate roof and the impeccably stuccoed exterior, hinting at the artistry within. As the majestic front stairwell welcomes you in, it seems to float you right up to the second story in a dance of design. The interiors, with their spacious dining room, custom bar, and cozy living spaces, exude warmth and luxury.
The kitchen, adorned with antique slate floors and a heartwarming fireplace, presents an ideal setting for memorable mornings. And the master suite? It's more than just a room; it's a statement. A his-and-her bath layout and a ladies' closet with custom French glass doors push the envelope of opulence.
With 6 plush bedrooms and 7 impeccable bathrooms, every corner is designed with intention and grandeur. If the inside dazzles, the outside is simply breathtaking. A gourmet outdoor kitchen featuring premium "Kalamazoo" appliances and an additional kitchen in the covered storeroom paints a picture of al fresco extravagance. The pièce de résistance is, of course, the stunning pool area.
All this, plus a garage space for three, two grand stories of architectural wonder, and even an inviting third-floor game room! Baton Rouge, your Crown Jewel awaits on Bocage Blvd.
6. 3808 Bayside Cir, Monroe – $5,850,000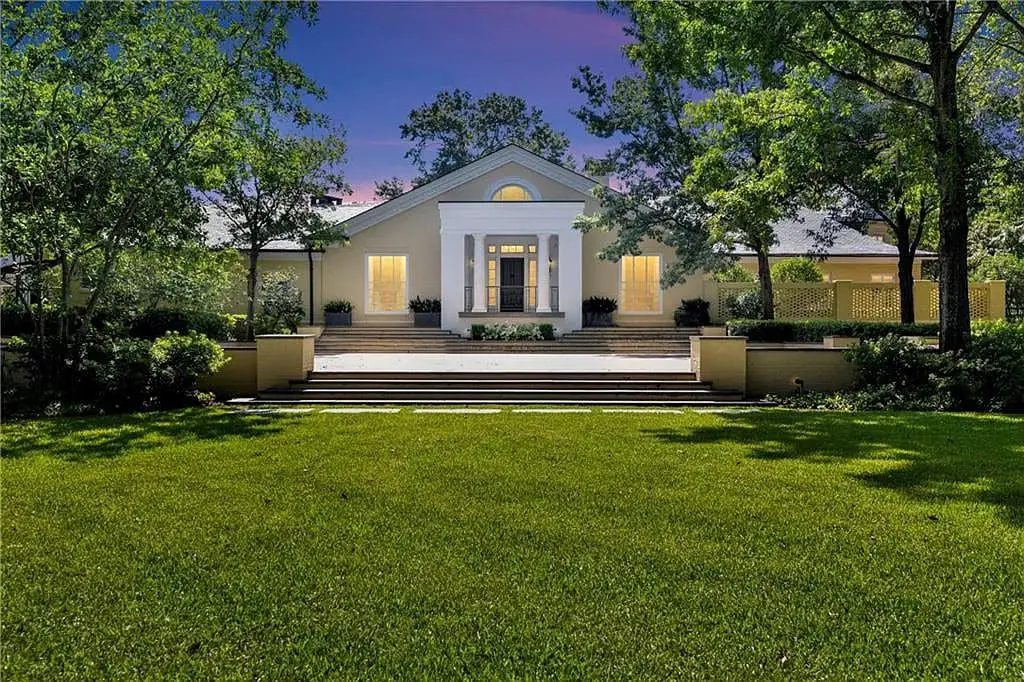 Nestled in the upscale heart of Monroe, on a uniquely positioned peninsula of the tranquil Bayou, stands an awe-inspiring Lee Ledbetter creation. Every element of this residence whispers sophistication, from its mahogany-based foundation to the sweeping Bayou vistas that grace every room.
Boasting a generous 7,792 sq ft of livable space, the home's pièce de résistance is undoubtedly its 22 x 44 paneled living room with a soaring 22-foot ceiling. Dating back to the year 2000, this contemporary-style architectural marvel spans two stories, encompassing 4 bedrooms and a surprising 8 bathrooms, ensuring that luxury never fades.
The allure of 3808 Bayside Cir is not just confined to its interiors. The property stretches over 2 lush acres, embracing 625 feet of waterfront. As you meander along its boardwalk, a pristine view of the Bayou follows you, echoing nature's silent applause. The antique aura of its back gallery, reminiscent of epochs gone by, contrasts beautifully with its modern amenities like a spacious pool, hot tub, and classic boat house. A solitary garage space completes the ensemble, providing an elegant touch of functionality.
Here, on this 2-acre haven, the very essence of architectural excellence meets the timeless beauty of nature. It's not just a home; it's a testament to the majesty of design and location. All of this is available for a price tag of $5,850,000 – a reflection of its matchless grandeur.
5. 1100 Knollwood Dr, Baton Rouge – $6,250,000
Right within the heart of Baton Rouge at 1100 Knollwood Dr, lies an architectural work of art that transcends the very essence of home. Covering 8,670 sq ft of livable space, priced at $6,250,000, it's not just about the vast space or the number of rooms, but the sheer mastery in every nook and cranny.
Bill Powell, AIA, the genius architect behind this wonder, designed this haven to be a seamless marriage of intention and luxury. Ensconced by 6.5 acres of pristine land, every feature, from the custom millwork to the stained glass front door, tells a story of elegance and purpose. Landscape architect Jon Emerson's vision is undeniable, with the home's position taking advantage of breathtaking views while ensuring utmost privacy.
Inside, the house exudes warmth and charm. The natural light-filled room boasts a cypress ceiling and a Texas limestone fireplace. With 4 bedrooms and 7 bathrooms spread over two stories, each space is a testament to luxurious living. The gourmet kitchen, embellished with Douglas fir cabinets and top-of-the-line appliances, is a chef's dream. And who could overlook the panoramic views from the third floor lookout, offering a serene vista of the forest and the distant Bayou Duplantier?
Although built in an undefined year, its modernity is timeless. With three spacious garages, a guest house, an outdoor kitchen, and a sparkling negative edge pool, every feature is meticulously thought out. And while it's hard to define its architectural style, let's just call it 'Other', for it truly stands in a league of its own.
4. 4302 Highway 135, Mangham – $7,495,000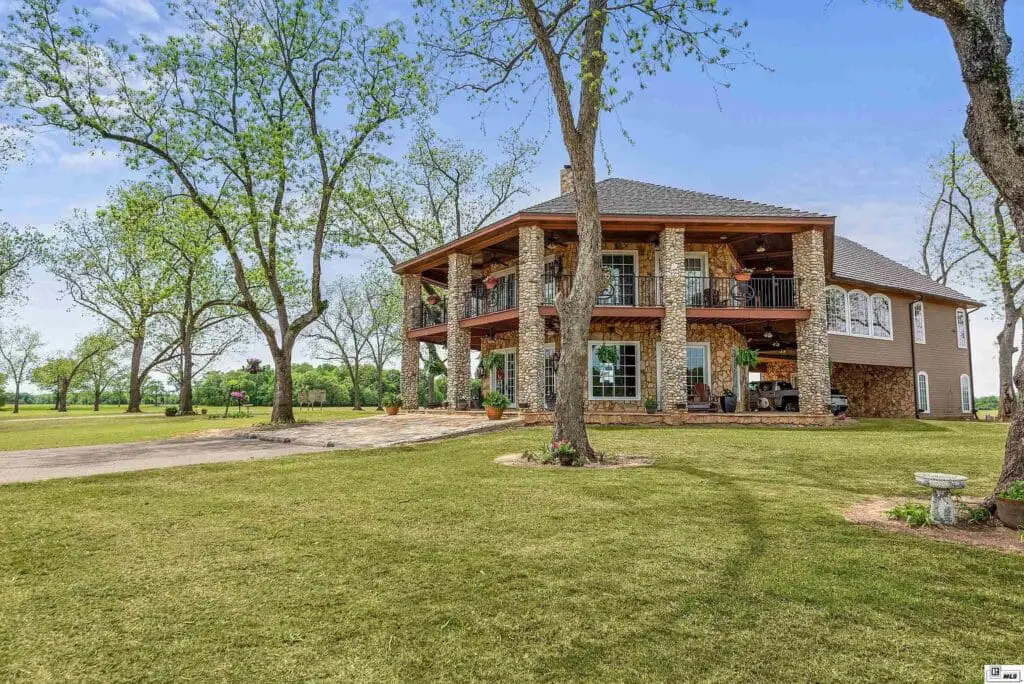 Nestled on a sprawling 980-acre lot, the Mercer Ranch South at 4302 Highway 135, Mangham, is a haven for nature lovers and hunting enthusiasts alike. With a vast legacy spanning over 13 years, this property boasts of producing some of the most trophy-worthy whitetails, all credited to meticulously managed traceable bloodlines.
The magnificence of the property lies not just in its expansive hunting grounds but also in its architectural marvel. The 5,000 sq ft lodge-style residence, enveloped in an awe-inspiring backdrop, is a juxtaposition of rustic charm and modern luxury. Step inside to be welcomed by five spacious bedrooms, four elegant bathrooms, and an expansive open living and dining area. At the heart of this space stands a majestic stone fireplace, providing warmth and a cozy ambiance. Almost every corner gifts you panoramic views of the vast lands, creating a serene setting.
Beyond its interiors, the two-story marvel has an attached garage, offering ample space for your prized vehicles. But the allure of Mercer Ranch doesn't end here. Adjacent to the main lodge is a 40' X 80' barn complete with equestrian stalls, and a separate metal building for those looking for extra storage. Strategically placed stands and game cameras offer an insight into the rich wildlife of the ranch.
Priced at $7,495,000, this estate isn't just a home; it's a lifestyle, a story, a legacy waiting to be cherished. Dive into an experience that seamlessly blends nature, luxury, and history. Mercer Ranch South is where dreams meet reality!
3. 6088 Moss Side Ln, Baton Rouge – $7,900,000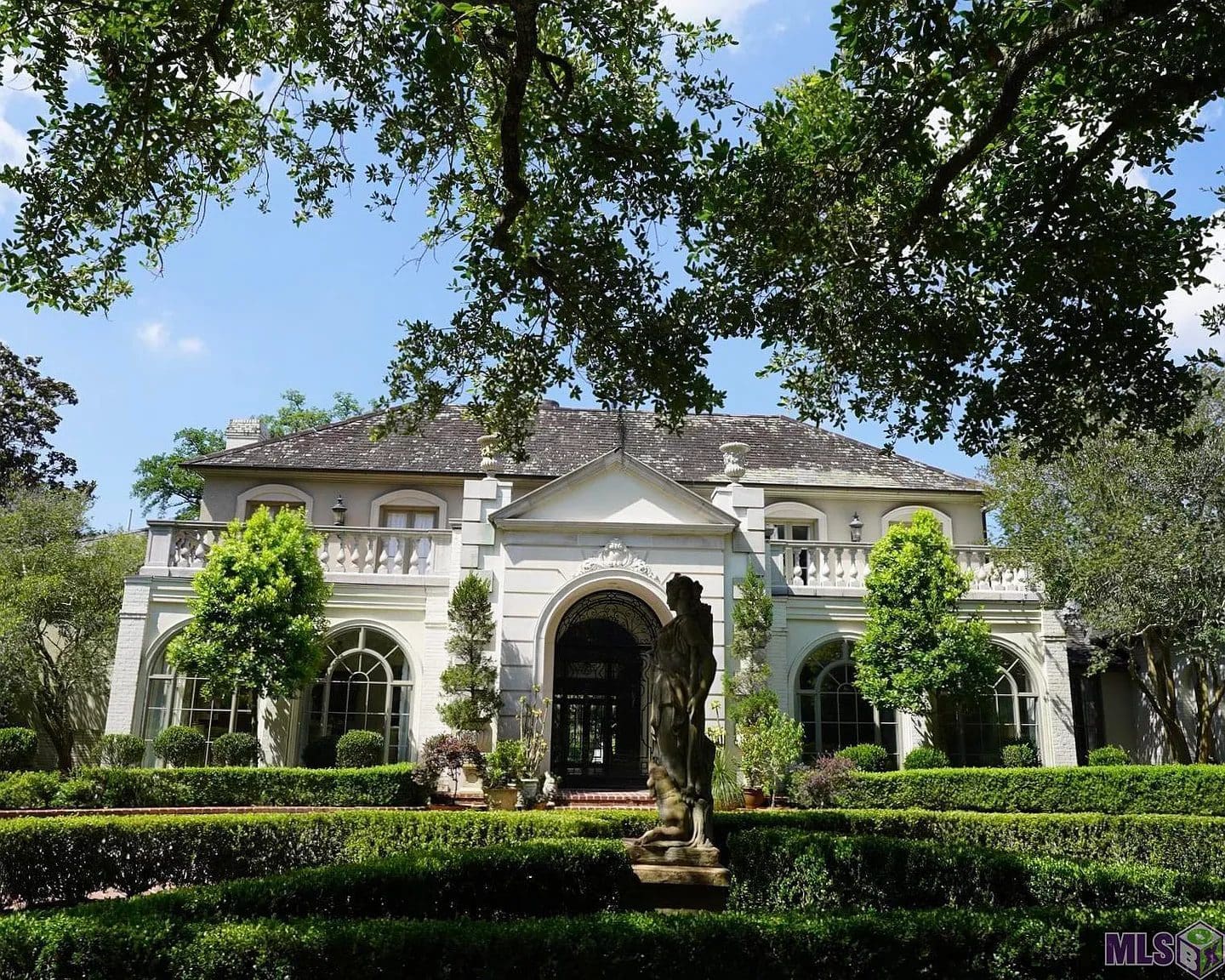 Right in the heart of Baton Rouge lies a true marvel of architectural craftsmanship: 6088 Moss Side Lane. Sprawled across an astonishing 14.86 acres of pristine land, this French Provincial-styled estate is a testament to timeless elegance and luxury. Upon setting foot inside the 13,344 sq ft living space, one is immediately enveloped in sophistication—from the heart of pine and Arizona flagstone floors to the crown molding that graces its ceilings.
This residence, bathed in natural light through large windows, whispers tales of grandeur with its eight spacious bedrooms and a total of 11 bathrooms. The kitchens, a symphony in granite and stainless steel, feature commercial-grade grills and appliances, waiting for the gourmet touch. Its four-car garage is an automobile enthusiast's dream, and the expansive grounds tell tales of soirées under the canopy of 40 mature live oaks.
As you wander through the property, the sound of water cascading from the jaw-dropping gunite pool might beckon you. The tranquil Koi pond, the enclosed L'orangerie, and the additional workout building only add layers to the opulence.
Despite its vastness, there's an intimate charm to 6088 Moss Side Lane. The price tag? A cool $7,900,000. It's not just a house; it's a slice of Baton Rouge's finest, encapsulated in French Provincial architecture and the promise of unparalleled luxury. Every corner of this two-story marvel sings a song of exclusivity.
2. 17 Treasure Isle Rd S, Slidell – $8,898,000
Step into the realm of opulence and grandeur with the breathtaking "La Bella Vie de Reine". Sprawling over 2.3 lush acres on Lake Pontchartrain, this 10,331 sq ft estate is a testament to luxurious living and impeccable design. Built in 2013, the architectural magnificence of the home is a nod to the classic French Provincial style.
Imagine stepping into spacious living quarters adorned with panoramic vistas of the tranquil lake. Every inch of this home resonates with warmth and luxury. From the gourmet kitchen that any chef would dream of, to a vast home theater designed for ultimate movie experiences, a billiards room for leisurely games, and an inviting card parlor, the amenities are endless.
Entertain or simply find solace within; whether that's sipping vintage from the astounding 1,717-bottle capacity wine cellar or unwinding by the infinity edge pool overlooking captivating horizons. The estate also offers a 5-boat boathouse, ensuring immediate access to serene lake escapades.
With 4 plush bedrooms, 8 bathrooms, an elegant two-story structure, and an additional bonus of a garage space, everything about 17 Treasure Isle Rd S in Slidell exudes elegance. And let's not forget the pragmatic touches like the elevator and generator that meld luxury with convenience. This isn't just a home; it's an experience waiting to unfold. Discover the allure of La Bella Vie de Reine!
1. 11001 Highland Rd, Baton Rouge – $14,000,000
The most expensive house in Louisana is located at 11001 Highland Rd, Baton Rouge and costs $14,000,000
Nestled discreetly off Historical Highland Road in Baton Rouge lies an architectural marvel— a sophisticated estate that radiates timeless elegance. Concealed behind its gated facade, this Mediterranean-style manor sprawls across a verdant 12.5-acre lot, cloaked by centuries-old live oak trees, creating a sanctuary in the heart of the city.
The opulent living space, spanning a vast 25,372 sq ft, mesmerizes with its intricate details. From the moment you step into the grand foyer, your gaze is drawn to the double curved staircase crowned by a chandelier worthy of any museum. The heart of this mansion, the 2-story living room, boasts wall-length windows that are kissed by sunlight and flanked by two distinct chandeliers, epitomizing modern luxury.
The gourmet kitchen is a culinary dream with its dual islands, a sunlit curved breakfast nook, and an additional catering kitchen. The expansive home also boasts a regal master suite with a private sitting area overlooking the pool and an exclusive exercise pool. Each of the 5 bedrooms and 10 bathrooms is meticulously designed, echoing the house's grandeur.
Modern amenities like an advanced Crestron 3 control system, an elevator servicing all floors, and a dedicated server room meld seamlessly with the home's classical style. Additional wonders include a 4,800 sqft guest house, an opulent cabana, an outdoor kitchen, and a saltwater pool.
For the automobile enthusiast, the estate doesn't disappoint with its four dedicated garage spaces. Moreover, the grounds feature a stocked pond, offering serene views and a touch of nature.
Priced at $14,000,000, this estate on 11001 Highland Rd is not just a home. It's a testament to art, architecture, and affluence—a magnum opus of Mediterranean design.