Bam Margera's house in West Chester, Pennsylvania, is a testament to the iconic skateboarder and television personality's unique style and flair. Bam Margera, a household name for fans of the "Jackass" series and skateboarding enthusiasts, made headlines with his impressive real estate investment.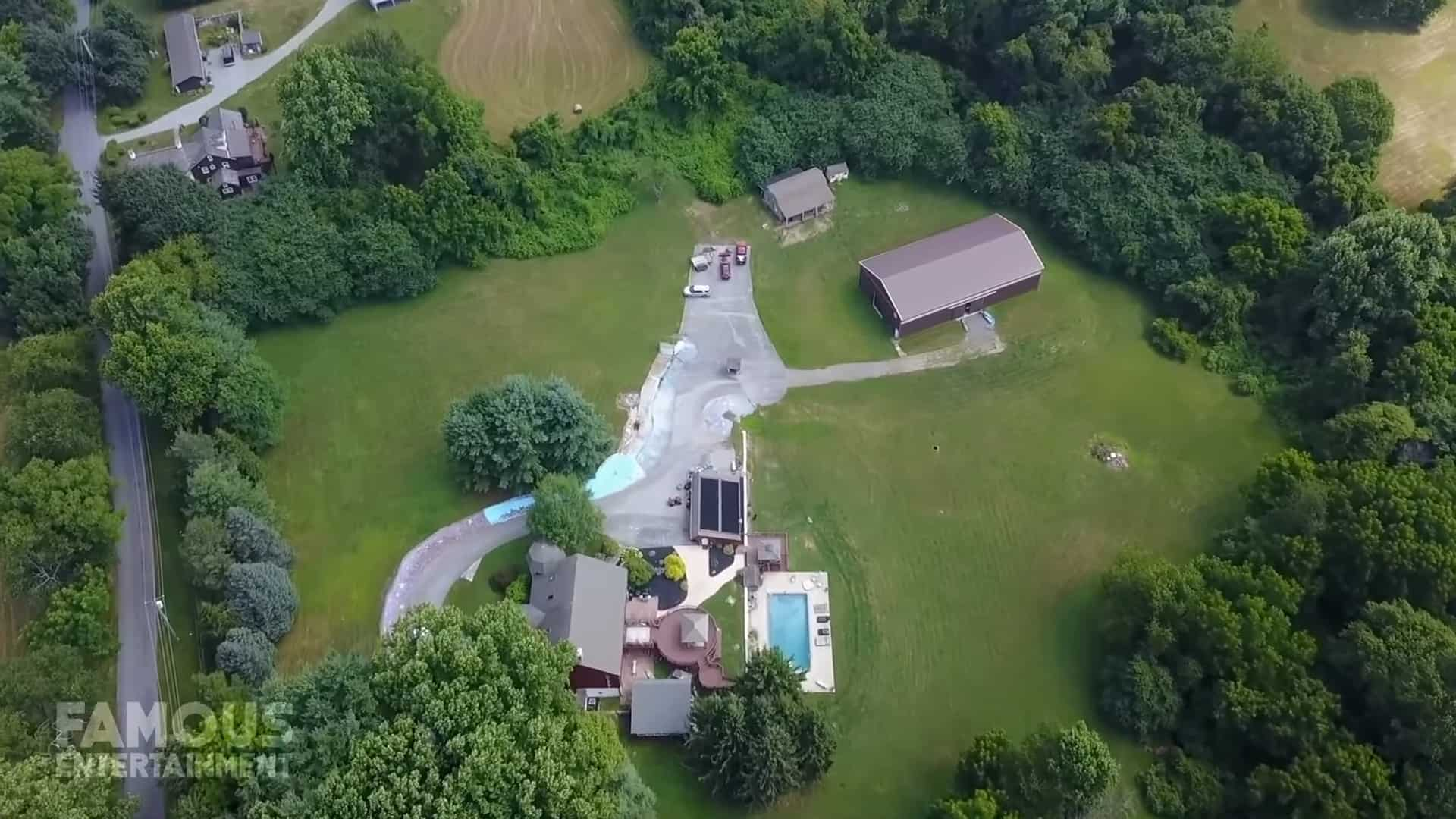 Bam Margera's house
Back in 2004, he purchased a sprawling mansion in the charming city of West Chester, Pennsylvania. This article delves into the story behind Bam Margera's house, offering details on the property, its features, and its role in the celebrity's life.
Where Does Bam Margera Live Now?
Bam Margera lives at 435 Hickory Hill Rd, West Chester, Pennsylvania. The mansion boasts 4,200 square feet of living space and was acquired in 2004 for a purchase price of $1.3 million. With five bedrooms and three-and-a-half bathrooms, it offers ample room for Margera and his family to enjoy.
The estate's origins date back to 1985 when its foundations were first laid. Situated on an expansive 13.8-acre parcel of land, the mansion boasts an array of enchanting features that have been the stuff of dreams for many. While the acquisition price remains undisclosed, it is said that Bam Margera acquired this wonderland in 2004, at a time when it was listed for an alluring $1.195 million.
A Glimpse Inside Bam Margera's House
Step through the imposing gates to enter an enchanting world of fantasy and luxury, inspired by Bam Margera's wild imagination. The grand entryway beckons to a realm of opulence and extravagance. A magnificent dining hall with colossal tables and elegant chandeliers awaits for unforgettable feasts and gatherings.
Bathed in a regal purple and gold color scheme, the room exudes royal elegance with its purple damask wallpaper, dark wood furniture, and a black tablecloth adorned by a large floral centerpiece. The warm chandelier glow highlights intricate details while two large windows framed by red curtains invite natural light, adding openness to this grand hall.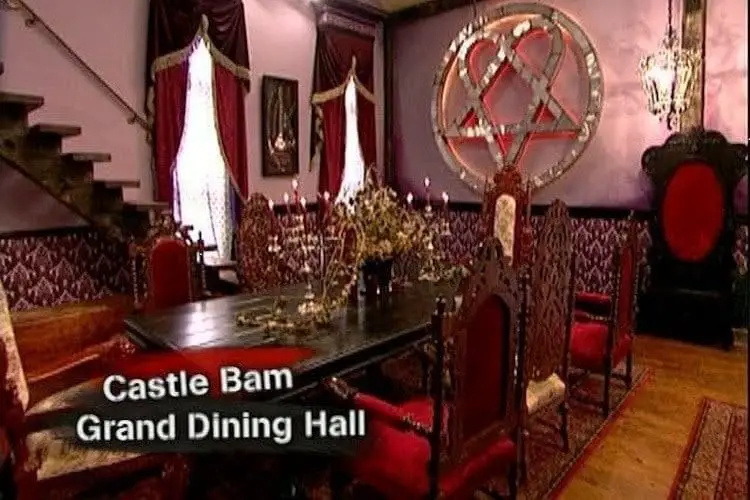 Bam Margera's dining hall
The residence showcases an extravagant blend of Victorian and Gothic influences in its custom fixtures. Adjacent to the grand dining hall, the pleasure lounge offers an oasis of relaxation with plush leather furnishings, a cozy fireplace, and captivating artwork. Featuring wooden beams, a high medieval-style ceiling, and inviting deep pink walls adorned with art, this room exudes sophistication.
Modern black leather furniture adds a contemporary touch to the traditional architecture. The fireplace with a mantle and hearth serves as the room's focal point, providing warmth and comfort, while hinting at the rich history and grandeur of the larger building.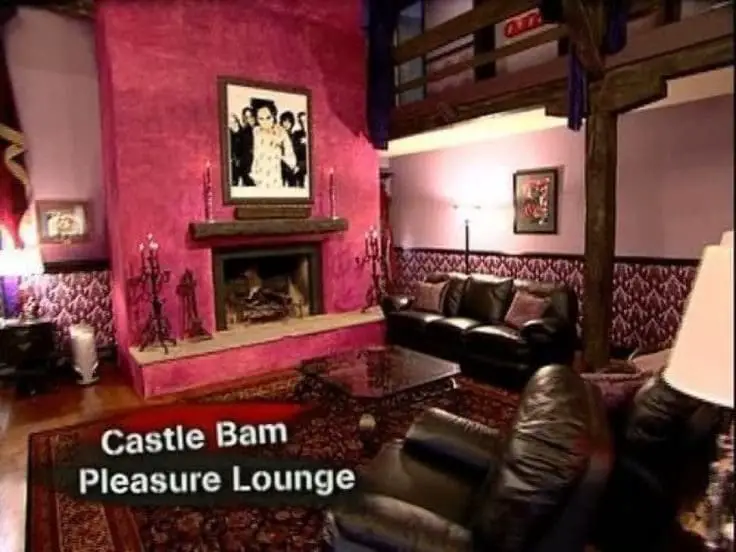 Bam Margera's pleasure lounge
This beautifully designed open concept living space seamlessly blends the kitchen and living room. The kitchen features a spacious island with a sink, ideal for culinary endeavors. A modern chandelier above the island creates a warm, inviting ambiance. In the adjacent living room, a plush red velvet couch adds a vibrant touch, complemented by a traditional rug with an intricate design. The wooden beam ceiling adds rustic charm, contrasting with the white walls. A harmonious wooden staircase leads to the second floor.
Bam Margera's kitchen
This interior beautifully embodies Tudor architecture, originating in England and Wales during the Tudor period (1485–1603). It's a testament to the craftsmanship that combined Renaissance and Gothic elements, characterized by a high ceiling and exposed wooden beams. A large window and fireplace enhance the room's charm and functionality against white walls. Antique furniture and elegant chandeliers add historical and sophisticated touches, casting a warm, inviting glow.
Bam Margera's interior
For those who seek reprieve from grandeur, Bam's private chambers are a haven of individuality. His bedroom is adorned with a gothic canopy, showcasing his collection of skateboards, posters dedicated to punk music, and his own element pillow. Oversized windows bathe the room in natural light, creating a tranquil ambiance.
Bam Margera's bedroom
Adjacent to his bedroom, his home office, thoughtfully renovated by his mother, features custom fixtures, a piano keyboard, and nostalgic props from his Jackass stunts. The most striking feature is the floating staircase, an innovative design element that adds a sense of lightness and space. Made of wooden planks, the staircase is attached to the wall in a zigzag pattern, leading up to a lofted area. This design not only maximizes the use of vertical space but also creates an interesting visual dynamic in the room. In addition to the staircase, the room features a desk with a chair, providing a functional workspace.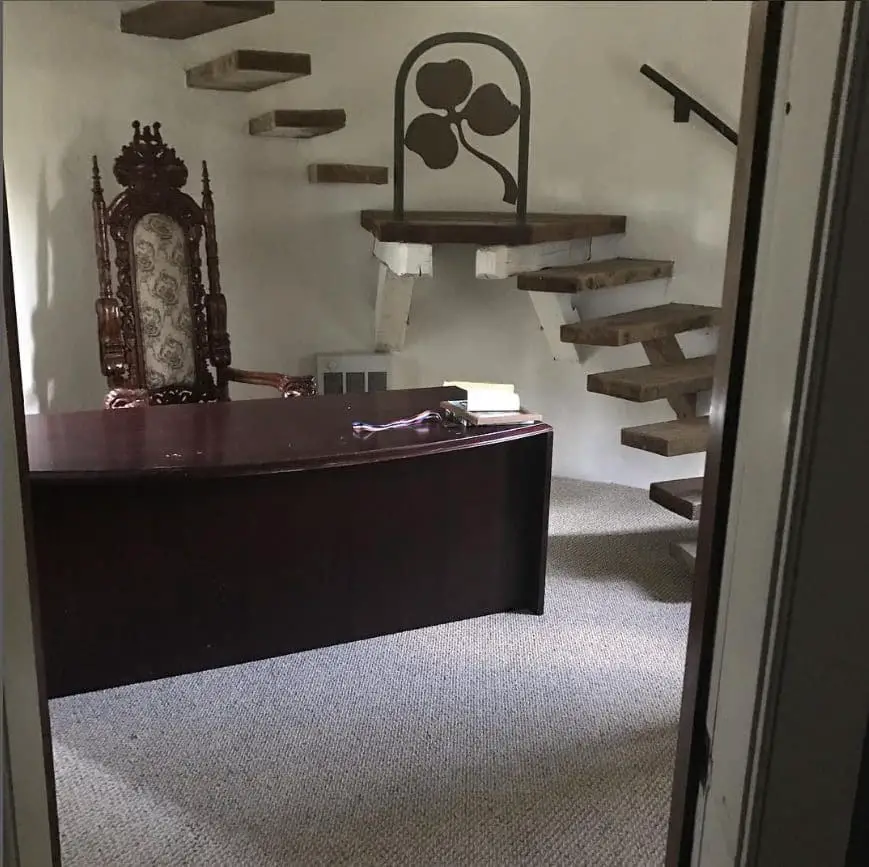 Bam Margera's office
The pièce de résistance is the games room, a sanctuary for those who seek amusement. The room hosts a personal arcade filled with classic games and an adjacent bar, making it the epicenter of entertainment within the estate. A narrow walkway adorned with pink insulation and a water tank leads to a guest room, which boasts essential amenities like a cot, a guitar, a microwave, and a radio.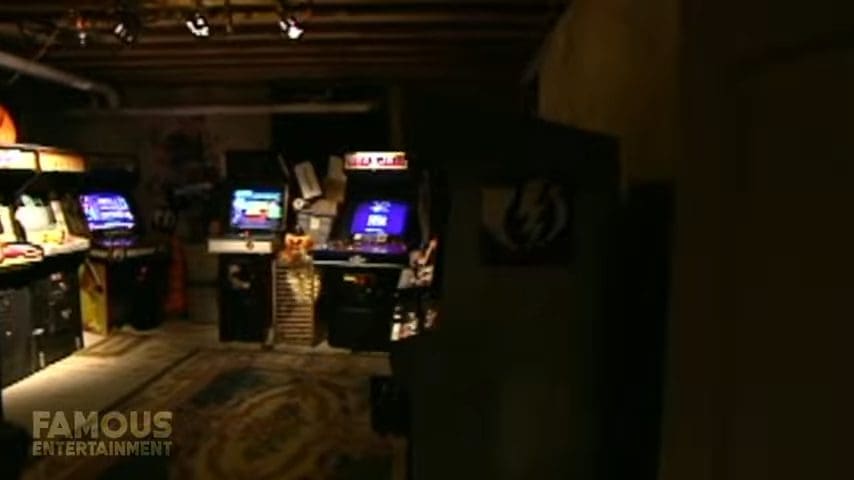 Bam Margera's game room
Venturing further into the estate's depths, you'll discover the ultimate man cave. This room is a treasure trove of Bam's interests, featuring knight's armor, a guitar recording system, skateboards, and even two quarter-pipe skate ramps. Lavish furnishings, televisions, and a well-stocked bear fridge complete the man cave, rivaling the excitement of the arcade. The man cave also offers access to an expansive circular deck that overlooks a pristine saltwater pool and a pool house.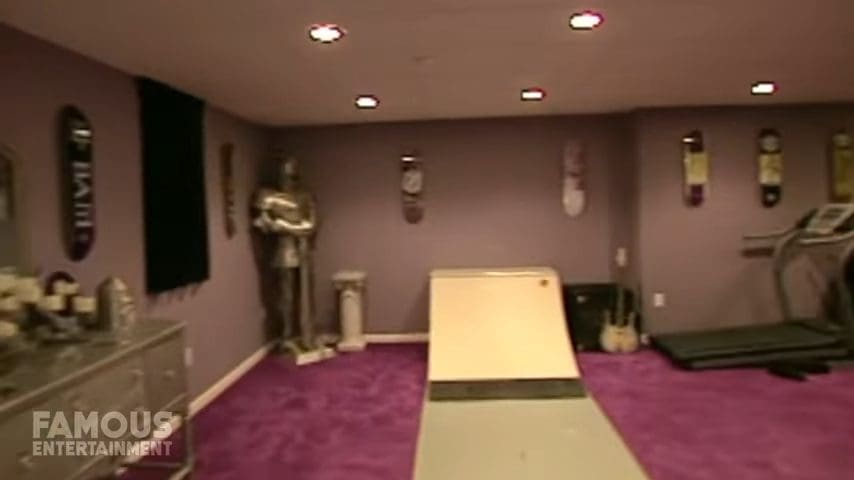 Bam Margera's man cave
Bam Margera's Outdoor Oasis
The exterior of Bam Margera's hidden estate is a spectacle to behold, seamlessly blending with the enchanting surroundings. The property's facade exudes an air of timeless elegance, with its stately architecture and captivating details.
Bam Margera's outdoor area
Towering trees, meticulously manicured gardens, and lush greenery envelop the estate, creating a mesmerizing backdrop for the majestic mansion. The exterior also boasts a grand circular deck that gracefully overlooks a pristine saltwater pool and a charming pool house. Beyond the deck, the expansive outdoor area offers a haven for those who seek adventure, featuring an outdoor skate park for thrill-seekers.
Bam Margera's pool
A well-appointed bar, an inviting outdoor barbecue area, and a state-of-the-art entertainment system set the stage for unforgettable gatherings, while the property's vast 14 acres provide an abundance of space for a wide range of outdoor activities, making it the ideal setting for hosting extravagant events and living life to the fullest.
Bam Margera's Neighborhood
West Chester, Pennsylvania, is a charming town that offers a serene lifestyle, making it a perfect fit for the adventurous spirit of Bam Margera. While the neighborhood is known for its tranquility, it's also home to the professional golfer Sean O'Hair and the charming Baldwin's Book Bar can be found there.
Other Houses Owned by Bam Margera
While this article primarily focuses on Bam Margera's West Chester mansion, it's essential to acknowledge that there isn't publicly available information about his other properties. The spotlight here remains firmly on his stunning West Chester residence, which stands as a testament to his unique style and taste.