Rafael Nadal has been raking millions from his grand slam games. And with his stoic personality and superb dedication to his sports, one can easily say that he might not slow down any time soon. At 35 years old, his estimated net worth is already a whopping US$200 million.
But where does he spend all his money? Where does all his wealth go?
It might not come as a surprise. But Nadal wields his millions as skillfully as he brandishes his tennis racket. In tennis and his finances, he intends to win. In this post, we'll look at his opulent residential property in Majorca, as well as his other profitable properties.
The Majorca Neighborhood
Nadal's residential property is located in an upscale site in Porto Cristo. There is a lot to love about the place. For one, the area has one of the most stunning views of the Mediterranean. During the summer, the area is usually frequented by kids and adults alike who want to indulge in some refreshing beach vibe.
Plus, the home itself is something of a historical piece itself. The property was previously owned by the descendants of the people that established the Caves of Drach, which is one of the leading tourist attractions in Majorca. He bought it in 2013 at €4 million, way below the asking price of €5.7 million
Most importantly, Nadal chose this neighborhood above the other opulent villages he could probably afford because he wanted to stay close to his parents, who live close by the property.
The sporting legend and his wife, María Francisca Perelló, have been renovating the property for 7 years. Now, they're finally ready to move in and settle down. Although he kept his private life out of the limelight, the Covid-19 situation has inspired the 21-grand-slam-title winner to post sneak peeks of his home when he's working out or playing sports with his family. The quarantine protocols pushed celebrities like Nadal to find other ways to maintain public presence and stay connected with fans.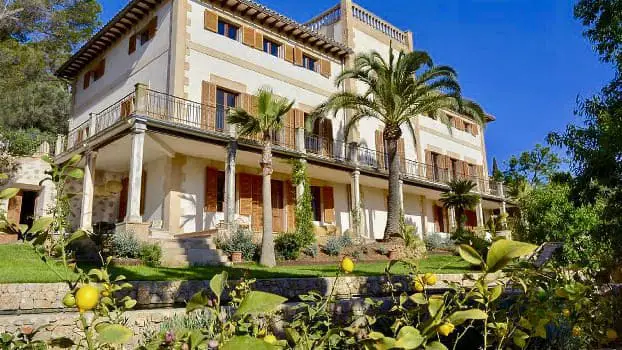 Notable Home Features
Nadal's home is nothing short of style and luxury. But the property also exudes a good dose of functionality, especially in its amenities for fitness, workout, and entertainment. It has 2 stories and 3 bedrooms. And the following are some of his Mallorcan home's notable features:
Mallorcan-style interior and exterior – Nadal's home is a distinctive Mallorcan-style chalet that comes with furnishings and decor with muted Earth colors. He also adopts a minimalist and modern finish to both the interior and exterior areas.
Gym and fitness area – Located in the basement, Nadal's gym includes all the necessary equipment he needs. As a player who swears by the concept of not being always in a position of comfort and leisure, Nadal makes sure to stick to his strict workout routine, regardless of the Covid-19 circumstance. Being in top shape is his priority.
Large terraces – The verandas, terraces, and covered lounge areas provide ample views of the Mediterranean. Especially in the morning, one can tarry at the terrace with a plate of Spanish cuisine breakfast and enjoy the beautiful sunrise.
Accessibility – The tennis legend's home is accessible, especially to the main roads, parking areas, and other important establishments. Most importantly, it is just 3 minutes away from the mooring place of his new yacht.
An abundance of scenic surroundings – Nadal is a lover of natural habitat, where he and his family can enjoy a cozy environment to relax and spend quality time with loved ones.
Other Properties
Nadal opted to grow his investments on profitable or impact-driven real estate properties. Aside from his property in Majorca, he only has 1 other residential property in Playa Nueva Romana, Dominican Republic. The rest are impact-driven advocacy-focused sports centers and projects.
Playa Nueva Romana, Dominican Republic – Nadal's $2-million-dollar beachfront villa is a perfect relaxation haven for "The King of Clay." This 2-story, 3-bedroom house is where Rafael goes on vacation after maxing out his energy on the clay courts. The opulent property has a luxurious custom swimming pool, massive terrace, and verdant yard with multiple trees and flowering plants. The larger development complex itself has amenities perfect for Nadal's lifestyle – country club, beach club, tennis courts, high-end boutiques, fitness center, golf course, seaside access, and a private marina.
Rafa Nadal Academy – This project is located in Mallorca. It's a 24,000 sq. ft. property that he bought for $25 million. It has 15 tennis courts, 1500 sq.m. gym, a swimming pool, 2 squash courts, boxing ring, padel court, and a members lounge.
Rafael Nadal Tennis Center – He recently opened another center in Costa Mujeres, Mexico. His other tennis center is in Greece, which has 8 clay courts and is strategically spread over 400 hectares in Sani resort.
Nadal has been on top of his game for a long time. And there's no news yet of him stopping any time soon. So, fans can expect him to continue gracing their sports shows. And of course, sharing his expertise at his sports academies and training centers.